Roundtable Podcast: Wrapped LEO Launch Party Minus the Wrapped LEO Launch

---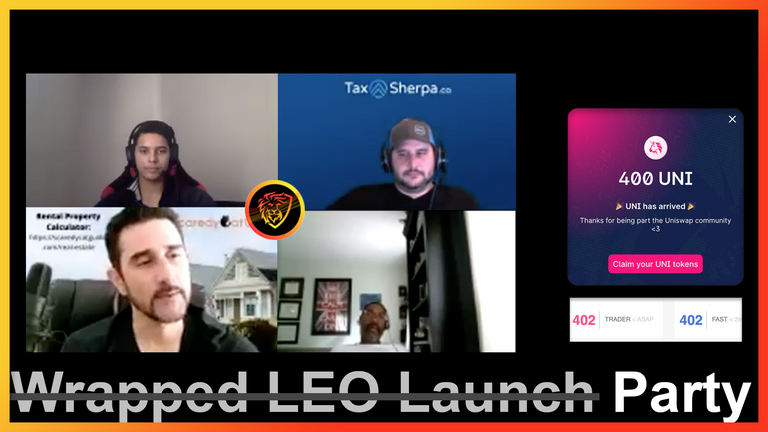 We livestreamed the LEO Roundtable Podcast at the scheduled time when we were going to launch Wrapped LEO. The only issue is that we ended up postponing the Wrapped LEO launch because of the high ETH gas fees after Uniswap decided to drop a UNI bomb on the blockchain.
Since everyone on Ethereum is now jumping over and paying insanely high gas fees to claim their UNI and trade it, we've had to postpone wLEO because none of us want to pay $50+ for each wrap, swap and add liquidity transaction.
These flares in the ETH gas prices are temporary. If you pick the right day/time, the fees are usually only about $0.70 - $2 per TX. Coming from Hive, this can feel unusual but this is the cost of transacting with the largest decentralized financial ecosystem on the planet.
So today we did our LEO roundtable and talked about Ethereum, Uniswap, the new UNI coin, trading wLEO and more.
On the official post out of @leofinance today, we talked about the delay and also released the in-depth details of how the 300,000 LEO bounty will get distributed to Liquidity Providers. [Check out that post]( for the info.
We planned out the next LEO roundtable to be another launch party for wLEO. When wLEO launches officially next week (pending ETH gas fees coming back to a "normal" level), we will do another launch party livestream to talk about wLEO and walk everyone through the actual steps of wrapping, swapping and adding liquidity.
In This Episode:
02:15 Zapper.fi Review - How to Track Your ETH Portfolio (Including wLEO When It's Live)
04:30 How I Doubled My Money in wHIVE
05:00 Uniswap's New UNI Governance Token and What it Does
09:30 What's the True Value of UNI and the Uniswap Platform?
19:00 Will Trading wLEO on Uniswap Be Better than Trading LEO on Hive-Engine?
44:45 What Are the Impacts of The Mining Tokens (LEOM and LEOMM)
1:16:00 Could Hive Ever Replace Ethereum or Compete With ETH-Based Features?
1:20:00 1,000 True Fans
1:23:30 Why We Rescheduled the Launch Day for Wrapped LEO on Uniswap
1:24:15 Reviewing the LP Incentives Structure (300,000 LEO and How It's Getting Paid Out)
---
Listen & Subscribe to the LeoFinance Podcast!

Join Our Hive Community & Earn LEO Rewards!
Earn LEO + HIVE rewards by creating crypto/finance-related content in our PeakD community or directly from our hive-based interface at leofinance.io or LeoFinance Beta
Follow @leofinance for official updates
---
▶️ 3Speak
Posted Using LeoFinance Beta
---
---