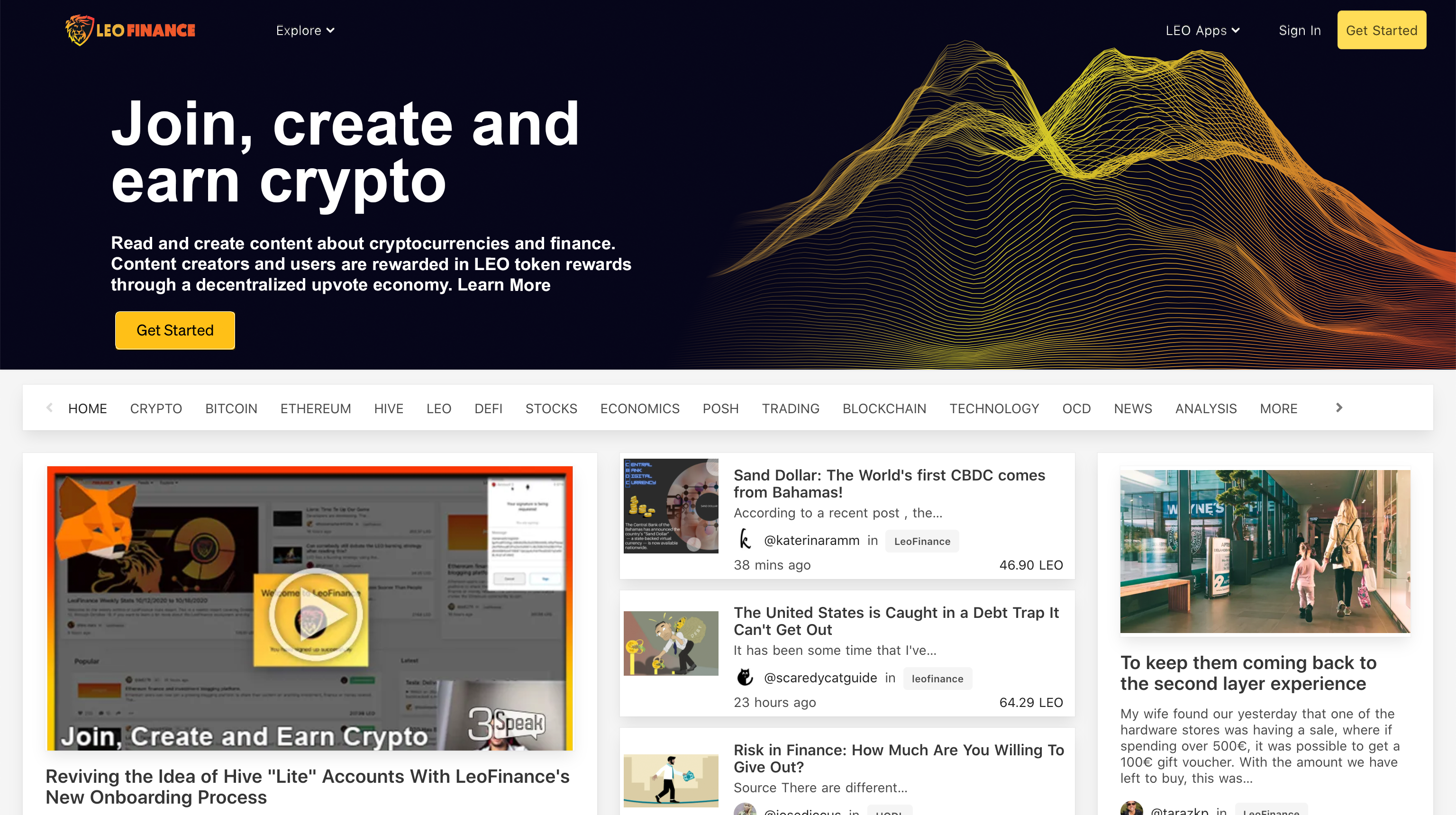 Whether you're creating content on LeoFinance, Hive, Twitter or Facebook, we tend to create content about only the few things we like. There's nothing wrong with this, but with an ecosystem like LeoFinance (or Hive), having diversified content is essential.
I love reading posts about Hive - since it's something that I'm deeply passionate about. I especially love reading posts about LeoFinance - since it's obviously my deepest passion in this world.
With that said, LeoFinance's growth hinges on diversified content. This means that we need a wider variety of content on this platform that is relevant not only to the community that exists here today but also to the wider crypto and financial world outside of our platform.
Growth is going to come from the outside in. We need to draw people to LeoFinance in order to convince them to sign up and stick around.
@revise.leo and a few others recently wrote posts about the dominance that LeoFinance/Hive content have on leofinance.io.
As he reiterated throughout his post and in the comments section - he doesn't mind LeoFinance/Hive content. What he minds is that 90% of the trending page consists of this type of content which is likely not what outsiders who land on LeoFinance will be interested in.
To break out of our echo chamber, we need to step up the diversification here on LeoFinance. Diversification in terms of what we write about and what we curate.
I'm often as guilty as everyone else on this front. I gravitate toward content about LeoFinance and almost all of my posts are about LEO - for obvious reasons. On a personal level, I'm going to work on my content game and do my best to deliver more posts each week in addition to my regularly scheduled LEO program.
Working on LeoFinance consists of about 90% of my day. I spend almost all of my hours on LeoFinance: developing, designing, reading, engaging, writing... etc.
With that said, I still have a life outside of LeoFinance (a small one, but it's something). My main "job" or source of income is from my crypto investments outside of LeoFinance/Hive. It's from Bitcoin, Ethereum and a handful of DeFi projects that I speculate on.
Hold me accountable as I'd like to hold everyone else accountable. I'll continue to do my posts about LeoFinance, but I'm going to spend a lot more time creating additional content that is targeted at the other things I do: crypto, stocks, options, technology, etc.
Should You Stop Writing About Hive and LeoFinance?
Absolutely not. As I said - I personally can't get enough of Hive and LeoFinance content. I love reading posts about these two interconnected platforms that I am deeply passionate about. The issue though, is that diversified content means that we need to have posts about LeoFinance/Hive AND other topics surrounding crypto and finance.
This week, we're going to begin some outward marketing initiatives through @leofinance. Some of these initiatives will be targeted ads - i.e. Twitter, Facebook (and soon) Brave ads.
Outside of paid marketing, we're also going to incentivize content more heavily which specifically targets other communities - especially in the crypto/Ethereum arena.
We recently added the Metamask Signup option to LeoFinance.io which allows users of Metamask to signup to Hive and use LeoFinance in less than 30 seconds. This is an amazing feature and something that I have talked about for over 15 months now (need proof? see my early interview back from the Steemleo days with @scaredycatguide - around the 10 minute mark, I talk about onboarding. Excuse the cringy performance, it was one of the first interviews I've ever done).
We recently talked about this interview on the LEO roundtable and recalled that I talked about the idea of "lite" accounts and how I wanted to solve onboarding for Steem Hive one day. It took me nearly 1 1/2 years to build the infrastructure and community to get here, but it got built and we're just getting started.
Should You Stop Upvoting/Engaging With LeoFinance/Hive Content?
Absolutely not. There's so much value in continually talking about these platforms and we all clearly have a passion for them. Why would you cut yourself off from supporting/engaging with something you enjoy?
Instead, add some diversity to your votes. Encourage users who take the time to step out of the bounds of LeoFinance/Hive and talk about other cryptocurrencies, stocks and finance niches. Creating content about LeoFinance is a great way talk about what we all love and also educate the new users that are constantly being onboarded.
In order to attract those new users, however, we need to have diversity of topics to read/engage with. In order to have diversity of content, curators need to be distribute upvotes to non-LeoFinance related content from time to time.
The Proof is in The Pudding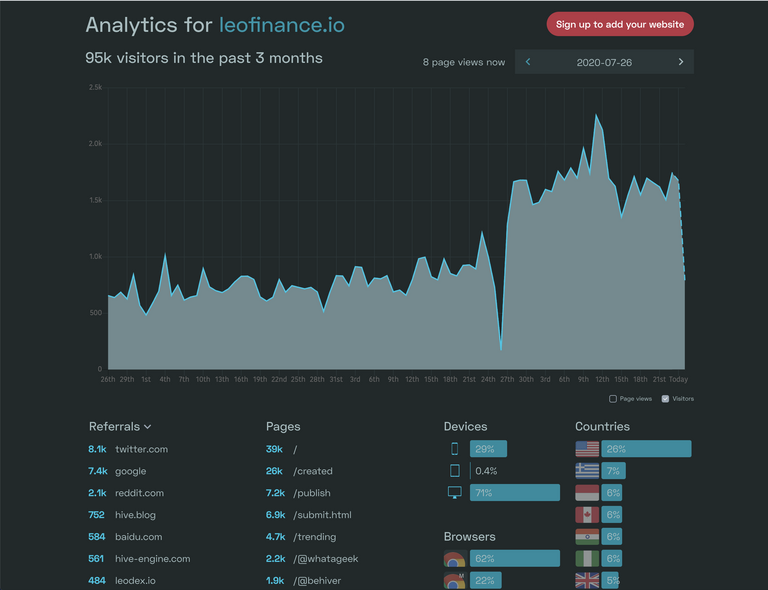 https://simpleanalytics.com/leofinance.io?period=month&count=3
Above is our analytics page for LeoFinance.io. Here we can see the sources of traffic (Referrals) to the site. The majority of our traffic comes from Twitter, Google and Reddit.
This next chart shows Twitter referrals specifically: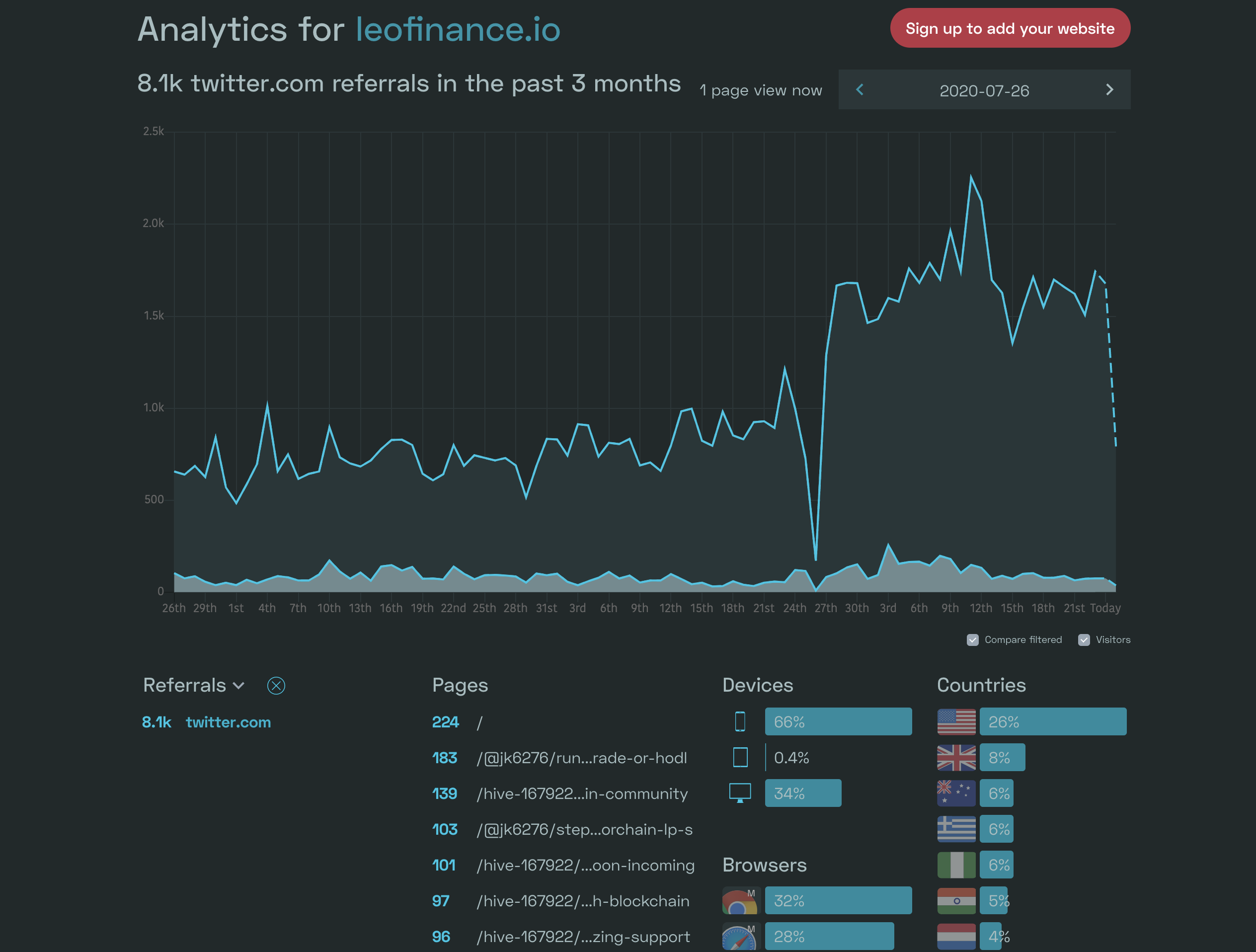 And here you see the tweets who brought the most clicks back to LeoFinance.io: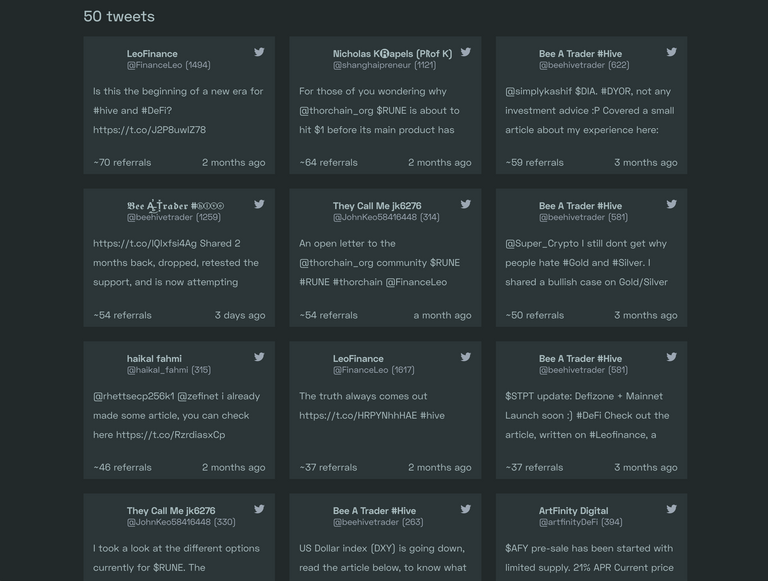 While content about LeoFinance/Hive is awesome for the current community (and you should definitely keep writing about those topics if you enjoy them), it's also clearly important to write about other topics. Especially when you combine writing about one of those external topics and then head out to Twitter/other social platforms and share those posts in relevant communities.
A good example of this is @jk6276 who writes regularly about Thorchain (RUNE). After writing a great post about RUNE, he tweets it out and tags the Thorchain Twitter account. Their official account often retweets his post and then we get an influx of Thorchain users coming straight to LeoFinance.io to read about something they care deeply about.
As we continue to build out LeoInfra in the coming months and integrate other blockchain login options and even web2 login options, we need to spend more effort on these outward-facing initiatives to bring new people to the site. It's easier than ever to sign up, now we just need to get the people here.
Diversity of content and curation is a major leap toward that vision.
p.s. the featured image in this post is a teaser for the new homepage in our upcoming LeoFinance V2 Phase 2 release
Posted Using LeoFinance Beta