If you ever read any of my articles, you might have figured it out yourself already. I like blockchain gaming. Not only that, though. I think it might be the best thing to happen to us since the invention of sliced bread. Putting your games on the blockchain just feels like the logical next step in the evolution of gaming. By giving your players true ownership of their items, by allowing them to trade them with each other, and, ultimately, to cash out of your game when ever they want, you bring gaming to the next level. A level where players will actually be able to Play2Earn. A level where players will not only get entertaiment from gaming but they'll have something to show for once they are done with a game. Top players that invest their time (and skill!) into a game will be actually able to make a living with it eventually.
Well, at least, that's the idea. So far, things are yet to manifest. There are still many things holding blockchain gaming back and a lot of them would warrant to have their own article (which I just might write eventually). One of the biggest issues, though, is the amount of Pay2Win present in a lot of these games and that's exactly what I want to talk about today. What exactly is Pay2Win, how is it present in our most successful blockchain games and why is that a problem? Finally, I also want to showcase some ideas of how to fix this, so let's get right into it!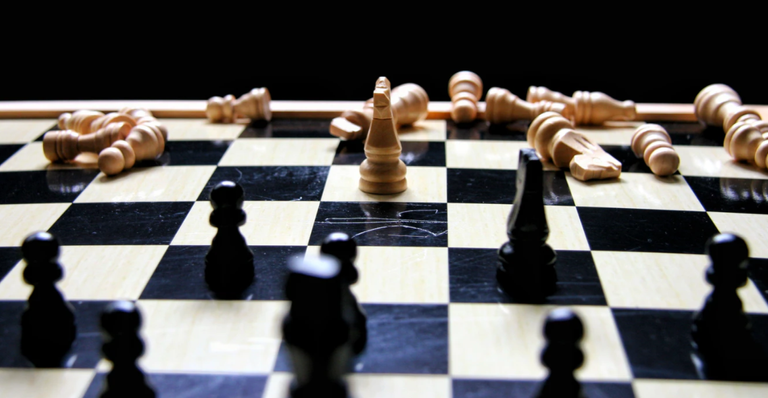 Photo by Louis Hansel
There's no exact definition of what Pay2Win actually is and different players will tolerate different levels of the mechanic before they call it out. The basic idea is that you can spend money in order to gain an advantage against your enemies. The most blatant forms of Pay2Win are often found in mobile games where money often will outright buy you a win against your opponent. There was (is?) a Command & Conquer mobile game for example that allowed you to do additional attacks as often as you wanted as long as you paid for them every time. This mechanic allowed whales to simply "buy enemies out of the game". They would just shell out money until their base was destroyed and there was no stopping it other than paying money yourself.
These mechanics are usually frowned upon by most gamers, but there are more subtle ways of Pay2Win and these are the ones usually present in blockchain games. In this case money won't buy you the win right away, but it's going to increase your winning by a lot, up to a point where it's impossible for a "normal" player to beat a whale. It's mostly the trading card games that work that way and incidentally, this is one of the most successful forms of blockchain gaming so far.
Take Gods Unchained as an example. The game resembles Hearthstone and is indeed pretty fun to play for a while. It even has some cool Play2Earn mechanics and you can advance quite a bit in the game without paying anything. That's changing abruptly once you get high enough to face paying players, though. Many games in Gods Unchained are a back and fort where both players counter each other threats until one manages to set up something the opponent can't counter any more. One of the most common examples of that is Echophon, a card coming from the long sold out Genesis Edition: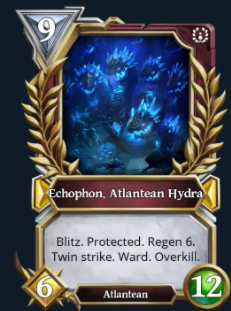 This card is a total game changer, because it can attack the round it is played, usually clearing the opposing board. At the same time it is super tough and can't be taken out by a single spell because the first spell targeting it will be countered. In short, the card will both counter what ever the opponent has on the field and at the same time poses a game ending threat. Thing is, cards like that are not available for free, right now you'd have to pay about 0.2 ETH (~250$) to buy it. So without spending a lot of money, your chances of winning games against players that did are slim at best.
There are even worse examples, though. Just look at Splinterlands. Thanks to their level mechanic, you'd have to spend hundreds if not thousands of dollars just to have a shot to compete in the top league. It doesn't stop there, though. Right now there are about 300 different cards present in the game. In theory, you'd need each and every single card at it's maximum level. Only at this point Pay2Win wouldn't be an issue any longer.
Don't get me wrong here, I love Splinterlands, I'm invested with thousands of dollars myself and I feel like it's the best blockchain gaming has to offer by far, but that doesn't change the facts. A lot of matches come down to who has access to a certain card or sometimes even the higher level of a card. There are summoners that will be subpar in a lot of matches but next to unstoppable in others.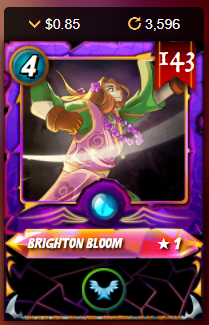 Brighton Bloom for example gives all your monsters flying. In the Earthquake + All Monsters loose all abilities rule set this is an insane ability. In most other rule sets there's at least one better option to go with. Getting the card to max level would cost you about 110$ and Splinterlands is full of examples like that. But why is this whole Pay2Win thing an issue in the first place? Splinterlands is doing great, isn't it?
The truth is, it is, yes. In blockchain gaming terms. But even as the number 1 blockchain game, it's completely irrelevant in terms of mainstream gaming. If we want to change that, we need to at least 10X, better 100X the number of active players in the game. We blockchain people are not the ones to be put off by Play2Win mechanics easily, we are used to investing money in all kinds of stuff. Regular players are, though. Realistically, if Splinterlands was on Steam right now, it would have a mostly negative rating with people accusing it of being the worst Pay2Win game they've ever seen - and they'd be right about it, simply because the amount of Pay2Win is unheard of in the mainstream world and indeed, they've never seen anything like it.
So what can be done about it? There are two paths to be followed and ideally, we'd do both. For one, there are a lot of mainstream titles that have just as bad Pay2Win models. Just look at Hearhtstone. The difference is, they hide it a lot better! Hearthstone is showering its players in free stuff all the time and over all these rewards, many players ignore the fact that they still have to pay hundreds of dollars to compete for the top spots. I'm not saying we need to hide the Pay2Win elements better, quite the contrary actually. What we should do is educate the players about blockchain. This one is hard and it's going to take a long time, but it's rather simple once they figured it out.
My main Splinterlands account has cards worth about 2.900$ in it right now. If I wanted to, I could sell everything right now. Sure, I wouldn't recover all I've invested, but I'd make back a healthy portion of it. There's no such option in non-blockchain games. So isn't it better to invest in something that will allow you to do so? We know the answer, but mainstream players don't. This is the long road and it's one we'll have to go eventually. But there has to be something else we can do? There is! Get rid of Pay2Win altogether!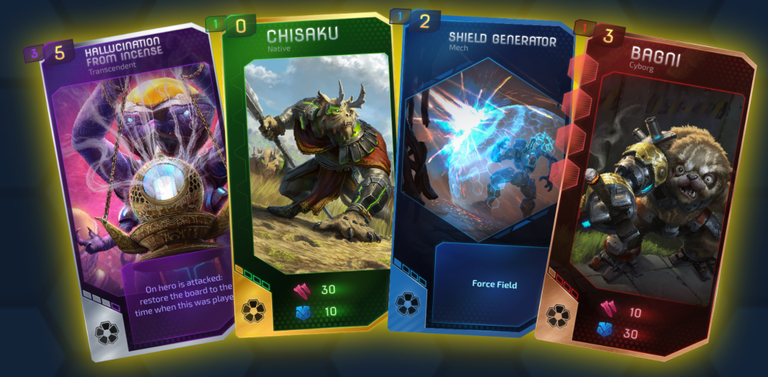 This is something that existing games will have a hard time doing, obviously. But new games can and there are already games in development with that exact target. The image above is from an upcoming game called Synergy of Serra. To make it clear, I don't know much about the game yet and I certainly can't comment whether it will be worth our time or not. But there's something unique about the game. It's a collectible card game and they are a deck builder just like the above examples. The key difference is - instead of each player playing their own deck, both decks are shuffled together and both players then draw from the same pool of cards. This simple twist already gets rid of Pay2Win for good and it's the way to go in my opinion.
There are still obvious advantages to having a larger collection with this system. You have access to more cards, you can try more and possible more interesting strategies. But no matter what you do, you can't buy yourself an advantage. Shuffling both players decks together is just one way to do it and I'm sure we can come up with many more interesting ways to level the playing field.
The more blockchain developers realize that they don't have to have Pay2Earn elements to sell their NFTs, the sooner they realize that that's what's actually keeping them out of the mainstream market, the sooner we'll see blockchain games conquering said market. I for one can't wait to see that happen, blockchain gaming is the future - we only need to make it happen!
And that's all from me today, thank you all for reading and see you next time!
Posted Using LeoFinance Beta