Authored by @silverstackeruk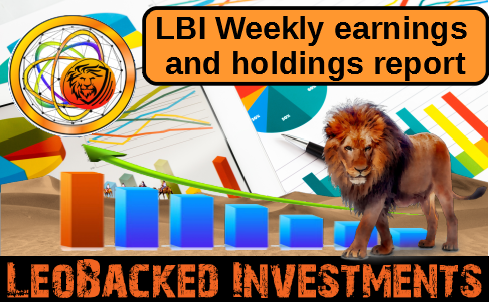 Hello LBIer's, the crypto market has crapped itself this week but it means little to us as we've smashed last weeks earnings and had the best week we've ever had. We've been doing well with everything we are involved with and this is reflected in the LBI token price.
Before we get into this weeks report, don't forget that LBI tokens will be hard-capped on the 7th of May. You can get LBI tokens directly by sending any amount of LEO to @lbi-token, tokens priced at 1.20 until hardcap.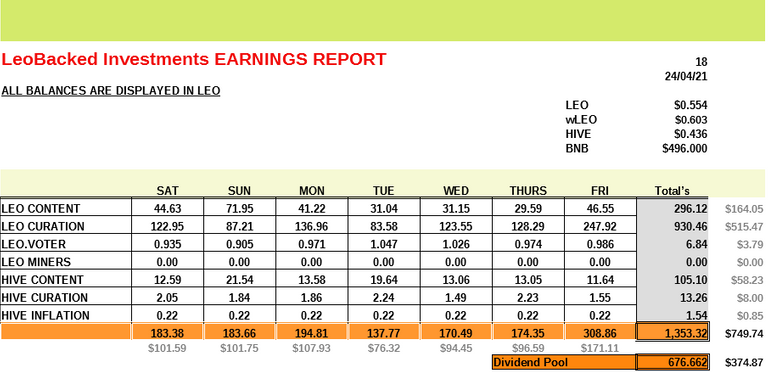 Dont ask how but we had a double LEO payout day yesterday so this week earning are even higher than last weeks. You can see that curation is killing it, this is a result of a few things all working together. 1/ We've continued to power up LEO every week and grown our curating balance. 2/ Taskmaster4450 is doing a great job at keeping the VP of the account in the sweet spot and always over 90% which makes a few percentages of a difference and with 230,000 LEO, that adds up and 3/ curation earning rewards as a percentage have increased a little over the past few weeks for various reasons.
Content has done well but no big chances, this weeks earnings spurt is down to LEO curating. If every week was like this, we'd be in the land of milk and honey.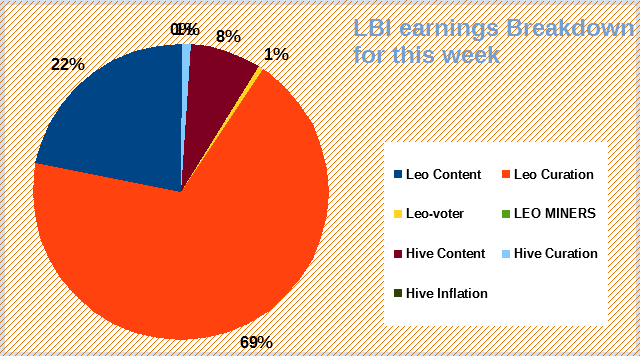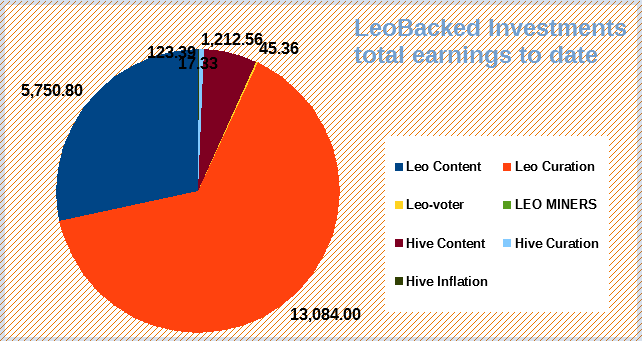 Total earnings to date are 20,233.34 LEO giving us an average of 1,124 per week. Even after removing the double LEO payment, we still would have earned around 1200 LEO which is above average.
You can see below that the past 2 weeks have been great for us. I have been sending 50% of earnings to bLEO and powering up the other 50% to @lbi-token. We are still a young project and it's better to build slowly compared to looking back in 2 years and thinking, we should have laid better foundations. We will continue to aggressively power up LEO up until LBI dividends begin whenever that is. From a growth POV, the longer div's are held off the better it is long term for LBI. We might be able to have our cake and eat it too if we play our cards right.
Earnings from last week beat last week so we have a new peak earning week, great stuff.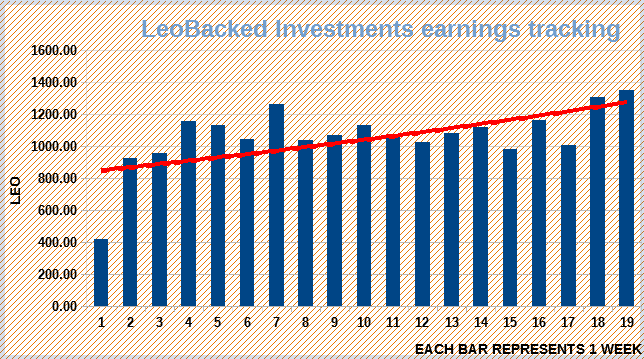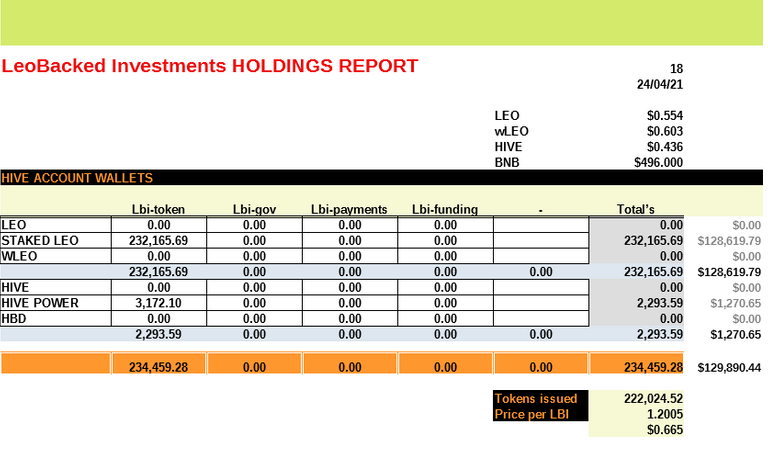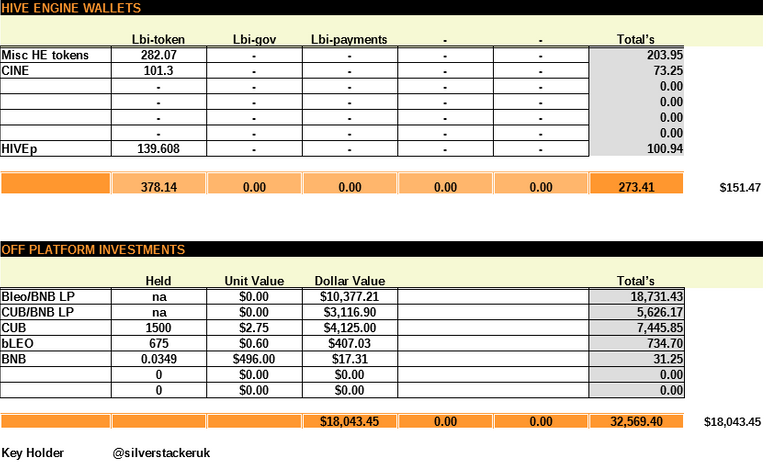 This week, our staked LEO balance has increased by 1453 LEO thanks to 50% of our earnings and some LBI token sales. In our hive-engine wallet, we received a bunch of Bullshit token (BST), no idea why we got any but we now own around 12% of current circulating tokens which makes us an insta whale. Maybe the project owner thinks LBI is bullshit and is making a joke, baa-hahaha. Either way, we'll hold on to them as they are worth over $100 and it's a freeroll.
For our CUB wallet over the past week, we added again to the bLEO/BNB LP to the amount of roughly $845 and then also roughly $140 into CUB/BNB. Last week our CUB wallet was worth $20,483 which was valued at 29,557 LEO for us. We can see that this week, our wallet is worth fewer dollars but more LEO so it's swings and roundabouts.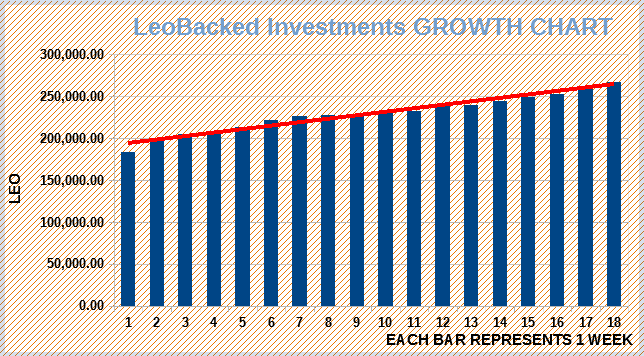 Growth is continuing on the same trend. As we continue to build our foundations of staked LEO and bLEO/BNB LP, this trend should continue. When we start investing in things outside the LeoFinace ecosystem, these lines every week might not be as consistent. What we have been doing from launch is building strong foundations so that when sh*t hits the fans on investment, we can continue on and take the hit. Think of it like ripping the 1 leg of a spider. That spider will survive. We're building strong legs 🕷
The below chart only has 1 change this week. Staked LEO has lost 1% and BSC LP's has increased 1%.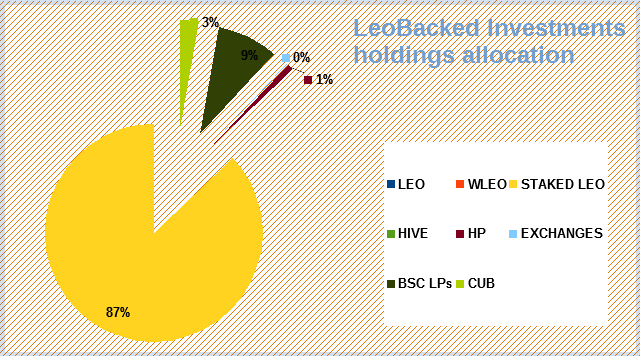 LBI token price
Total assets worth in LEO
266,536.14 LEO
Total LBI tokens circulating
222,024.52
LBI token price - 1.20 LEO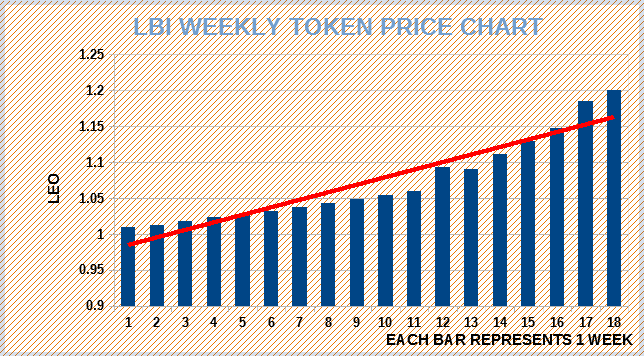 There we have it, folks, the highest-earning week we've had, the fund has grown over 4000 LEO in a week and the LBI's true value is now 1.20 LEO meaning 100% of wallets are in profit. That's not a bad way to end the week if you ask me.
Thank you very much for reading this week's earnings and holding report, I hope you have found it informative. Comments and feedback are welcome.
Posted Using LeoFinance Beta