Authored by @silverstackeruk
LBIer's, I've been dragging "Help a CUB" out for long enough, I have spent multiple hours thinking about this, trying to come up with the best way to organize this in a way that will not be scrutinized and picked apart. The idea at the very start was to collect money, pick a deserving CUB and buy them a laptop/PC to help them further improve their Leofinance experience. I like helping, supporting and doing a bit of philanthropy but it often comes back to bite back and im thinking to just knock the whole thing on the head and refunding everyone would be the best way to resolve this before further mistakes or made and damage done. What was supposed to be a simple project has turned into a multi-month head wreck. I accept the blame 100% for this.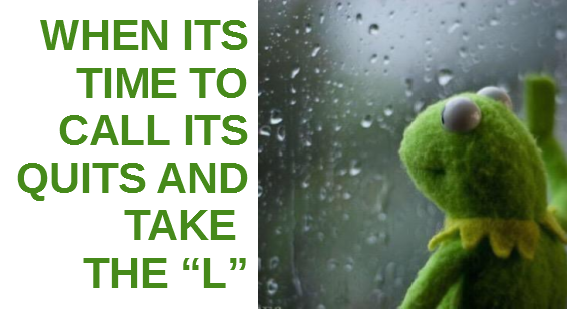 Why?
"Help a CUB" failed, its voting had to cancelled and a new plan thought up. The plan is ready but to be honest all the fun is gone from it. We'd require 10-12 CUBS to be nominated by users that would be willing to track their nominees LEO/HIVE activities for 8 weeks. I find it hard getting help from 2-3 people so asking 10-12 people to volunteer to track a CUB account for 8 weeks will not work and we'll hit another speedbump. I've done stuff like this before and it's a lot of work, a lot of headache as people over commit and under deliver and a good plan does not mean always mean success. Sometimes, I think i'd be better just posting about LBI and stats as trying to create charitable events always backfires in 1 way are another. I guess I'd be better to stick to what I know will work and not try those sorts of things anymore.
I personally dont want to commit (being honest) another 8-12 weeks to this
I dont think we'll get enough CUB's nominated by users willing to track those CUB's activities for 8 weeks
I think CUB's will drop out/give up as the contest progressives
Refunds
I've never had to do a refund for a charity event before but I can't think of another way to use the funds in a way that everyone would be happy. We could do a vote but the result would be the ones that vote on the popular outcome are happy and the rest are not so refunds are the best way to go about this. I'll take the loss and hit to reputation and say im sorry for not delivering what was promised when I first posted about Help a CUB. I have bitten off more than I can chew and it's time to put a full stop to this chapter, move on from it and take the L
Refunds will be in the form of HIVE
All donations were converted to BUSD when HIVE was trading at roughly 53 cents and LEO trading at 89 cents. Donators are refunded HIVE so they decide whether to keep it as HIVE are convert it back to LEO are any other token that they donated. Both have fallen in price since then so the amount you receive back is a little more than donated. Users that donated in HIVE will receive back 27% extra due to the fallen price since the donation was made. People that donated LEO should be able to buy back more than double the LEO they donated so that the only silver lining as a result of this.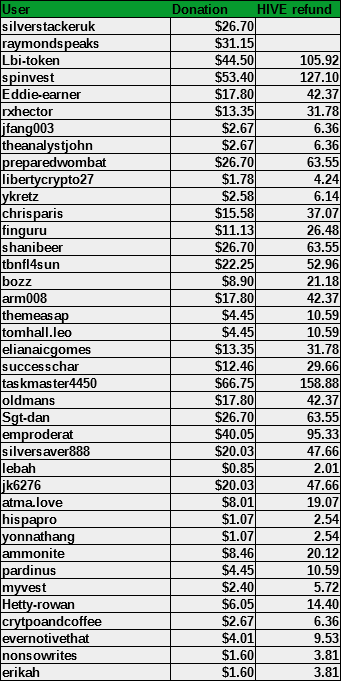 I converted the BUD to HIVE and sent it to the LBI account. Refunds will start to be issued directly from the @lbi-token and should be issued around an hour after uploading. Also, if your wondering, silverstackeruk and Raymondspeaks are not included in the refund because Ray PayPaled me fiat and I made our donations with BUSD.
Once again, I am sorry to all that took the time to donate and be a part of this. I sadly think the time and work required is much more than first planned and we could be setting up for another fail. In the future, I will not be trying any more things like this from LBI and I will just stick to what I know best instead of trying to mix it up.
Thank you for taking the time to read this post, this is not the result we wanted but cutting our losses might be better now than later.
Posted Using LeoFinance Beta