Good day to you LBIer's and to those interested in what we are doing in his corner of LeoFinance. As Saturdays will be earning and reports day for LBI, I thought I would give a sample of how things will look as for as earnings are concerned. I have been playing about with a spreadsheet for tracking earnings and we have 5 days earnings so why not share as im sure token holders will be interested to know and will enjoy the sample. I like to keep things clean and easy to understand. Makes life easier.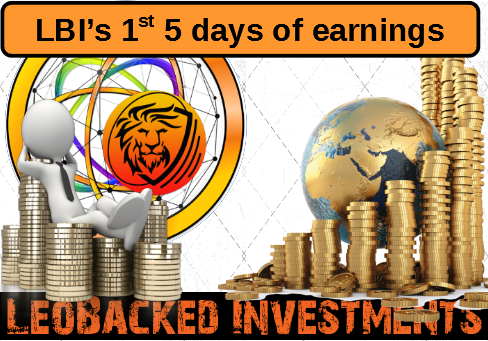 So let us jump right in and begin. LBI launched on the 7th of Dec and we only started to receive curation rewards from 15th because of the 7 day payout and 1 day to receive it from contract_tokens (my new best friend). Curation rewards started off slow but by Wed we were getting 70 LEO per day and then we had the small SCOT hiccup from last week that we can see on Fri.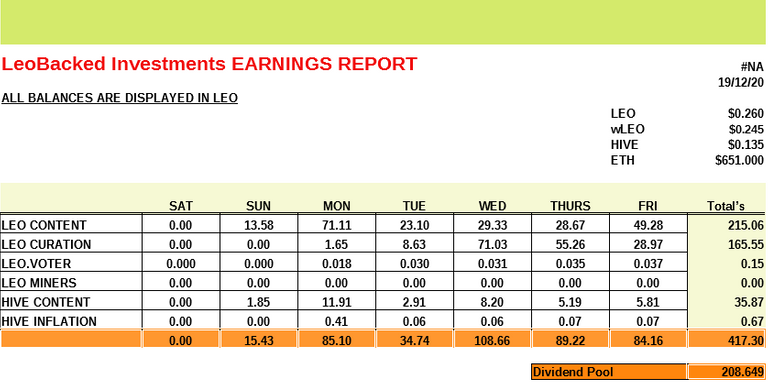 So that is it and like I said, nice and simple. You can easily see the total earned for each day and weekly total for each different income source along with the weekly total in the bottom corner. Finally the dividend pool for this week, there no are dividends payments until 2021 so this is just shown as an example.
Let's talk about earning over 400 LEO in 5 days keeping in mind the SCOT bot thing from last week. I cant not see any reason why LBI will not produce at least 100 LEO per day to start with, we have been powering up LEO and our posts are getting fantastic payouts because of all the engagement. We are even already making a small earning from leo.voter with our 200HP balance and the only way is up.
Put this chart together quickly just the show you in percentages and give a rough idea of how earnings will be coming in to start with.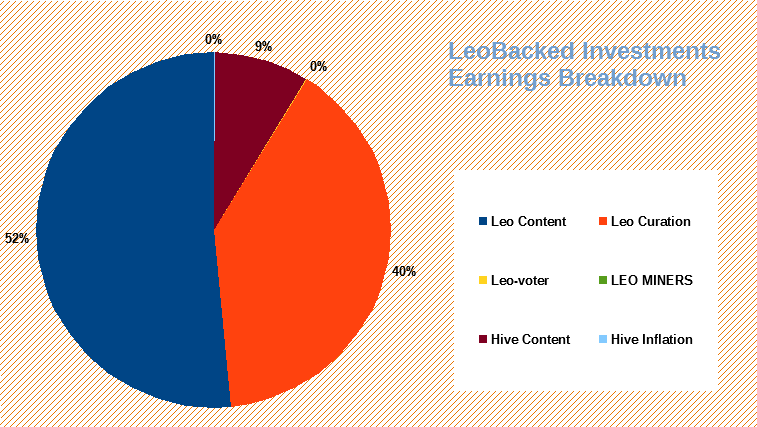 Right now it is showing LEO content as earning the most with 52% of earning coming from that, 40% of curating content and 9% from HIVE content rewards. Hmm, that's 101%? maybe it's rounding up numbers. Anyways, I am going to guess that curation rewards will be top dog earner for us because we will always be powering up more LEO but content rewards will peak out and level off after some time.
Just out of interest, let us work out how much of a dividend someone would get if the held say 100 LBI's tokens based on the current circulating supply and LBI earning 100 LEO per day.
Currently LBI's token in wallets - 154,761

Weekly earning - 50% of 700 LEO = 350 LEO

LEO dividend per 100 LBI's tokens held - 0.226 LEO

Yearly dividend APR est of 11.80%

LBI token value price increase - 0.002 LEO each
Not to bad as a starting point and keep in mind, the price of the LBI will increase also. In fact, if we held off dividends for the first 3 months of 2021 the token price would increase quicker as 100% of earnings would be reinvested. As a reference, SPI never paid out any dividends for its first 10 months and it's first week's earning were around 40 HIVE. LBI has got off to much better start and I can see us moving at a much faster pace because the community is so willing to pitch in and get things done. It's so refreshing and remind's me of steemit, summertime 2017, good times.

Just by looking over these 5 days of earning we can see that everything is working as planned and it's good. Next Saturday I will upload out first full weeks earning and holding report and I have to say, I am looking forward to it because I think it's gonna be good are at least not disappointing.
Thank you for reading today's post from LBI, I hope you enjoyed it and you now have some sort of idea of the earning power we have. This is base-level earnings and over the coming months as we branch out into other income creating sources like gaming, Leo miners, maybe leasing LP are investing into dividend-paying tokens our earning will increase nicely. We're are off to a fantastic start. Thank you to everyone for their efforts to date.
Authored by @silverstackeruk
Posted Using LeoFinance Beta