Authored by: @hetty-rowan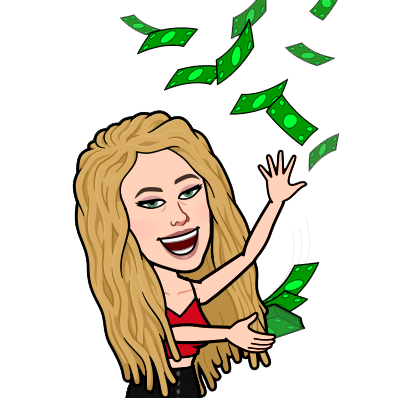 Contest Time
It's Tuesday again… and it took him a while to get online. The weekly contest.
Enjoying the sun
Not because I forgot, but because the weather is so nice that I just spend the day outside with the dogs and leave my PC for what it is. Do you also have that as soon as spring starts to spoil you with nice temperatures that you want to go outside. No more sitting inside all day, forgetting your PC and just enjoying what you get for free and for nothing. The sun as a gift after a long cold dark gray winter.
The dogs are 'helping'
Well, anyway… I do. And so also today. After that long dark cold winter I can't get enough. Finally, feeling the sun's rays on my skin. The dogs have the spring fever and want nothing more than to be outside with me all day. Playing with balls, gardening together… where I do my best to clean up the winter junk, and they fill everything up behind my back with what I just cleaned up. Yes, you already understand, they are not really great gardening helpers… more like "Don't bite in my broom Skipper!", "Lana don't walk right in front of my feet, go play with your ball yourself", "Myla what are you doing there? Are you digging out the plants? You can't! " … Well, many variations of this possible. But in short it means that we all have a great time as soon as the sun shows itself well and we can go outside again.
And then you ever have that it gets a little late for a post can be thrown online, for the simple reason that I was totally not involved with it before.
The time has come
But now the time has come, and I am ready for it. Are you ready too? Because last week you were all very busy keeping an eye on VET. And above all, keeping an eye on the price of VET, what did it actually do? And was it worth keeping an eye on. Could this be THE week when VET crossed the magic line, going from 9 cents to 10 cents?
I can already tell you that this has not happened, so for anyone who wants to get into VET now, it can still be under 10 cents. And there were plenty of people among you who didn't think VET was going to pass 10 cents this week either.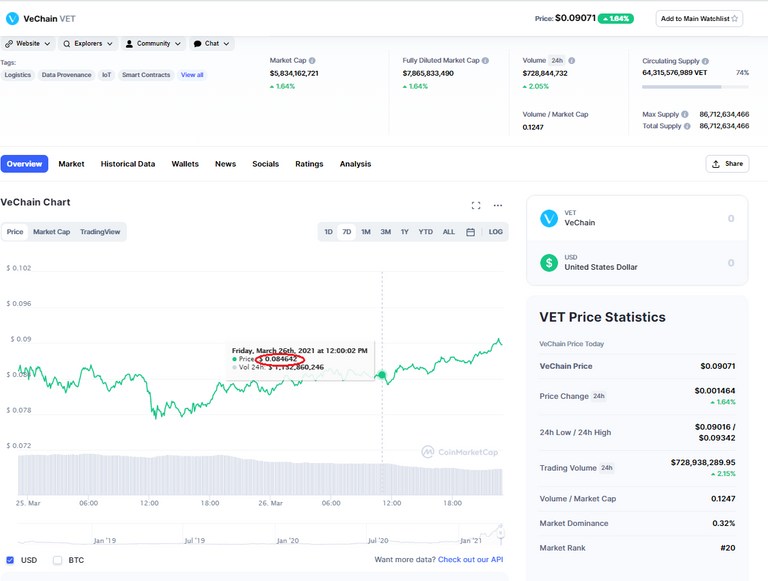 We have a winner
This week, again, we had no one who could predict exactly what price VET would be on March 26, 2021 at noon. But we did have someone very close to it. And that's why this week we can congratulate @bozz on his prize from Chest 2. So @bozz, the 5 LBI are coming to you ASAP! Take care of it ...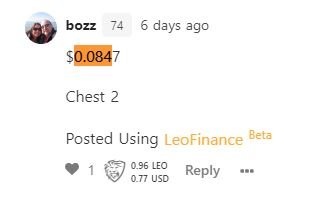 What now?
But then, this week I didn't describe a new coin because other topics were more important. And yet I want to hold a contest. So what are we going to do this week?
To make it easy for all of you, not to have to describe a new coin, and to hold a contest with a coin that everyone is 100% aware of.
We are going to predict the price of our own LEO this week.
Yup, what's 1 LEO worth this Friday, April 2, 2021, at noon Central European Time?
You know the drill, please get the answers before Thursday evening April 1, 2021, 6 p.m. Central European Time in response to this post.
The chests are filled again ... and this week you can choose from:
Chest 1: 5 LBI
Chest 2: 2 UTOPIS
Chest 3: 1 BRO


If there is someone who can predict the price 100% correct, then of course he or she will receive a bonus of $5 in LEO tokens. So I would say do your best!
It remains for me to wish you all the best and have a great week. Tomorrow @taskmaster4450le will take over again and after that you can enjoy @silverstackeruk's writings again for 3 days.
Happy week
Posted Using LeoFinance Beta