Cover created in Canva
Yesterday was finally the tremendous relaunch of WLEO in "Uniswap", which was accompanied by incredible updates in the user interface in "LeoFinance.io", which I loved and that make life much easier to any type of user, this starting on the platform or not, it is very simple to manage, based on this I will explain in this publication some of the most significant changes in the interface wallet that will help even the newest to understand how it works.
On the other hand, I will be analyzing and seeing how has been the relaunch of WLEO in Uniswap, showing right now what is the total settlement and how it is causing a really positive impact after the WLEO was launched yesterday. Also to complement, I will analyze technically to the LEO and to see that answer has had the same one after all these incredible updates... Accompany me.

The newest thing about the Wallet in the user interface.

What I like most about these updates is the ease in which I can convert my liquid LEOs to ETH through "swap.app" in a blink of an eye, of course, so that we can get this option we must first link and connect our "Metamask" wallet to the LeoFinance.io platform, so that we can get the exchange option mentioned above and we can do the conversion. In the following image I detail how easy and simple the process would be.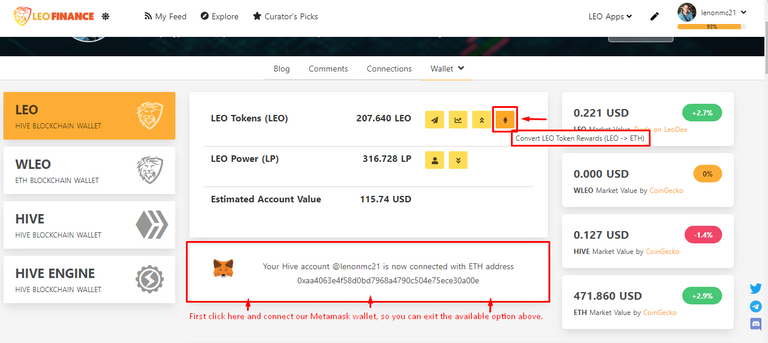 Image of Wallet LeoFinance.io
Later on, once we clicked on the Ethereum symbol where I point out in the previous image, the following screen will appear and I will show it to you shortly. Once there, we only have to select the amount we want to exchange for ETH, paying close attention to the "Green" colored letters that I point out, since after the intrinsic fees charged by the Ethereum network for the transactions in what we will receive at ETH in our Metamask wallet already connected.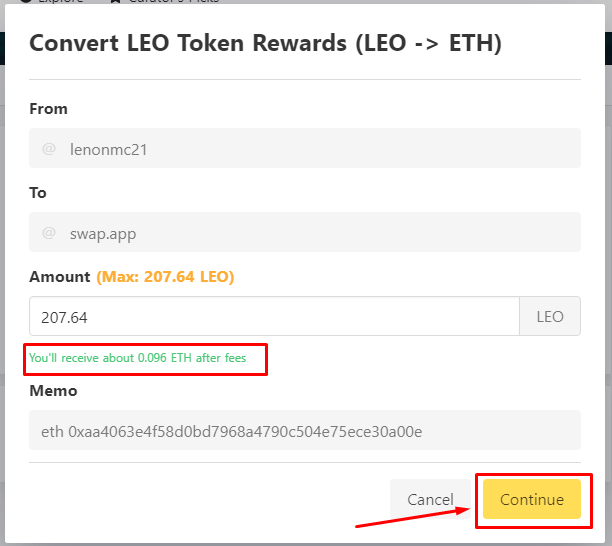 Image of Wallet LeoFinance.io
Finally, the ETH address is not necessary since it is connected by default, because we already connect to MetaMask with our Leofinance account.

How do I wrap LEO around the User Interface wallet?

In the first release we did not have this option enabled, as we had to go to WLEO.IO to do it; and although we can do it through this platform mentioned above, now we can do it through our own wallet in the LeoFinance.io user interface with a few very simple steps. For those who do not know, that maybe many of you already know how easy it is, I will also briefly detail how you could do it directly from the interface, this is another addition that I have loved since it makes things much easier when wrapping my LEOs and adding liquidity to the Pool.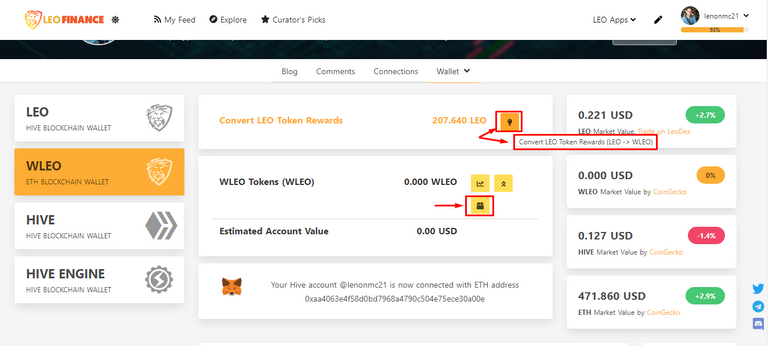 Image of Wallet LeoFinance.io
As you can see in the previous image, by clicking on the "Red" colored dots mentioned above, you can wrap your LEOs to convert them to WLEO and add liquidity to the Pool. Then we only have to do the same procedure as if we were going to exchange our LEOs for ETH, only the difference is that we will get WLEO in "Uniswap" to be able to make a 50/50 parity and be completely a liquidity provider and start getting rewards.

Current liquidity in Uniswap for WLEO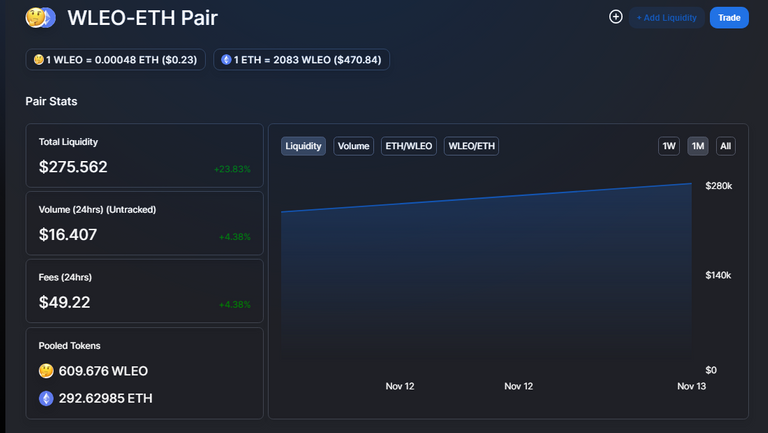 Image of Uniswap WLEO-ETH Pair
Surprisingly, with only one day having passed since its launch, the Liquidity Pool has a total settlement at the time of writing of this publication of $275,562 and rising, something impressive that of course has caused effect on all investors and believers of what this great project is and where many users are already joining the Pool. On the other hand, also on the contrary after the launch, many people have been joining LeoFinance, which is very positive.
This has also affected the price, since LEO has been rising these last days, however, I will quickly analyze what I can see in the price and what could be the new goals to take into account and maybe in a few weeks, reach new highs.

LEO Technical Analysis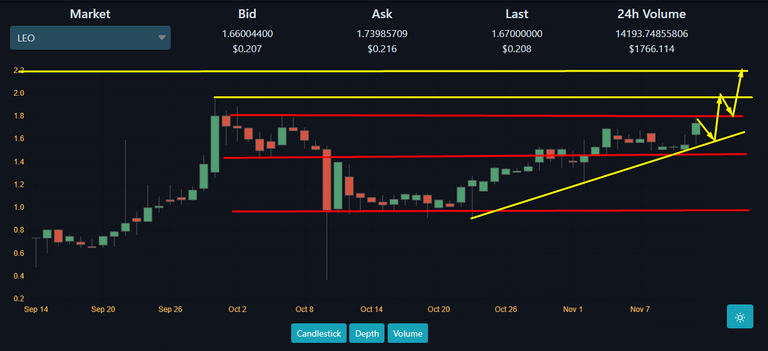 Image of LeoDex.io
Since the beginning of November, the price of LEO has been fluctuating in a range between 1.4 and 1.8 HIVE for each LEO, however, the price still maintains an upward trend line making the lows higher and higher, which leads me to think that this range I mentioned before, corresponds to a period of "Accumulation", basically since the beginning of the month and was getting closer and closer to the relaunch of WLEO.
On the other hand, the next targets I can see in the graph is its last historical maximum very close to 2.0 HIVE for each LEO, this would be great because if we break this resistance in the 1.8, we will look for the maximum in the 2.0 and then in my opinion the 2.2 HIVE for each LEO.

Conclusions | Conclusiones

The WLEO relaunch and interface update is the highlight of this week, as we are experiencing a price hike thanks to the incredible reception and response at Uniswap and the imminent increase in liquidity. On the other hand, to finish this publication, I inform you that I am planning to make trading publications sharing some of the simplest strategies in the market in order to provide knowledge to those who are starting and want to learn how to invest their money in the financial markets.
LeoFinance is a Blockchain based social networking community for Crypto & Finance content creators. Our tokenized blog platform LeoFinance.io allows users and creators to participate and share content in the blockchain while earning token rewards LEO.


---

If you are new you can join the game under this LINK
---


Live the BraveBrowser Experience. Browse fast, safe while earning BAT tokens.
Please download the browser using my Referral Link.
---

---
---

---


Communities I support and promote

---
---
---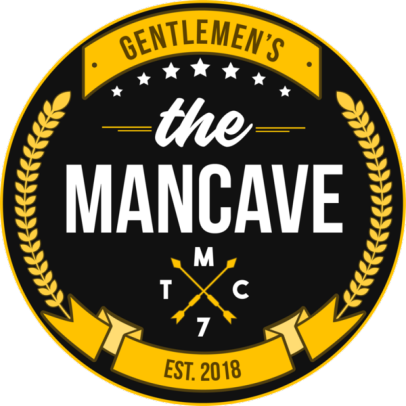 ---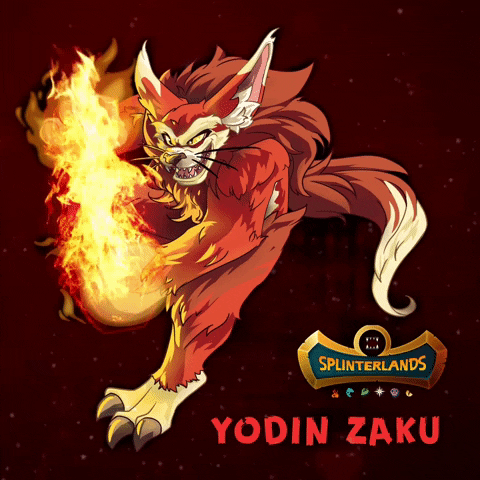 Join the official Discord community
---

Go to the Discord server community officer in Spanish
---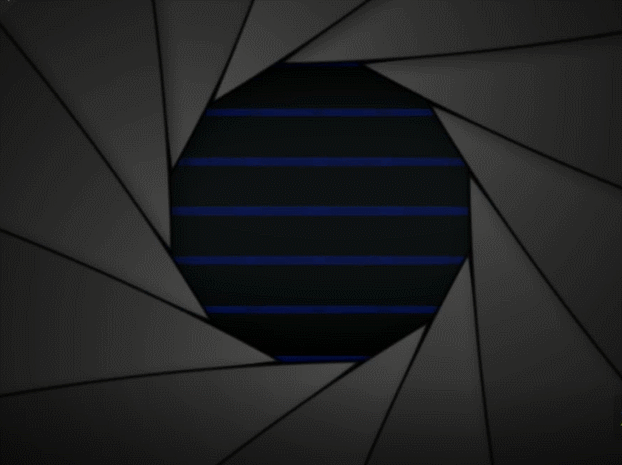 ---
Posted Using LeoFinance Beta