August Ad Report: New Websites, More Marketing and Excitement Over the LEO Price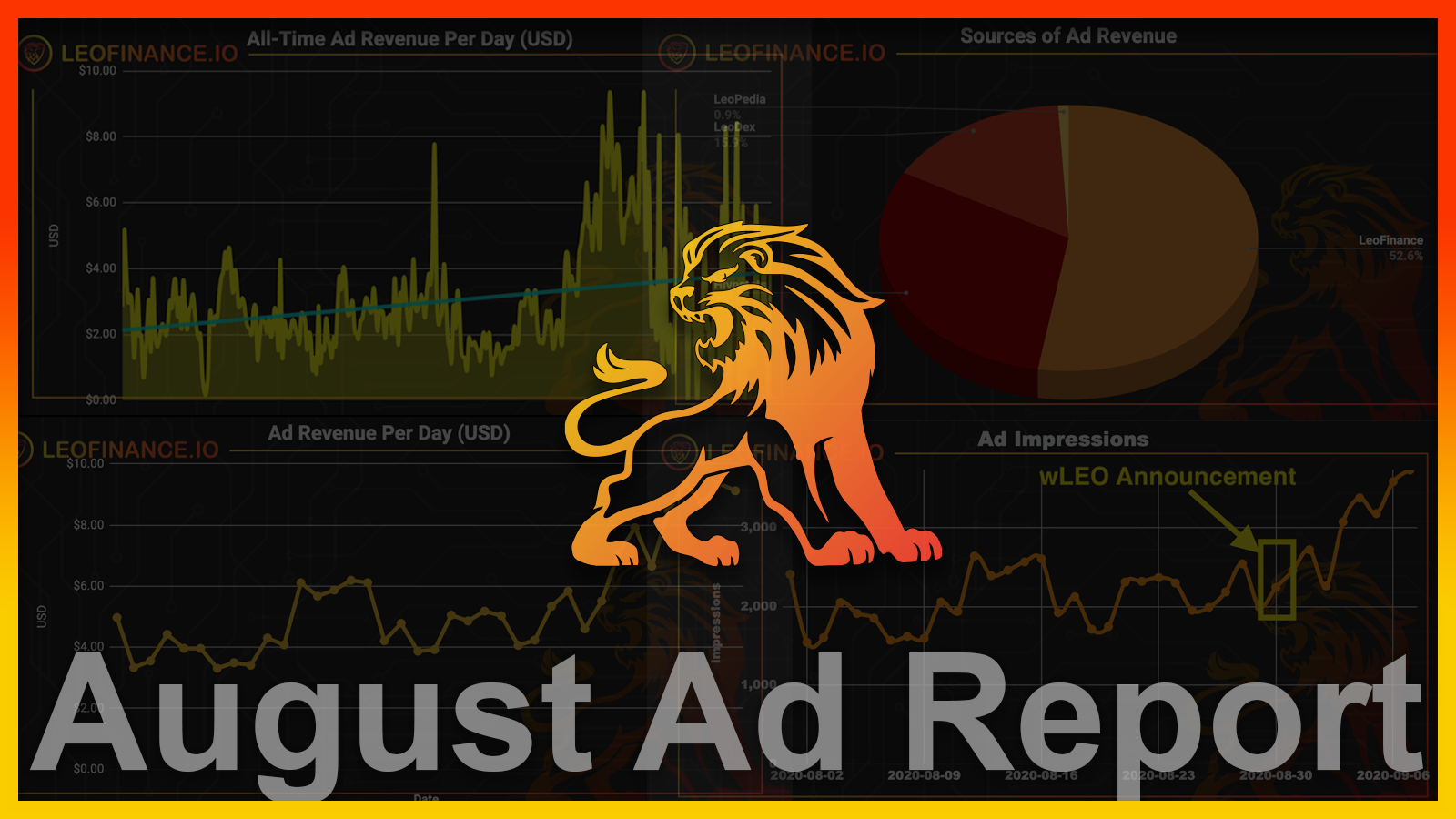 July was an interesting month for ad revenue. August was a bit more muted than July in terms of the volatile spikes that we saw.
Throughout the month of July, we saw a few days where there were intense spikes in ad impressions and daily revenue. It's hard to say what was causing that exactly, but our community had a few posts go viral in a few niche crypto communities - including a handful of LeoFinance.io posts trending in the BAT Reddit community, 1 about Bitcoin (Bitcoin Diamond, I think) going viral and getting tweeted out by the official account, etc.
The All-Time Ad Revenue and daily averages are still trending up over the long-term which is all we care about here. The goal is to build sustainability into the core of the LEO token. Bridging the gap between advertisers who want an engaged audience and LeoFinance content creators who want to earn $$ for their valuable contributions.
One thing we've realized in the marketing campaigns is the value of niche content - especially content about niche crypto projects like Rune, Basic Attention Token, etc. We'll probably make a post with more details later on about the value of these contributions and how you as a content creator can earn more and play a bigger role in the growth of LeoFinance outside of the Hive community.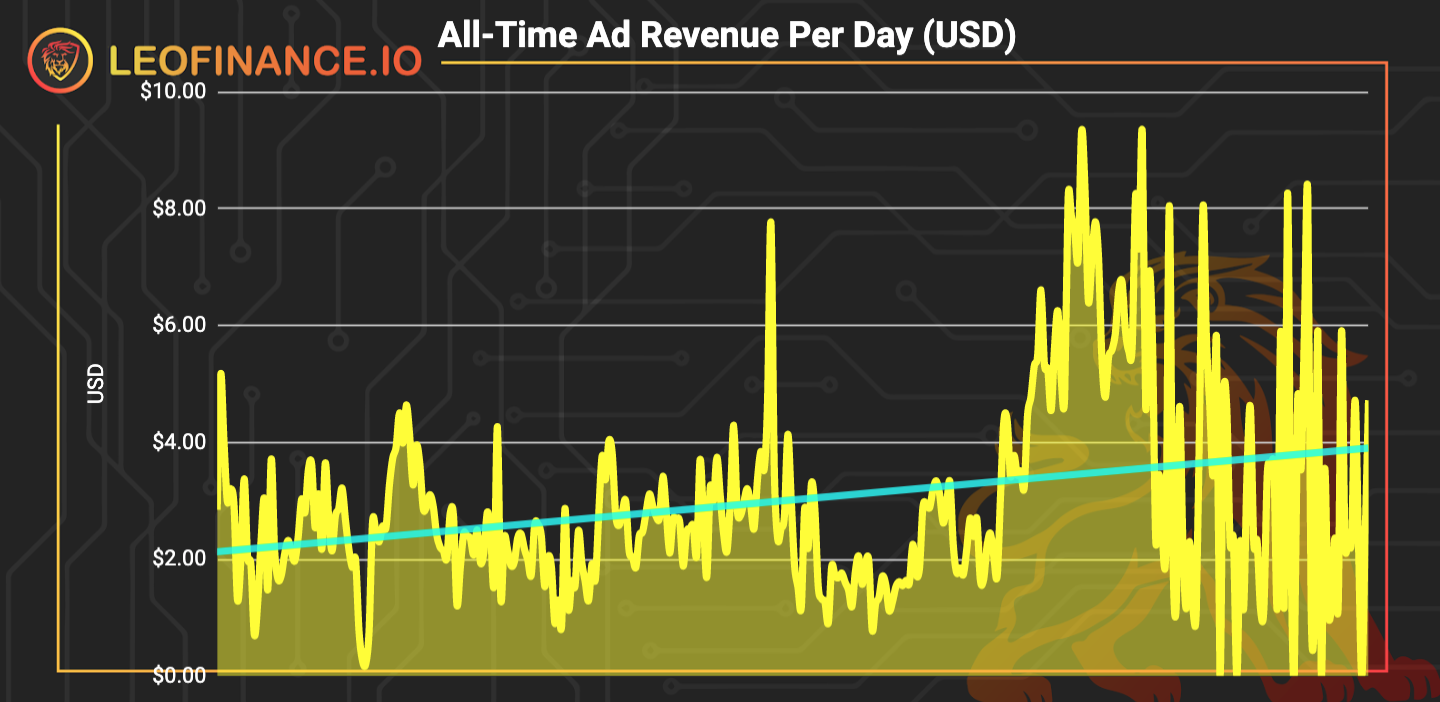 All-Time Ad Revenue Per Day - Focus on the Blue Trend Line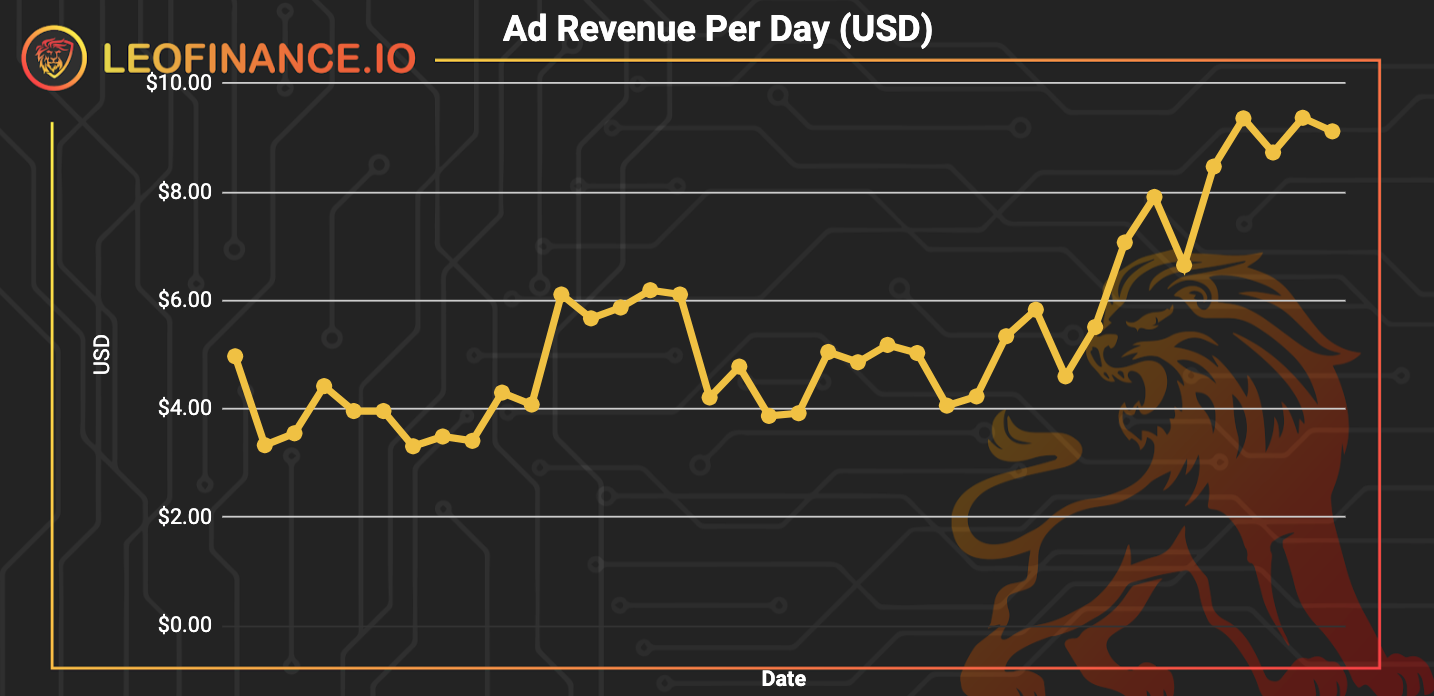 Ad Revenue Per Day - August
Month to Month

While our month-to-month daily ad revneue in terms of $ are showing a slight decrease, almost all the other metrics are showing an increase. More clicks, higher click through rate and a much better CPM.
The trendline for ad revenue is positive even though the daily averages are lower from July to August. The main cause of this are those 4-5 days of all-time high ad revenue/impressions we saw throughout July. August was a much more even month of continued growth but lacked those volatile swings.
The average daily ad revenue for last month (July 1 - July 31): $6.04 per day.

The average daily ad revenue for this month (August 1 - August 31): $5.57 per day.
In the following two charts, you'll see the ad impression trend that I'm talking about. While we had less overall impressions for the month, the volatility of the ad impressions was a lot lower. We spent more days at a higher ad impression than than previously in July.
To me, this represents a stabilization at a higher level of average daily impressions and is a healthy sign after the huge run-up in impressions that we had in the prior months.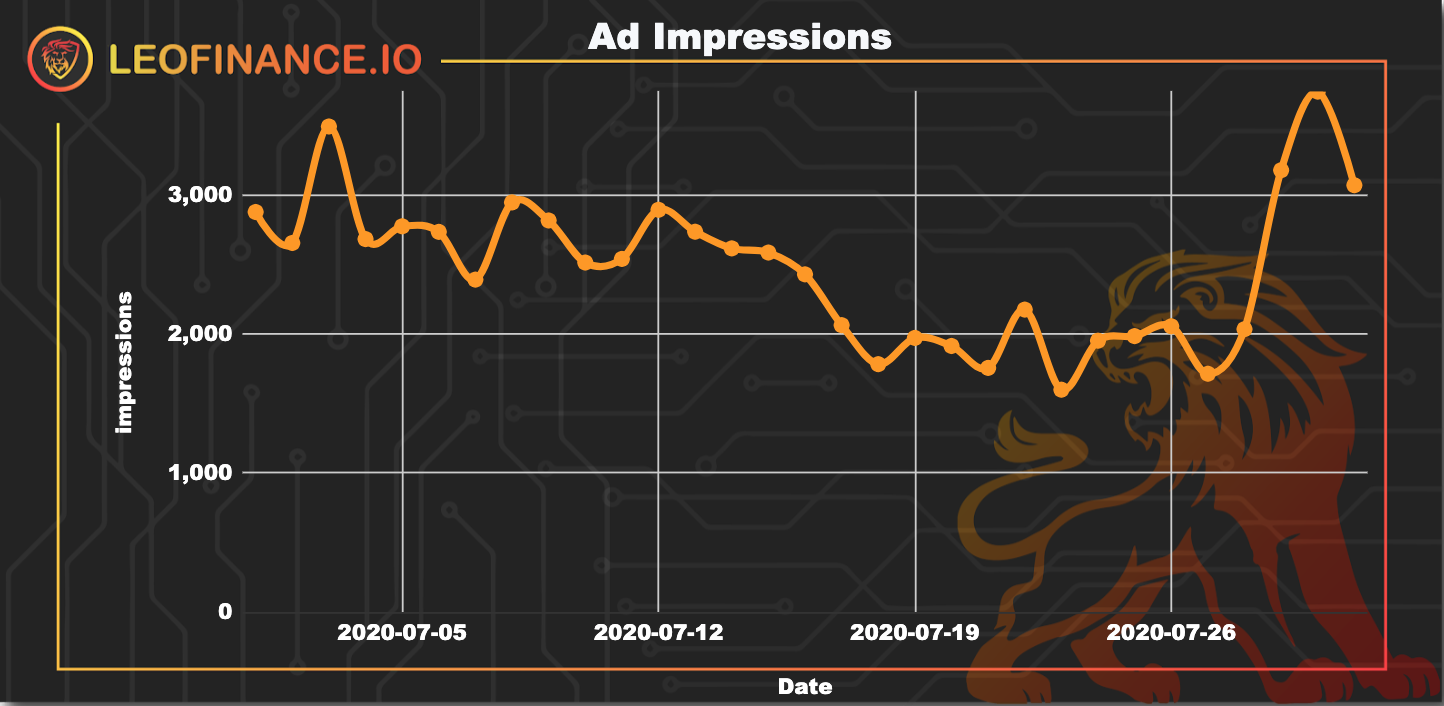 Last Month's Ad Impressions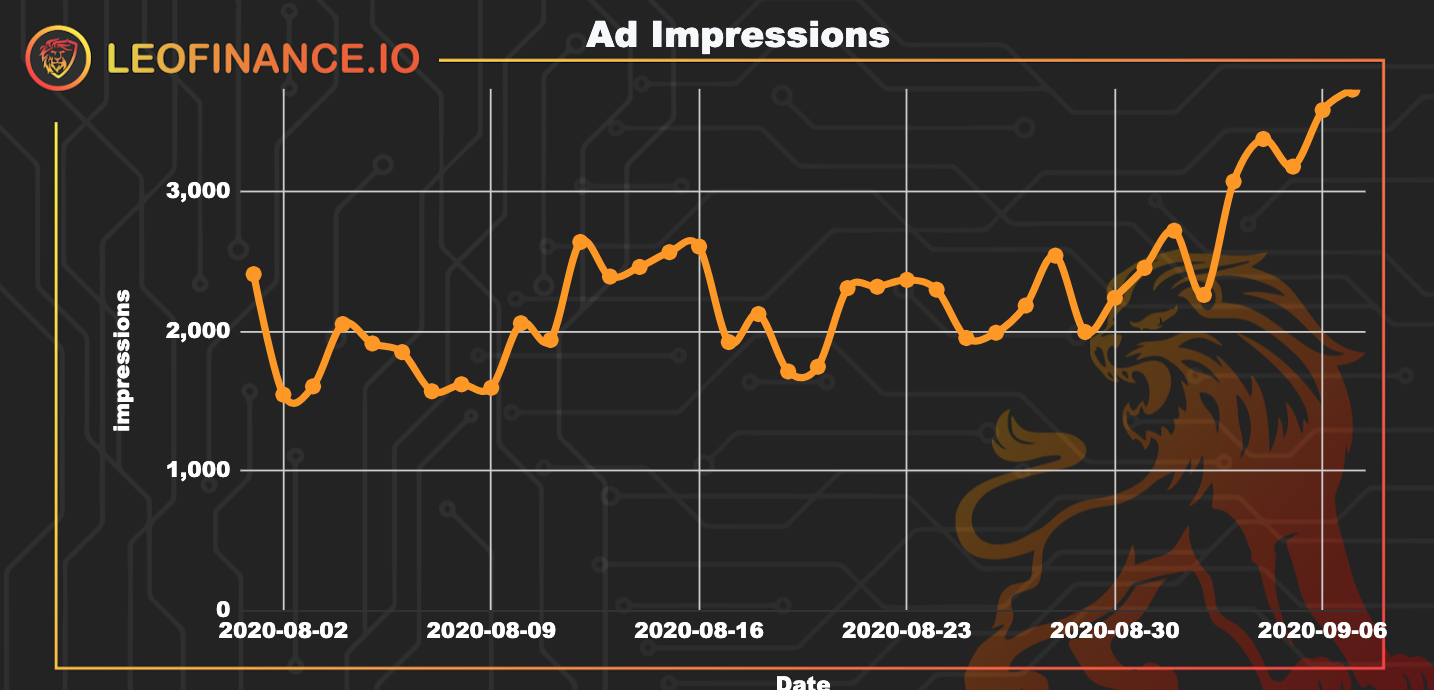 This Month's Ad Impressions
LeoApps and Their Share of Ad Revenue
The LeoFinance community currently operates 4 primary websites: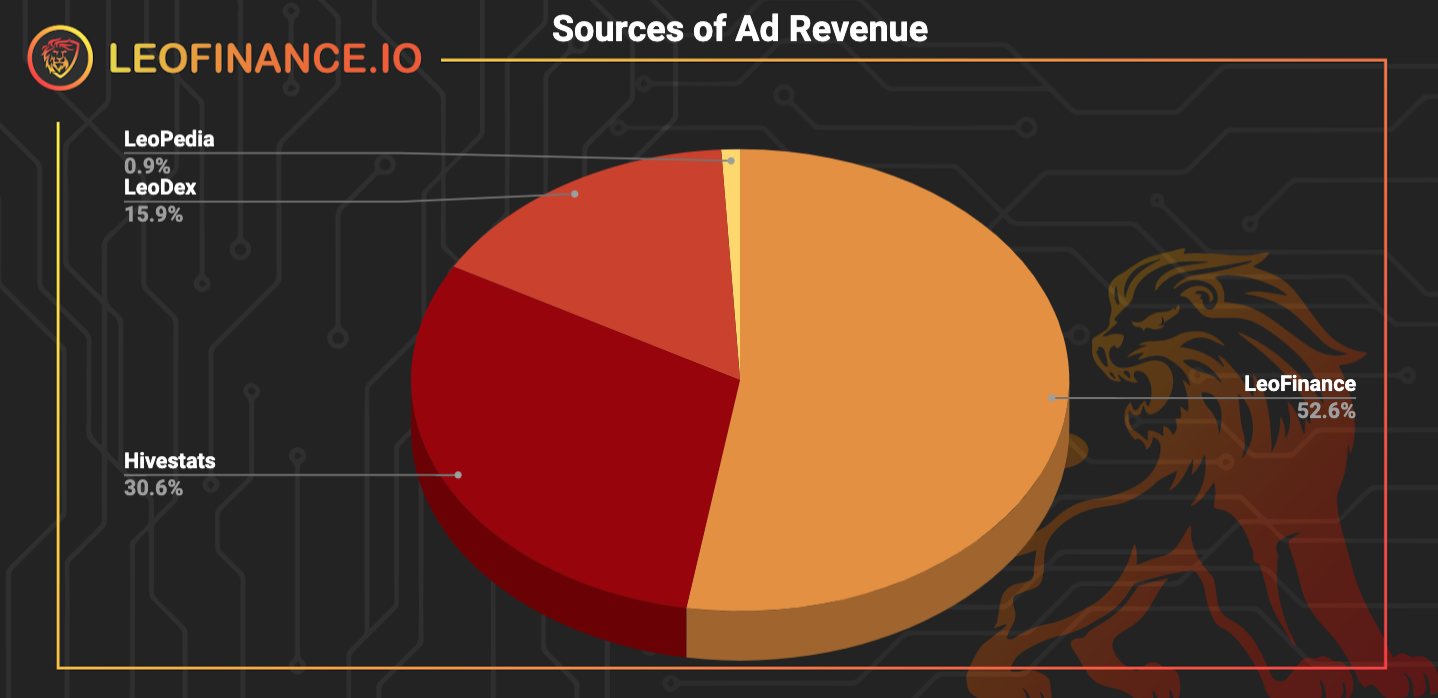 As mentioned in previous reports, LeoFinance has other applications in the works, which will be rolled out sequentially throughout 2020 (more info on these apps was released in our official roadmap for 2020).
The new domain for Wrapped LEO was recently secured and will be online in about 7 days - note that this web interface won't feature ads. The other apps will be announced and rolled out throughout 2020.
Ad Burns
I've been slowly moving the ad buy wall up higher and higher. The problem is that few people seem to want to part with their LEO and the recent run in price has left the previous buy wall in the dust.
The plan is to continue creeping this buy wall up higher and higher to provide a floor for the LEO price. If a whale decides to dump their stake into the bids, then it may get filled and will also act as a support for the price of LEO.
986.28 HIVE was earned this month from ad revenue which will be transferred to the @leoads account shortly after this post goes live. We'll either set a second buy wall or just add this into the existing one as we move the bid higher on that.
The wLEO launch on Uniswap may contribute to this issue - meaning that the price may run a lot more from here once that goes live next week. If so, we'll continue with the plan of moving the buy wall up. The month of September is already looking like a record ad revenue month, so that's also a side benefit of all the recent attention on LeoFinance.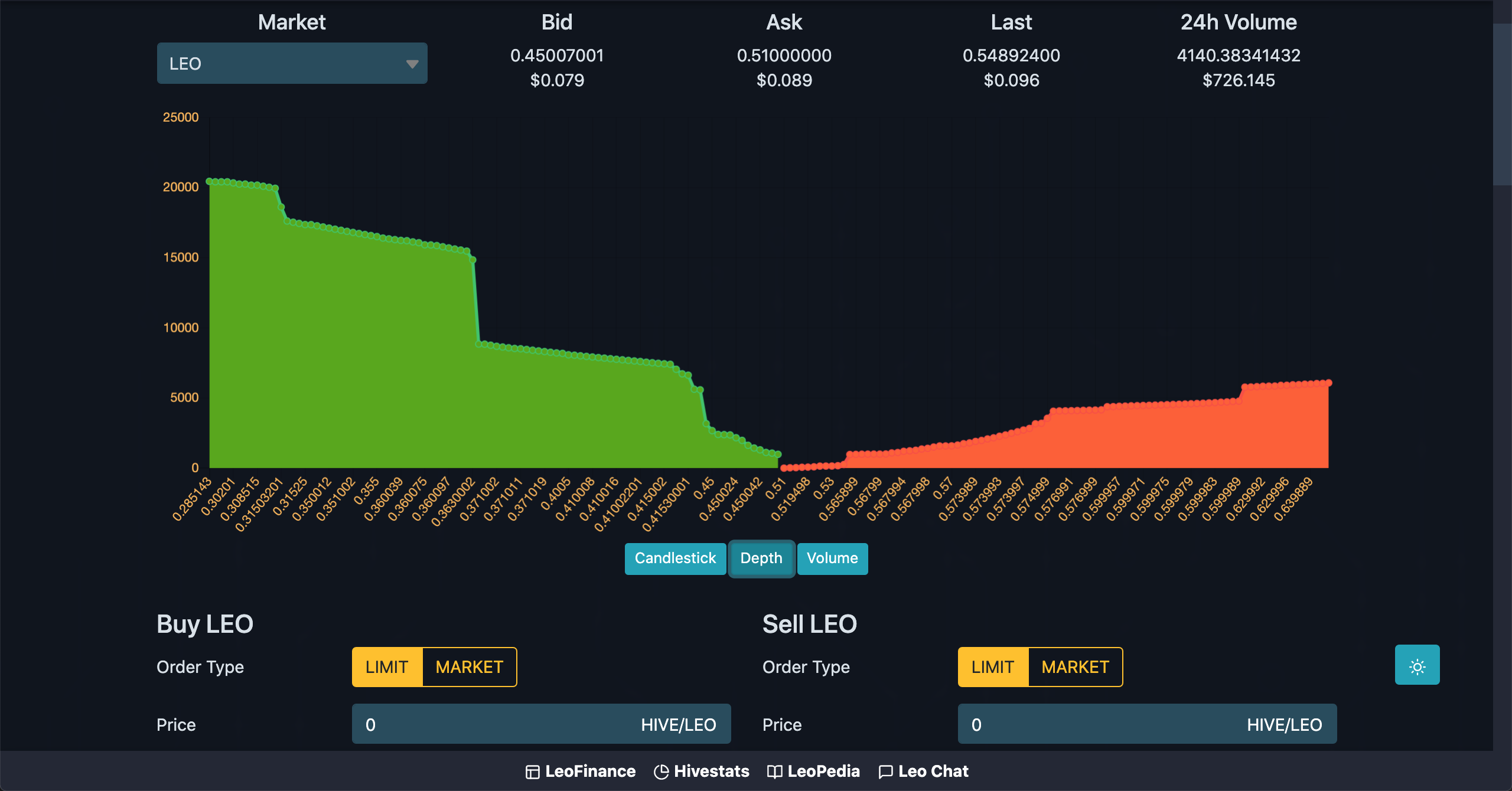 https://leodex.io/market/LEO
New All-Time Highs Ahead
With the recent rally in the LEO token price and excitement about the new interface and upcoming wLEO ERC20 bridge, we've seen an increase in both the number of content creators using our interface and daily ad revenue over the past 9 days. The announcement about wLEO was about 9 days ago and you can see a clear increase in the ad revenue over that period: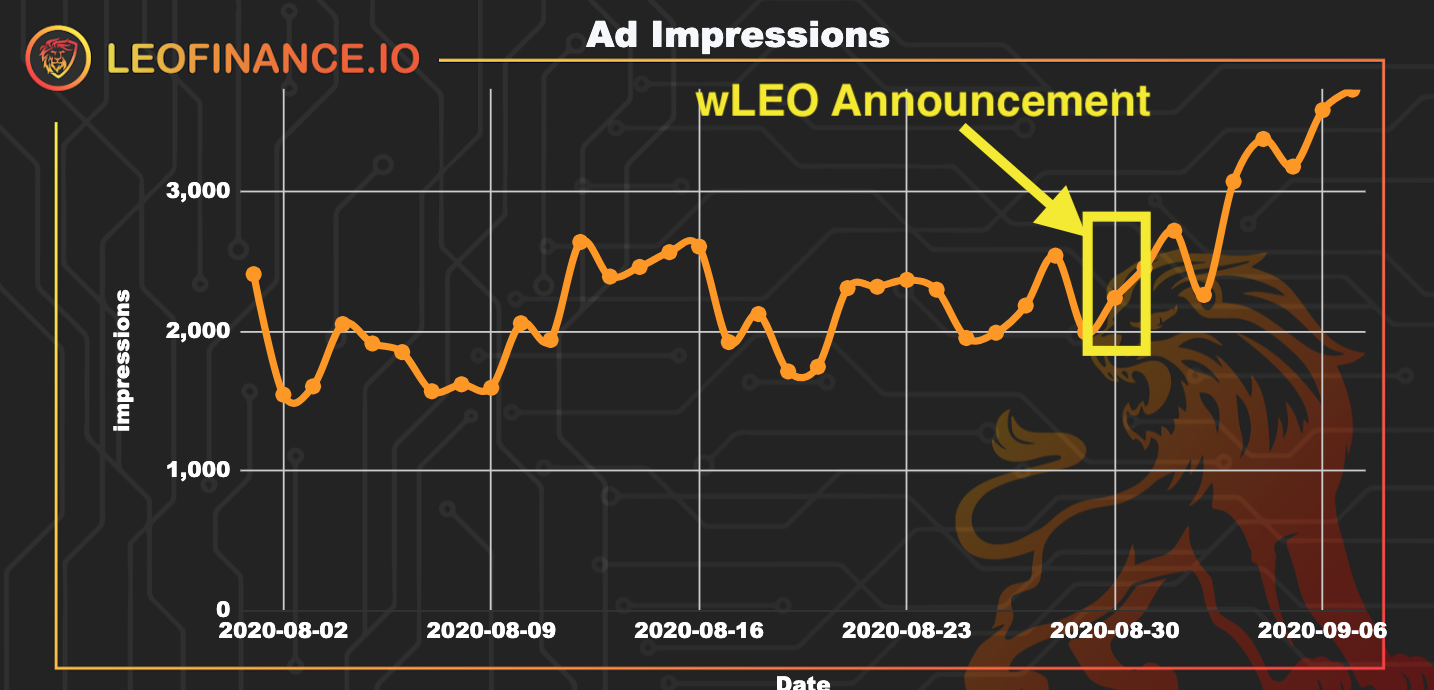 There's a correlation between the price of LEO and the users who come to our interface to blog/read content - something that I think most of us on Hive are accustomed to. As the LEO price trends upward over long-term timeframes, we're going to see an increase in our core user base which lends itself to more ad revenue which means more price stabilization from buybacks - creating a nice self-reinforcing cycle.
Analytics: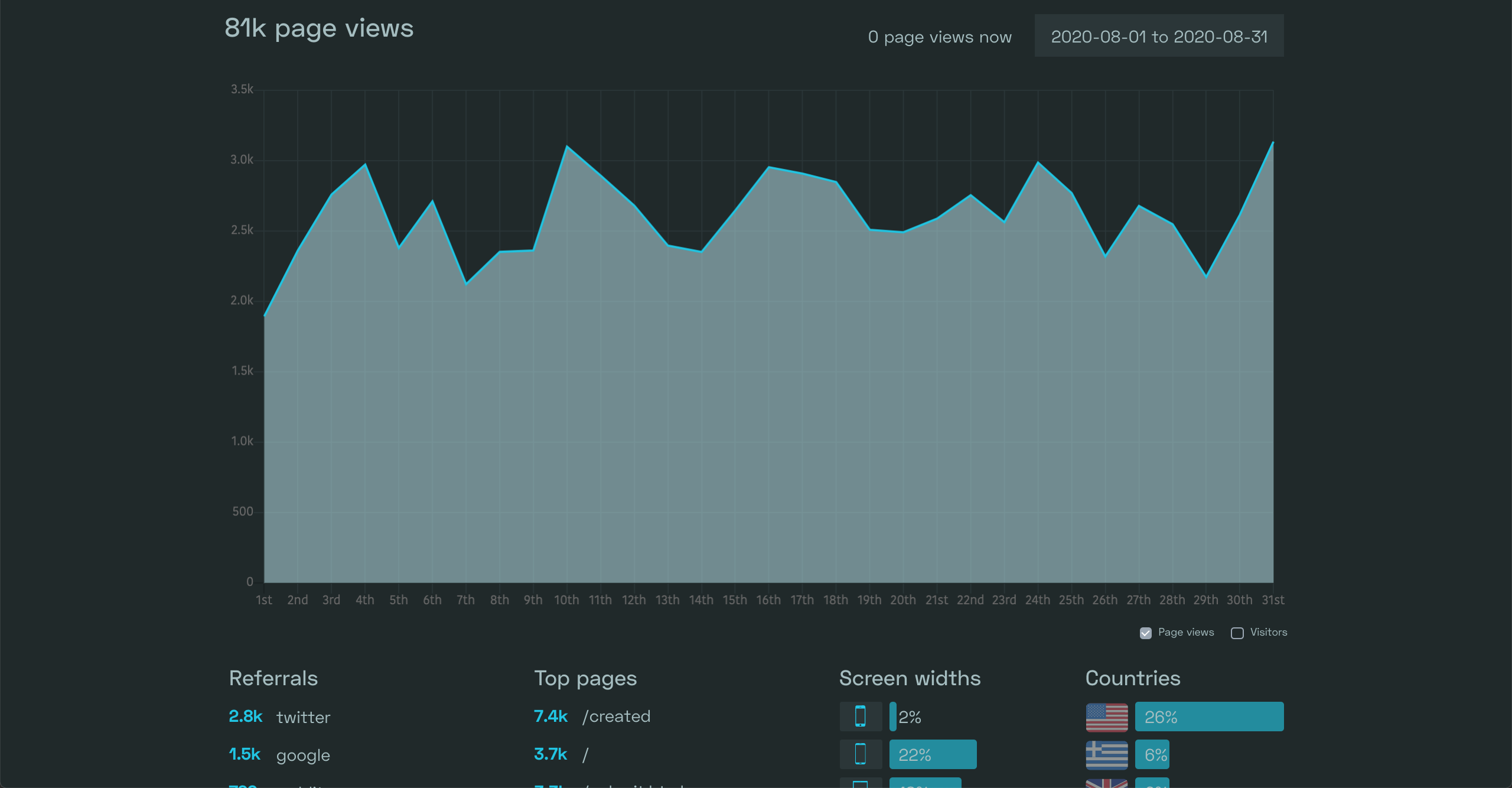 81,000 Page Views for https://LeoFinance.io in August
As always, you can track the progress of our marketing campaigns and growing user base by viewing the open & transparent analytics pages we've set up:
LeoFinance Social Campaigns
Our progress on the social media front has been looking great lately. The YouTube channel is becoming a major source of outside attention for our community and Twitter has been on an explosive growth trend for the past several weeks: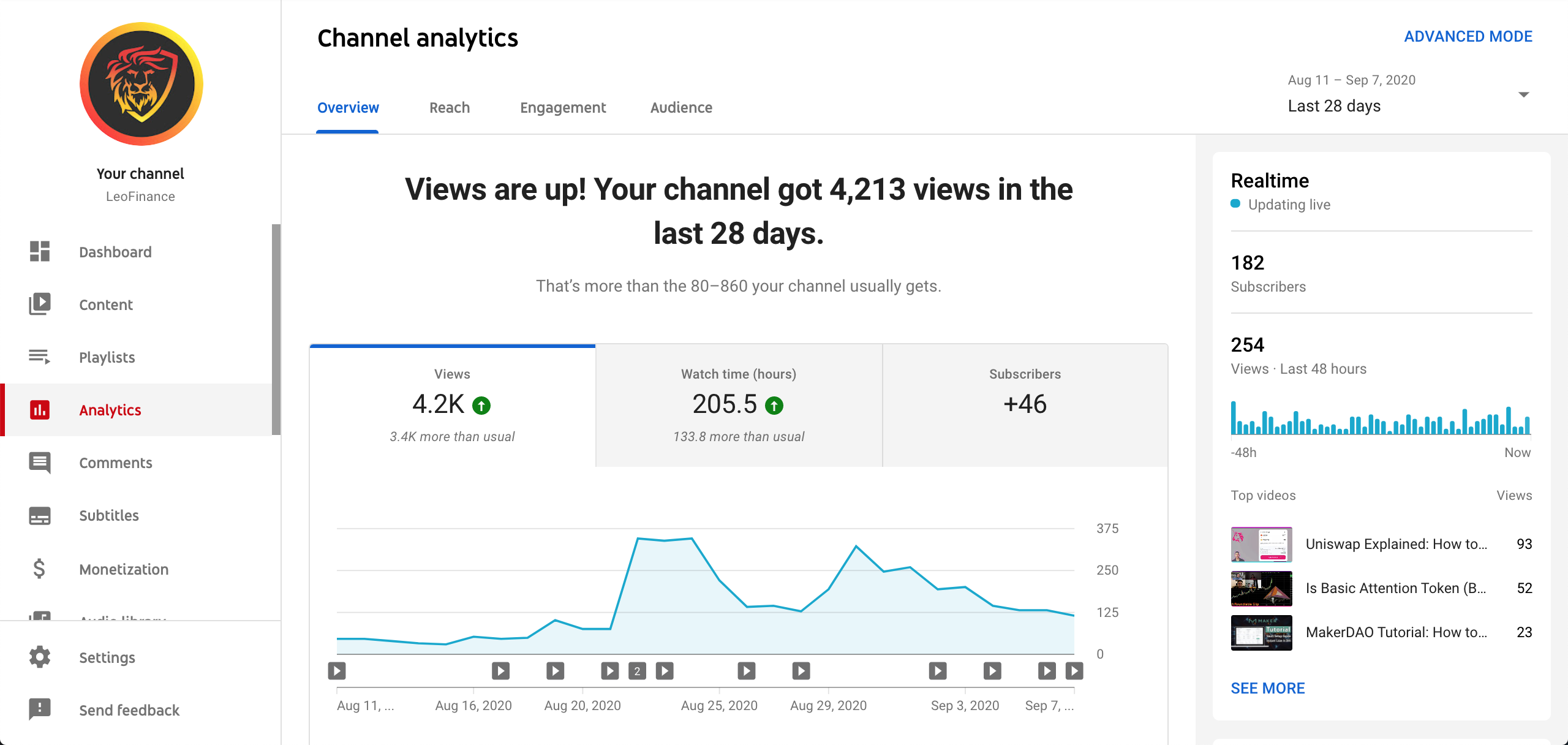 LeoFinance on YouTube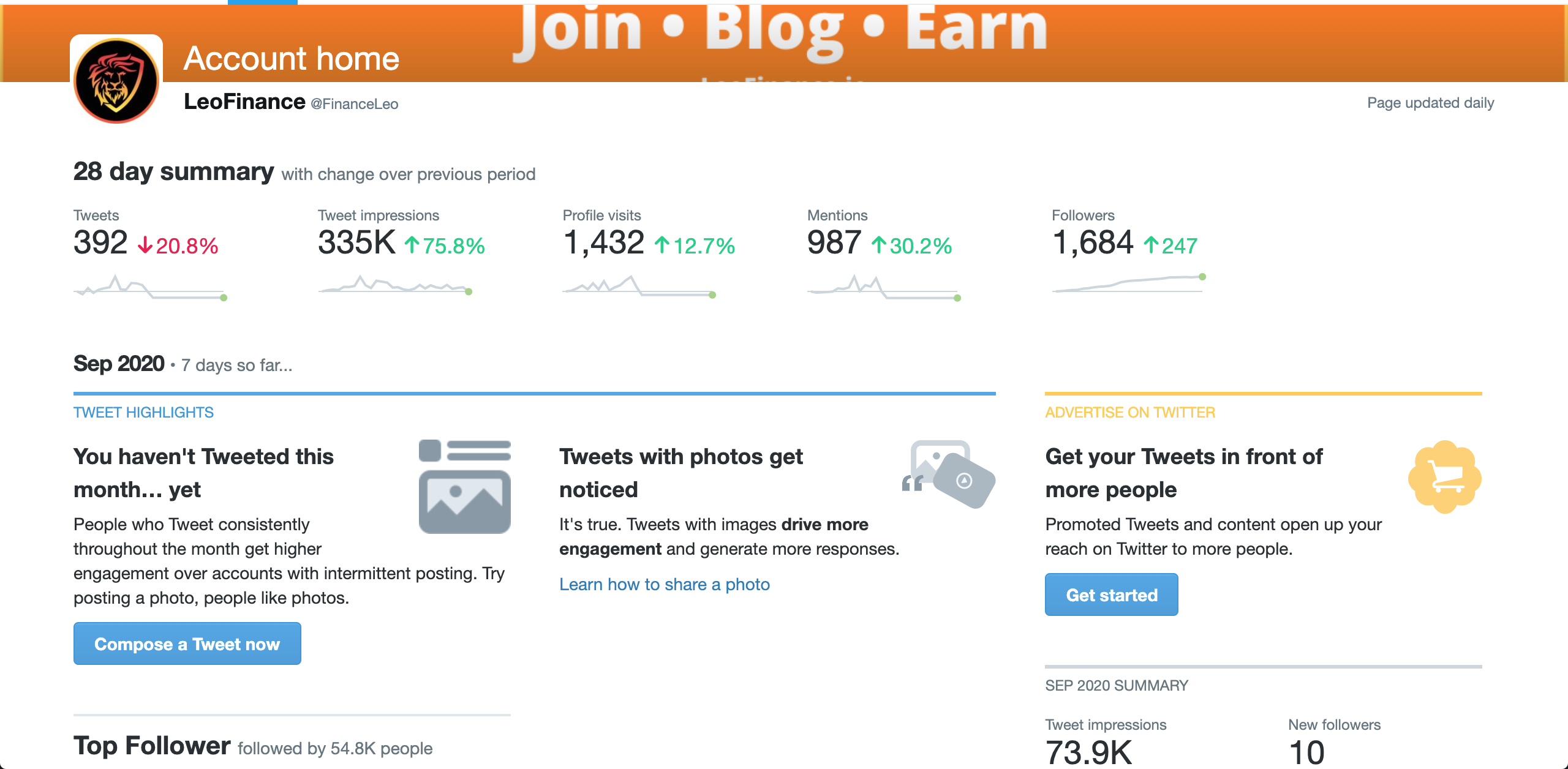 LeoFinance on Twitter
Some users on Hive are anti-YouTube and other centralized social media companies but they actually play a vital role in getting people from Web2 to Web3. That's why LeoFinance is continually pushing out content on every platform with the ultimate goal of driving readership and onboarding back to Hive/LeoFinance.
We pushed out some more updates on the new Beta UI. Feel free to explore them (especially the wallet interface). Update post coming soon on all the new releases and bug fixes.
The next 2 weeks will be jam-packed with updates about LeoFinance. We've got a lot of things in the pipeline and will have an update post out each morning. Make sure to follow @leofinance to keep up.

Join Our Hive Community & Earn LEO Rewards!
Earn LEO + HIVE rewards by creating crypto/finance-related content in our PeakD community or directly from our hive-based interface at https://leofinance.io.
Follow @leofinance for official updates
Posted Using LeoFinance Beta
---
---