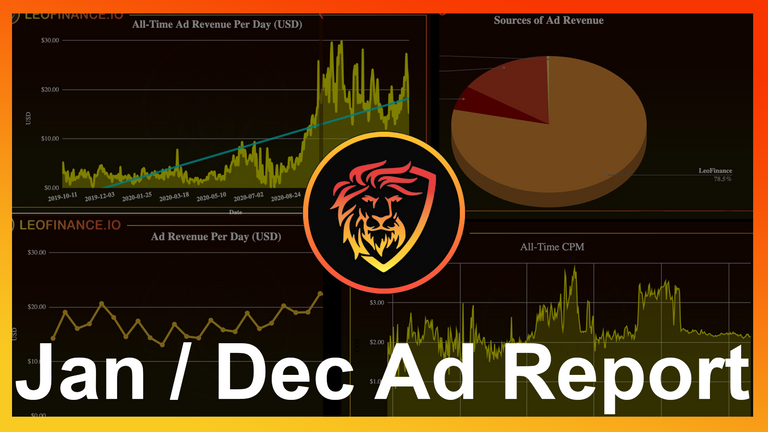 As @trumpman will remind you, we missed the December ad report. Working with Lightning and preparing our other projects like LeoFi and ProjectBlank, we got distracted from the normal report schedule. As we quickly ran through January, I decided to push the ad report back and just combine December and January into one report.
We'll resume our normal monthly reporting schedule (including author / curator reports etc. from this point forward)
In this report, we'll talk about the December / January numbers and also discuss the future of tokenized attention on LeoFinance. There are some major updates on how we operate our tokenized attention model this year, especially with the introduction of ProjectBlank - which will have direct tie-ins to the tokenized attention model for the entire LeoFinance project.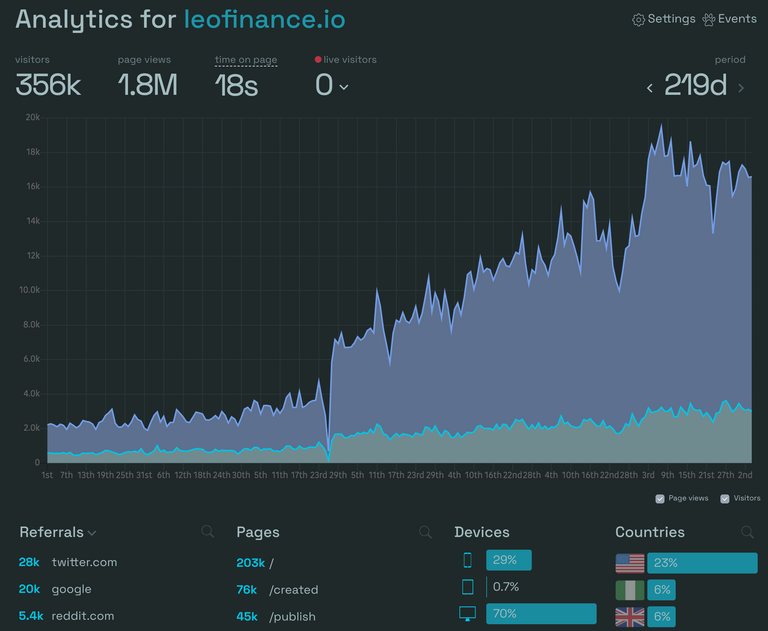 As our user base and overall traffic continue to grow, our model for tokenized attention needs to be optimized. We've played with a few different ad locations and have started looking into multiple ad networks and even affiliate networks to improve our tokenized attention revenue.
Right now, the model is far from optimized. In moving from our old UI to the new UI we built from the ground up, we decided to opt for a less-intrusive ad experience. We want to maintain this experience but also scale up the number of ads displayed by finding strategic locations. A few members of the community have already stepped up to give suggestions for new ad placement locations (including the homepage which has a lot of potential ad space that isn't utilized).
Tokenized Attention is one of the most important aspects of the LEO token economy. When we first introduced this model, we were earning pennies per day on ad revenue. Now, we consistently earn upwards of $20 per day in ad revenue which comes out to $600-$800 per month depending on CPM fluctuations and impressions.
These numbers are still small and there is a lot of upside potential. Platforms like Seeking Alpha and others have shown the potential for ad revenue.. easily bringing in 6-7 figures per year in revenue. With LeoFinance, we aim to reach similar figures in the long run.
I'd tell you to imagine the impact that this level of ad revenue would have on the LEO token economy, but you don't have to. @nealmcspadden has written/recorded several posts discussing the topic with his infamous spreadsheet wizardry. I'll let you explore those and dream up the future of our tokenized attention model.
All-Time Ad Revenue
Our Ad revenue since the launch of the tokenized attention model has been on a constant uptrend in the long-run. This is a healthy sign as our economy continues to expand and new users join the LeoFinance platform and utilize the applications we continuously develop.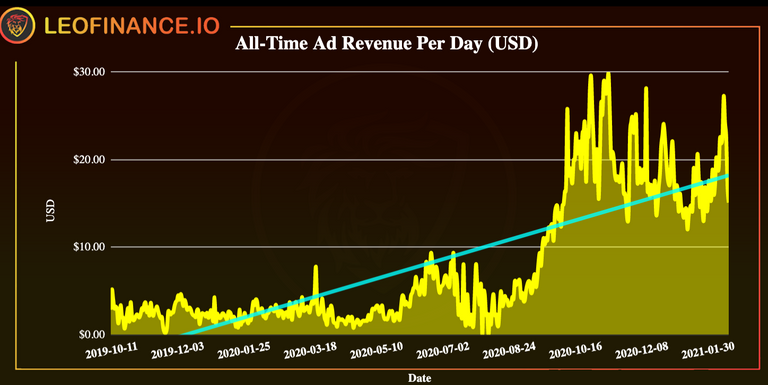 Over the last 2 months, we've seen a slight dip in average ad revenue per day. This is primarily due to fluctuating CPM - since the ad impressions are actually on the rise.
In previous reports, a few community members have made suggestions about how we can improve our CPM. Here, I've included a chart of the CPM and how it has fluctuate since our ad program started: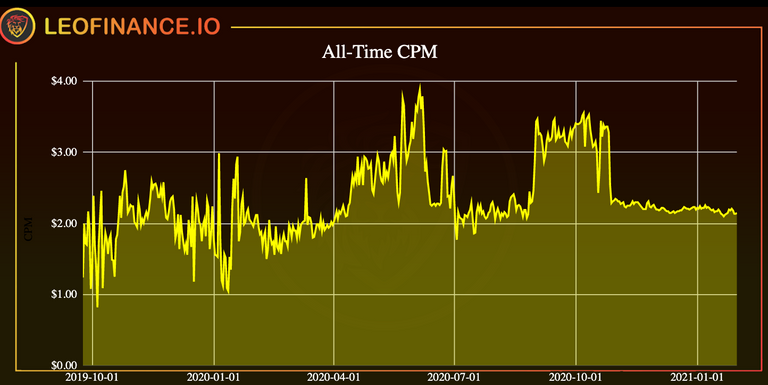 Here are some ideas for improving our CPM and driving more ad revenue back to the tokenized attention model:
Increase and optimize ad locations
Sign with multiple ad networks
Introduce affiliate banners
Ad Optimization - Improving the Tokenized Attention Model
Ad Placements
Many users have suggested that the ad placements on LeoFinance.io are far from optimized. We agree with this. As it stands, we've opted for a cleaner user experience with non-intrusive ads and we will always prioritize that as having ads all over the place makes us look like CNBC (which sucks).
We have a few ideas for additional ad placements that don't interrupt the user experience. We're planning to add those in the near future in a new version release of LeoFinance.io (after ProjectBlank is launched).
Having additional strategic ad placements should further increase impressions and possibly increase our CPM depending on how strategic those placements are.
Ad Networks
We currently use only 1 ad network. Many in the community have suggested that we could use rotating banners to bring in much higher CPMs - since networks will have to compete with CPM bids.
We've submitted a request to one new crypto ad network and plan to submit a few more. Our current network is known to have pretty high CPMs relative to other networks, but that doesn't mean it can't be improved. Especially if we take on this more competitive model for ad placement.
Affiliate Banners
Affiliate banners are an interesting idea that someone brought up in the past. With the introduction of rotating banners, we can also add in a rotation for various affiliate links. Crypto affiliate links are typically high impact in terms of the revenue you can generate. Imagine affiliate links for things like Binance sign up, etc.
Since our site is primarily crypto focused and we may often bring in new and existing crypto users to various pieces of content, there's a huge potential to tap into affiliate revenue.
Following the ad revenue model, this affiliate revenue would be brought in used to burn LEO for the tokenized attention aspect of the LEO economy. This is something we'll have to play around with.
December + January Ad Report

We combined all of the December and January numbers for the sake of time so we could roll this report out and get on to the ProjectBlank and LeoFi announcements/developments.
These two months were nearly identical to November, save for the lower CPM. Ad Impressions and USD that we brought in were roughly the same. Again, we're still growing slightly but the CPM seems to be holding us back from capitalizing on the additional impressions and overall traffic that LeoFinance is getting.
I've found someone to help us with some ad optimizations - including reaching out to these ad networks and implementing rotating banners. We'll hopefully rollout a few updates for the tokenized attention model by the end of February.
Sources of Ad Revenue
LeoFinance continues to dominate the source of our ad revenue. No surprise there as this is where most of our users spend the majority of their time. External traffic also plays a huge factor in this as LeoDex and Hivestats do not cater much at all to anyone outside of the Hive blockchain.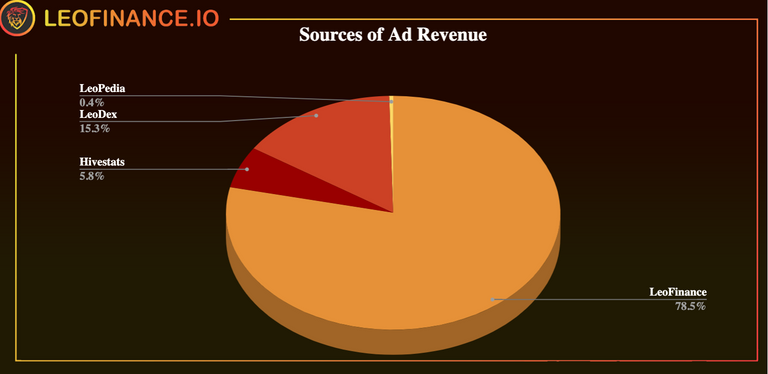 With the introduction of ProjectBlank along with another stats-based UI we're building (to service people on the Ethereum network), it will be interesting to see how this model changes. ProjectBlank will have somewhat of a standalone ad program (for BLANK token burns), but LeoFinance will take a cut of the revenue for LEO token burns since it is all housed under the Leo umbrella.
Ad Revenue Per Day
Ad revenue per day has remained relatively consistent. On certain days (especially when crypto is mooning) we see upticks in ad revenue. Outside of that, you can see a pretty regular fluctuation in revenue each day - which again, is mostly related to CPM. Our impressions are remarkably consistent, while our CPM has been all over the place in recent months.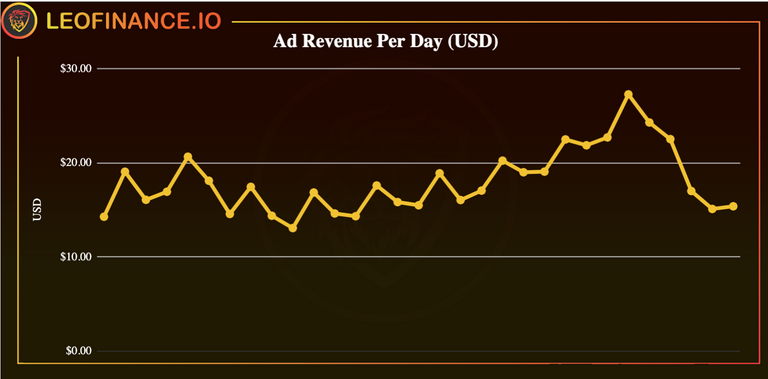 Over the past 2 months, we've averaged ~$21.77 USD per day in ad revenue.
Other Updates
The suspense is building for #ProjectBlank and #LeoFi. Between these 2 developments and our work on the Lightning DB layer, it's been a crazy month in January. February will be even crazier but we'll have a lot to announce and unveil which makes it more fun than just backend work that nobody sees.
The infamous Leo Whitepaper (now nearly 100k words) is going to be published soon. Part of the hold up is that it includes a lot of information about ProjectBlank that we're not ready to share yet.
This whitepaper covers everything from what Leo has done since we launched nearly 2 years ago to what we're doing today and what our plans are in the future. This project is only getting started as we've shaped our vision around becoming a social finance platform.
Coming up:
Major LeoFinance.io Publishing UI Update - Advanced Drafts and Publishing Features (through Lightning and LeoInfra, we're going to introduce a drafts/publishing feature that works... very well. There's a familiar experience here to how Twitter handles scheduling and drafts - which is why we're rolling this out before #ProjectBlank). We've got this feature live on our development site and we're aiming to push it into production by tomorrow morning
Announcements of announcements for #ProjectBlank - every day is another 24 hours closer to the launch
LeoFinance Whitepaper/Book (Shane and a few others want me to publish it on Amazon in kindle version.. 🤷🏽‍♂️)
LeoFi Dashboard Unveil (roughly 3 weeks out)
Stay tuned. Our announcements have announcements that they'd like to announce to you.

LeoFinance is a blockchain-based social media platform for Crypto & Finance content creators. Our tokenized app allows users and creators to engage and share content on the blockchain while earning cryptocurrency rewards.
Support LeoInfra's Onboarding Efforts by Delegating HP to @leo.voter (Currently at 2.5M HP). We Use this to Claim Accounts and Delegate RCs to Newly Onboarded Users
Posted Using LeoFinance Beta