LeoFinance Users and Ad Revenue Hit All Time Highs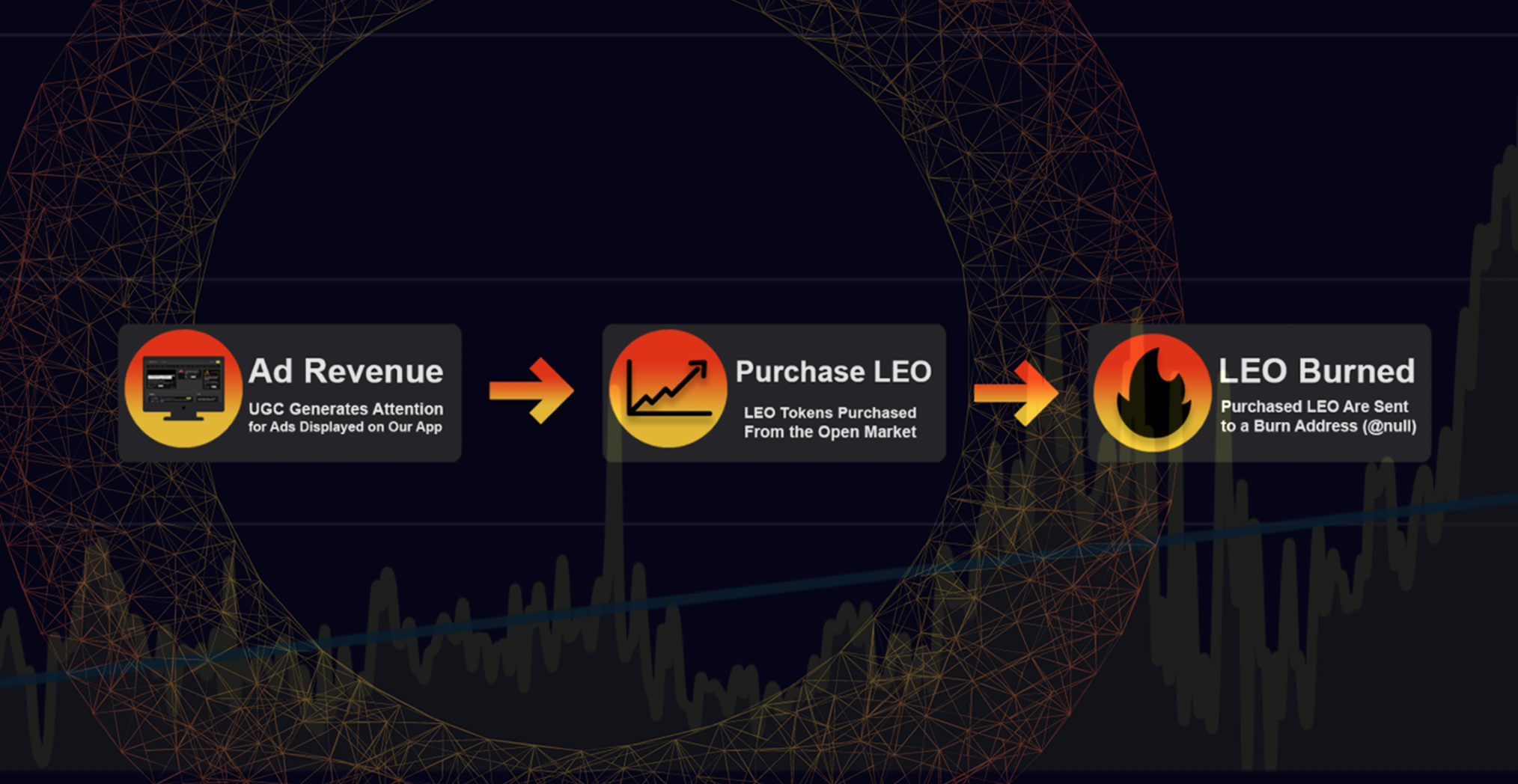 The LEO token price isn't the only thing reaching all-time highs as of late. When the underlying reward token (in our case, LEO) is up in price, then more users tend to flock to the interface to create content and earn rewards.
This is a phenomenon that anyone who's been on Hive for a long period of time is familiar with. When the price of the currency you earn rewards in goes up, you have more incentive to post - or so it seems. As most of us also know, the best time to earn a reward currency (like LEO or HIVE) is when the prices are low because there is less competition for rewards and you earn more on a unit basis.
If you believe in the long-term value prop of the coin (HIVE or LEO), then earning rewards in the downtrend will lead to more substantial rewards (in USD terms) in the uptrends. I think a lot of long-time LeoFinance users are becoming acutely aware of this phenomenon right now 🚀
We normally do an ad report at the beginning of each month. The last update was 7 days ago and reviewed the month of August. Today's post isn't one of those reports - instead, I'll spend some time talking about the all-time highs we just crushed and where the traffic seems to be coming from.
Leo Ad Revenue Hit All-Time Highs
LEO has gotten a lot of attention lately thanks to the news of our new interface going into open beta (https://beta.leofinance.io) and also the news of the Wrapped LEO token launch (which is now launching in 2 days).
Due to all of this news, we've seen an increase in user traffic to our apps. I'll review the traffic in more detail below.
The ad revenue is reflecting this increase in traffic: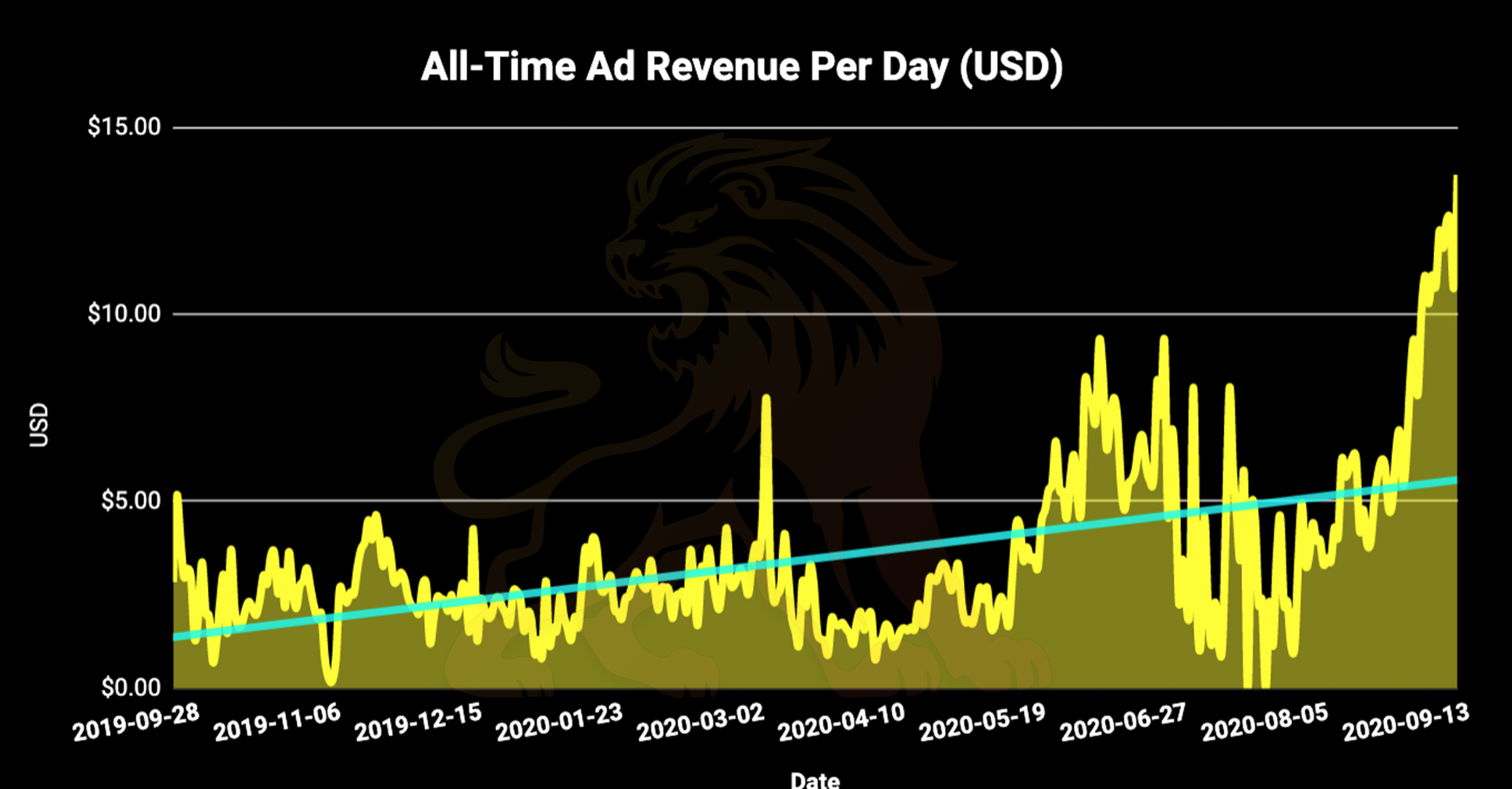 This is the all-time revenue (in USD) that we earn for ads on LeoFinance and our other apps. Our ad program started back in September 2019 (almost 1 year ago on the dot). Since then, we've experienced some ups and downs - the worst period of time being the uncertainty around the February-March timeframe in 2020 when we migrated from Steem to Hive.
That migration turned out to be the best thing to happen for LEO. We've seen continual growth since then and have reached new all-time highs consistently over the past few months. The blue trendline shows that we've been growing steadily since the ad program started - despite any ups and downs we've faced along the way.
This next chart shows the more recent history. Over the past 30 days, we've seen a near 3x in the daily ad revenue we generate. Over the last 2 months, the ad revenue we typically generate day-to-day has been about $5.50-$6.50 USD.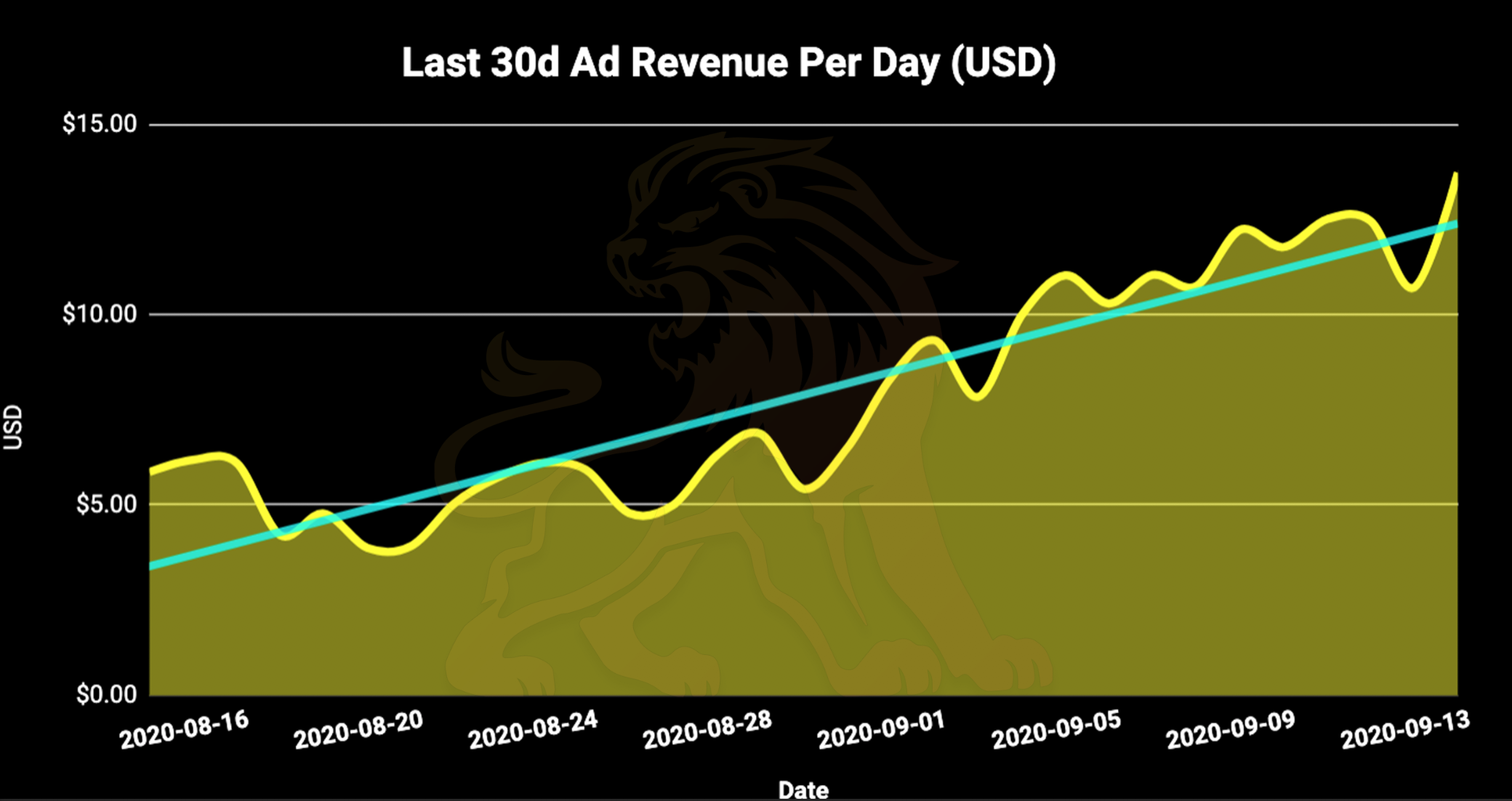 The past 14 days also tells a fun story:
| Date | impressions | Clicks | CTR | USD | CPM |
| --- | --- | --- | --- | --- | --- |
| 2020-09-14 | 4,264 | 3 | 0.07% | $14.62 | $3.43 |
| 2020-09-13 | 4,269 | 4 | 0.09% | $13.75 | $3.22 |
| 2020-09-12 | 3,380 | 13 | 0.39% | $10.73 | $3.17 |
| 2020-09-11 | 3,945 | 7 | 0.18% | $12.47 | $3.16 |
| 2020-09-10 | 3,842 | 5 | 0.13% | $12.52 | $3.26 |
| 2020-09-09 | 3,728 | 4 | 0.11% | $11.79 | $3.16 |
| 2020-09-08 | 4,127 | 10 | 0.24% | $12.24 | $2.96 |
| 2020-09-07 | 3,734 | 9 | 0.24% | $10.76 | $2.88 |
| 2020-09-06 | 3,587 | 2 | 0.06% | $11.06 | $3.08 |
| 2020-09-05 | 3,182 | 5 | 0.16% | $10.30 | $3.23 |
| 2020-09-04 | 3,380 | 2 | 0.06% | $11.04 | $3.27 |
| 2020-09-03 | 3,075 | 5 | 0.16% | $9.99 | $3.26 |
| 2020-09-02 | 2,261 | 2 | 0.09% | $7.85 | $3.47 |
| 2020-09-01 | 2,722 | 5 | 0.18% | $9.33 | $3.43 |
Ad revenue and traffic tends to ebb and flow just like any stock or cryptocurrency price chart. All-time highs are reached and eventually, a new equilibrium is established. The good thing is that any way you slice the data, LeoFinance's ad program is on a continual growth trend for the long-haul. That's what matters for the sustainability of LEO token rewards and the overall LEO economy.
LeoFinance Users Hit All-Time Highs
I spend some time each month to analyze where the traffic is coming from. Luckily for us, we added a great analytics platform a few months back which not only allows me to follow the traffic numbers, but also allows anyone with an internet connection to follow the numbers. It's all openly viewable information and Simple Analytics is a privacy-sparing platform which is another cherry on top.
You can track the activity on our sites at any time using the following links:
You can also track the # of authors that create a post through the interface using Hivedapps.com. Before this month, we were averaging about 60-80 unique Hive accounts posting blogs through our interface. Now, we're seeing nearly double those numbers each day:

LeoFinance.io
Here's the overall traffic to LeoFinance.io for the past 30 days. You can see that there's a slow and steady increase in the number of page views. Totaling 24,000 visitors to the site and 94,000 page views: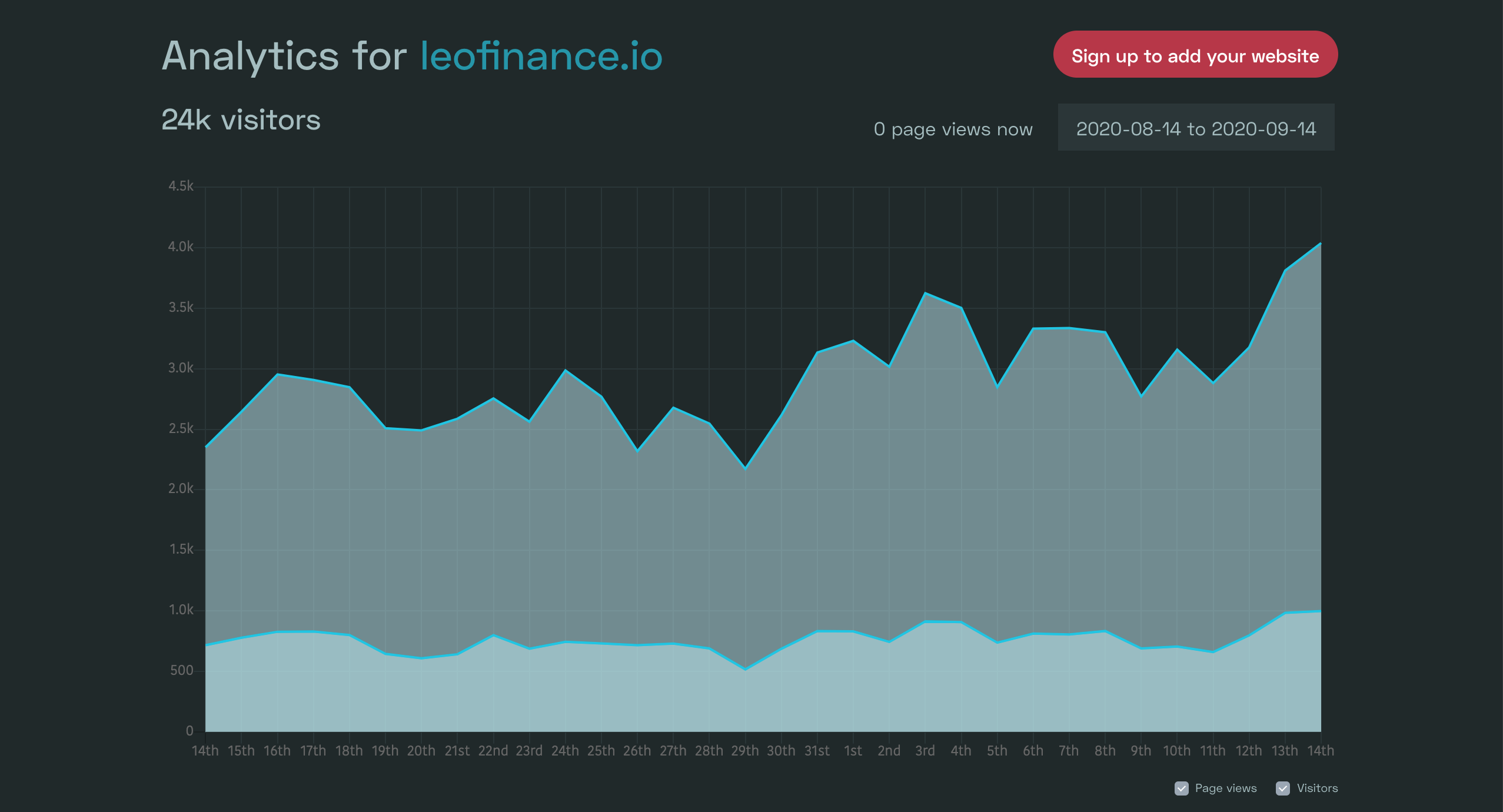 Below the overall chart, you can see the overall stats for where users are being referred from - Twitter, Google and Reddit remain our top referrals in terms of daily traffic. The users coming from these sources are a mix of readers and existing Hive users who recognize our links and click on them, although we're seeing the # of readers steadily outpace the # of native Hive users - which is a trend that we want to see continue.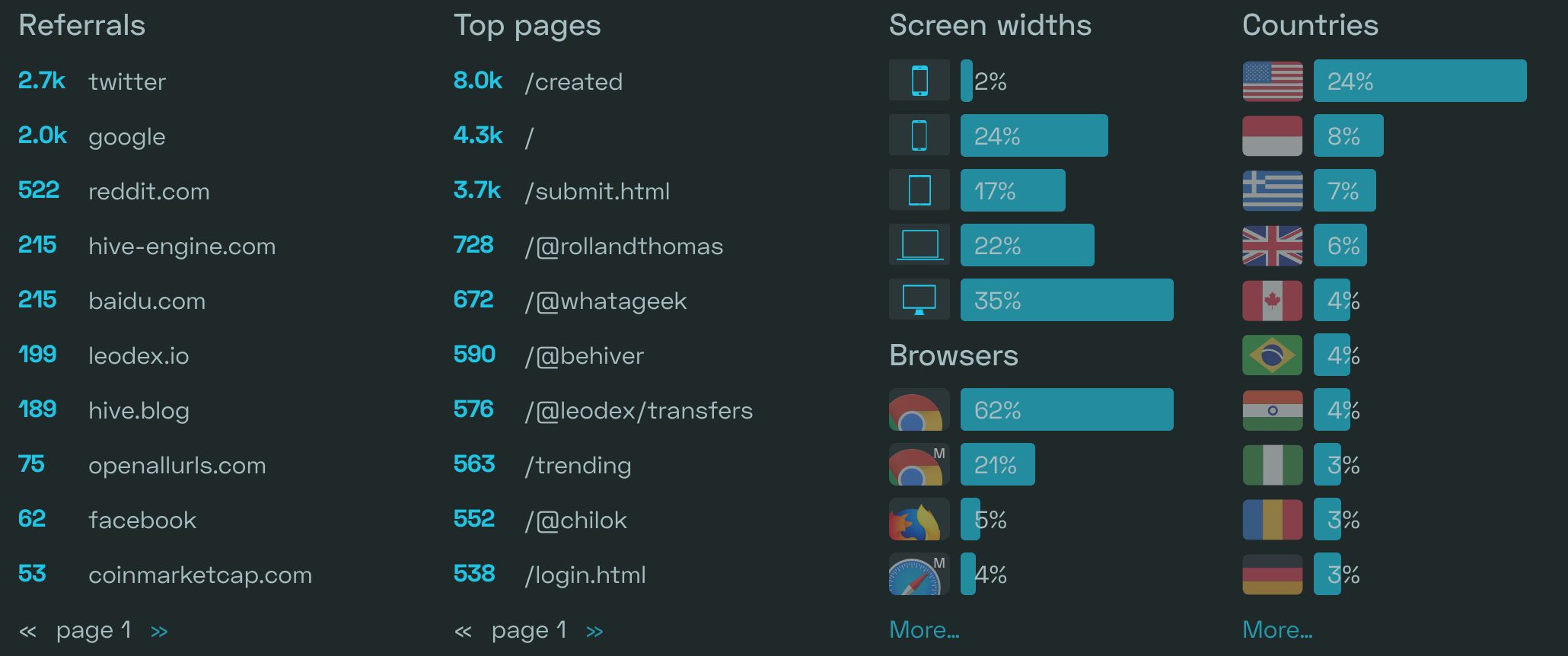 Top pages tells us where these users are going. Again, a majority of the traffic we get comes from the existing userbase. I.e. people going to the created page and refreshing for new content to curate, submitting posts, viewing their profile pages, etc.
Twitter Traffic
I spend a lot of time on Twitter advertising the LeoFinance brand and sharing Leo links back to some of the best content on the site. I also retweet Hive users who tweet out their posts using the leofinance.io link. All of this translates to link clicks (a.k.a. referrals) back to the site.
There are a few hundred tweets per month that contain LeoFinance links. Simple Analytics displays the top 50 by number of link clicks back to the site: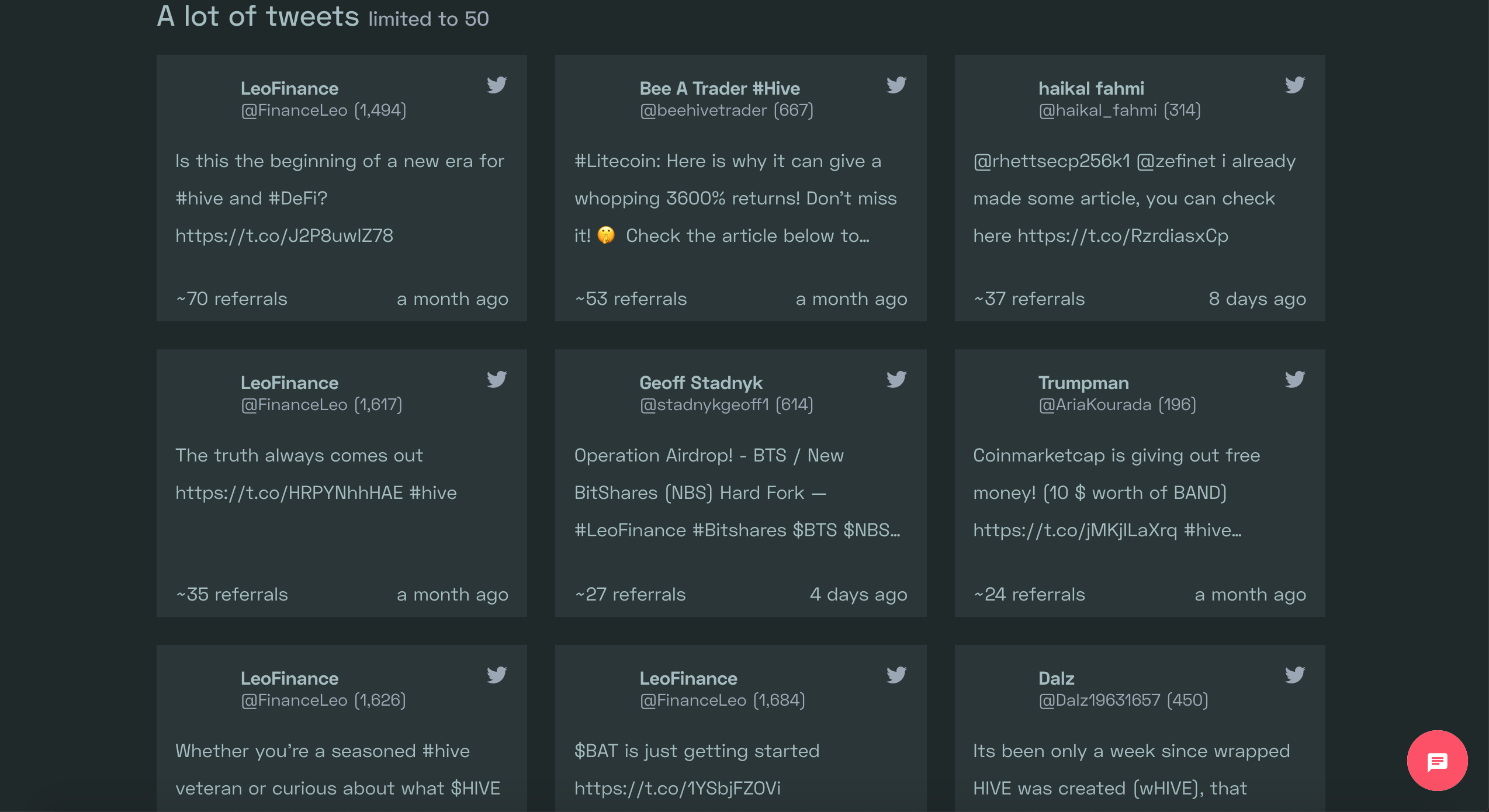 Google Traffic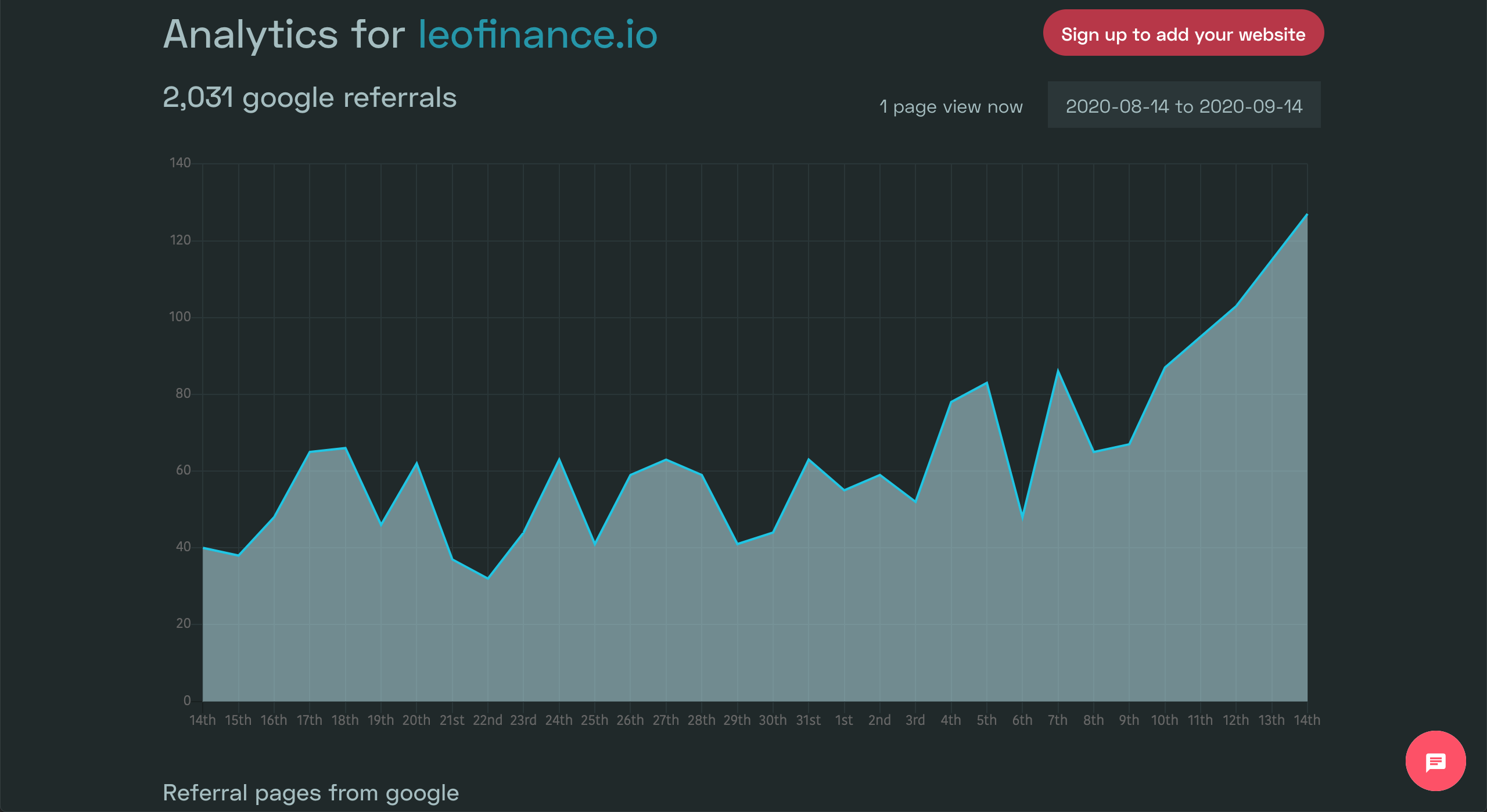 Google is our #2 source of traffic outside of Hive. One thing that I and a few other LeoFinance users who track the data are excited about is the continual increase in Google traffic. This means that content created from our interface is continuing to rank well on search engines. This is one of the driving reasons for manually curating evergreen content with the @leo.voter account.
You'll notice that account voting content with HIVE POWER upvotes (about 450,000 HP as of today). We upvote content based on the perceived value it brings to the platform. Certain content - having about 300-500+ words, a well crafted title + tags, etc. - ranks better on search engines and is often a lot better from a reader point of view as well. We upvote those pieces of content with higher % upvotes than shorter form content with worse titles, not created from our interface etc..
The top 2 posts by # of page views were:
For the sake of read time, I wont analyze the other sites in-depth on this post. The overall traffic charts show enough of the story: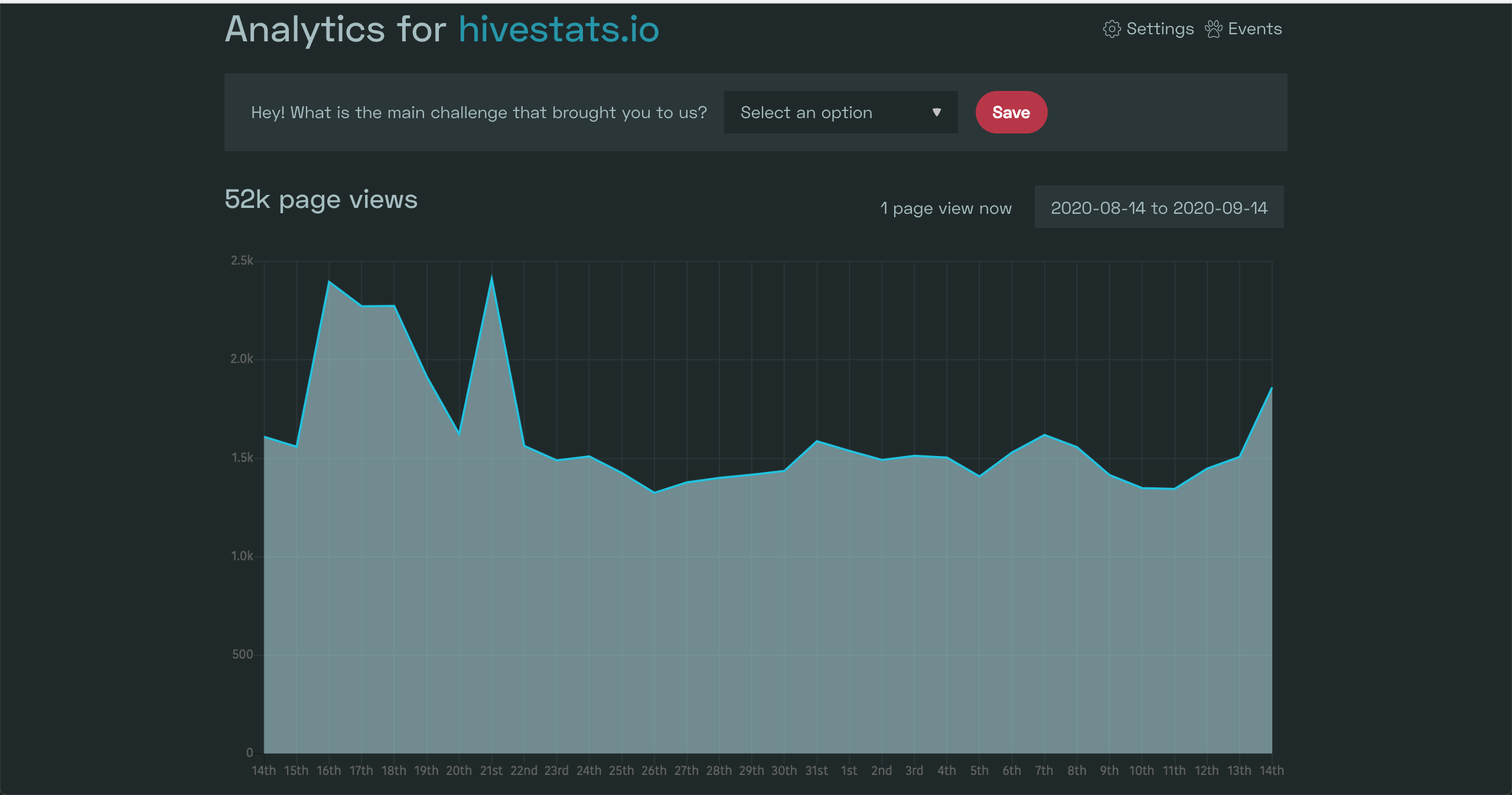 https://hivestats.io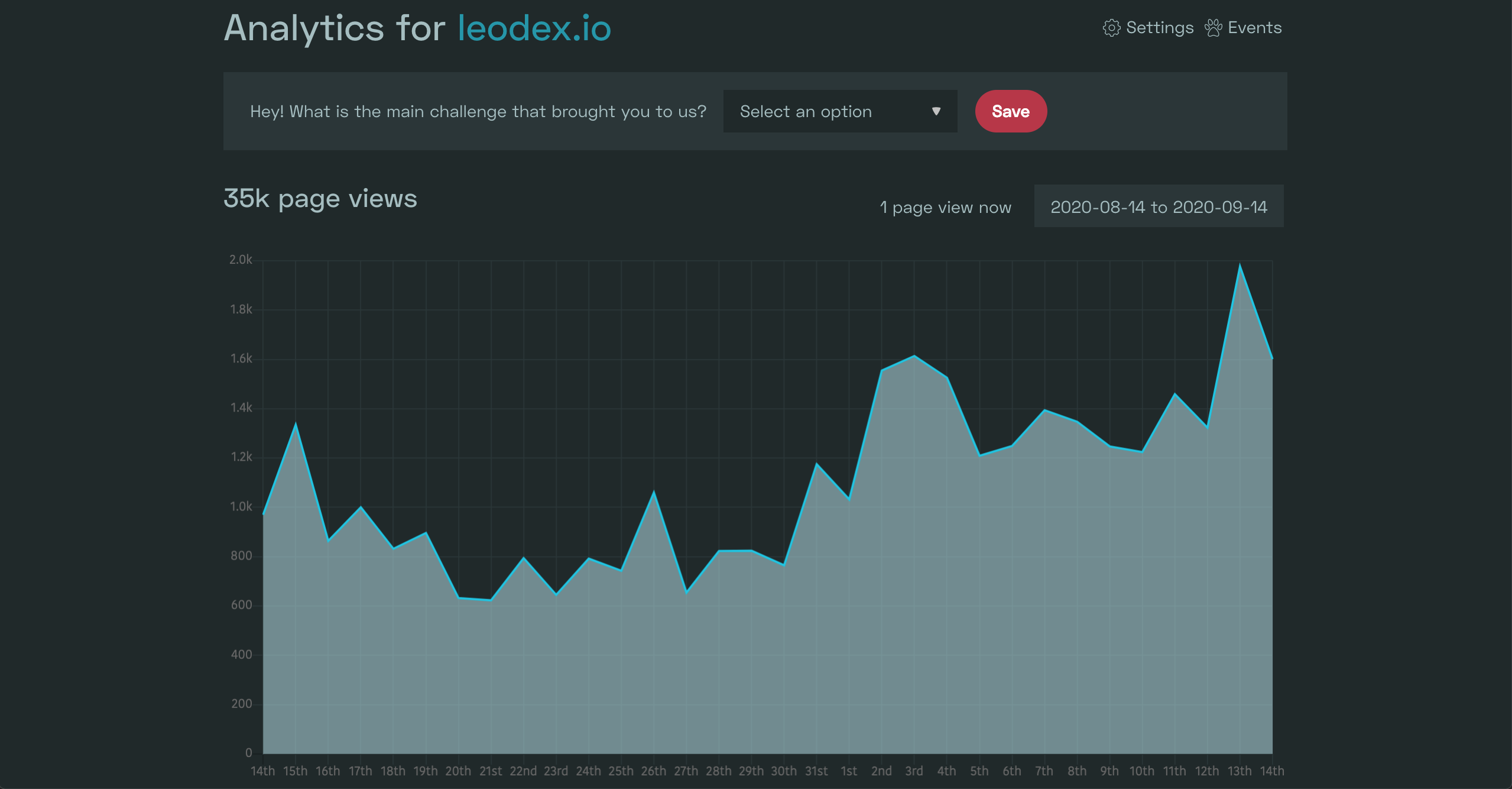 https://leodex.io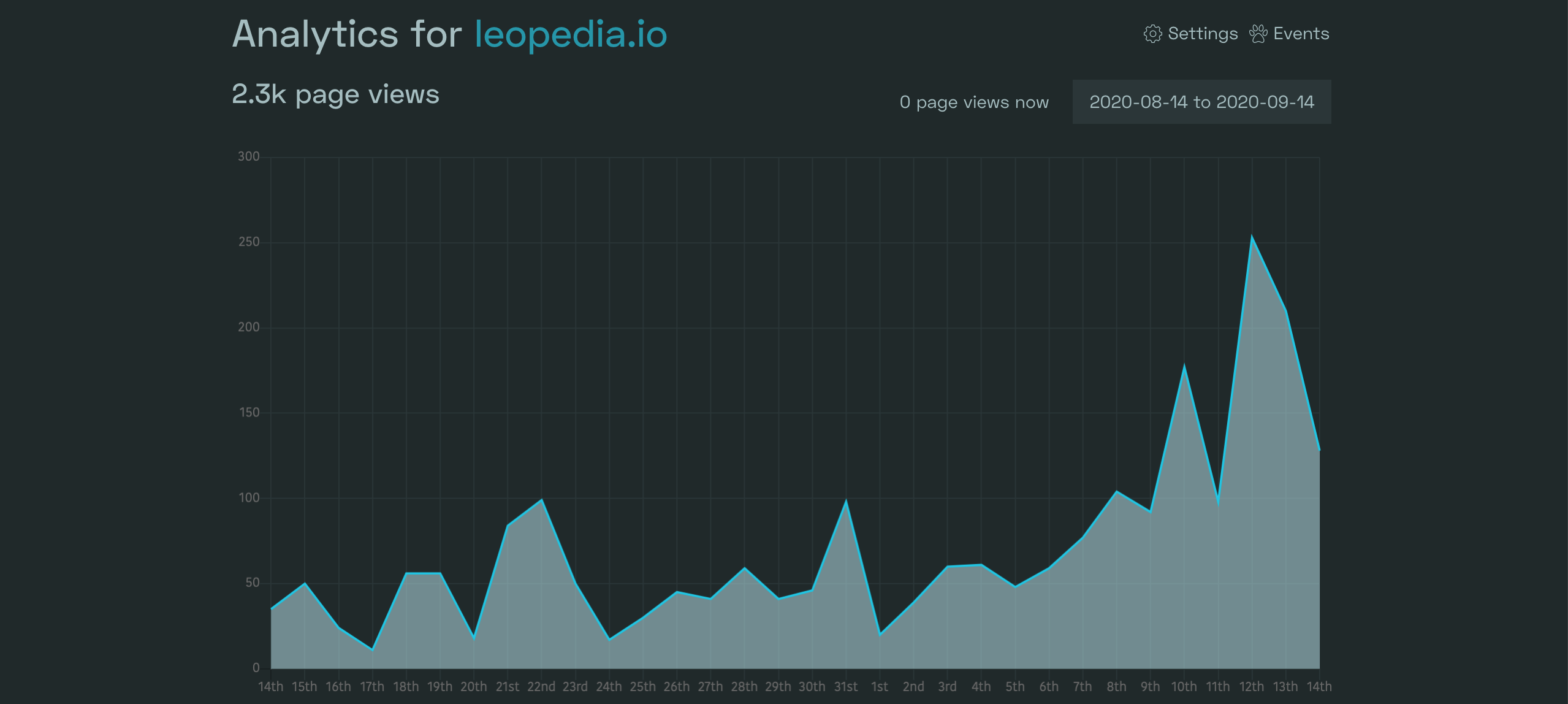 https://leopedia.io
---
So there you have it, a dramatic increase in the LEO token price has also led to a dramatic increase in the # of users on our apps.
Don't forget to turn your ad blockers / Brave shields off when you're using Leo Apps. It helps with our ad revenue - 100% of which is used to buy/burn LEO off the market.



Since I'm in the shilling mood, here's how tokenized attention works. Provided by our brand new Landing Page 😎

Join Our Hive Community & Earn LEO Rewards!
Earn LEO + HIVE rewards by creating crypto/finance-related content in our PeakD community or directly from our hive-based interface at leofinance.io or LeoFinance Beta
Follow @leofinance for official updates
Posted Using LeoFinance Beta
---
---