New LeoFinance Landing Page | Explore the LEO Project
As we prepare for the wLEO launch next week, onboarding and educating new users/investors/liquidity pool providers about our project is going to be more important than ever.
We've created pages in the past that explain various aspects of our community, project and the apps we've built. None of them were as focused and organized as this one. The goal here is to provide a simple page where people can learn about LeoFinance and our mission.
Go head over there and explore our project! It's accessible at https://leofinance.io/about and https://leopedia.io/explainer
The page is built-in to the LeoPedia website (which is built on the Wordpress platform). The main rasons for building it there is because LeoPedia is our official knowledge center for all things crypto (including our project) and Wordpress is also a great place to build landing pages and focused resources.
Social Media Meets Web 3.0
Throughout this post, I'll cover the main sections of the new landing page and explain the BTS of how they were created and why they are the way they are. As always, please share your feedback in the comments below so we can make it better!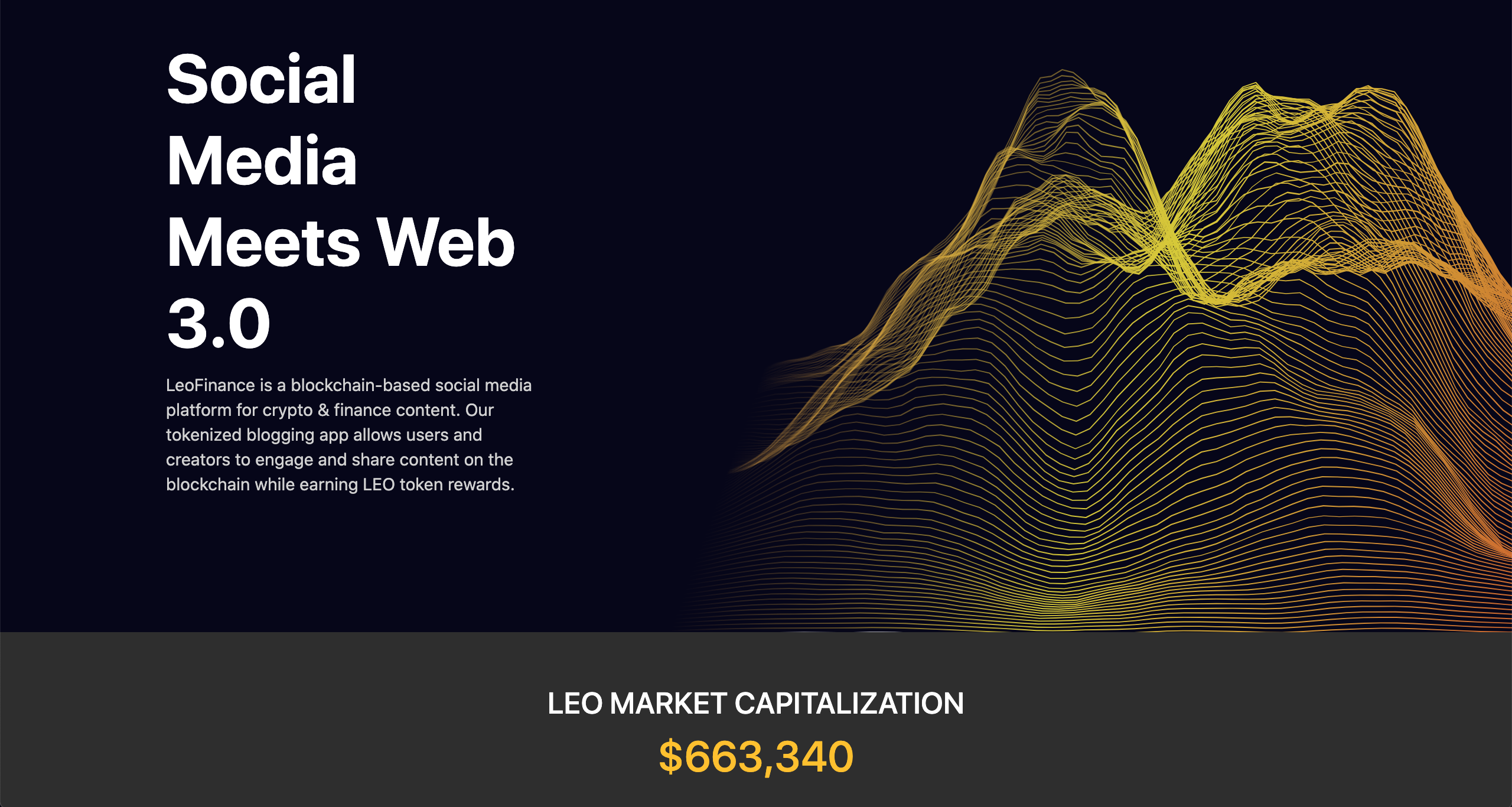 The first thing you're going to see when you land on the page is a brief overview of the project. "Social Media Meets Web 3.0"
The ideals of Web 3.0 are centered around bringing power and ownership back to the users. With LeoFinance, we've crafted an interface (LeoFinance Beta) that is connect to the Hive blockchain and LEO token economy. Users earn LEO for creating and curating content. With the ad program and other tokenomics, the goal of LeoFinance is to continually create utility and value for LEO.
When you bridge social media, web 3.0 and finance/crypto content, you get LeoFinance.
Below all that you'll notice the LEO Market Capitalization section.
This market cap figure tracks the LEO supply and price in real-time. If you refresh the page every few minutes, you'll see the LEO Market Cap change as the token is traded at different prices.
circulating supply * last traded price = market cap
Create
Immutable and censorship-resistant content. Rewarded by the LEO token economy where the Proof of Brain concept distributes tokens based on community members curating each others content.

This section features a screenshot of the new LeoFinance Beta interface along with a short explanation of what creating content means on LeoFinance.
Earn
You don't have to be a content creator to earn cryptocurrency for using the LeoFinance interface. The LEO token economy uses stake-based voting to determine the flow of the daily rewards pool. Stake more LEO to have more influence over curator/creator rewards.

Hive
LeoFinance wouldn't be possible without the Hive blockchain. The technology and tools of Hive are unmatched in the crypto space. With thousands of LEO being distributed to hundreds of content creators/curators on a daily basis, 3 second block times and fee-lees transactions are a necessity.

Here we're explaining the value of our project being built on Hive. Hive truly is the best place to build a project - especially one where you need near-instantaneous transactions with 0 fees. Thanks to Hive, we can distribute as little as 0.001 LEO per transaction. Thousands of tx's just like this are sent out automatically each day as our users earn rewards. This kind of ecosystem is simply not possible on Ethereum or nearly any other blockchain out there.
Wrapped LEO (wLEO):
Ah Wrapped LEO. Who doesn't want to know about one of the most impactful features coming to LeoFinance in less than a week?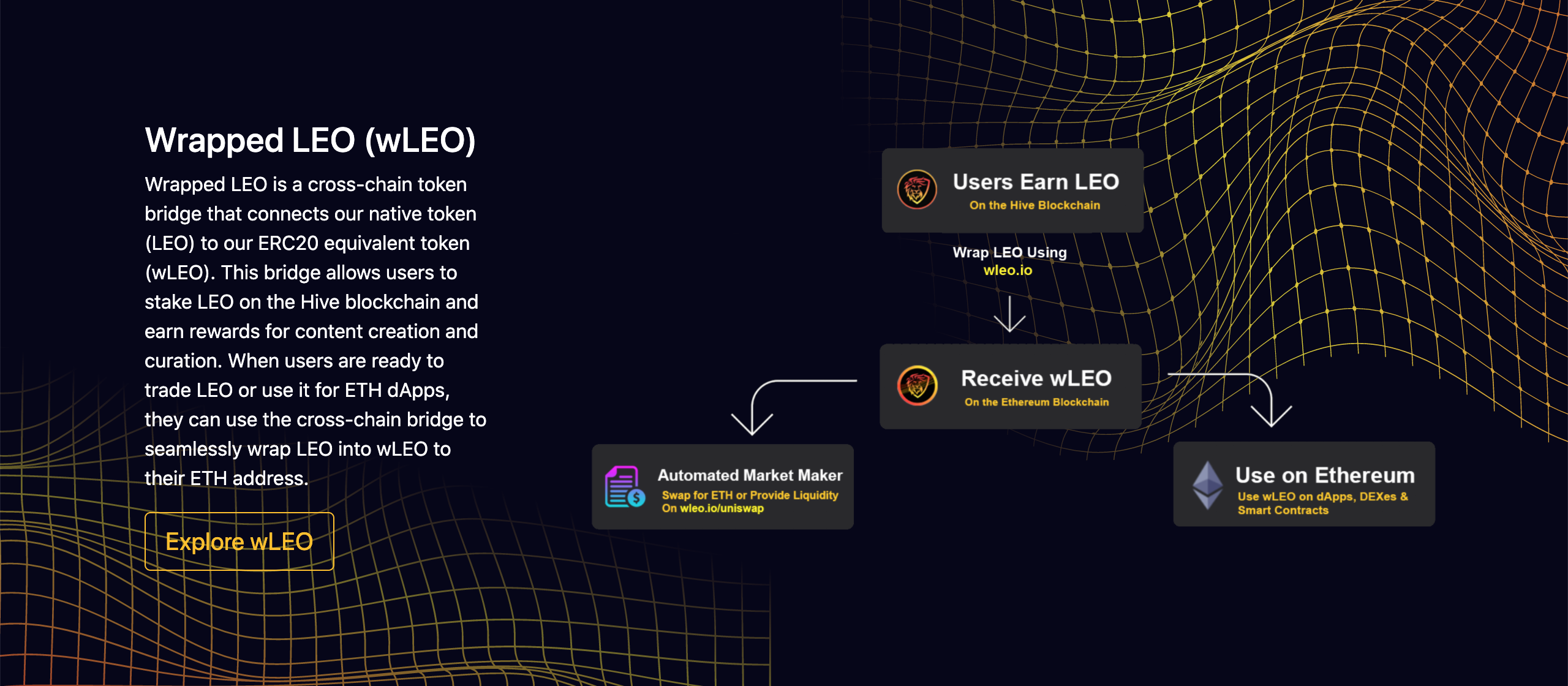 This section explains the cross-chain token bridge that is the wLEO token. Our new wLEO interface (dropping next week) will allow our users to seamlessly utilize their LEO earnings on the Ethereum blockchain.
Create, curate and engage on the Hive blockchain, earn LEO rewards and then wrap your LEO into wLEO on the Ethereum blockchain and engage with ETH-based dApps like the Uniswap Automated Market Maker protocol which allows you to earn fees for being a liquidity provider.
Hive makes LeoFinance possible.
Ethereum makes LeoFinance accessible.
Note: the Explore wLEO button links to the new wLEO explore page we're building. It's a work in progress :)
Tokenized Attention
The next decade will bring in a new era of "tokenizing everything". Creating fractional shares of things in a way that was not possible with the technology of the past.

On LeoFinance, we preach a model of built-in sustainability. Ad placements are displayed throughout our apps. Ad revenue comes in and 100% of it is used to purchase LEO on the open market. Those LEOs are then sent to null which permanently burns them from the token supply.
Here's a little plug: make sure to turn off ad blocker/brave browser shields when you're on LeoApps. This helps us earn more ad revenue which = more LEO burned each month :)
Powered By LeoFinance
This next section is pretty self-explanatory. It shows the apps we manage and a brief overview of the tokenomics behind LEO.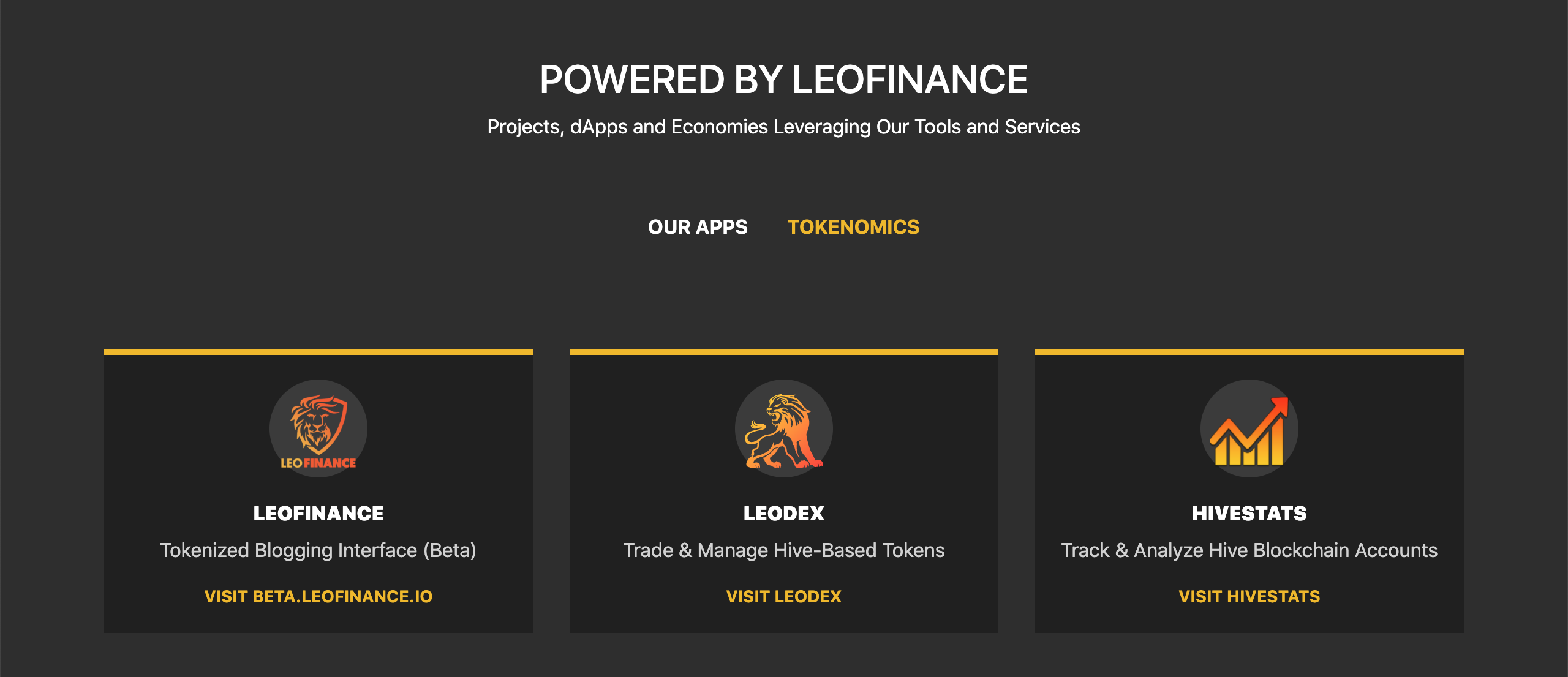 Just below that, you'll find the dApps, exchanges and other integrations that you can find LEO on in one form or another.

In the coming years, this list will grow longer and longer. Especially with the wLEO ERC20 token bridge allowing us to connect to any ETH-based dApp and ERC20-compatible exchange.
---
That's all for now. The next post from this account will likely be the finalized announcement for the wLEO hard launch date. It's looking like Tuesday or Thursday of the coming week. The first wLEO was actually minted on the main Ethereum network yesterday.
Again, please leave any suggestions you have for the new landing page down below. Critical feedback is always welcome here 🦁

Join Our Hive Community & Earn LEO Rewards!
Earn LEO + HIVE rewards by creating crypto/finance-related content in our PeakD community or directly from our hive-based interface at https://leofinance.io.
Follow @leofinance for official updates
Posted Using LeoFinance Beta
---
---