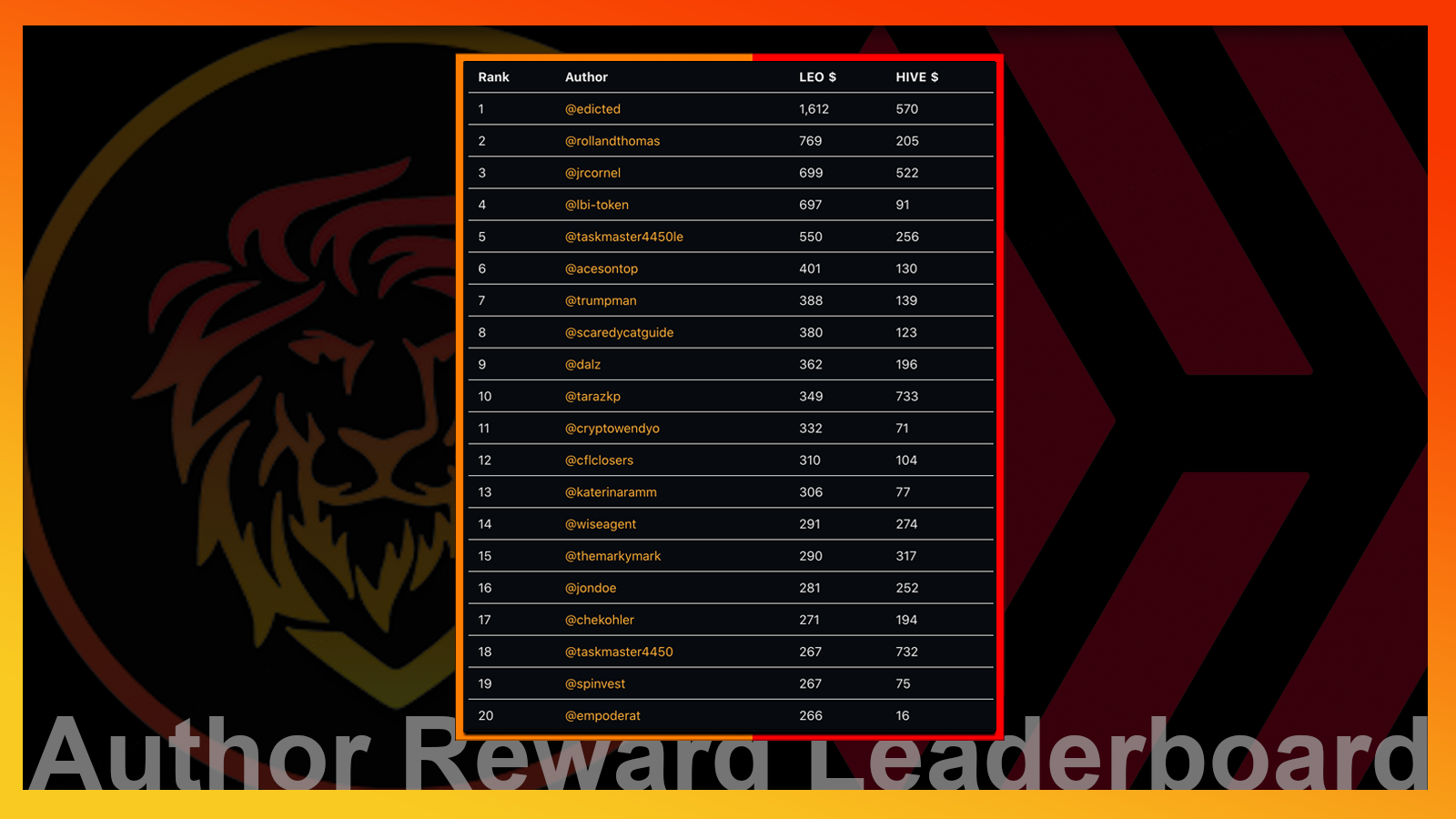 We've been tracking these author reward leaderboards for several months now. When we started, HIVE author rewards dominated LEO author rewards (in terms of dollars).
Most of our top creators earned more USD in HIVE rewards than LEO. Over the past few months, LEO has completely flipped HIVE in terms of rewarding our top content creators. As you'll see in this report, the majority of the top 30 authors now earn more than 50% of their total author rewards in LEO with some earning more than 80% of their total rewards as LEO.
The point of these reports has been to prove that second layer community token rewards are the future of blockchain-based content. Hive is a big melting pot and while that is beneficial in many ways (in fact, one of the main reasons why Hive is a great place to buidl), it also has some downsides. One major downside being content creation and curation.
One person may be interested in photography of sunsets and cute kittens but one other person may not care for anything other than a chart with analysis of the Bitcoin price.
Trying to build 1 rewards pool (HIVE) and then leaving it up to a community of very different people with very different interests to distribute those rewards clearly doesn't work. Instead, Hive needs communities. This is no secret. People have been talking about the need and future of communities on Hive for years now.
Proving That It's Possible - In a Big Way
The growth of LeoFinance has proved that a niche community can build itself on Hive and properly distribute rewards. With Leo, we are focused on crypto and finance. If you want to post a picture of a dog, that is awesome. Just post it on a Hive frontend that isn't LeoFinance.
Tokenized niche communities are the future of Hive. Plain and simple. The LeoFinance community has worked hard to prove this point and with the data in this report, it is irrefutable.
Most Rewarded Community on the Planet?
I titled this post "The Best Way to Earn Crypto in 2021"
An alternative title I had in mind: "LEO UGC is the Most Lucrative Community Activity in the World"
UGC stands for User Generated Content. On platforms like Facebook and Twitter, you make Zucks and Dorsey rich by posting content for free.
On LeoFinance, you post content and build your brand on the platform in exchange for upvotes, engagement and the joy of content creation.
There are many people in the world who just want to create and engage with awesome content that is relatable and interesting to them. That's why Web2 platforms like Facebook and Twitter have seen so much success.
With that said, there is a growing awareness in the world that UGC is driving tens of billions of dollars into the pockets of these corporations. Many people are starting to realize that they are not the customer of Web2 social media... in fact, they are the product of Web2 social media.
Web2 sells your data, content and attention to the highest bidders. With little regard of the end user, Web2 aims to such every cent out of you that they can. Whether it means selling your data to governments or online retailers or using the attention your content generates to sell billions of dollars worth of ad space.. it doesn't matter. They're selling you.
In January, we distributed $11,739 USD in LEO author rewards (only counting the top 30 authors).
This doesn't include any curation rewards, mining rewards or Geyser LP incentives. Our platform is dishing out nearly 6 figures in monthly rewards.
There are a lot of ways to earn money online in 2021, but we could easily make the argument that https://leofinance.io is the best way to do it. It's a platform where you can create and engage with crypto/finance content every single day. If you like these topics, then it will be a fun place to hang out and in exchange for the value you bring (in the form of content, engagement and attention), you will earn some LEO cryptocurrency.
Seems like a pretty easy sell, right? Join, create and earn. It costs $0 and there is low friction through our Twitter, Phone # or Metamask sign up options which take less than 30 seconds and don't even require you to download your Hive keys right away.
As time goes on, we'll continue to spread this message. Obviously, this place is not all about the money. That is a key piece of the puzzle, but the engagement, knowledge and community here are what really make this platform special.
Top 30 Authors Ranked by LEO Earned in January
The following chart shows the top 30 authors on LeoFinance. The 3rd column shows the USD value of the LEO they earned throughout January and the 4th column shows the USD value of the HIVE they earned throughout January.
Note: we used current values of HIVE and LEO ($0.15 HIVE and $0.60 LEO).
Top 30 LEO Authors Ranked By % of LEO Rewards
The following chart shows the top 30 LEO authors ranked by the percentage of LEO rewards relative to how much their total USD rewards were:
LEO Reward Dominance = LEO USD / (HIVE USD + LEO USD) * 100
| Rank | Author | Total $ | LEO Dominance % |
| --- | --- | --- | --- |
| 1 | empoderat | 282 | 94.20% |
| 2 | forexbrokr | 271 | 90.98% |
| 3 | lbi-token | 788 | 88.48% |
| 4 | cryptowendyo | 403 | 82.31% |
| 5 | behiver | 291 | 83.59% |
| 6 | shortsegments | 338 | 83.30% |
| 7 | lebey1 | 322 | 82.85% |
| 8 | katerinaramm | 383 | 79.88% |
| 9 | rollandthomas | 974 | 78.93% |
| 10 | spinvest | 342 | 77.99% |
| 11 | acesontop | 530 | 75.55% |
| 12 | scaredycatguide | 504 | 75.49% |
| 13 | edicted | 2,182 | 73.89% |
| 14 | cflclosers | 414 | 74.97% |
| 15 | trumpman | 527 | 73.65% |
| 16 | bitcoinflood | 409 | 73.73% |
| 17 | hitmeasap | 337 | 71.04% |
| 18 | taskmaster4450le | 806 | 68.28% |
| 19 | dalz | 559 | 64.83% |
| 20 | khaleelkazi | 465 | 65.80% |
| 21 | chekohler | 465 | 58.29% |
| 22 | jrcornel | 1,221 | 57.26% |
| 23 | jondoe | 534 | 52.74% |
| 24 | wiseagent | 564 | 51.51% |
| 25 | erikah | 504 | 53.49% |
| 26 | themarkymark | 608 | 47.78% |
| 27 | josediccus | 482 | 49.53% |
| 28 | cryptoandcoffee | 526 | 48.93% |
| 29 | tarazkp | 1,082 | 32.25% |
| 30 | taskmaster4450 | 999 | 26.77% |
We've seen an incredible rise in the LEO rewards relative to HIVE rewards. Further proving our point that niche tokenization is the future of decentralized upvote economies (note: the January curation leaderboard will drop soon and will even further prove this point).
The average % of LEO dominance = 67.94%. This means that 67.94% of the total rewards that LEO authors (just the top 30) earned in January came from LEO rewards.
The Top 30 LEO Authors earned 22,596 LEO and 44,619 HIVE in author rewards this month. (note the rise in HIVE rewards. Largely due to increased HP delegations to @leo.voter - currently at 2.5M HIVE POWER - which is used to manually curate LeoFinance.io authors).
The USD breakdown of these rewards is $11,739 USD in LEO rewards and $6,370 USD in HIVE rewards.
This means that the Top 30 LEO authors earned $18,110 USD in total author rewards for the month of January.
Great Curation
The curation on LeoFinance is incredible to watch. Many of our users all the way from new signups to long-standing LEO whales are manually curating content.
We're onboarding hundreds of new accounts per month through https://leofinance.io. One of the high-profile onboards last month was @cryptowendyo.
Notice anything interesting in the leaderboard? Her first month on the site and she's the #11th most rewarded author on LeoFinance. Some other new names on this list (that weren't in the top 30 last month):
Also note that many have changed ranks on the list. @katerinaramm jumped from #29 last month to #13 this month. @themarkymark also jumped from #28 to #15.
Is it a stretch to say that LEO curators are also the best community content discoverers (is that a word?) on the planet. We'll have to wait and find out in the January Curator Leaderboard Report.
So to all you 🦁 curators and authors - keep up the good content creation and manual curation. The trend of a competitive top 30 leaderboard is one that we want to keep!
Dev Update: New Advanced Post Scheduling and Drafts Feature
We're currently building an entirely new post scheduling and drafts UI into the LeoFinance UI.
This will have a very similar look and feel to Twitter's post scheduling and draft implementation. It will allow you to schedule posts to publish in the future, view and edit those posts and also save multiple drafts (and view and edit those as well).
We already built a "dumb" implementation of Scheduling. The current implementation is a very rough version and doesn't allow you to see your scheduled posts. There are also very random occasions when something fails to upload and a post can get lost in the "ether".
With #ProjectBlank about to launch, we wanted to roll out a really great drafts/scheduling feature. This is part of the reason why we adopted a similar feel to Twitter in this regard. When ProjectBlank launches, it will have this scheduled/drafts built in for "Blanks" which will make it far easier to publish 20, 30 or 500 "Blanks" per day if you decide to become a MasterBlanker.
MasterBlanker is our inside joke from Twitter IYKYK
Our original plan was to roll it out yesterday (on Saturday) but we're still fixing a few things on the development site before pushing it into production. You should expect to see this new UI added to LeoFinance.io on Monday or Tuesday this week.
After that is released, we're in the final stages of ProjectBlank development. A post will drop soon which will give at least 1-2 weeks notice before the Snapshot (which will be taken 1 day prior to the official launch of ProjectBlank).
The new LeoFi dashboard is being developed simultaneously by another dev team member. This dashboard will feature our first iteration of a real-time use case with LEO POWER in the DeFi space. Future versions will quickly roll out and feature other DeFi use cases (including cross-chain DeFi between Hive and Ethereum - working similarly to how LeoInfra can bind ETH addresses to Hive accounts and utilize HiveLink to distribute WLEO geyser payouts on the Hive blockchain instead of Ethereum to save on gas fees).
Also being developed is LeoInfra V3 which should roll out in a similar timetable to #ProjectBlank. V3 will feature new methods for Hive Lite and full Hive accounts:
Lite account creation via Google
Lite account creation via Facebook
Full account creation via Google verification
Full account creation via Facebook verification
Full account creation via Email verification
Note: the only difference between Lite and Full accounts is that a "Full" account is when the User downloads their Hive blockchain keys right when they create the account. A Lite account encrypts their keys on the backend and allows them to sign in with the original sign up method (i.e. sign up/in via Twitter with no Hive keys).
A few other projects are also being developed right now but are further out from public release. The above will be ready by March 1st (🤞🏽).
We've been quietly working on the backend for a while now (especially with the new Lightning DB and building the new content handling for ProjectBlank), which is why the announcements of announcements have been slower than usual. @taskmaster4450le just posted an unofficial timeline for the above developments based on a conversation we had earlier.

LeoFinance is a blockchain-based social media platform for Crypto & Finance content creators. Our tokenized app allows users and creators to engage and share content on the blockchain while earning cryptocurrency rewards.
Support LeoInfra's Onboarding Efforts by Delegating HP to @leo.voter (Currently at 2.5M HP). We Use this to Claim Accounts and Delegate RCs to Newly Onboarded Users
Posted Using LeoFinance Beta