WLEO Has been Listed on CoinMarketCap | Does This Benefit LEO Stakeholders?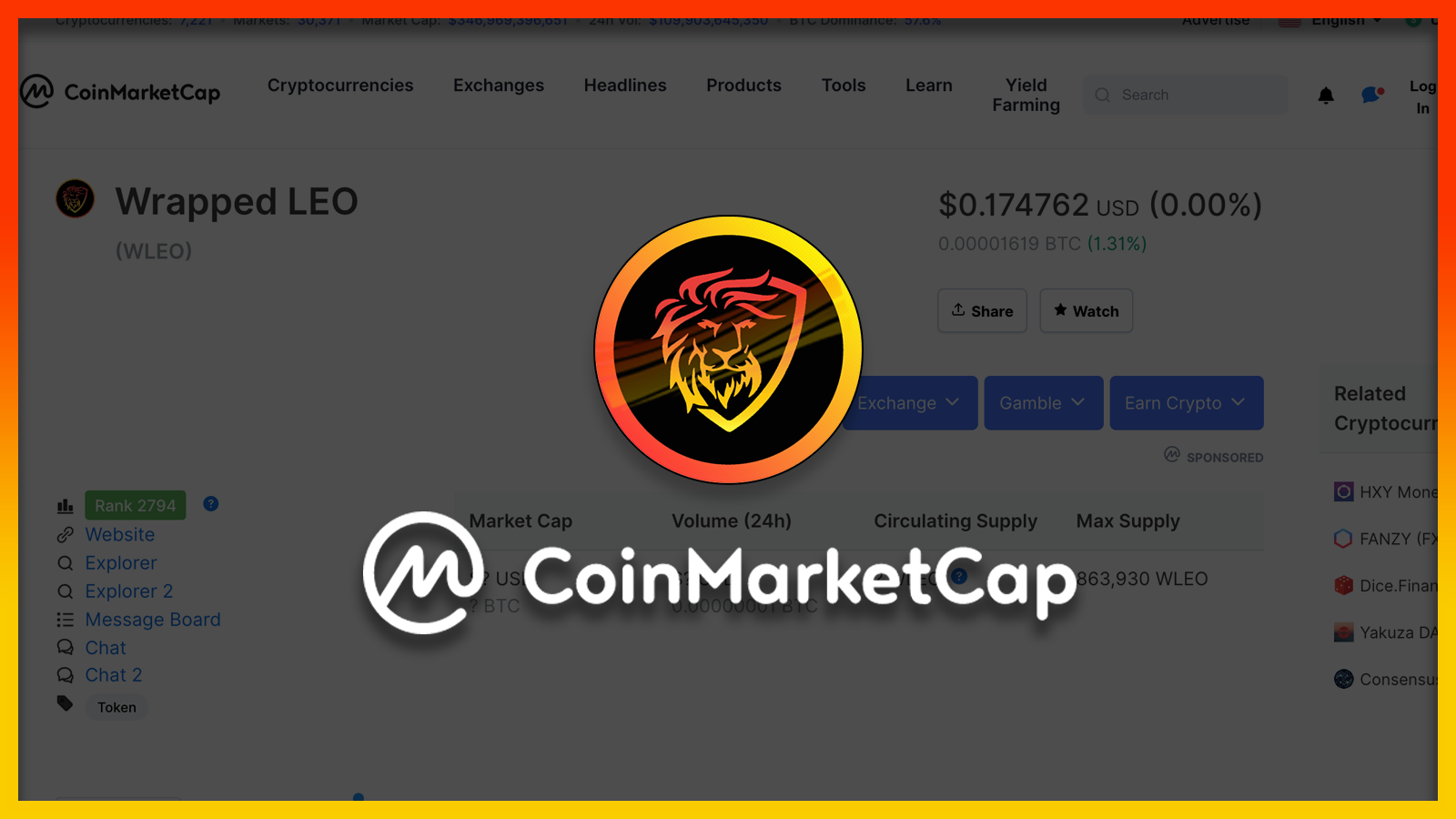 Wrapped LEO has grown faster than our wildest expectations. The roadmap for launching WLEO and expanding our community had always included listings like Coingecko, CoinMarketCap, external exchanges, DeFi communities, etc. but we expected it to take quite a bit longer.
Yesterday we announced that CoinGecko, CoinPaprika, Blockfolio and a few other crypto data aggregation sites/apps listed WLEO. Today, CoinMarketCap has officially listed WLEO.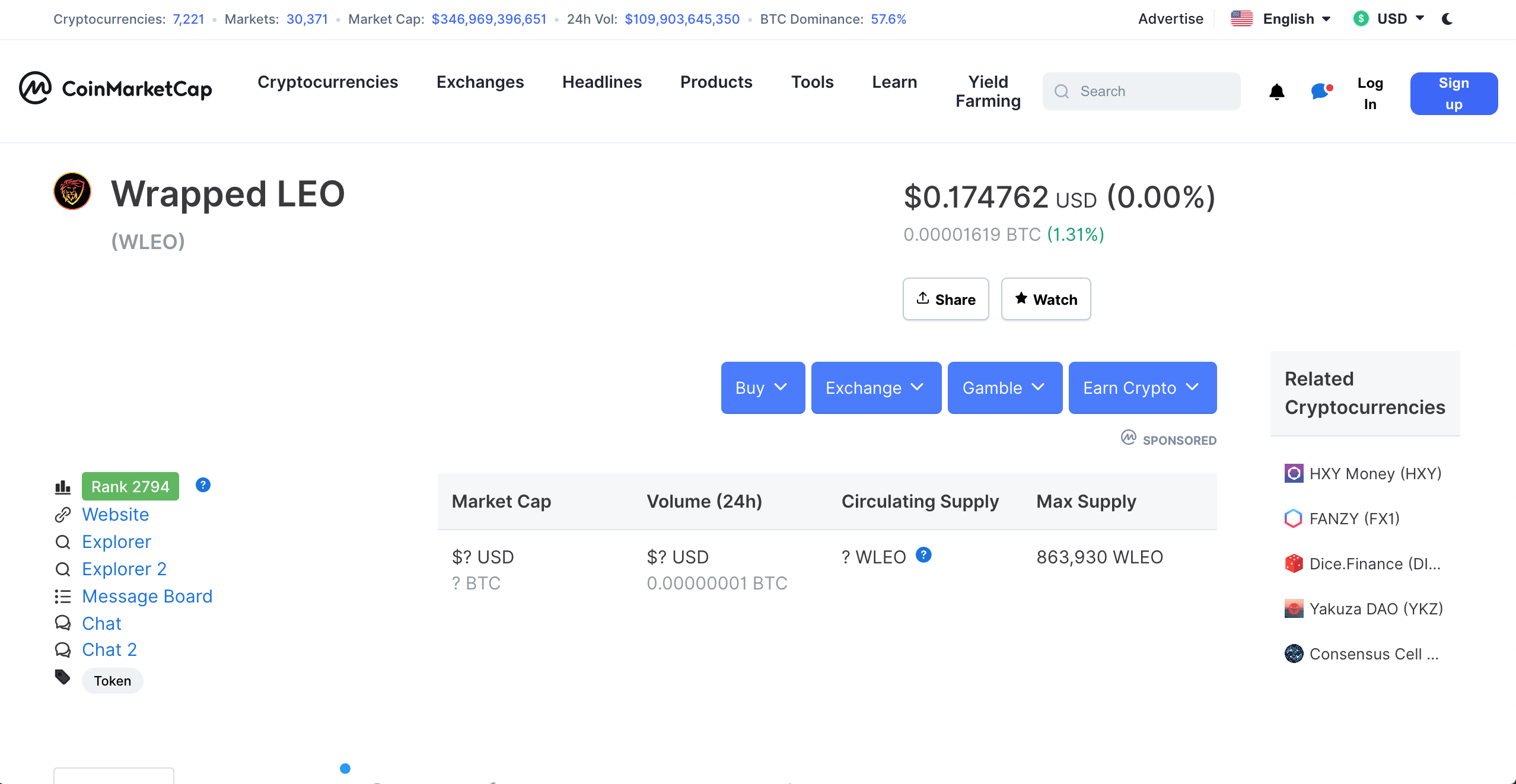 https://coinmarketcap.com/currencies/wrapped-leo/
Does Any of This Have a Tangible Impact on LeoFinance's Fundamental Growth?
In other words, are these just vanity listings? Or do these have some measurable impact on the fundamental data points that we use to track the growth of the LeoFinance platform?
LeoFinance.io Traffic: 7-28-2020 - 9/28/2020
One of the main data points for LeoFinance is traffic to our website. This includes not only our core user base of authors and curators but also the outside world of readers and viewers who find our site via google searches, Twitter, Reddit and other social media sites where leofinance.io post links are shared.
Up until this point, we've always shown a consistent growth trend. Slow and steady.
Since the release of WLEO, that growth trend has accelerated beyond our wildest expectations. In the above chart (please ignore 9/27/20 data - we switched our website from condenser to the new https://leofinance.io interface we built which caused downtime for the traffic analytics), you'll see that the growth has spiked incredibly.
Our average page views per day were about 2,800 before WLEO launched. Since the launch (last Wednesday), we've seen consistent numbers above 3,400 page views per day (about a 20-25% growth in traffic).
Since our listing on Coingecko yesterday, we've seen an explosion in page views. Yesterday we reached an all-time high for page views: bringing in 7,200 page views in a single day (157% growth over pre-WLEO days).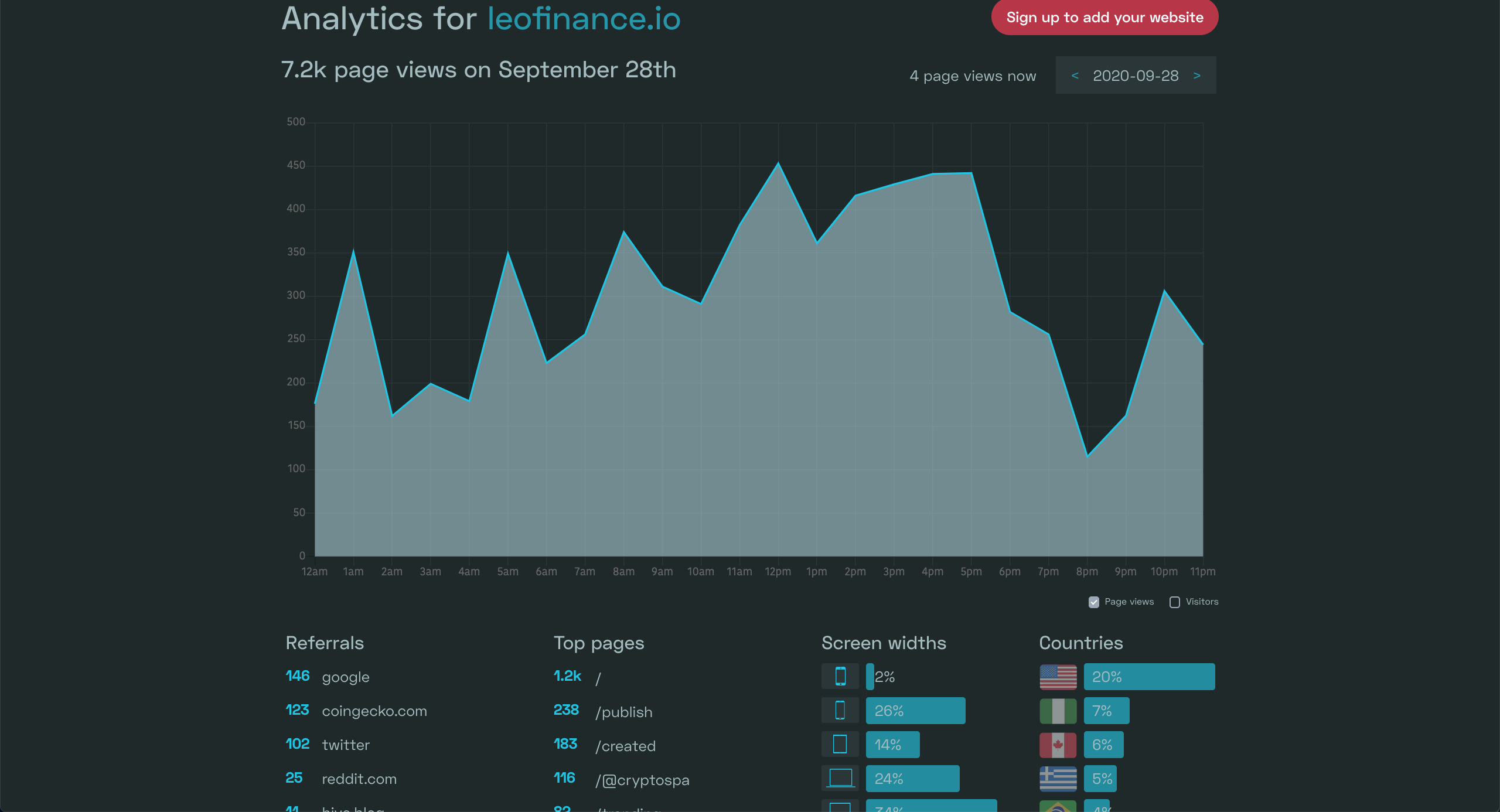 LeoFinance.io Traffic: 9/28/2020
As you can see, Coingecko reached the #2 spot for daily referrals to the site in just the first day we were listed.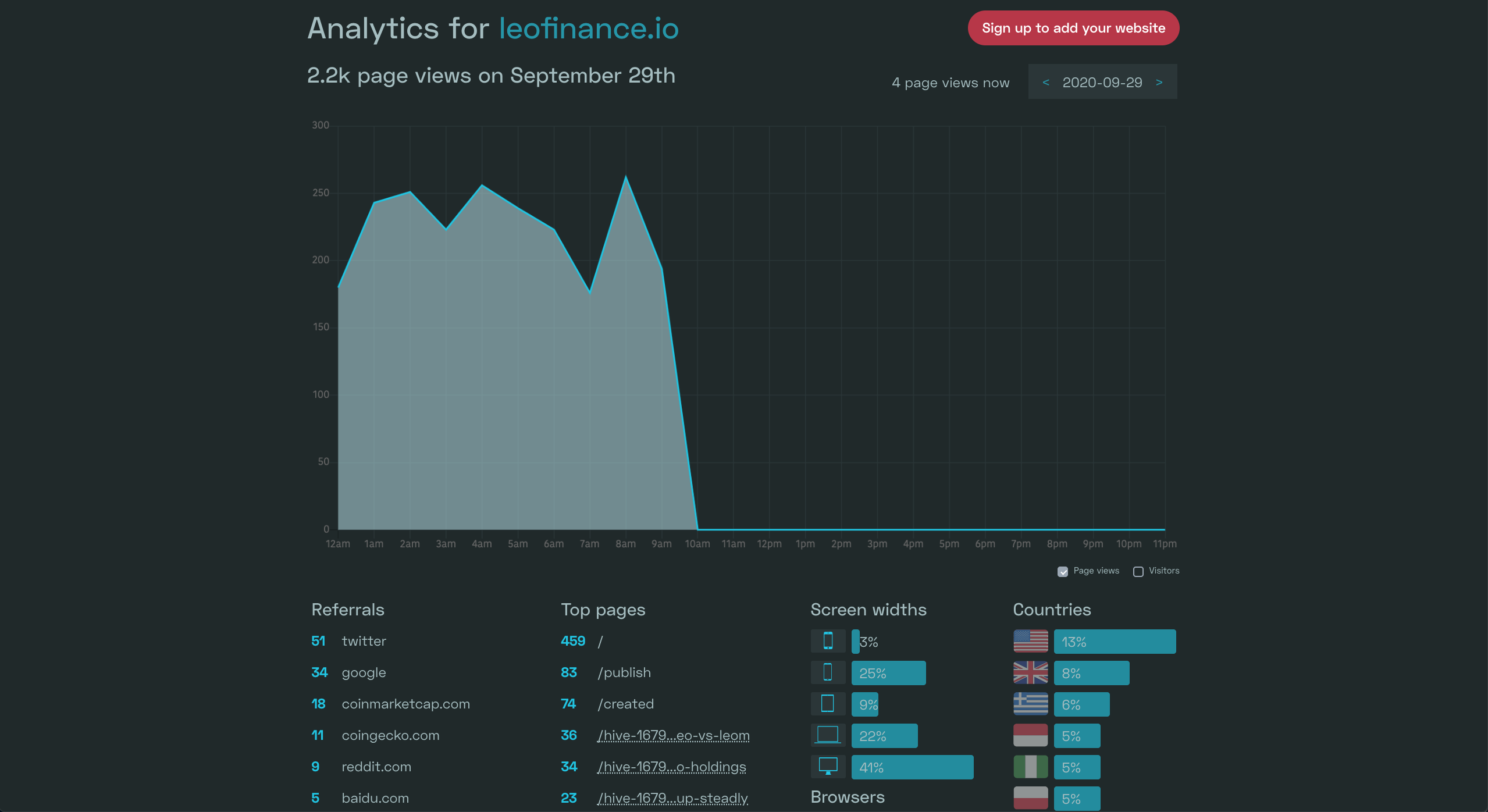 LeoFinance.io Traffic: 9/29/2020 (Current Day)
Today's traffic is already showing CoinMarketCap as bringing in more traffic than Coingecko. It will be interesting to see how these referral sources play out but from what we can tell on most other crypto sites - CMC, Coingecko and other major aggregation sites tend to be one of the top sources of consistent daily traffic.
We're emailing the CMC and Coingecko teams to update our tokenomic stats so they properly display our Market Cap and Circulating Supply. It's a common practice for them to first list a token and then receive more details to update the listing afterwards.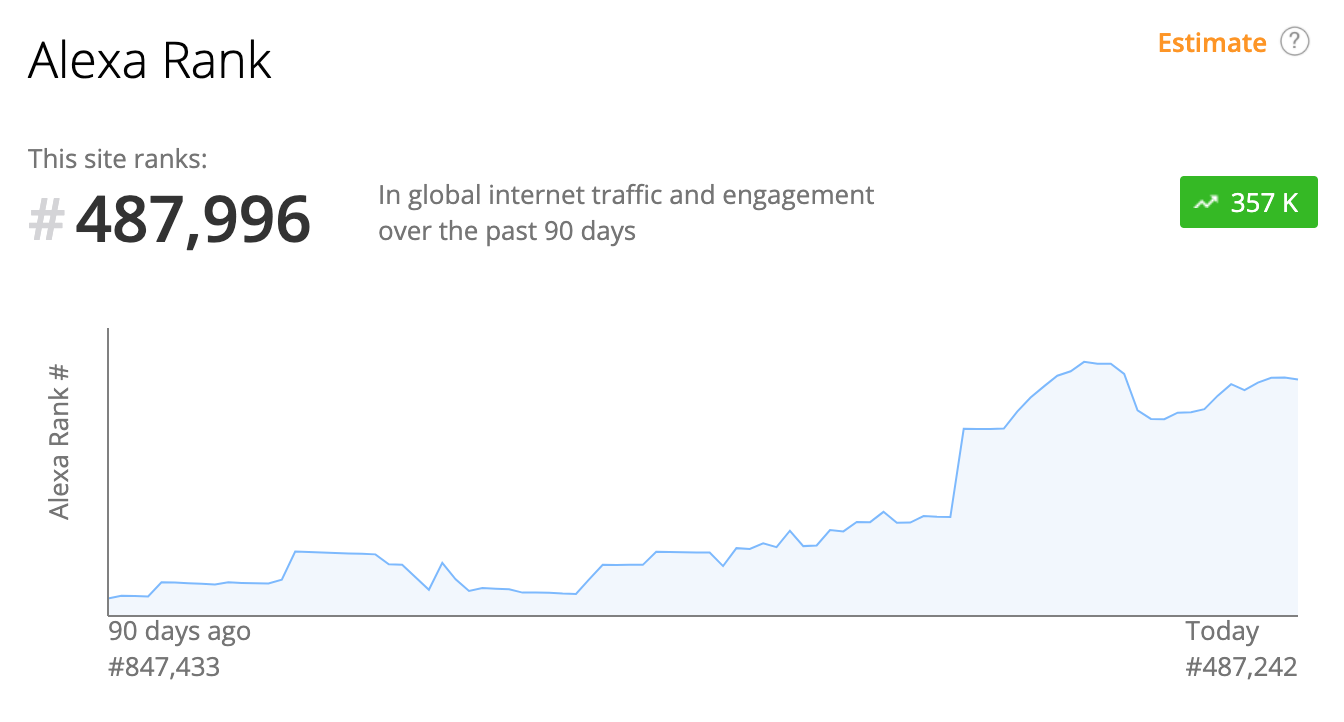 LeoFinance.io Alexa Ranking
The fun doesn't stop there, our Alexa rank has also climbed significantly in the past few months. You can see our continual growth up until the announcement of WLEO (9/1/20). On that day, we saw a major increase in web traffic and that increase has continued. We'll likely start seeing the impacts of Coingecko and CMC linking to our website in the coming days/weeks.
Does This Have Any Impact on LEO Stakeholders?
So now you've been updated on the traffic. As a social media platform where attention is everything, these are great metrics to follow. You want to see a continual rise in web traffic and you want to see new and better sources of authoritative links - i.e. CMC/Coingecko and other high-ranking sites linking back to leofinance.io - that's great, but how does it impact LEO stakeholders?
Outside of simply growing the audience and reach of our platform, we have an ad revenue program where ad revenue is generated in the form of FIAT/Bitcoin and is converted into HIVE and then that HIVE is used to buy LEO off the LeoDex market and send it to @null (burned permanently from the token supply).

Our Landing Page Describes the Tokenized Attention Model
Attention comes in a lot of forms and from a lot of different sources. Our core user base generates the vast majority of page views, but we're starting to see a lot of new traffic come in from these external sites. This greatly boosts the ranking and authority of leofinance.io and impacts the self-repeating cycle of more authority = more traffic = more authority.
Our core user base (people making content/curating content on https://leofinance.io) has seen a major increase as well from the high LEO token price. This not only leads to short-term gains in LeoAd revenue, but it also leads to long-term gains in terms of more canonical content that originates from our site and ranks on Google and other search engines.
---
Things are heating up for LEO / WLEO on all fronts. We're working on an exciting integration for the https://leofinance.io interface and the recent listings on Coingecko, CMC, etc. have led to an explosion of my DM inbox. I'm getting contacted by exchanges and crypto communities left and right asking questions and offering various "marketing packages" to our platform.
Most of this is nonsense and not worth pursuing, but there are occasional nuggets here and there. A top 25 Centralized Exchange recently contacted us about listing WLEO (yes, I verified them via Twitter DMs). While we may choose our first CEX listing to be a different exchange, I think people are starting to see the potential of what we've built here. And we're just getting started.

Follow @leofinance for official updates
Posted Using LeoFinance Beta
---
---