Wrapped LEO Hard Launch Date and New wLEO Explore Page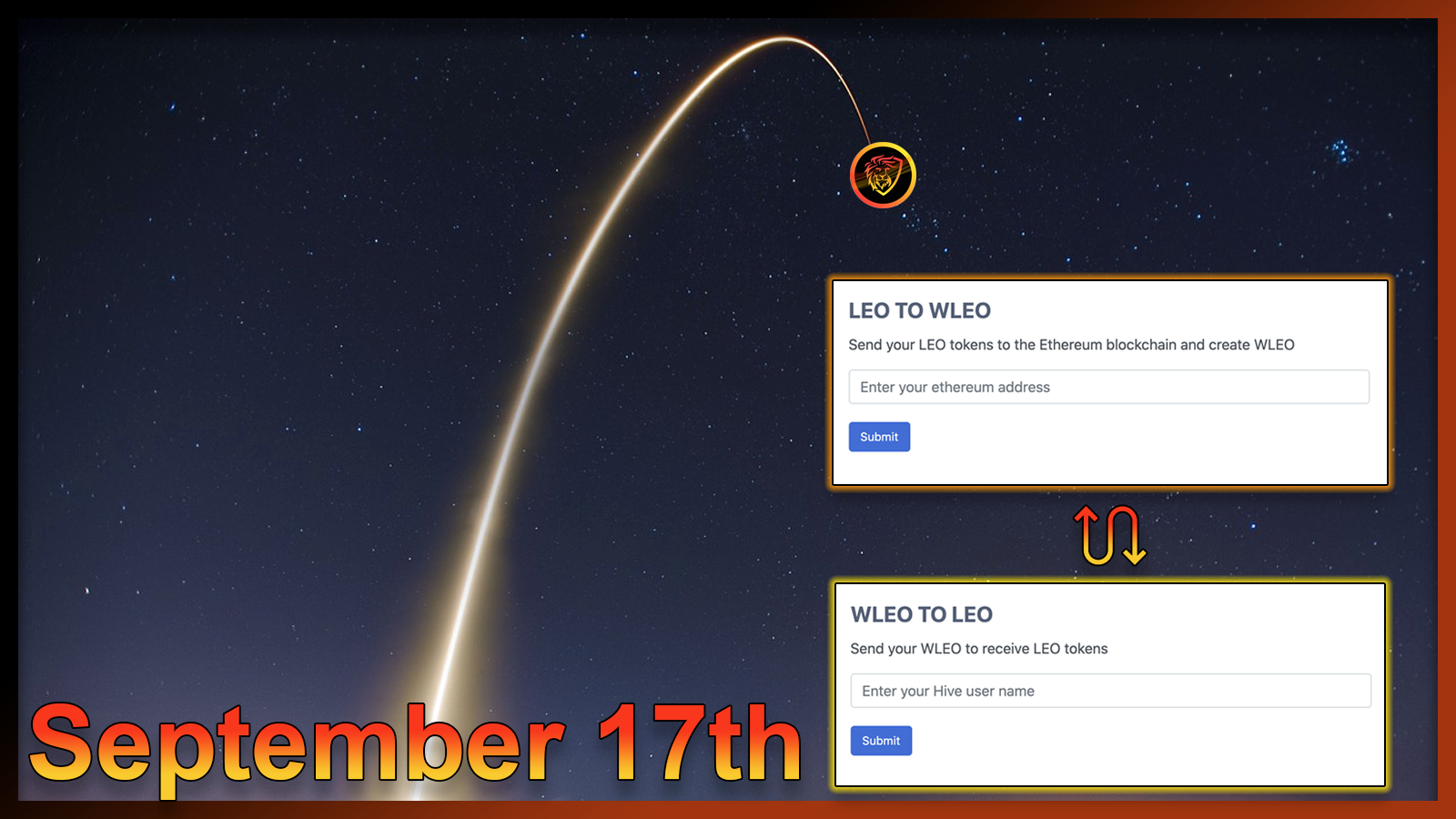 We've had a few different potential launch dates but before nailing one down and announcing it officially, we wanted to make sure that all the tech was in place to handle wLEO along with our overall marketing strategy for DeFi/Ethereum users outside of the Hive ecosystem.
The wLEO contract has been created ✔️
1st wLEO token was minted ✔️
wLEO interface is ready ✔️
New Explore wLEO Page ✔️
New LeoFinance Landing Page ✔️
New LeoFinance Telegram (TG is more popular than Discord amongst DeFiers -- jump in there and be ready to welcome them 🦁) ✔️
List of DeFi groups to contact about sharing wLEO with communities outside of Hive ✔️
Post-launch plan for other listings on Ethereum (outside of Uniswap) ✔️
...
As you can see, there's quite a lot that's been happening behind the scenes. On top of all this, we're still building the new LeoFinance Beta interface and if you visit the site each day, you'll notice some minor/major changes rolling out in real-time. We're currently working on the Dark Mode and Mobile Version of the UI.
wLEO Hard Launch Date
Mark your calendars, wLEO officially launches on Thursday, September 17th.
What can you expect on the launch day?
wLEO interface where you can wrap LEO or unwrap wLEO
Uniswap Listing
Initial Liquidity donation by @leofinance ($20,000 USD - $10k ETH + $10k LEO)
LP bounties program (300,000 LEO distributed to LP's for the first 90 days of pooling - distribution details will be released on launch day
LEO outreach program (reaching out to DeFi/Ethereum groups to tell them about LeoFinance/wLEO)
wLEO launch party livestream (exact time: TBA) (with @nealmcspadden, @scaredycatguide, @rollandthomas and @khaleelkazi)
What can you expect after launch day?
Continued outreach to DeFi/Ethereum communities
Coingecko Listing
Blockfolio Listing
Contacting dApps/exchanges for other listings
🌔?
Explore wLEO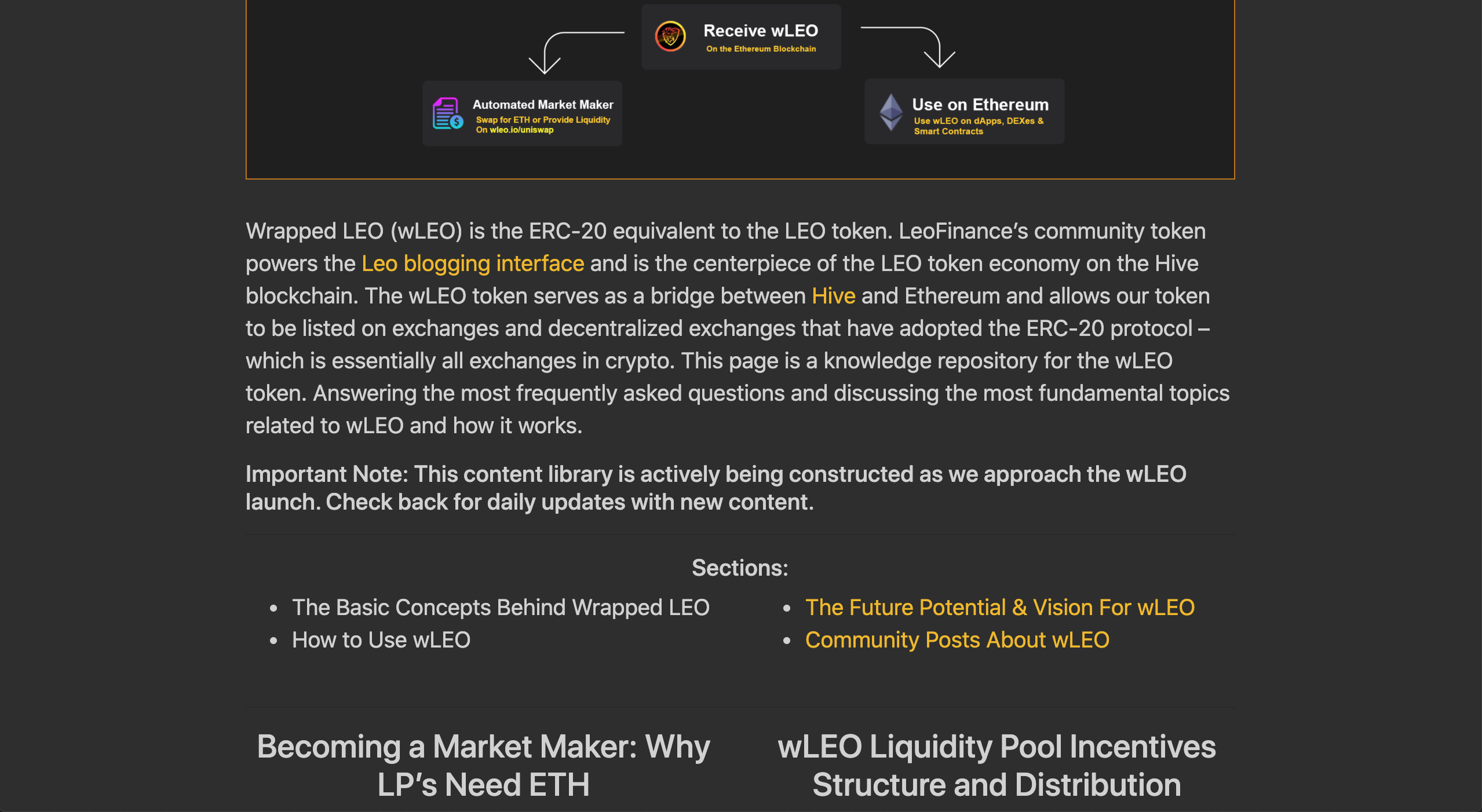 Explore wLEO
Wrapped LEO is a complex subject. As we saw with wHIVE, a lot of users have a lot of questions about how exactly this stuff works. For Ethereum users, the reverse is true -- they don't understand how Hive works.
Especially for our Hive userbase, we created the wLEO explore page: https://leopedia.io/wleo
This page serves as a repository of info about Wrapped LEO, how it works and why it's important. The content library is actively being added to each and every day, so check back for new content - especially as we approach the launch of wLEO. The guides are just getting started.
This page will soon house information outlining every possible detail of wLEO - including how to use it, why it's valuable for our community, our future plans for listing it on other dApps/Exchanges, etc.
LEO Token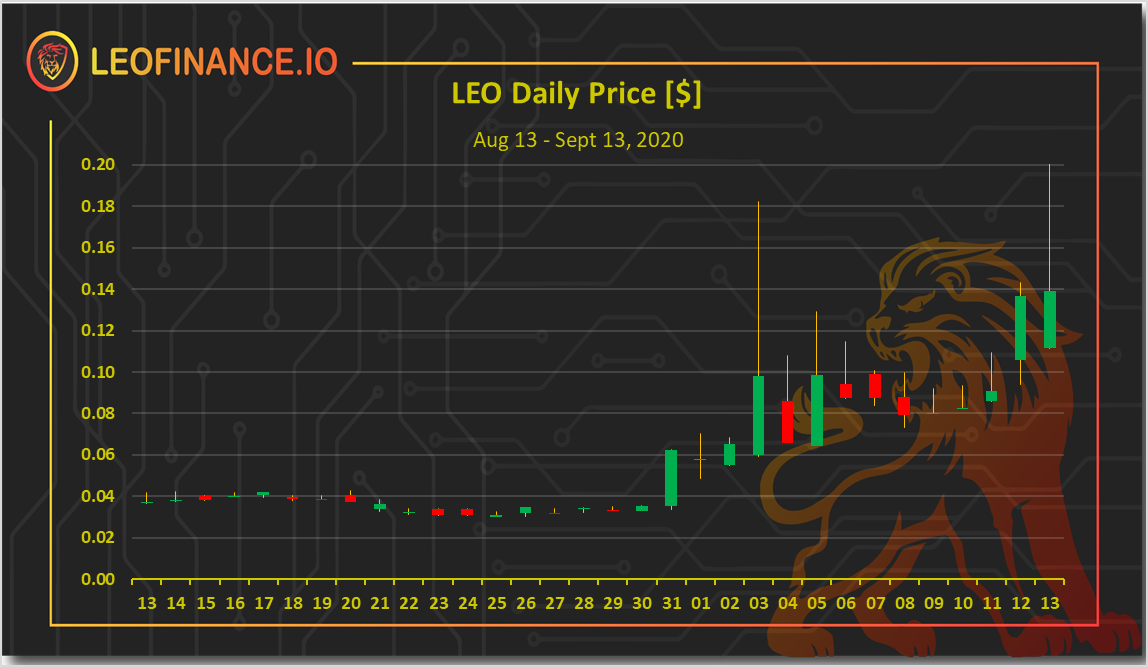 LEO Hit Parity With HIVE Yesterday (1 HIVE = 1 LEO)
Before ending this post, I have to give an honorable mention to the LEO token price. It's been exploding over the past 2 weeks as we announced wLEO and our future plans with it. As @dalz, @rollandthomas and @nealmcspadden said: anyone who's bought or earned LEO in the past 15 months has essentially become an angel investor / presale investor without actually participating in a presale or investing round.
The wLEO launch is LEO's first real step outside of the Hive ecosystem - not unlike an IPO or ICO event. Opening the doors to a wider audience with the ultimate goal of driving more users, token hodlers and attention to our project.
Up until the launch of wLEO, the only way to buy, earn or HODL LEO was if you had a Hive account. With the Wrapped LEO ERC20 token bridge, anyone with a Hive account OR an ETH address can now buy and HODL LEO. In the future, we'll reveal something mind-blowing on the earn front ;)
Our goal is (and has always been) long-term accessibility and growth for the LEO token and LeoFinance platform. The Uniswap listing/wLEO launch is just the beginning 🦁
One more time: Mark your calendars, wLEO officially launches on Thursday, September 17th.

Join Our Hive Community & Earn LEO Rewards!
Earn LEO + HIVE rewards by creating crypto/finance-related content in our PeakD community or directly from our hive-based interface at https://leofinance.io.
Follow @leofinance for official updates
Posted Using LeoFinance Beta
---
---