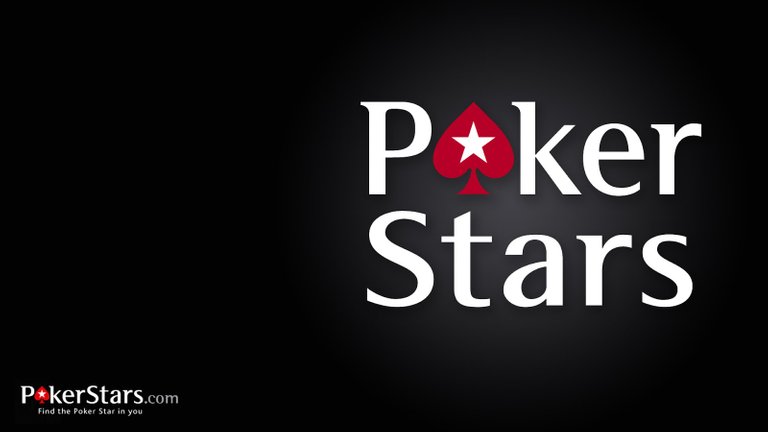 ---
I can't miss it
Some of you may already know that I've got a thing for online poker. I have been grinding on Pokerstars since 2008, and I have always had a very good time on the platform.
Of course it wasn't easy in the beginning, but after many years of experience and probably tens of thousands of hours of gameplay, I am now in a position to generate income through this hobby whenever I've got enough spare time to grind, which is rarely the case.
However, due to the ongoing lockdowns I have been able to find some free time to devote to practicing what is probably my most profitable side-hustle on the internet, and I have been doing well so far. I usually go for some micro-stakes grinding, as I've noticed that it is easier to get massive returns on investment in this category, due to the fact that it's mainly populated with inexperienced players.
Also, for those of you who know what I am talking about, it is quite difficult to get huge multipliers on your initial investment through tournament games, as you have to have a really good run and place in the top 0,1% or higher. As you can imagine, finishing top 3 or top 5 out of 5,000 players or more isn't exactly a piece of cake.
A few words about Pokerstars:
PokerStars is an online poker cardroom owned by The Stars Group. It can be accessed through downloadable poker clients for the Windows, macOS, Android and iOS. It is the largest real money online poker site in the world, controlling over two-thirds of the total online poker market.
Source
And some history:
PokerStars launched its beta play-money-only site on September 11, 2001. The company began offering real money wagering on December 12, 2001. PokerStars was originally a Costa Rican company, Rational Enterprises, which was majority owned by the Israeli Scheinberg family.The company was subsequently moved to Onchan, Isle of Man. The move was driven by the establishment of a 0% corporate tax rate and the removal of rules barring companies from accepting casino and poker bets from the United States of America.
Source
Blowout Series
So I realized that the Blowout Series 2020/21 is currently under way, with $60M in prizes guaranteed and 268 scheduled events, which is a broader tournament schedule with longer duration compared to the Winter Series held in 2017. As you can understand, I had to join in and did so right away.
I decided to join the 77-L $2.20 no limit hold 'em event with $30k guaranteed, 10-minute levels and a 125-minute period of extended registration. We have already surpassed the 125-minute mark, and out of a total of 14,405 entries there are 4,930 players still in the game at the moment. The tournament will probably last more than 11 hours.
I don't have all day
This is what I hate about guaranteed tournament events, it can be really time-consuming if you are looking to go for the top spots, but if you manage to do it, it is worth the effort. Also, the fact that there's a 5-minute break every 55 minutes of gameplay means that you have to do everything else (eg. eat, drink, shake hands with the president etc) during those 5-minute breaks. As you can imagine, this can be a rather exhausting process.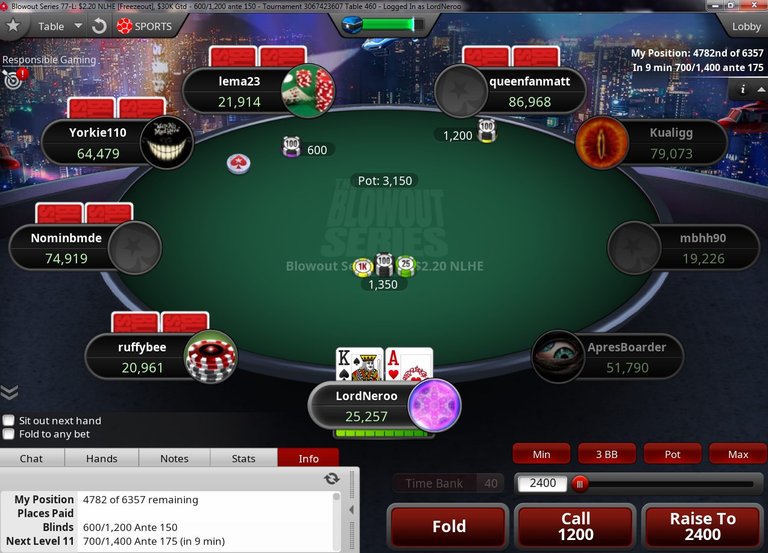 ---
They ain't gonna know what hit 'em
So here I am, about to drop the bomb on them in this one. I'm out of position here, so I will probably go for 3BBs and wish for a good flop.
If the signs are good I will shove, otherwise I might checkfold and choose to be a bit more patient, as this one in particular is actually a ''slow'' tournament. Going in the money is important, as it means you no longer have to worry about losing funds, but it's not a good strategy to just passively wait for your spot above the bubble.
Of course, if you have no experience at all, I would advise you to stay away from PokerStars and online poker in general. It is quite easy to lose your hard-earned money over there, and gambling is never a good option. If you choose to venture into the online poker industry, do it with consideration and never invest more than you can afford to lose.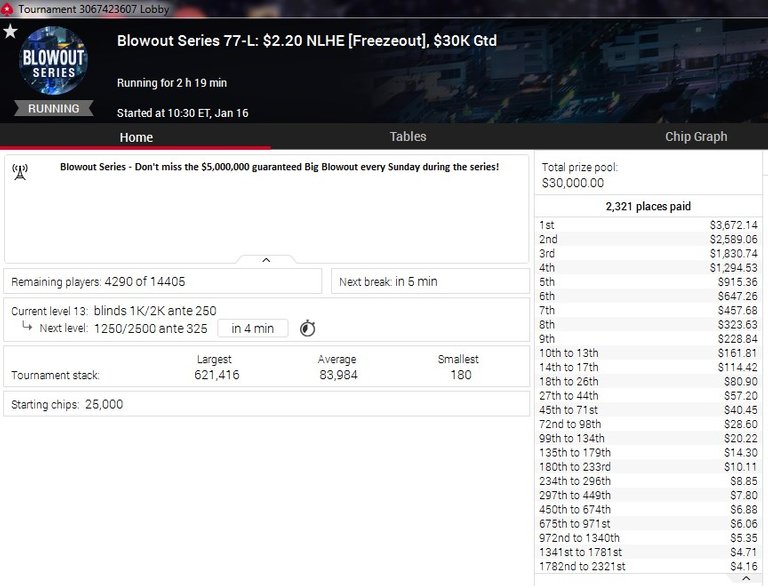 ---
Out for the kill
As you can see, there's some good money waiting to be grabbed at the top 4 spots, but as you can guess, it's not very easy to be the one to land there out of 14,405 entries.
Also, if you look closer, you will notice that there are huge differences between successive spots in the final table. Extremely annoying how the first spot pays out $3,672 when at the same time the ninth spot won't give you more than $228, which is more than 15 times less.
And so, it can be very disappointing to have a great run only to reach the final table and be eliminated 7 - 8 spots away from the top. In this case an 100x return on investment isn't enough to make you happy, knowing how much more it could have been had you managed to grab a few more ladders. Been there, done that. Let's hope that won't be the case tonight.
Time will tell
For now, I have decided to be patient and see where this can take me. I've noticed that it pays to be patient if you can stay well over the 15BB mark, and that's what I intend to do unless the random number generator decides to bless me with some cool starting hands.
I am not sharing this blog post to encourage you to get involved in online poker, and as a matter of fact I would advise you to stay away from this sport. However, if you have zero experience and are looking to get started, I would suggest going for the freerolls. That way you may be able to get your bankroll started without having to deposit your own money.
Again: gambling is bad for you. Very bad. Do not follow my example. I have been doing this for many years and it's proven to be a profitable hobby for me. That's not the norm though.
---
---
Thank you for your attention.
Alright guys, that's it for now. I sincerely hope you learned something new today.
Just my two cents. This is by no means financial advice. Just sharing my personal views and experiences. Please do not take my word for your investment choices, and always do your own research.
Stay safe and have a good one,
@lordneroo
---
---
---
Best Faucets to Earn BTC with Zero Risk (Affiliate Links):
Best Exchanges to trade Crypto (Affiliate Links):
Best Platforms to Earn Crypto for your Content (Affiliate Links):
Connect with me Here:
Posted Using LeoFinance Beta