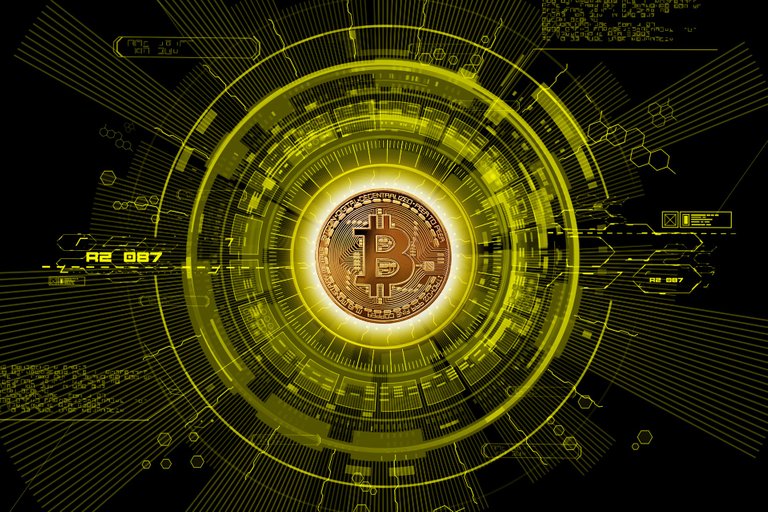 I guess we all know the news: Bitcoin has been performing lately.
Bitcoin hit a new all time high of $54,831.31 earlier today, and there's probably more to come. You guessed it, this is not financial advice.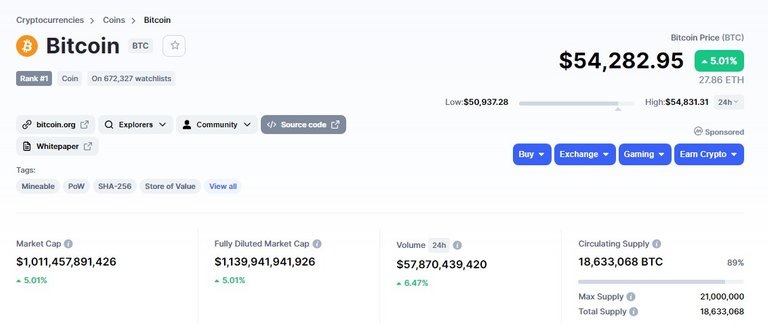 Go home Bitcoin, you're drunk
Currently swinging around the $54.3k mark, Bitcoin's market cap surpassed the $1 trillion mark for the first time. I guess MicroStrategy is doing its part today. We will see.
On another note, Canada's CI Financial files for new Bitcoin ETF. More good news every other day, plenty of reasons to stay positive and committed.
Canadian investment firm CI Financial, which manages more than $230 billion worth of assets, has filed for a new bitcoin exchange-traded fund (ETF). CI is seeking approval to list the bitcoin ETF on the Toronto Stock Exchange (TSX). If approved, the firm would manage the ETF with Mike Novogratz's Galaxy as subadvisor and charge an annual management fee of 1%.
source: theblockcrypto.com
Seriously one needs to quit sleeping these days in order to be able to keep up with all the bullish news coming out. Very exciting times to be around. And quite stressful too.
It's very easy to go into panic mode and feel tempted to perform trades you weren't even planning to, and that's exactly how I feel about Bitcoin right now. But I'm probably not going to do anything, as I have realized that it's always a bad decision to make moves based on my emotions.
I will just sit back, grab a beer and watch the show. In for the long haul and convinced that holding beats trading. That's just me though.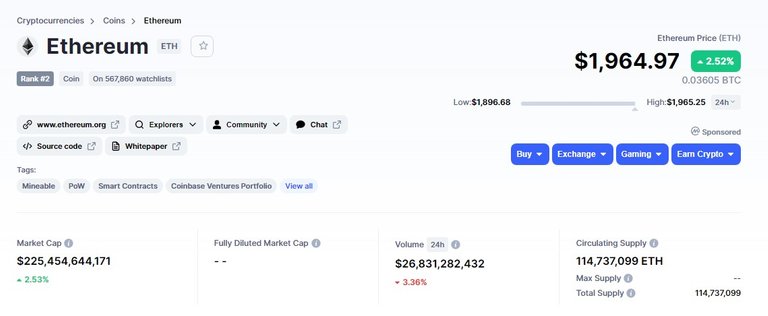 You too, Ethereum
ETH is currently trading at $1,964 on Binance, a 2.5% increase over the last 24 hours. ETH/USDT market depth indicates it can hit the $2k mark any time now.
Institutional interest in Ethereum has been growing lately, so it is possible to see the token explore new heights in the coming weeks or months. It's definitely all speculation, but the signs are good.
In fact, the scale of the latest institutional demand for Ethereum can be observed by the activity registered by the newly launched ETH CME Futures. According to Glassnode, the daily trading volume climbed to a total of $75.8 million on 16 February, almost doubling from the volumes registered on the 12th, which was around $40 million.
source: ambcrypto.com
Is there more to come for Vitalik's child? Only time will tell, but I think we can be optimistic for now.
2021 is proving to be a great year for the cryptocurrency industry; there has been lots of good news and the space is finally attracting the attention it deserves.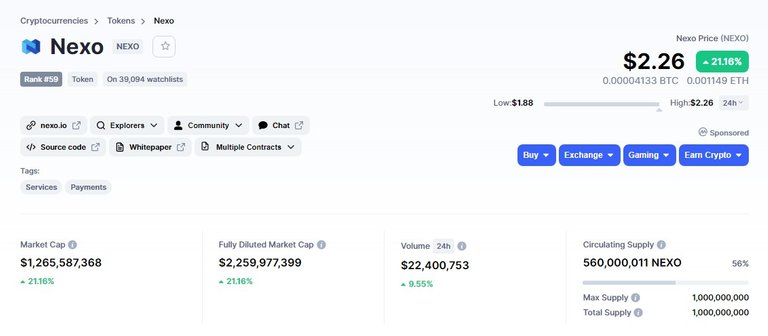 NEXO is doing well too
Currently trading at $2.26, NEXO has been performing very well recently. The Nexo platform allows you to earn daily interest on your idle assets, paid either in the same currency or in NEXO tokens.
Holding their token comes with extra benefits, and it's probably the reason why it is currently growing at a steady pace. I fully support the project and will be back with a full blog post about the Nexo platform. You know DYOR and don't take my word for your investment choices.
Nexo is a European crypto loans and savings platform, co-founded by Antoni Trenchev, Georgi Shulev, and Kosta Kantchev. Launched in 2018, it enables users to borrow or earn interest on their crypto assets. It has over $4 billion in assets under management.
source: decrypt.co
The internet of money is here to revolutionize the way we communicate value to each other on a global scale. It will eventually initiate a domino effect of change towards the direction of liberty and justice.
Maybe the world is finally starting to notice? Wall Street sharks and payment giants definitely are.
Whatever the weather
It goes without saying that I'm very happy to see the crypto market exploding like it is, but I'm still kind of panicking at times like this, wondering whether there are ways to take advantage of the situation instead of just silently watching the show and holding for the long haul. But I am in control of myself, so I will stick to my plan.
Is this thing going to persist, or are we in for a major correction in the next few weeks or months? Nobody really knows, but these are the questions I keep asking myself during the bull market. On one hand the crypto market can't keep going up forever, but on the other hand isn't this exactly what it has been doing since the beginning?
Isn't it still early in the game considering that the vast majority of internet users don't know a thing about the cryptocurrency industry yet? Just scroll through your home page on Facebook, if you're still using Facebook that is, and see what the average person knows about the crypto space in cryptocurrency-oriented comment sections.
I think it is
You can even hit the street and ask random strangers what they know about Bitcoin unless it makes you feel like a weirdo. I bet the vast majority will respond 'nada' even if you live in one of the most advanced countries on Earth. I think it's safe to say that the crypto game hasn't gone viral yet.
But then again what does that mean? How much more can we expect? Is this just a warm up or the end of the road?
Would love to hear your thoughts in the comments below.
---
Thank you for your attention.
Alright guys, that's it for now. Thank you for taking the time to read those lines.
Just my two cents. This is by no means financial advice. Just sharing my personal views and experiences. Please do not take my word for your investment choices, and always do your own research.
Stay safe and have a good one,
@lordneroo
---
---
---
Best Faucets to Earn Crypto with Zero Risk (Affiliate Links):
Best Exchanges to Trade Crypto (Affiliate Links):
Best Platforms to Earn Crypto for your Content (Affiliate Links):
Connect with me Here:
Posted Using LeoFinance Beta