2021 is already proving to be a great year for the cryptocurrency industry and we are currently being bombarded with bullish news on a daily basis. The crypto space is finally attracting the attention of real sharks and it's only the beginning, so I think we can all be optimistic about the future with all the progress being made.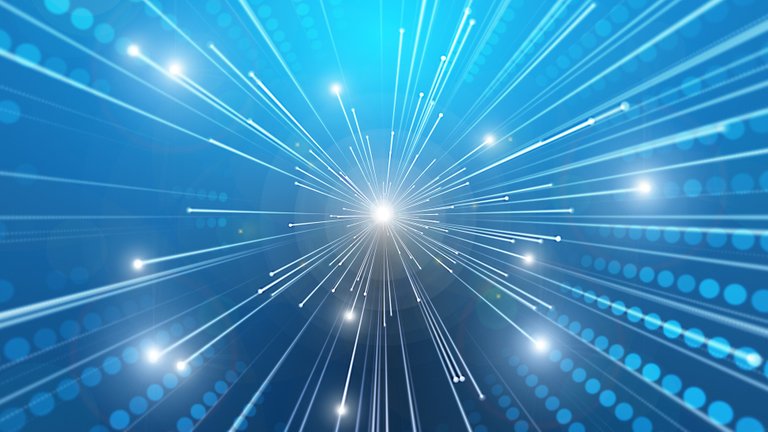 First it was Elon Musk shilling BTC and DOGE and onboarding a few celebrities in the process, then the news about Visa piloting a suite of APIs to offer BTC services, followed by the official announcement regarding Tesla's purchase of $1.5 billion worth of Bitcoin, and now we even have another payment giant, Mastercard, looking to allow merchants to accept payments in crypto this year.
There is also news about the first North American Bitcoin ETF being approved by the Ontario Securities Commission, and probably a bunch of other bullish stories and announcements supporting the cryptocurrency space and attracting more and more users to it. And it was all just a matter of time given the potential and limitless possibilities of the space.
The bull market is certainly acting as a catalyst for adoption, and those of us who have been around since before the bull market of 2017 know for a fact that the fear of missing out is very real during the green days. I can imagine Tesla's business rivals and a wide range of other companies in different sectors already examining the possibility of following the example set by Elon Musk. Maybe this is one of the reasons why even Amazon is now looking to join the ride.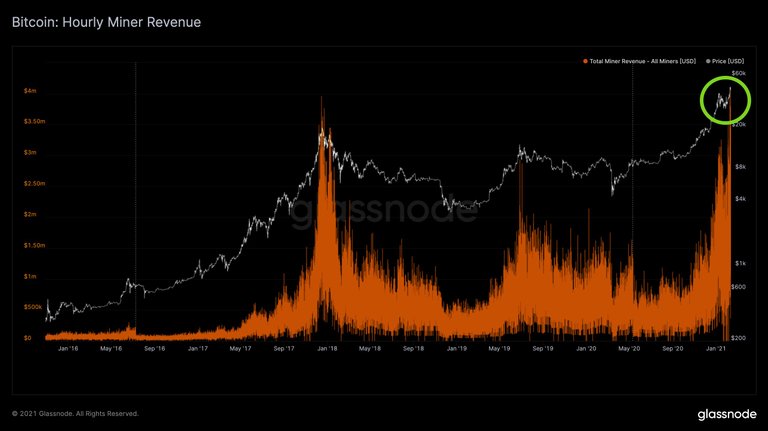 On another note, as you can see in the chart above, Bitcoin's ongoing price rally is proving to be a real blessing for miners, who are currently collecting record breaking revenues. I believe this will be another factor acting as a catalyst for adoption, as it basically means that the world is starting to notice that BTC (and competition) also offers the opportunity to make passive income.
I believe it is a good thing to have such stories trending on Twitter in a time when the cryptocurrency industry and the technology behind it is attracting more and more attention. More options means faster adoption, and we all know the opportunities are endless. And the people are slowly starting to notice.
While hourly income reached a lifetime high on Thursday, daily revenue hit a three-year high of $50.78 million earlier this week, marking at least a fivefold increase since mid-October, reflecting the rise in the price of BTC during that period.
According to data shared by Glassnode, Bitcoin miners earned more than $4 million in 60 minutes, which is a new record for the Bitcoin blockchain. It is worth noting that transaction fees accounted for approximately $48k of the hourly revenue during the 60 minutes to 17:00 UTC on Thursday.
The best part is these numbers will probably continue to rise in the next months given the fast pace at which the space is evolving and attracting the attention of powerful players, who can pump the market any time now. The best is yet to come and that's for sure, so let's make the most of the situation and fill our bags while we still can.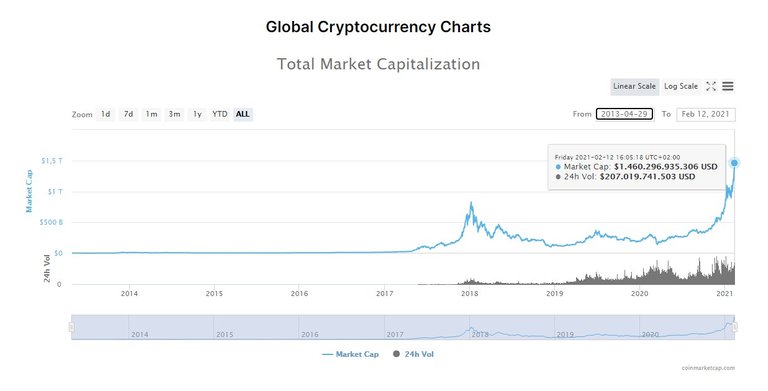 As you can see in the chart, the total cryptocurrency market capitalization is about to hit the $1.5 trillion mark. It is mind-blowing if you take the time to think about what has happened in the space during the last 4 years, and gets even better considering that the revolutionary technology behind it all was only invented 12 years ago. The trend is there, and it's still early in the game.
A lot of stuff to do, a lot of content to consume, a lot of information to acquire and process. That's what's going on in my mind these days, and I'm more than excited to be part of this revolutionary movement that will reshape the way we transact on a global scale. Currently stacking, holding and learning as much as I can.
What about you? How are you feeling about the market and your involvement in the game so far? What are your thoughts about the future of crypto on a green day like this? Let me know your thoughts in the comments below.
---
Thank you for your attention
Alright guys, that's it for now. I sincerely hope you learned something new today. Thank you for taking the time to read those lines.
Just my two cents. This is by no means financial advice. Just sharing my personal views and experiences. Please do not take my word for your investment choices, and always do your own research.
Stay safe and have a good one,
@lordneroo
---
---
---
Best Faucets to Earn Crypto with Zero Risk (Affiliate Links):
Best Exchanges to Trade Crypto (Affiliate Links):
Best Platforms to Earn Crypto for your Content (Affiliate Links):
Connect with me Here:
Posted Using LeoFinance Beta