I've had my eye on Xero (ASX: XRO) for some time now given that the stock has been in a down trend for most of 2021.
Since the beginning of March however, the trend appears to be in reversal with what appears to be an uptrend commencing. It's relatively early days for this reversal, however to me, it looks good.
Xero's earnings for 2020 were up substantially from 2019 with an impressive increase in margin and profits generated. The company is in a very strong position with all indicators suggesting that the results for 2021 will also be positive. Results for 2021 are due on May 13.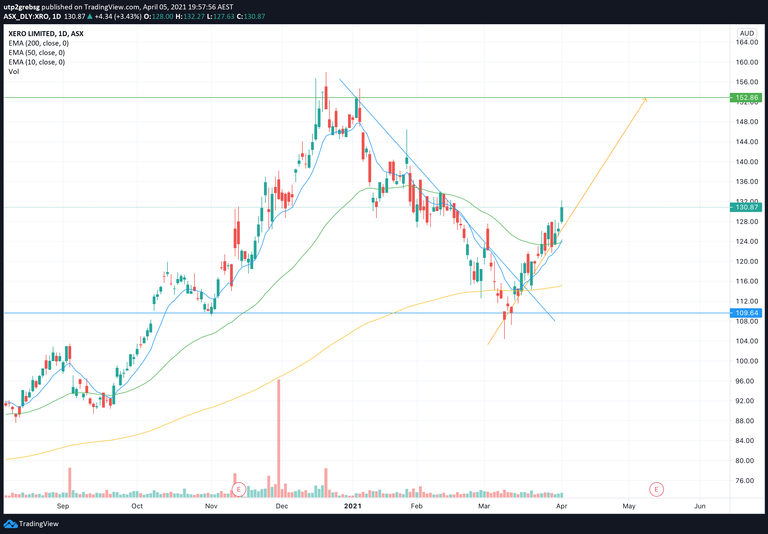 Xero has also made some recent acquisitions which are expected to result in continued growth and expansion of the companies services and offerings. While these acquisitions may not be highly significant, they certainly indicate that the company is continuing to develop their cloud accounting platform and improve upon what they can offer their customers.
While I had intentions of posting a series of images for this post displaying the companies earnings, other charts displaying my thoughts etc., it would appear that Leofinance wants to make uploading images a pure impossibility. So we will settle with the image above that I was able to export to Firefox from TradingView.
My opinion is that XRO has the potential to reach $150 over the next couple of months. And while this isn't a significant gain from it's current price of roughly $130, there is still profit to (potentially) be made here.
I will most likely take a position with XRO this week. I like the company and can see some relatively low risk medium term growth here.
Let me know what you think.
Posted Using LeoFinance Beta