International relations crumble as AUKUS Defence pact makes news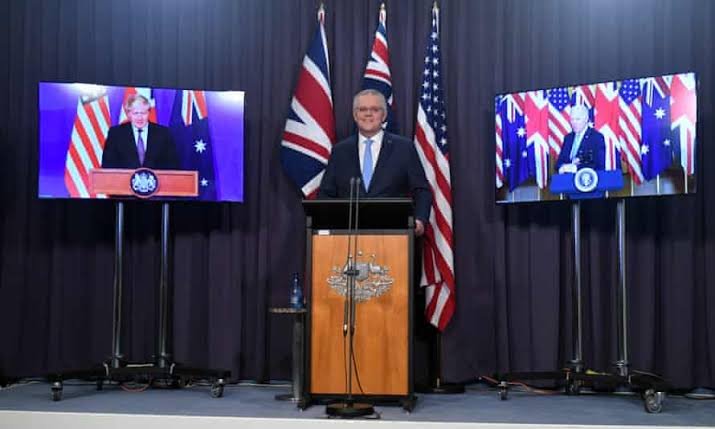 Source
It's been a few days since the launch of AUKUS a defence pact between Australia, United Kingdom and the United States which delt a blow to the French as it caused the cancellation of a trade deal between Australia and France to procure diesel powered Submarines.
The new defence pact will see Australia build US Nuclear Submarines which will play a large role in maintaining control of southern waters.
This is no small deal as the United States has only ever shared its Nuclear technology with one other country the UK and that was in 1958.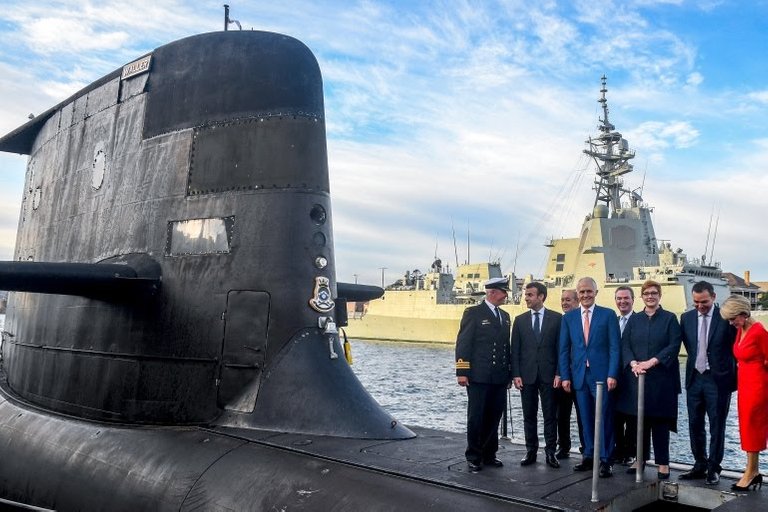 Source
The French president Emmanuel Macron publicly stated his anger at the move by saying that allies don't treat each other in this way.
The cancellation of the contract comes at a time where the world is impacted financially by the pandemic and will see the French lose a portion of income from this trade deal.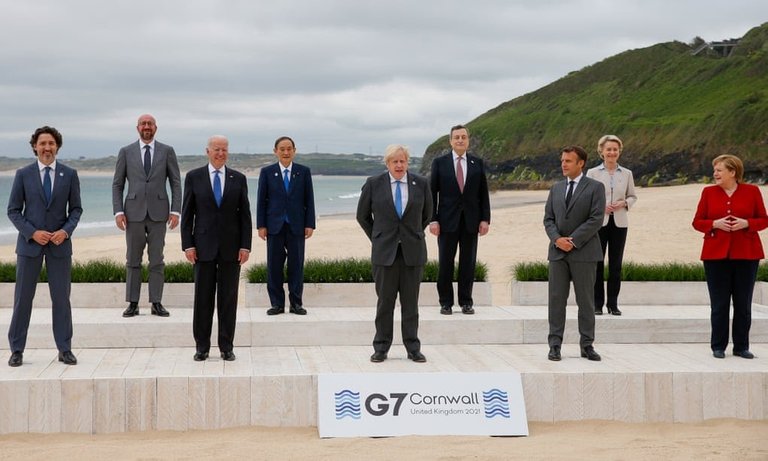 Source
But it comes at no surprise that such a large military stance has taken place with the development of AUKUS given that it was the Europeans who wanted a stern message sent to China over its expansion through economic and military power but it was the US that calmed tensions at the previous G7 summit held this year Source
I'd anticipate that France's move to remove their foreign diplomat from Australian shores is more a political move to instill confidence in their nation that their leader is a hard, strong leader.
But the move can also be perceived as fracturing allies and may give China the thought that it is in a stronger position. But the European Union is not to be dismissed as it has grown weary of China's political and military movements.
China hits back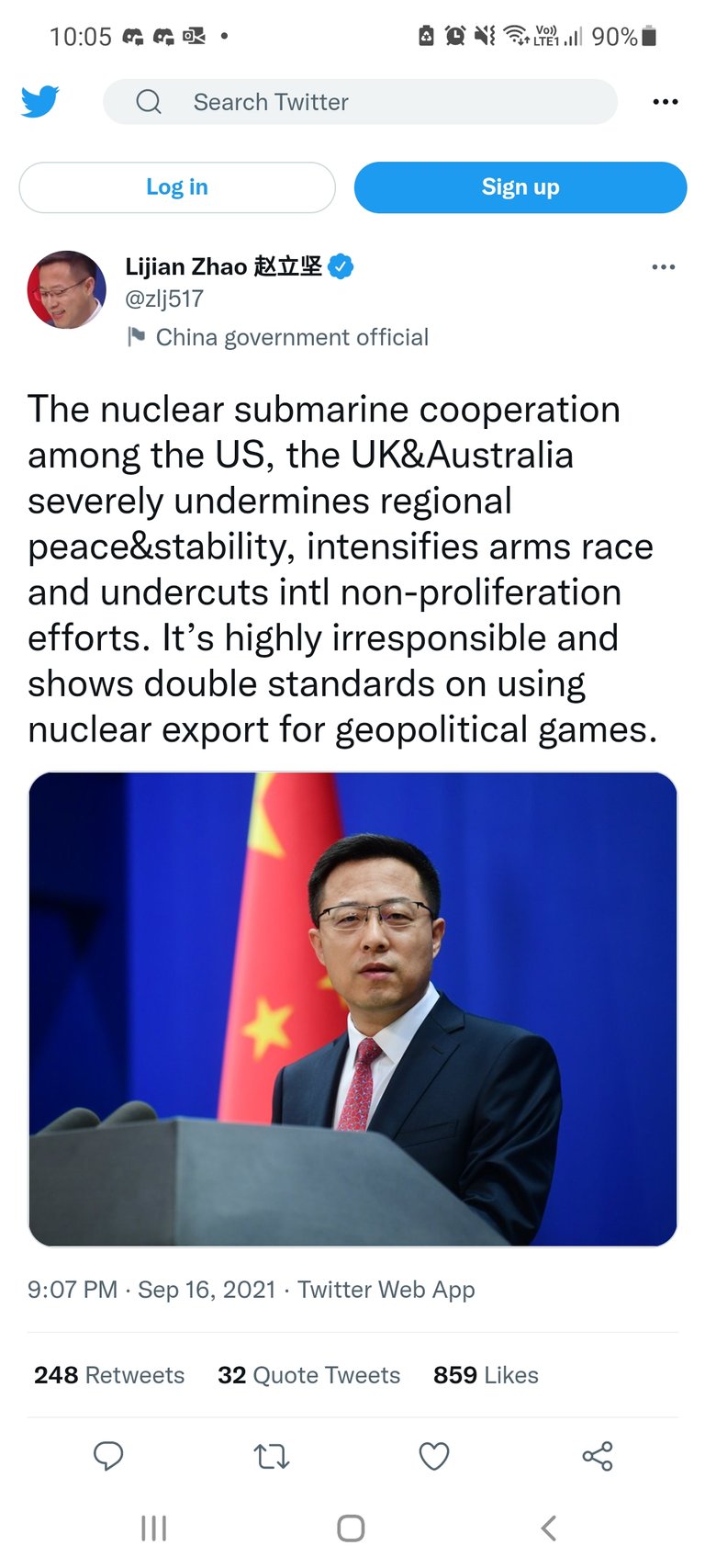 Source
China has slammed the move as irresponsible and dangerous and perceived as a move to counter China's position in the South China Sea. Given China's current push to reclaim Islands in the South China Sea and it's ongoing conflict with Taiwan which succeeded from China however, China still perceives Taiwan as part of its territory and the ongoing issues in Hong Kong it was only a matter of time before a response from the broader international community.
China's foreign Ministry spokesman Zhao Lijian further stated that Australia is replaying a Cold War mentality and warned that AUKUS was damaging its own interests Source.
The warning does come as a concern to Australia as Australia's top trading partner is Chine who procures 60% of its iron ore from Australia. But China this year undertook several sanctions against Australia due to ongoing disputes. From increasing tariffs on wine and other exports it has also attempted to seek to increase its Iron ore supply from Brazil in India.
Why Nuclear Submarines for Australia?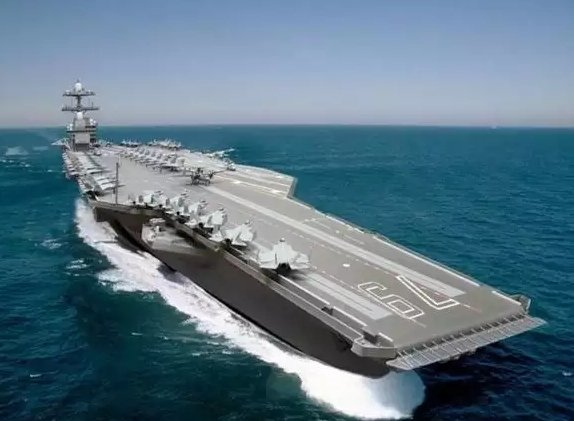 Source
The move is a strategic one by the US as China focused much of the past two decades trying to develop military power to counter the famous US Air Carriers.
Through China military research they identified weaknesses that lay beneath the sea by detonating nukes. This puts US forces at risk despite the US now further strengthening its Carriers to which it declares they can take a hit by a Nuke and continue Source
However, this exposes a plan in China's military strategy which, if a war was to break out it will be seeking to take out air craft carriers from beneath the sea.
By providing Australian forces access to the most sophisticated and adcances military technology the US strengthens its position to be able to maintain control in battle from all angles and closing its weakness in the process.
Will there be war?
We certainly hope there won't be as war is a costly exercise that harms innocent people more than its purpose.
But the world is watching China's actions and how it handles Hong Kong and Taiwan. I'd anticipate that if this war was to kick off, Taiwan would be the trigger in it all.
What are your thoughts will this be a Nuclear war that will damage our world or will crisis be averted?
Posted Using LeoFinance Beta
---
---