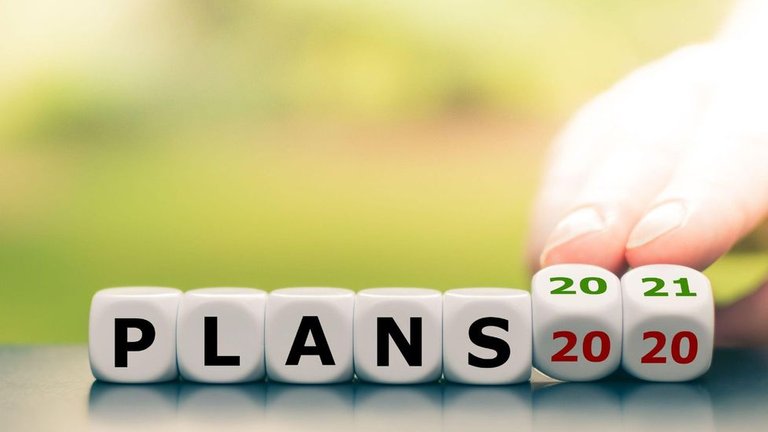 There was no better way to kick off 2021 than participating to this initiative which is sponsored both by @theycallmedan and @leofinance. Having goals and dreams is probably what keeps us alive. What's a man without goals or dreams anyway?
Speaking of dreams...
---
2020 was by far the worst year for so many aspects of my life. Our small business, a small cafe, was destroyed because of this Covid thing...Damn, we put in so much money and effort and personal work so that our endeavor to the business world will be viable -and it would have been- that it just saddens me when I realize that my inheritance is debts only because of a situation I couldn't control. Worst part is that I had to empty my crypto bags...almost 90% of what I was holding is now gone...
As for the remaining 10%...it was somewhat equally split between Hive, LEO and XMR. Why XMR? Because private coins are my favorite for numerous reasons. But hey...when it rains it pours, right? So a couple of days ago Bittrex along with Binance.us and a few other exchanges decided that it's for their best interest to delist all private coins. XMR / ZEC / DASH and a few others. So in case you wonder why those coins have dipped that much the last 48 hours...now you know.
Long story short I decided to sell all XMR I was holding 24 hours ago because price will definitely tank. What a great way to say goodbye to 2020 eh?
Investment strategy for 2021...
---
But you're fooled if you think that I am gonna sit down and cry like a baby because of all these shit that happened in 2020. That's not me...
So what's the plan? It's actually very simple. From now on I'll only invest in projects that have a real life use case. Actually that's what I was doing already but since holding XMR is now like holding a nuclear bomb, I've changed my plan.
If you want to win big you need to put your money where your mouth is.
---
And that's exactly what I was doing up until now. A few setbacks won't make me quit. So long story short, the only thing I am not proud of when it comes to investments is that I was holding 0 BTC. ZERO. Nada...That's about to change.
Every single spare penny I get will be invested in BTC, LEO and HIVE. With that particular order. No more experiments, no more in the search of the new alt that might be the new "shining star". I always thought that investing in alts or at least in the right alts could possibly be more profitable than investing in BTC. What a fool...
BTC is the battle ram of all crypto. It's the undisputed king and it's mathematically heading to the moon. Patterns and charts may lie or be deceiving but not in BTC's case. You think those corporations and all these institutions that are now buying BTC are fools that don't know what their doing? Quite the opposite. You know why BTC price is smashing one ATH after the other every single hour? Because those institutions are buying more BTC that what is mined every day/week/month.
Supply vs Demand. Simple as that. You think it matters to them if they buy BTC at $31.2K or at $33K when they know that it is mathematically heading to 7 digits two halving events down the road? It doesn't matter at all trust me on that.
The reason I am now focused on BTC especially is because I think that the so called alt season we've been waiting for all these years might not even happen at all. In order for the alt season to begin, money should flock from BTC to alts. Now tell me this. You really think all those institutions that are buying at the $30K+ range will suddenly gonna start dumping BTC left and right? No they won't. And even if there's one possibility that they'll do, BTC should reach a lot higher than where it's sitting today before that happens.
Plans on how to use and grow my stake.
---
There's not really a secret sauce. Blogging and curating on Hive / LEO is just not enough. You've got to have skin in the game. Lately I had to sell some of my Hive holdings to pay a chunk of those debts I inherited. It feels really bad, I am telling ya. I was attached with my HP. I didn't even care that HIVE was cruising at the 11 cent territory...it was a part of me.
So first things first. I want to rebuild my Hive account that was proudly sitting at 110K+ HP prior to those setbacks, build also my LEO account because I see the potential it has and I am part of the Leo team from day one, and manage to hold 1 BTC by the end of 2021.
Hey...solid plan don't you think?
I know it ain't gonna be easy but I'll do my best. Hive ain't gonna be cruising at 11 cents forever...nor LEO at 29 cents. As for BTC? Well I think you all know pretty damn well where it's heading to. And damn, I really want to be one of those 21 mill BTC owners you feel me?
Conclusion
---
If there's one way to improve my financial situation for good it must be via crypto. It has to be. There's no room for dreams working 9-5 plus overtimes in an economy as broken as ours...
"First world" country...with third world's economy...bad, really bad combination.
So now you know my plan fellas. Looking forward to read yours.
Have a good one peeps.
Image
Cheers!
Posted Using LeoFinance Beta