About ten hours ago we witnessed probably the biggest candle in BTC's long history. What makes it so special isn't the fact that it broke a previous ATH or something but the fact that there needs to be a massive buying pressure in order to achieve something like that in approximately 60 minutes.
Now whether this was a result of Elon's tweet or because of some random institution decided to pull the trigger or because of WallStreetBets or even because of the fiasco with Robinhood remains to be seen...
The thing is that whenever something like this happens traffic on the exchanges is insane. And they usually experience difficulties...aka they can't handle it. Or simply they don't give a shit if you were about to make a trade or if you were about to cash out. Who knows...They simply turn off the switch and let you high and dry...This is exactly what happened on 3 of the biggest exchanges out there.
Coinbase: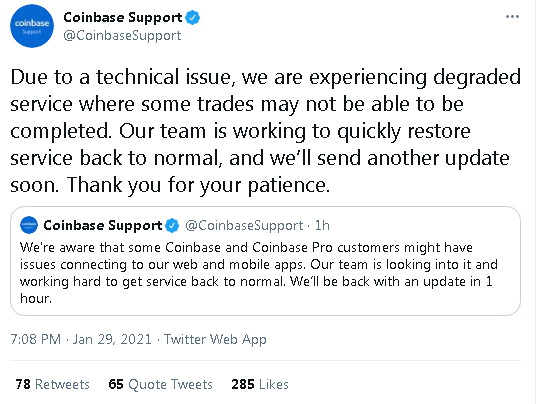 In oher words: (Be patient you suckers...there will be a correction soon till then just watch from the sidelines)
Bittrex: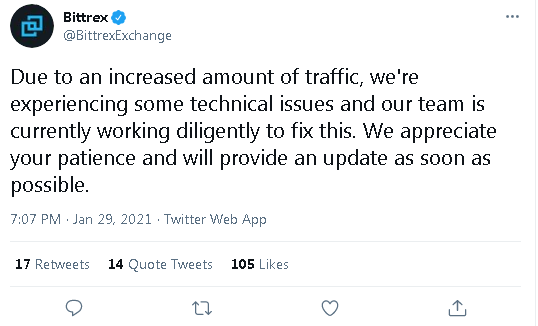 In other words: (We are doing exactly what Coinbase is doing and you can't do shit about it.)
Binance: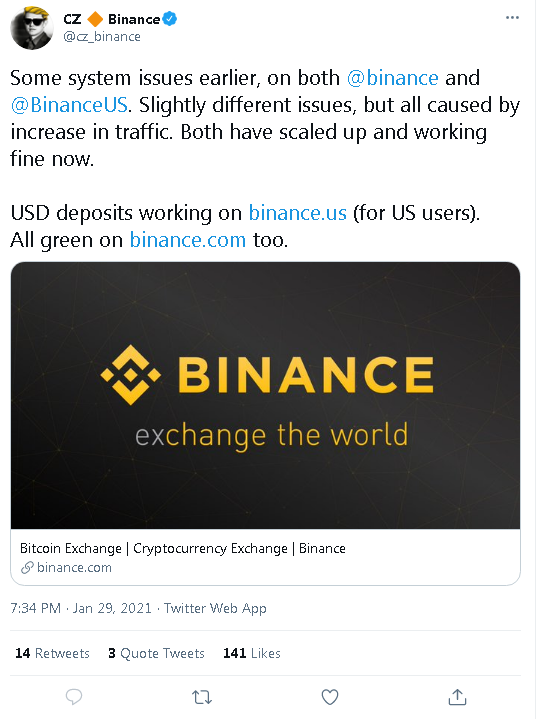 In other words: We don't intend to let you know what kind of difficulties we were experiencing but trust us...everything is fine now that BTC is consolidating)
Really now? This isn't the first time...
Ok this pump was huge and volume went beast mode but you are not rookies nor some random shit exchanges...
These are massive exchanges and their systems should handle any traffic. If you can't handle it upgrade your damn system and buy new servers. So seeing them all three making announcements about technical difficulties all at the same time is at least embarrassing...not to say shady...
So what happens when the real bull market is here? Because at the moment BTC along with ETH and a handful of other coins are the only projects that are going up.
What happens when the alt season arrives and traffic goes 100x what it is now because trust me when hundreds of coins start pumping like crazy traffic will go 100x. What then? You'll shut down and go on holidays maybe?
Nobody is here for the cause and everyone expects to make some profits. One single trade could make all the difference in the world and timing is the most important factor. And the best timing is usually after a big dip or during a big pump for those who try to ride the wave.
Is this the way we encourage people to start taking crypto seriously?
Posted Using LeoFinance Beta