A couple of hours ago, in an attempt to find information about the amounts of BTC that are currently stored on the exchanges, I came across to this super cool website https://www.viewbase.com that displays detailed info about BTC and ETH.
One can see how many BTC / ETH are stored on the exchanges...the flows, even how many of those coins are coming in but more importantly coming out of there and stored in cold wallets -obviously-
So here is how things look like for the past 7 days.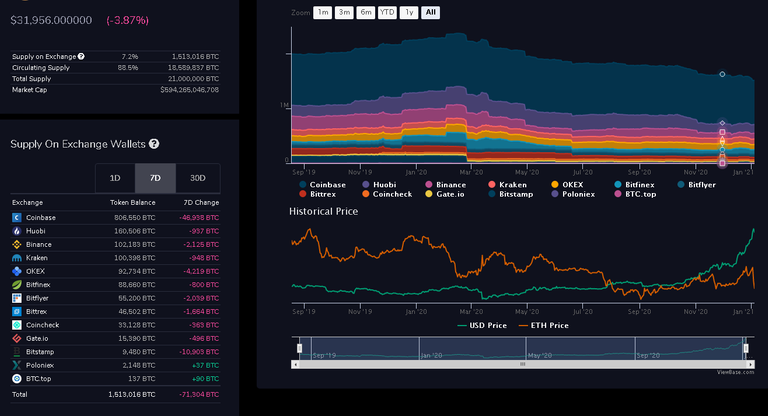 Obviously this isn't the full list of exchanges where one can buy BTC from but all the big names are there.
As you can see Coinbase is on top of the list with almost 807K BTC followed by Huobi, Binance and Kraken.
Out of the ~ 1.513 million currently stored on exchange wallets, 50%+ are held on Coinbase. What a massive number eh?
What's even more important though is the fact that all those institutions that are now buying BTC without any second thoughts regardless its price seem to know exactly what their doing and what's their plan.
As you can see from that list above, the past 7 days only more than 71K BTC came out of the exchanges. And when people withdraw something from an exchange the only logical explanation is because they want to store it somewhere safe. And that's usually cold wallets.
-71K BTC from the exchanges = ~ -4.5% less liquidity.
Less liquidity = thiner order books
And thiner order books usually drive the prices up.
That doesn't mean of course that things cannot change in a blink of an eye. This is the crypto world we are talking about after all, but for now it feels like those who kept buying all this time, have a long term plan...
Have a good one people.
Cheers.
Posted Using LeoFinance Beta