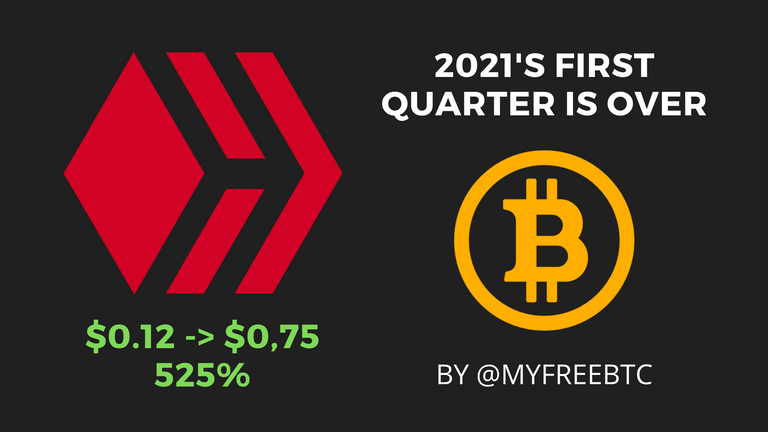 Even tough we've been in lockdown since the beginning of this years the days keep flying by. The first quarter of 2021 is already over so I decided this is the ideal time to take a breath and take a look at my performance and rethink some of my strategies and objectives. The recent increase on Hive price made very excited about making this post and setting more objective goals for me on this platform.
Take a minute to look at Hive's performance on this Q1:
2021-01-01: $0,12
2021-04-01: $0,75
Simply amazing! This represents a growth of 525% in 3 months and I fully believe that Hive will make it to over $1 before the end of this bull run. So I decided to participate on Hive Power Up day for the first time this month, usually I power up whenever I feel like it but seeing how much this movement grew I decided to jump in on the action.

I only had 24 Hive so I decided to power up 23,243 ($17,67) to take my HP up to 4050 ($3078). A Nice even number to mark the beginning of Q2. I had to sell some DEC to be able to reach this number but thats ok since my Splinterlands collection value has been blowing up lately! I also powered up the 2.33 LEO I had available.
Goals for Q2 2021:
Dedicate at least 1 Hour a day to read and comment posts
Post 5 times per week on Hive / Leo / CTP
Exercise 4 times per week
Read 3 books
I recently figured out that usually I set numeric goals like reach X amount of Hive or make $Y per week instead of focusing on developing good habits that inevitably will lead to those desired outcomes. So I decided to shift my attention and stop micro managing gains and numbers and focusing more on the mental / discipline side of it.
Best of luck to everyone for this upcoming quarter and let's hope Hive crosses that crucial $1 mark!
Posted Using LeoFinance Beta