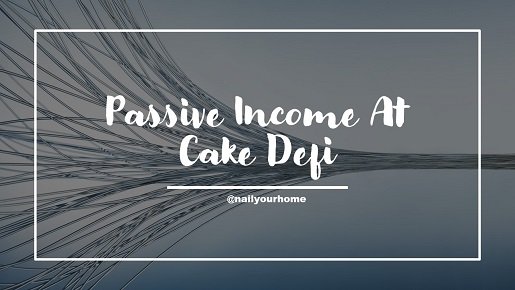 Cake Defi is registered as Cake Pte Ltd in Singapore. It was started by Dr Julian Hosp and U-Zyn Chua with an aim to provide a simple place for anyone to earn a passive income.
There are basically 3 ways to earn at Cake Defi.
Staking
Staking at Cake Defi has been a pleasant experience as I do not need to wait very long if I choose to unstake and it was almost immediate for most cases.
It also offers the option of auto compound under the preference in the profile.
There are currently 4 staking pools.
DFI – 37% APY
Dash – 4.7% APY
Zcoin – 4.5% APY
Pivx – 4.2% APY
Lapis
Cake Defi has worked with external partners to offer a free service to earn from our BTC/ ETH or USDT.
The moment one decides to lock in with one of the mentioned Crypto, it would be locked in an option contract for 4 weeks with principal and returns fully guaranteed and risk-free by the external partners.
After the option contract period, the user can choose to auto-compound for the next locked period or take out the principal and returns.
Cake Defi does not need to charge a fee from users but it gets the commissions from the external partners.
BTC Lapis – Up to 7.5% APY
ETH Lapis – Up to 7.5% APY
USDT Lapis – Up to 8% APY
Liquidity Mining
Just like Uniswap, we can provide liquidity pairs to earn liquidity mining rewards.
A liquidity provider can have an opportunity to earn attractive high APY but with a higher risk when compared to staking or lapis.
The liquidity pairs in the liquidity pool would often be adjusted in equal value but the imbalance happens when there is a price change for any of the pairs.
This may result in impermanent loss when arbitrageurs would get in to buy off the cheaper assets to balance the pool again result in impermanent loss.
Impermanent loss is not permanent as liquidity providers can choose to hold the liquidity pairs until the price of the cryptocurrencies return to the same point when first invested.
In reality, I doubt that the price can return to the same point but the high APY may really help to offset the impermanent loss.
This is why many liquidity pools offer high APY.
The APY for the liquidity pools may change due to the number of providers as well as the price change.
BTC /DFI - 231.58% APY
ETH/DFI - 202.89% APY
USDT/DFI – 227.78% APY
Sign Up Bonus
Cake Defi is offering a sign up bonus of $20 worth of DFI after the new member makes the first deposit. It is quite cool to get $20 worth of DFI with a small deposit since no minimum is stated.
This bonus would be locked up for 180 days with staking returns. This is probably one way to prevent new members from selling the free DFI the moment one gets it.
An additional $10 worth of DFI would be given when a new user signs up using a referral link.
Click here to find out more or sign up to get a total of $30 worth of DFI
Before one can use the service of Cake Defi, it does require us to complete the KYC(Know Your Customer) to verify that we are really who we say we are.
Since it is a registered Singapore company, it has accountability to fulfil.
Thank you for reading this article and I do hope it is useful to you.
Click here to find out more about Cake Defi
Posted Using LeoFinance Beta