What is Marketsquare?

From the Ark.io team.
"MarketSquare is a decentralized social platform that makes it easy for anyone to discover blockchain projects, businesses, games, and applications in a streamlined way. We are calling it the new homepage for the decentralized web. We have post-launch updates planned as well that will add more social features to the platform like messaging. Developer updates which will allow projects to list jobs and bounties. We also have an education update planned which will launch a knowledge hub within MarketSquare with tutorials, reports, and blogs."
When creating MarketSquare, we strived to make it easy for anyone to discover blockchain projects and applications in a streamlined way. Very soon we will be going much deeper into all of the features MarketSquare has to offer. For now, we're going to do a quick overview of why anyone from blockchain enthusiasts, to developers, to a project founder can find value in using MarketSquare.
Ref: Ark.io/blog


They are a well know brand that can add a lot of visibility to the Hive blockchain and the apps that are provided here. As can be seen from their announcement tweet, they are interested in what we have here and hopefully can add a lot to that partnership going forward.
This 2 minute video gives a quick overview of why they like Hive as a partner and has gained 2.7K views. Solid marketing content from a well known and respected brand.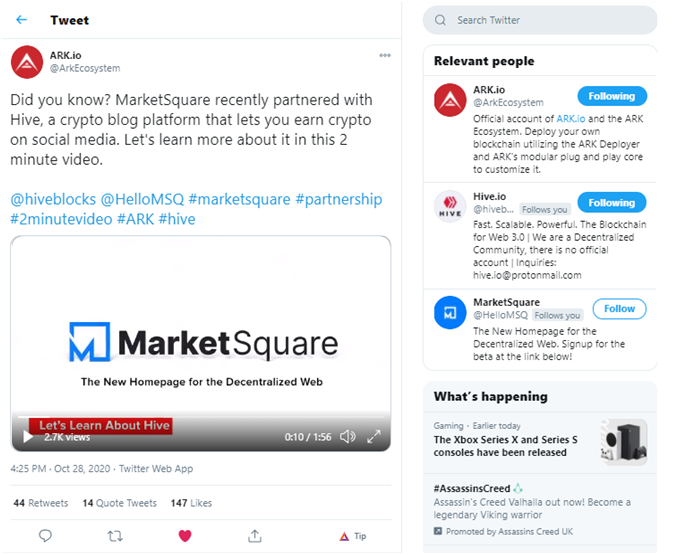 They have since also partnered with splinterlands as you can see in the announcement post here.



#Joining the MarketSquare Community

MarketSquare is shaping up to be an incredible community that will showcase the amazing projects, businesses, services, and individuals within our industry. Truly, it will be the new homepage for the decentralized web. To that effect, MarketSquare would be incomplete if it didn't feature some of the most popular games within the blockchain community.
Between ARK & Splinterlands we have multiple areas that we can explore for collaboration beyond MarketSquare. We look forward to discussing these areas with the game's creators as Splinterlands becomes a part of the MarketSquare community!
To learn more about Splinterlands, be sure to visit their Website, Blog, Twitter, and Discord.
Marketsquare are looking for even more partners
As I have control over the Hive_blockchain twitter account I was contacted by the group behind this project and passed on the idea to the relevant parties to set it up.
The good news for everybody is that they are a long way from finished in this space and are looking for even more hive partnerships from our businesses and apps.
After the success of partnering with hive.io and @splinterlands the team reached out to me again to see if there was further interest from any hive based businesses or apps to join the growing number of partners on marketsquare.io and to try and set it up.
There is no cost to joining the expanded group of businessess linking up with marketsquare.io and ark.io.
It should provide great marketing and exposure for any groups wanting to get involved.
It should provide further opportunities for growth in the future and a larger circle of contacts within the blockchain community.
If anybody is interested in speaking with the marketsquare team just let me know and I will pass on the contact details to you so that you can find out more from their strategic partnerships team.
We have some great businessess and apps on Hive that might like this opportunity to expand their reach. I am just thinking about groups like:
@leofinance
@threespeak
@cryptobrewmaster
@actifit
@dlease
@ecency
@exxp
@dcity
@peakmonsters
@risingstar
Among others that might be interested.
If you want get in contact with their team just send me a message,
on discord niallon11#6392
or twitter https://twitter.com/hive_blockchain

Posted Using LeoFinance Beta