Hello guys, as you know Binance is the largest cryptocurrency exchange in the world in terms of trading volume.
It is a pioneer in developments, follows the trends and does not leave its customers complaining.
In recent months it has its own official wallet, the Trust Wallet.
Rumor has it that will follow the Uniswap trend with a big airdrop for those who have downloaded the Trust wallet app on their mobile phone and have made at least one transaction.
The truth is that the beginning has already been made, today the Trust wallet app and JUL airdropped $30,000 in JUL to the first 3000 Trust Wallet users who joined in telegram group by @JustLiquidity in Twitter account.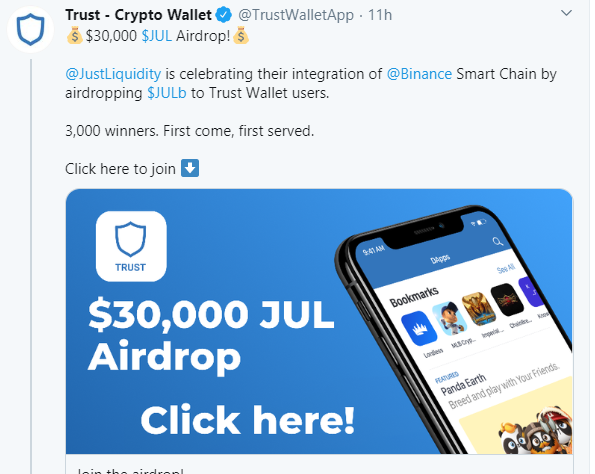 In the next 72 hours I'm waiting to receive $10 in JUL.
Also I'm waiting for the next surprise by Binance and Trust wallet.

In recent months Trust wallet has own token the Trust Wallet Token (TWT).
I decided to invest in this token because I believe in Binance and this wallet.
I'm waiting Trust wallet become so big like Binance.

About Trust Wallet.
Trust wallet is he most trusted & secure crypto wallet.
Fully decentralized, Trust Wallet gives you a simple mobile application for managing your tokens and coins and allows you to be in full control of your private keys at the same time. With Trust, you can store the vast majority of tokens on the market with more projects and blockchains adopted all the time. Trust works great with decentralized exchanges.
Together with Binance, Trust Wallet is working on exciting new features including market monitoring, custom networks, test networks, a native DEX, and a deep integration with Binance's infrastructure. The opportunities for crypto are endless, and with Trust Wallet, Binance's official wallet, anyone can be a part of it.
If you want to download the Trust wallet app feel free to use my referral code: https://trustwallet.com/referral?_branch_match_id=837046440596387951 if you purchases $50+ in crypto, you will both get 125 TWT.
If you haven't yet Binance account feel free to use my refferal code: https://www.binance.com/en/register?ref=U9RI3EXH
Follow me on twitter for more crypto stuff.
Credit: https://academy.binance.com/security/what-is-trust-wallet
Disclaimer: This is not a financial/investment advice. It is just my conviction about Trust Wallet. Always make your personal research before investing in Cryptocurrencies.
Thank you!
@nikoleondas
Posted Using LeoFinance