A Bag of Shit is Still a Bag of Shit Regardless of How Much Do You Have
It is obvious that this will be a "shitpost"... lol... But, not because it doesn't have value in it, but because it has SHIT in the title... :) I will try further to keep this topic more serious in the post, so bear with me... If you are easily offended, maybe you should skip reading... :)
As we are still in the "kind of bear markets" crypto "experts" are throwing certain messages that are very convenient for this time... We all know that bear markets are the best time to build up your wealth and to make some nice gains when it starts to go up, but...
There is also another side of the coin in the bear markets... All said above stands, but the bear market can last a looooooong time... We all know that a week is a long time in crypto, but this can last months and year(s)! Those who have survived some bear market before, know that it's not fun at all when it takes a lot of time...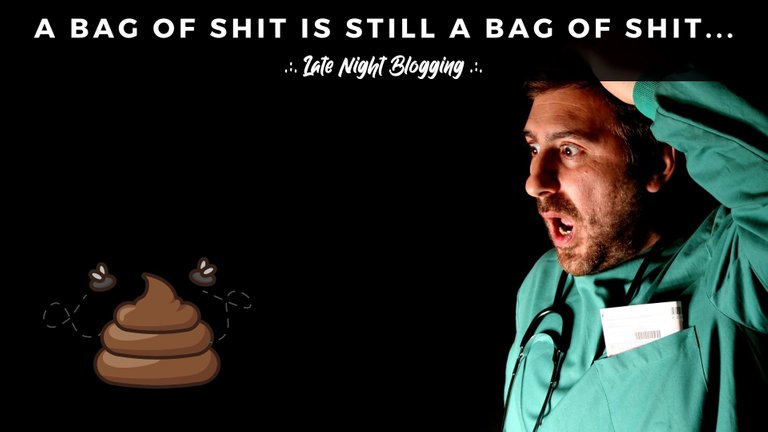 Created in Canva.com
As a matter of fact, it's not the time that we have to be patient with a problem... The problem is on the other side, the one that doesn't depend on us, but on others... Every next day of a bear market hurts certain projects a lot, taking out their value... If they aren't strong enough, don't have use cases, or have lack development, they will not survive...
A bear market can wipe out Top10 cryptocurrencies in a year, now imagine what can it do to some small token or a Hive-Engine token here on our chain...
So, be careful if you follow "YouTube crypto gurus" that are giving you the advice to buy tokens just NOW as there will be no other chance to do it... I could agree with DCA-ing into Bitcoin or Ethereum, but I wouldn't jump into some other tokens at this moment (except HIVE... lol... and this is NOT FINANCIAL ADVICE)...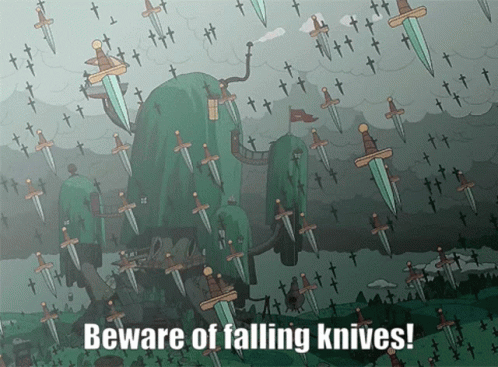 Buy the dip or catch the falling knife? That's the main dilemma at these moments... When you want to convince yourself that you have done a great crypto purchase, you are bragging about how you "bought the dip"... But, in a couple of weeks, you will notice wounds in your hands from those falling knives...
Yes, there are plenty of tokens for some great prices, but that doesn't mean that you have to buy them all! 99% of them will probably stay at the same price or die if the bear market continues for a couple of months... So, you have TIME that you can invest to RESEARCH those projects BEFORE investing! Use it wisely, search for more information about tokenomics, use cases, planned growth, availability of developers, upgrades, updates, communication with the community... What token has unique, why it's not replaceable, etc...
You should imagine this moment as your starting point, as a new beginning from ZERO for all tokens... It's time to revise your portfolio and exchange worthless tokens for others that have a future... Don't be stubborn because of your emotions... Don't go MORE into tokens just because the price is better than yesterday... Pick wisely...
It doesn't matter if you have a full bag of shit or a half bag... It's the same... You have a bag of shit... You can label it as you want it, but the content is still the same... The quantity is irrelevant... Zero multiplied by zero is still ZERO!
I saw many comments from inexperienced users that were hypnotized by saying "buy the dip" running into fallen projects like in the slaughterhouse... Without knowing the POINT of the token, not even a clue how it works and how many will be printed more in the next month, or two... Inflation over inflation... If you think that inflation in RL is big, imagine that multiplied by 10, 100, and you will get the inflation of certain tokens...
This is just a late-night blogging post, but you should ask yourself a lot of questions before investing... In the end, I would point out just a couple more...
The token that you want to buy, how old is it? More than 2-3 years? So, it had a bull market to prove itself worthy... Did it work then? Why do you think that it will work in the next one if it didn't work in the first place? Because you bought a full bag of it...?
These are my own opinions and you can agree or disagree with them... Either way, I would like to hear your opinion about it! Use the comment section wisely... 😃
Thank you for your valuable time,
~ph~

<-------------------------------->

If you want to support my witness, you can do it by voting for @ph1102.ctp here https://tribaldex.com/witnesses, or just scan the QR code down below...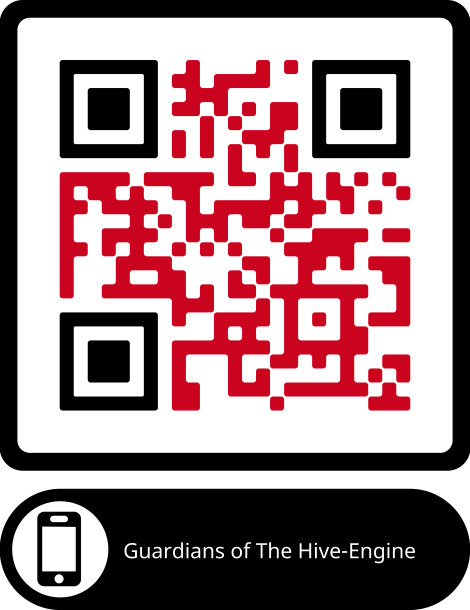 Don't forget to follow, reblog, and browse my Hivepage to stay connected with all the great stuff!
You can also find me on LEO Finance .:. Twitter .:. LBRY
Posted Using LeoFinance Beta
---
---