If I take a rough look at #MyHiveGoals at the end of the first week of the shortest month, I didn't perform that bad at all... Especially if I take into count that I have spent most of my Hive on the token that I didn't know that exists until just a couple of days ago... lol... I'm happy that I have already covered some of my monthly goals, and I can focus on others...
It's funny that one of my monthly goals is achieved in exact number... lol... I have accumulated 20830 HivePower, which was the exact monthly goal for February! I didn't expect that I will get to it this early, so maybe I will modify that goal a bit in the future... Anyway, like the last month, this gives me more time to focus on other goals!
I didn't reach the other three "power goals" from my list, but I'm doing regular progress toward them... I'm still in the biggest minus with my CTP goals, but I will try to catch them if not in this month, then in the next one... SPORTS Power is doing great and I'm catching up on the goal for February...
-----=====(((((( ooooooooooo )))))=====-----
Regarding my GAME goals, there is some very interesting news for both of them... I wanted to reveal the Rising Star game news in my regular weekly video, but I will do it here... At the beginning of the past week, I went heavy with StarBits tokens and I bought 1M tokens in 2-3 days which allowed me to play a special mission called STARBITS Millionaire where you can get 10K tokens once per day... I will invest all those tokens in packs and that should raise dramatically my poor stats that you can see in the table below... At the moment, I'm far away from my monthly goals, but, like for the CTP tokens, I hope that I will catch them in 2-3 months...
The other game that I have listed in my goals is dCity... As you maybe know, the price of the SIM token went down around 30% from the "original one", and I have used that to accumulate more cards for a cheap price... Also, high taxes scared some people, so there were some nice offers during the past week... It was too good to pass... :) Thanks to all that, I have already reached my monthly goals for the number of cards... Similar to HivePower goals, I will consider changing the goal...
So, long story short... There was a couple of big distractions during the past week and it was a challenge to keep focus and not be distracted by the noise... Thanks to writing down my goals, I'm glad that I kept my course in making them a reality!
-----=====(((((( ooooooooooo )))))=====-----
In the end, I would like to make an update of my current numbers (February 7th, 2021) on #MyHiveGoals: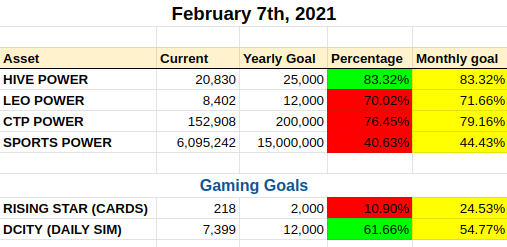 Join us in this awesome #MyHiveGoals and let's grow together! You can find the original post about the challenge by @robwillmann here: https://peakd.com/myhivegoals/@robwillmann/new-challenge-myhivegoals-set-and-achieve-your-goals
Thank you for your time,
~ph~

The link to my initial 2021 Goals Edition is here...
These are my initial goals for 2021 on January 15th, 2021, and this #MyHiveGoals Challenge:
HIVE POWER - 20,000 / 25,000    80.00%  needed monthly grow 1.66%
LEO POWER     - 8,000 / 12,000  66.00%  needed monthly grow 2.83%
CTP POWER - 150,000 / 200,000   75.00%  needed monthly grow 2.08%
SPORTS POWER   - 5M / 15M       33.33%  needed monthly grow 5.55%

Gaming Goals:
RISING STAR (CARDS) - 189 / 2,000    9.45%  needed monthly grow 7.54%
DCITY (DAILY SIM) - 5,488/ 12,000   45.73%  needed monthly grow 4.52%   (base Income - before taxes)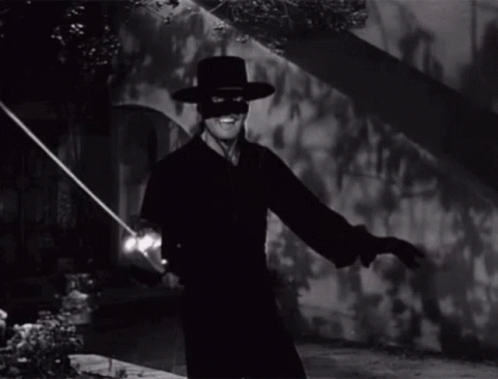 Don't forget to follow, reblog, and browse my Hivepage to stay connected with all the great stuff!
You can also find me on LEO Finance .:. Twitter .:. LBRY

Posted Using LeoFinance Beta