The time has come! It has passed one week since I have started this little WORKERBEE pool experiment... I have to admit, I'm positively surprised with the number of people that have jumped in, but also with the results from the staked miners... A lot of people were yelling that it's not worth staking these tokens, but it looks that they were wrong...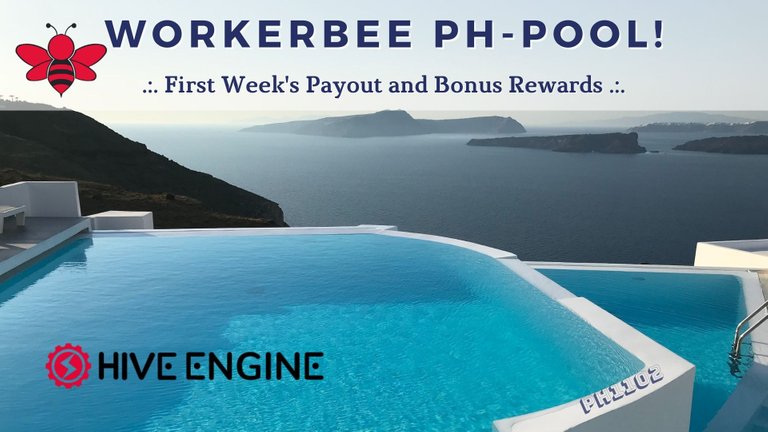 Created in Canva.com
In the beginning, I would like to thank everyone who is participating in this pool... I hope that it helped (and will help) you in earning more from your staked WORKERBEE tokens... Besides the earnings from staked tokens, I will try to reward everyone who is in the pool with some additional rewards...
This week I will split 100 CTP tokens (worth around $10) with all participants according to their staked WORKERBEE tokens! I will try to mix this reward and do some other token every week!

Let's see how we did in the past week... With a bit over 2300 staked WORKERBEE tokens, we have mined 13 during the past week! As you can see, I have done some rough calculations of APY and it's almost 15%, which isn't that bad for a miner!
Also, you can see that I will payout bonus rewards of 100 CTP split to all participants, which makes an APY of whooping 26%... I know that this will not be always like this, but I have wanted to give some kind of estimate for others who would like to join us... Bonus rewards will be different next week, but I will try to deliver additional value every time.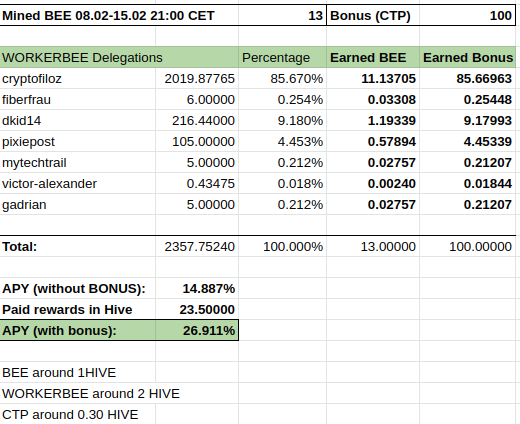 I would like to touch on one topic more in this post regarding voting with delegated power to Hive-Engine witnesses... I have said in the last post that I have voted for @clicktrackprofit (@jongolson) and @thelogicaldude (HiveLIST, HiveHustlers) witnesses and that vote will stay probably for forever... On the other side, I will probably vote for some other witnesses, but ONLY for those that can't move rankings of these people...
Also, there was a question of a possible governance model for the participants in the pool. At the moment, I don't see the need for that, but if my stake (@cryptofiloz) becomes less than 51%, I will create some kind of governance model (at least, voting through the comment section)...
All payments will be made after publishing this post... Also, if you would like to receive HIVE or CTP tokens instead of BEE tokens, please let me know in the comment section.
If you want to join the WorkerBee PH-Pool, the only thing that you have to do is to DELEGATE your WORKERBEE tokens to THIS account (@ph1102) and that's it!

Also, I would like to give a huge thanks to all of you that have supported me as a witness... In this way, I would like to give it back to you as much as I can... Thanks!
If you have any questions, please leave them in the comment section!
You can find more about this pool in the initial post here https://peakd.com/hive-119826/@ph1102/workerbee-p-h-ool-let-s-help-each-other
Thank you for your time,
~ph~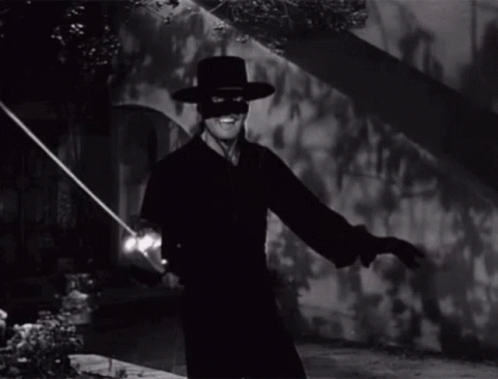 Don't forget to follow, reblog, and browse my Hivepage to stay connected with all the great stuff!
You can also find me on LEO Finance .:. Twitter .:. LBRY