The second week of February has passed, and the colors in the #MyHiveGoals spreadsheet are still the same... Two green and 4 red rectangles...
It looks that I have overestimated myself with too high goals for this year... I know it is just February, but when I take a look at these goals, I was maybe too optimistic... lol...
Created in Canva.com
Let us try to break down the report and examine every goal separately... Reaching 25K Hive Power is making 25% more tokens from the beginning of the challenge... If we take a look at curation rewards, they can go between 10-15% per year, which leaves 10-15% Hive Power to be earned by creating content... That's not that bad, and the goal can be accomplished, but with consistent content creation and curation...
LEO POWER is the next one on the list... The idea was to get from 8K to 12K LP, which is 50% growth in one year! The truth is that curation rewards are a bit better than on Hive (around 15-18%), but still, there is over 30% LEO Power to be earned! The problem is that I don't create content for the LEO Finance platform on a daily basis, which probably should change... On the other side, I have monthly earnings from the Liquidity Pool incentive, and that can help a lot... So, in a nutshell, the goal CAN be accomplished, but I have to create more quality LEO content!

CTP Power is another huge milestone... The CTPTalk platform is growing, more people are getting involved, and it's not that easy to progress as we did in the past... So, reaching 200K staked CTP from 150K looks like an easy 33%, but it's not... The curation rewards are still great (over 20%), but there is another 10-13% that should be made through the author rewards... Again, it looks like not a big deal but getting author rewards over 100 CTP isn't an easy job... There are some great content creators and votes are diversified more and more, which is just awesome! Anyways, the goal can be accomplished, but I would say that it will be even harder than the LEO goal...
Another big audacious goal is SPORTS Power... I'm not sure how did I calculate at the beginning that I can TRIPPLE my SPORTS stake, but it looks that I was drunk... lol... Sincerely, I have no idea how will I get there, but we will see... It depends a lot on the Sports platform in general and the price of the token...

And now, a bit on my GAMING goals... I did a huge step in the Rising Star game by accumulating 1M STARBITS token and that will help in steady daily income that will help me in buying card packs... But, again, my calculations were a bit off, so it will be very tricky to get there... On the other side, if the price of the token drops, I will probably buy some and invest in card packs...
And the last thing on the list is dCity... Yesterday, I have created my daily progress blog post, where I have exposed my concerns about the future of the game, so I will not worry too much about the goal for it... Also, numbers are great (for goals, not for the game... lol...), and I count that goal almost done...
I know that it's just February, but I like to track down my progress and change direction if there is a need for...
---
In the end, I would like to make an update of my current numbers (February 14th, 2021) on #MyHiveGoals: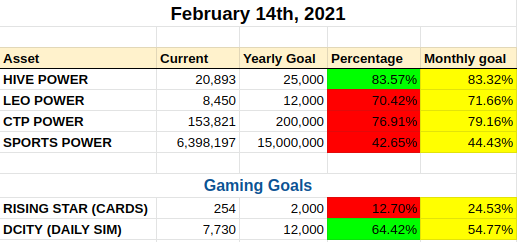 Join us in this awesome #MyHiveGoals and let's grow together! You can find the original post about the challenge by @robwillmann here: https://peakd.com/myhivegoals/@robwillmann/new-challenge-myhivegoals-set-and-achieve-your-goals
Thank you for your time,
~ph~

The link to my initial 2021 Goals Edition is here...
These are my initial goals for 2021 on January 15th, 2021, and this #MyHiveGoals Challenge:
HIVE POWER - 20,000 / 25,000    80.00%  needed monthly grow 1.66%
LEO POWER     - 8,000 / 12,000  66.00%  needed monthly grow 2.83%
CTP POWER - 150,000 / 200,000   75.00%  needed monthly grow 2.08%
SPORTS POWER   - 5M / 15M       33.33%  needed monthly grow 5.55%

Gaming Goals:
RISING STAR (CARDS) - 189 / 2,000    9.45%  needed monthly grow 7.54%
DCITY (DAILY SIM) - 5,488/ 12,000   45.73%  needed monthly grow 4.52%   (base Income - before taxes)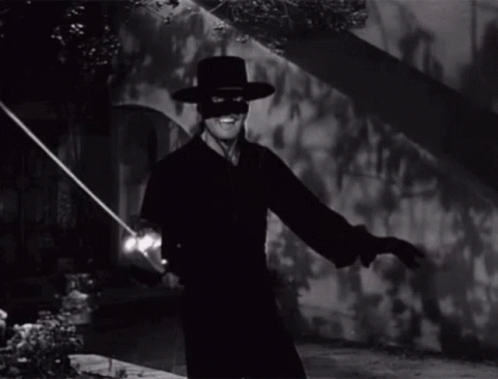 Don't forget to follow, reblog, and browse my Hivepage to stay connected with all the great stuff!
You can also find me on LEO Finance .:. Twitter .:. LBRY
Posted Using LeoFinance Beta