I'm not sure if this is a great moment for doing my regular weekly dCity report blog post, or maybe the worst possible moment? If you take a look at the second image in this post, you will understand why I have doubts about that... If you think that the last week's chart was bad, well, I have bad news for you...
At the very beginning, I would like to clarify few things... dCity is a kind of investment game, which implies that you have to invest money (crypto, or however you want to call it) that you can play it... And that means that you can win, but you can also lose your investment... So, NEVER, but NEVER invest more than you can afford to lose... I have invested an amount that I can afford to lose, and I'm fine with that...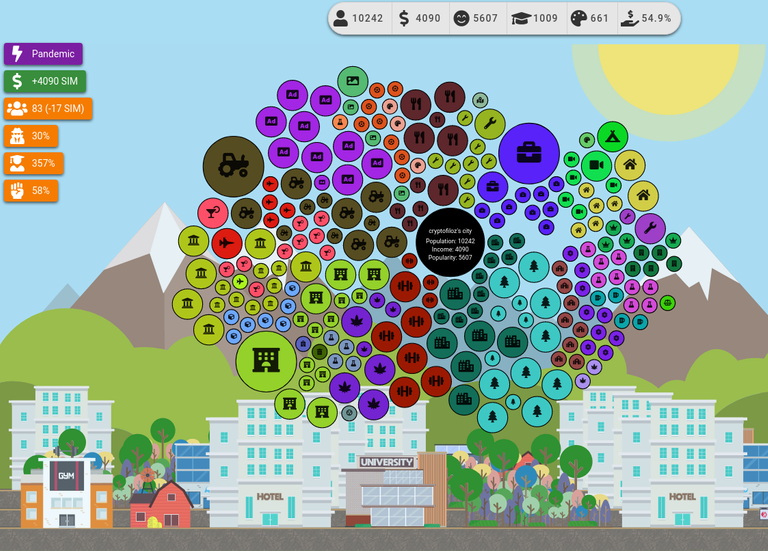 Screenshot from the game
So, now that we have that cleared, we can move on... I won't lie to you... The SIM graph doesn't look good at all, and everyone can acknowledge that... I see 2 possible scenarios in the future of dCity...
The first is that we see some new updates in the game, maybe new cards, maybe new sinks for the SIM token, or something third, and that that provoke SIM price to rise...
The other scenario is already happening... People are FUD-ing and selling cards, getting out from the game... If we don't see any improvements on the game, we all know the only destiny for it... The price can stop to drop at a certain time, but it will still go toward 0... In my opinion, if the game isn't sustainable at current prices, why would it be on some other? Changes are needed, and they are needed ASAP...

Yesterday we had the record taxes of all times... They were over 100%, which was just insane and awkward to see... Regarding my progress, I don't know if it is interesting to cover atm, but I didn't FUD too much... I try to avoid FOMO and FUD, and pulling out part of the investment out wouldn't be enough or satisfying, so I don't want to think about it...
My population went from 9727 to over 10K, to be more exact 10242 citizens... My base income is 7705 SIM, but as you can notice, I have a lot of unemployed citizens... The main reason for that that I'm thinking of changing the strategy, so I'm in a kind of "transition" period... Still not sure what way to go, but resolving the status of the complete game would probably help... So, I keep my head down and reinvest my earnings at the moment...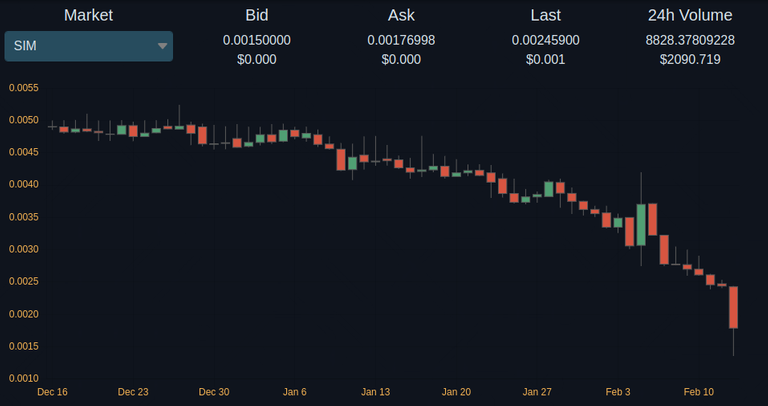 Screenshot Leodex.io
Regarding the price, the graph says it all... We hit the minimum price of 0.00136 Hive per token, and we will see if it will sink in the next few days...
All that I have stated in this post are MY OPINIONS and SPECULATIONS about the game... Please DYOR and give me your opinion in the comment section... I would like to hear what do you think about all this!
See you next week, governors!
Thank you for your valuable time,
~ph~

Don't forget to follow, reblog, and browse my Hivepage to stay connected with all the great stuff!
You can also find me on LEO Finance .:. Twitter .:. LBRY
Posted Using LeoFinance Beta