In the last report I was talking about a possible change of strategy because of the high taxes, but, with the new president, the taxes went down... Okay, not really low-low, but at this level, around 30%, they are supportable... But, that wasn't the reason why I didn't change my strategy... It was more the money side (or investment side) reason as I invested my HIVE in building and supporting my Hive-Engine witness node...
Anyway, I did re-invest all that I have earned from the game back to my city, which is visible by simply comparing the numbers from the last post and this one... My dCity got new 355 souls and I have secured jobs for almost everyone (to be more exact, 3 of them are unemployed, but they will not wait too long)... Maybe the biggest difference is visible in the SIM income that the city generates daily... It is higher for 1567 SIM from the last week, but that is mostly because of tax going down... Also, I have pushed a bit more the popularity as it is one of the most important factors for population growth...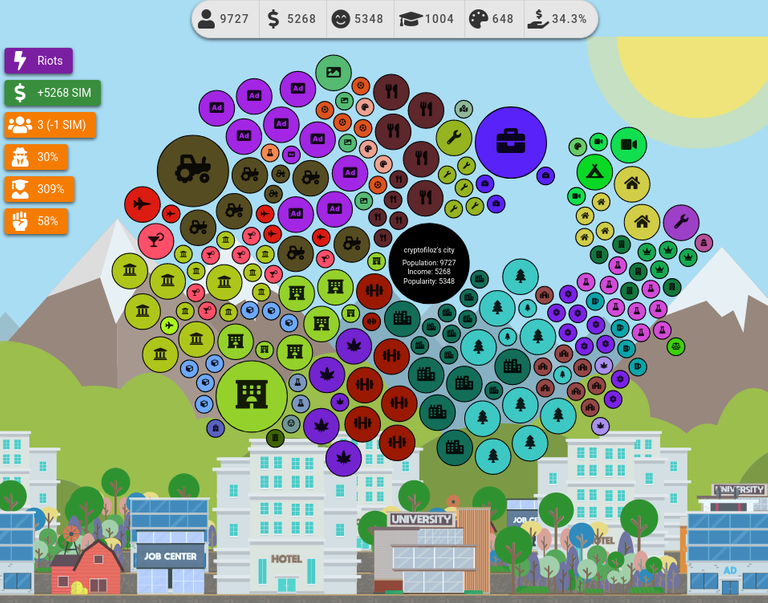 Screenshot from the game
Maybe the most interesting thing to observe is the SIM price chart... As we had big spikes in tax the week before, and now they are more than 2 times lower, the price didn't react as many players expected... Yes, it has fallen down a bit, but still not that dramatically... It looks the higher (insane) tax experiment didn't succeed as it didn't "fix" the price more than the "normal" tax rate... I bet that the price would still go down, even with a very high tax...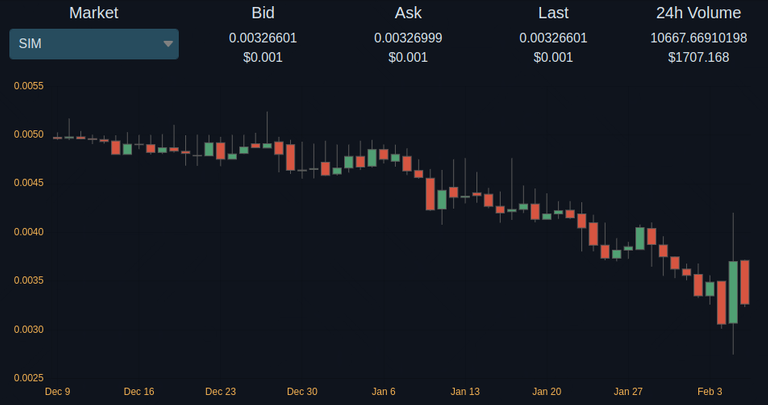 Screenshot Leodex.io
I saw some people selling their cards for crazy prices, so it was nice to catch some offers and fill up the bags... I feel a bit more optimistic about the game even with the low price of the token, and I will continue building my city picking all those sweet cheap cards... :)
See you next week, governors!
Thank you for your valuable time,
~ph~

Don't forget to follow, reblog, and browse my Hivepage to stay connected with all the great stuff!
You can also find me on LEO Finance .:. Twitter .:. LBRY
Posted Using LeoFinance Beta