Welcome to my weekly CTPtalk stats report. The overview is compiled for everyone interested in the token development of the CTP tribe, so please continue to read for your weekly stats dosage.

The following topics will be covered:
• Daily posts and earnings
• Top CTP Authors and Earners
• Longer term CTP posts development
• CTP overall
Daily posts and earnings
Let's start with the daily posts and earnings in week 8. During this week 388 (+9%) unique authors published 1,630 (+12%) CTP posts. They generated in total 17,091 CTP as earnings. The first chart presents the number of posts published per day.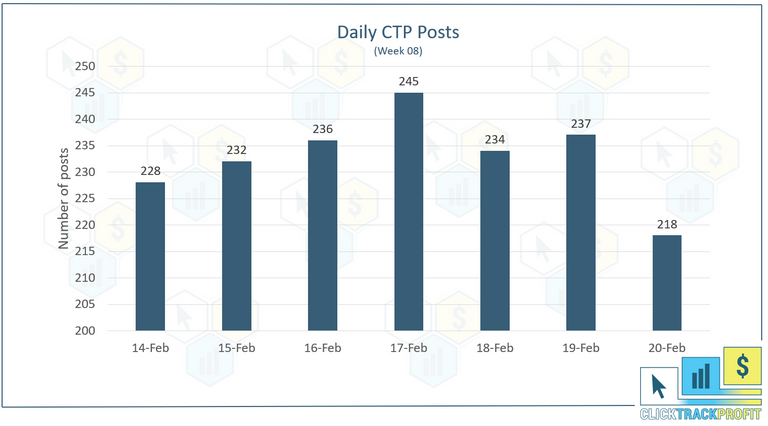 The second chart shows the earnings these posts have generated per day.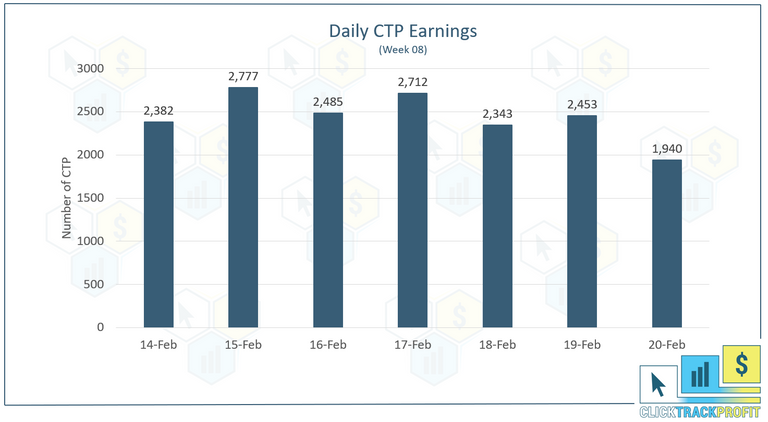 Top CTP Authors and Earners
The next two charts present the Top authors and Top earners in week 8. In this week the Top 3 CTP authors were
@playpoker
(39),
@playhighcard
(39) and
@laxyasaru
(23).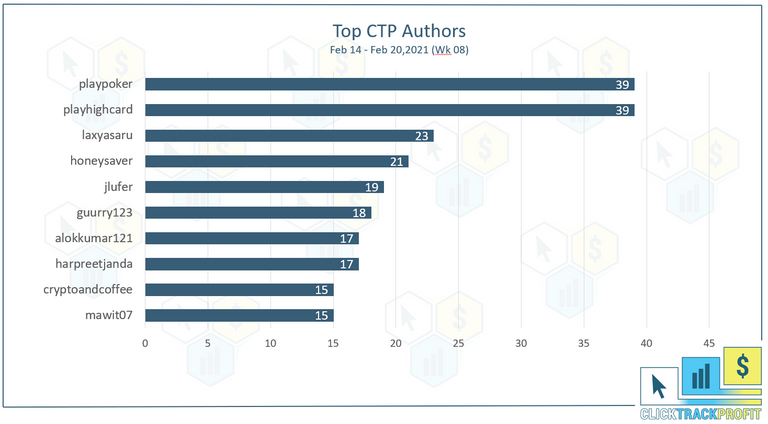 The Top 3 CTP post Earners were @jongolson (665 CTP), @ph1102 (606 CTP) and @alokkumar121 (600 CTP).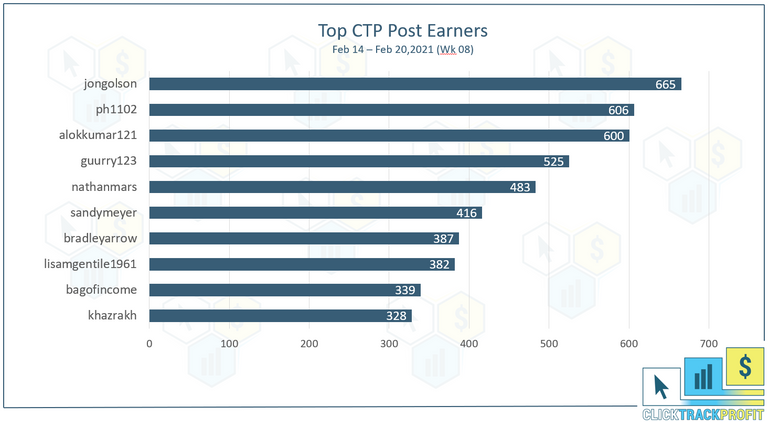 Longer term trends
The subsequent five charts provide the longer-term trend of unique authors, total posts, CTP earnings per week and new authors.
In the past weeks the number of unique authors kept growing on average with 9.5 authors weekly.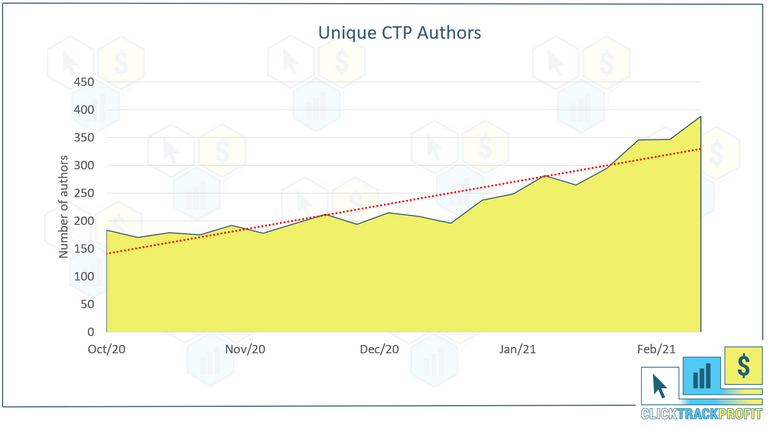 Also the number of posts have increased, on average with 42.1 posts weekly.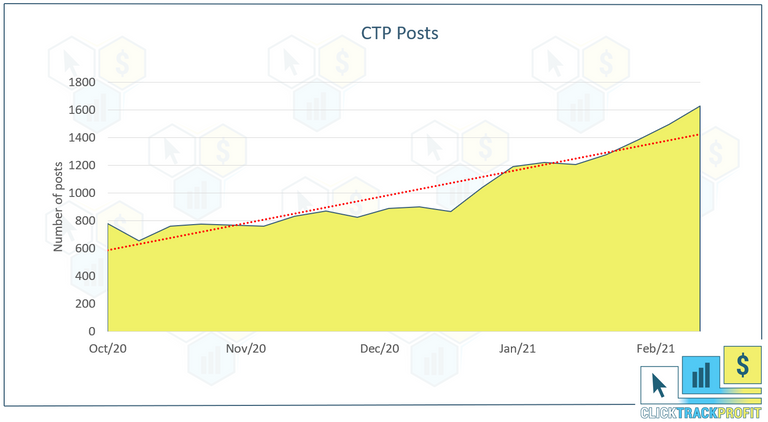 The amount of CTP tokens earned decreased further with 131.6 CTP weekly.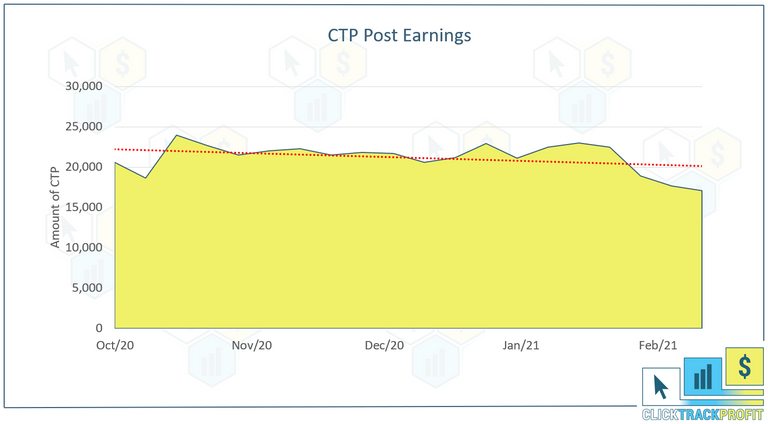 The number of new CTP authors increased on average with 1.4 authors in the past weeks.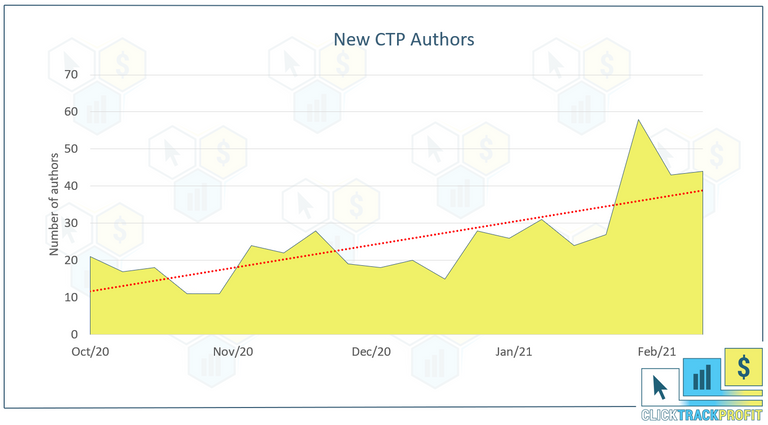 And finally the total number of CTP authors increased to 1,441.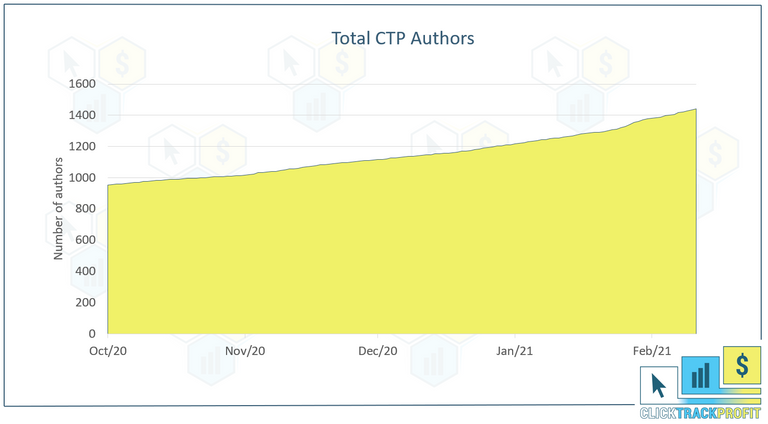 CTP overall
The following charts presents the development of CTP overall with the first one providing an overview of the total CTP supply, the number of tokens staked, liquid and burned.
In week 09, the total CTP supply increased with 36,597 CTP to 2,949,466 CTP. The number of tokens staked went up to 2,546,306 or 88.73% of the total number in circulation. Finally 287 CTP were burned.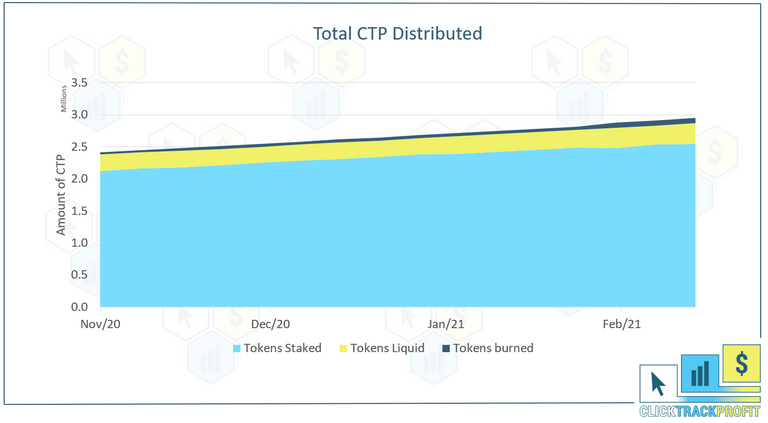 The total CTP amount in circulation is held by 2,520 (+2%) account holders.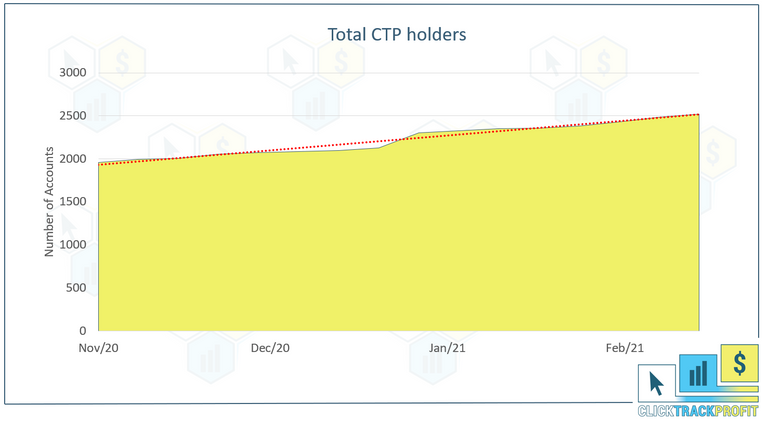 The final chart presents the TOP 20 CTP holders on 28 February.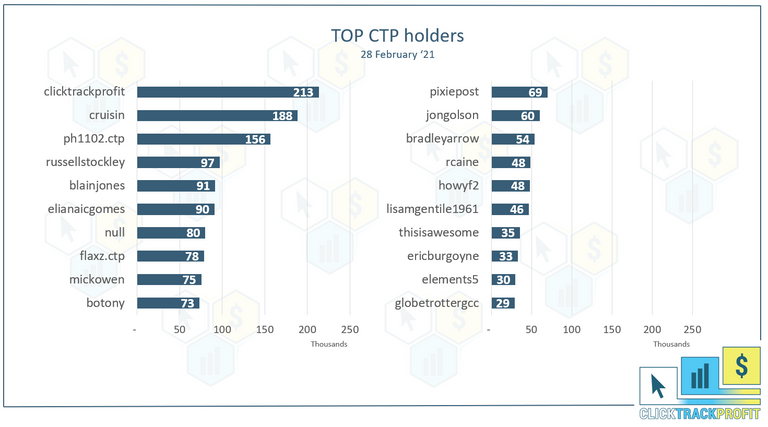 To finish, I would like to welcome @holovision.hypno, @sportswitness, @curiouscoyote, @awilhelm, @drunksamurai, @wine-token, @dayna199019, @filoriologo, @coiotes, @albertocaeiro, @oldmans, @gboye1, @jessicaalvess, @mercytos1, @bencar26, @atardeceres81, @gatticus, @rafaelmonteiro, @joebrochin, @por500bolos, @weirdestwolf, @funnel, @marriakjozhegp, @myfreebtc, @vickink, @cryptopacman, @rocaxel, @ick-graphics, @graciadegenios, @sayury, @zeruxanime, @imagen, @atnep111, @garybilbao, @romirspc, @flexyg, @theycallmedan, @rilo, @theguruasia, @wk71210, @zen.sports, @resetciviliz and @alexandrabauer to the CTP tribe, having published their first post for the CTP tribe in week 8.
This concludes my weekly update, until the next time and stay safe! 😀
(Information source: CTP tribe condenser and Hive-Engine)
Posted Using LeoFinance Beta