CTP Talk weekly stats report
Welcome to my CTP weekly stats report. It is compiled for everyone interested in the development of CTP Talk and CTP token, so please continue to read for your weekly stats dosage.

I received a question from a reader of my articles whether it was possible to include the CTP trading volume on Hive-Engine? After some thinking and data restructuring I have added the chart in the last section of the report. If you have any other requests feel free to leave a comment below or drop me a line on discord.
Weekly summary
I'll start with a summary of the market stats and key performance indicators on one slide for week 19. In the sections after, I will provide further details for each of these numbers.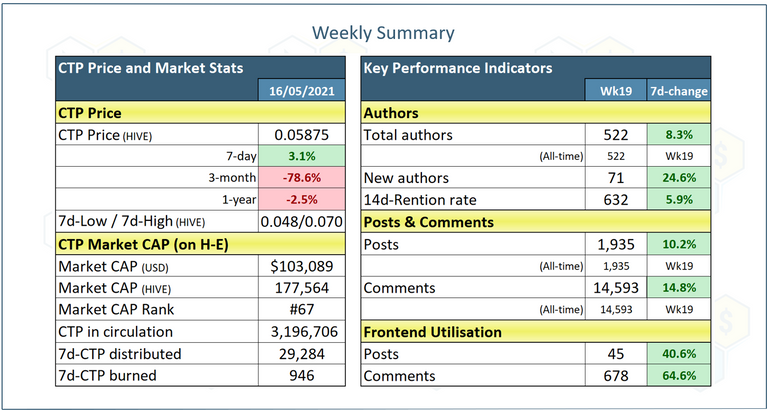 The report is divided in the following sections:
• Daily posts and earnings on CTP Talk
• Top CTP Talk post authors and earners
• New, active and total post authors
• Daily comments and earnings
• CTP Talk frontend utilisation
• CTP on Hive-Engine & Market capitalisation
Daily posts and earnings on CTP Talk
The first section contains the daily posts and earnings in week 19. During this week, 522 (+8.3%) unique authors published 1,935 (+10.2%) posts and generated 21,684 CTP in earnings. The first chart below presents the number of posts published per day.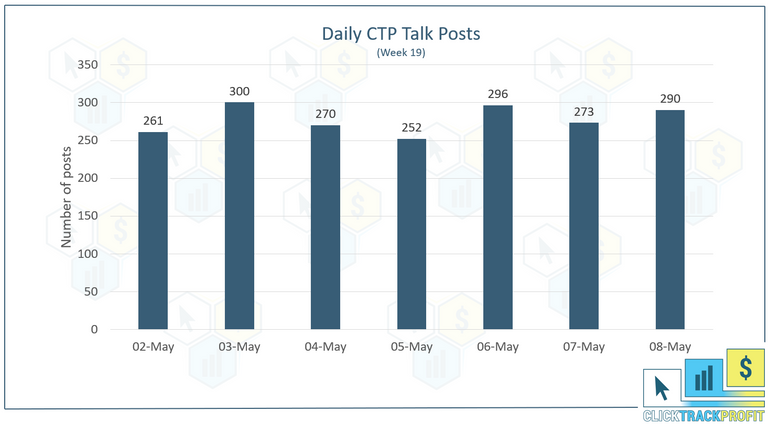 The second chart shows the earnings these posts have generated per day.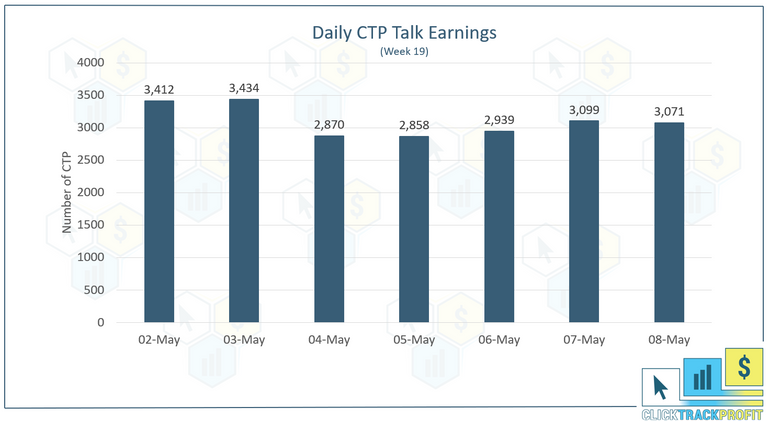 In the past months, the number of unique authors kept growing with 5 authors weekly and as has picked-up again compared to previous weeks.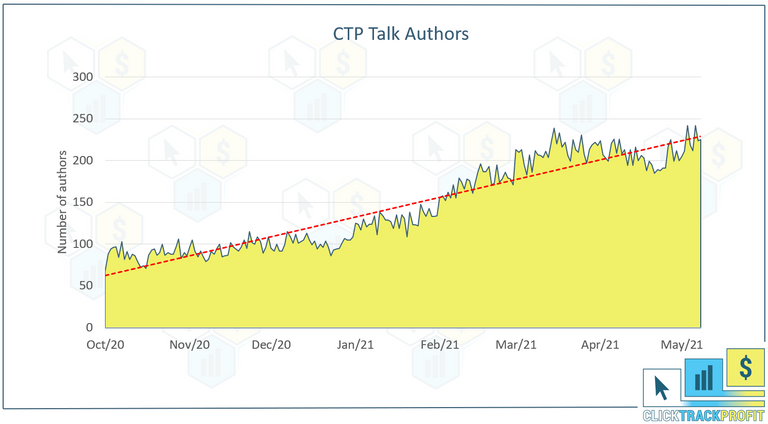 Also the number of posts increased, with 6 posts weekly and also here the number of submitted posts have increased again.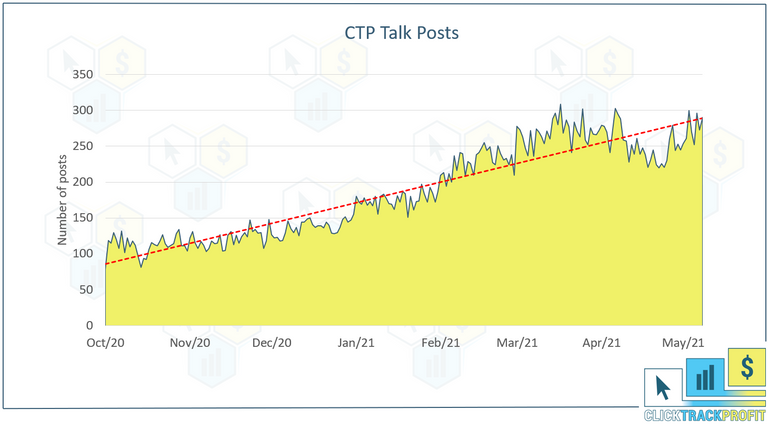 Top CTP Talk post authors and earners
The next two charts present the top post authors and earners in week 18.
The TOP 3 CTP authors with the highest number of posts were @regenerette (33), @king.sports (27) and @alokkumar121 (25).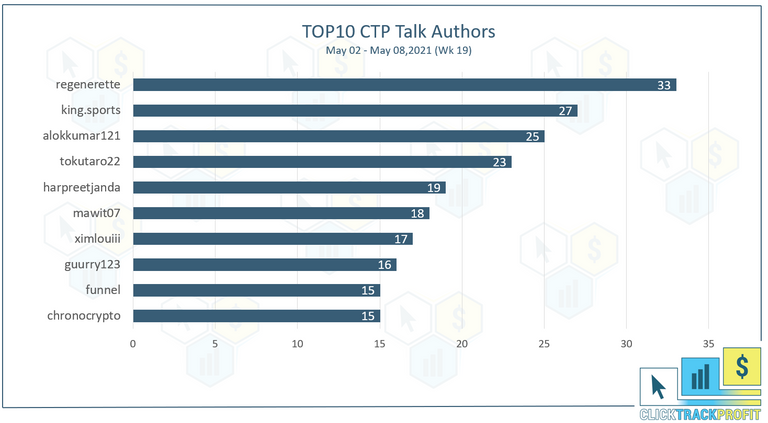 Furthermore, the TOP 3 CTP post earners were @jongolson (1,232 CTP), @alokkumar121 (755 CTP) and @ph1102 (751 CTP).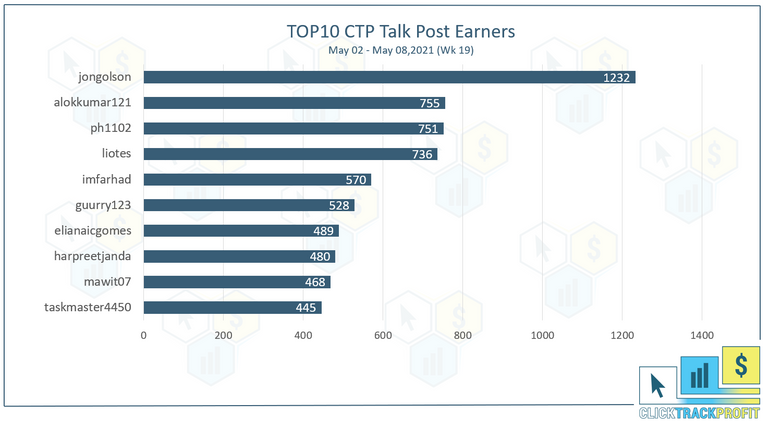 As a measure of equal post earnings distribution, the chart below provides the earning split between the Top 20 authors and all other authors. In week 19, the Top 20 authors received 62% of all post earnings, which shows the ongoing shift of earnings to a larger group of authors.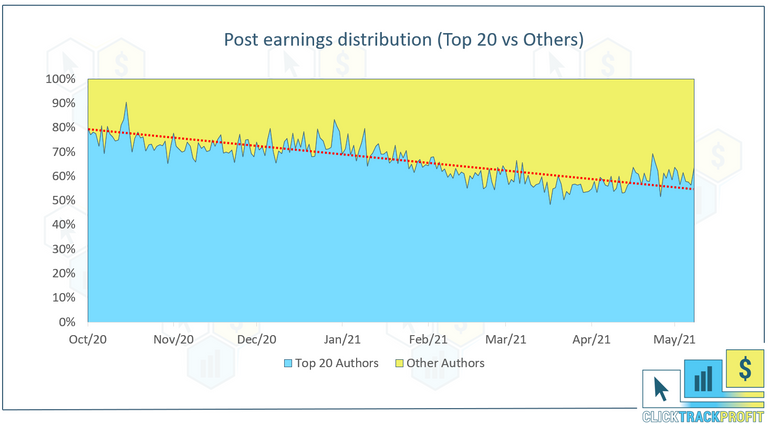 New, active and total post authors
In week 19 we had 72 new authors on CTP Talk.
I would like to welcome @valor2s, @travelwritemoney, @dwayne16, @elier18, @tawadak24, @yalexis300896, @mariela53, @paul-wills, @bossideon, @known.prince, @leomara, @carlosadolfochac, @emilycorvof, @cool08, @andy4475, @ridor5301, @ctpchat, @mamun123456, @heskay, @blueman502, @twicejoy, @mrenglish, @diego1306, @andrearojas55, @honourablefelix, @gabrielserra, @emilym, @susi5654, @carlosfernandezr, @daianerr, @lizzy21, @anadolu, @eturnerx, @readthisplease, @emmilee, @bendany, @chetanmann, @invest0x23, @razackpulo.pob, @rosaura28, @andy-vibes, @munzil, @ink.cat, @maykk, @fianna, @pablodare, @rogerdiho, @my451r, @ades, @estrovertida, @maria75, @steem15, @wrsd54, @platicador, @armanhassan, @nazmulhassan00, @natyqueen, @ynwa.andree, @gatorfan, @anikethreddy, @omaira74, @paulo.sar, @yuyu-arts, @aquamarine, @dadspardan, @bnwphoto, @benmag, @kaizenx, @cesarsj5, @jaxsonmurph and @waverunner to the CTP tribe, having published their first post during this week.
Looking at the overall trend, the number of new authors is further increasing with 0.2 authors weekly. As a result, the total number of CTP Talk authors has now reached 2,029.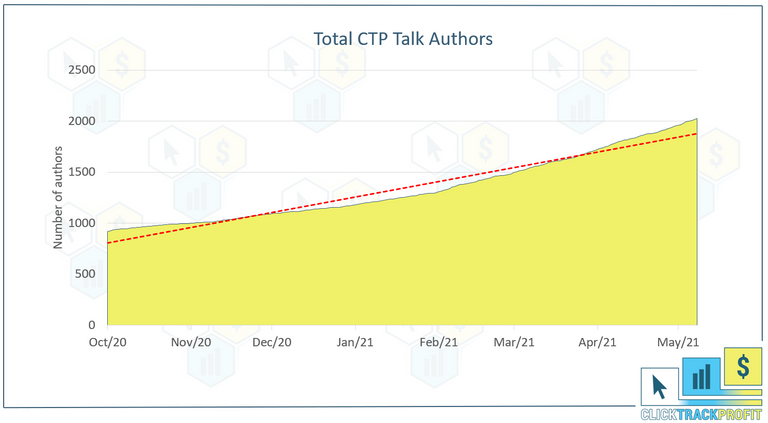 The 14-days retention rate (which provides an indication of CTP Swarm engagement, interest, and loyalty) has reached 632 authors, which is the highest number since CTP Talk started.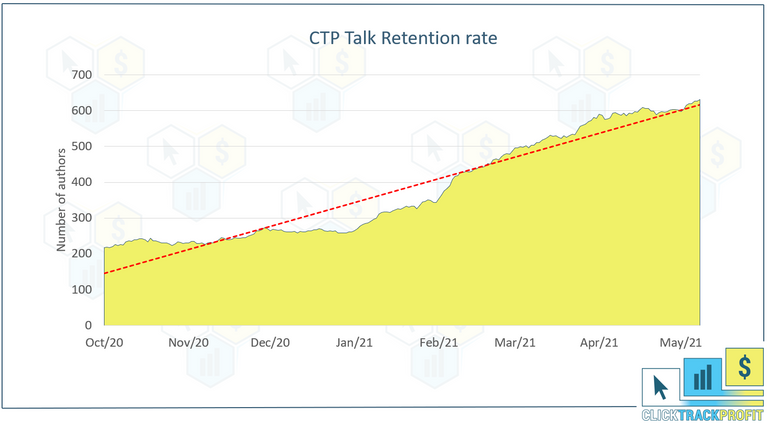 Daily comments and earnings
This week we had in total 14,593 comments, which is again the highest weekly number since CTP Talk started.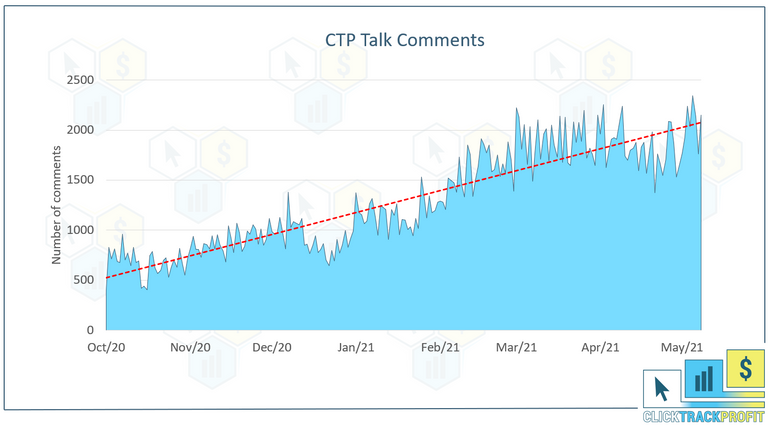 This week the comment upvote value also increased week to 2,415 CTP. This is almost the double amount as compared to last week. The chart below display the significant increase in the last 7 days very clearly.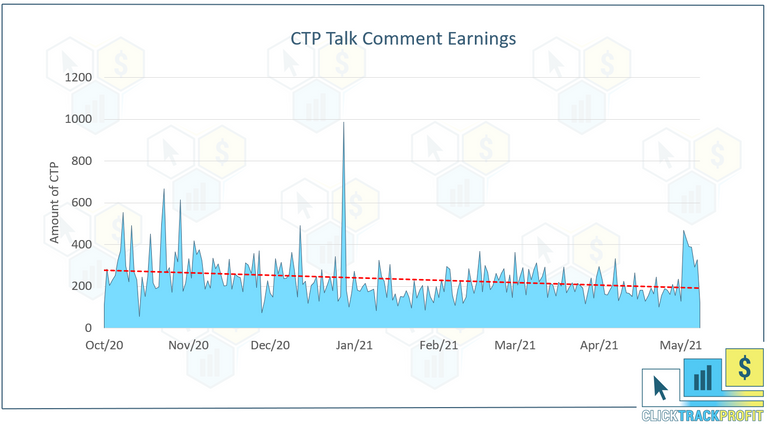 CTP Talk frontend utilisation
In the sections above I have highlighted the posts and comments generated using the CTP tag. These posts and comments could have been entered using many different frontends. When we specifically look at the CTP Talk frontend, 723 posts and comments were published in week 19, which is 60% higher as compared to last week.
The Top 3 authors were @king.sports (26 posts), @hirohurl (4 posts) and @slackerman (4 posts).
The Top 3 comment posters were @harpreetjanda (133 comments), @mba2020 (72 comments) and @elianaicgomes (72 comments).
The two graphs below present the TOP 10 post and comment authors.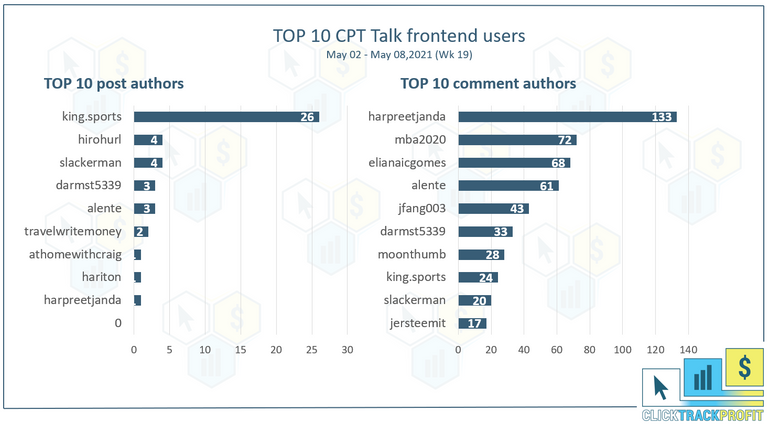 As mentioned above already, the frontend was used substantial more as compared to last week, which you can clearly see in the chart below as well.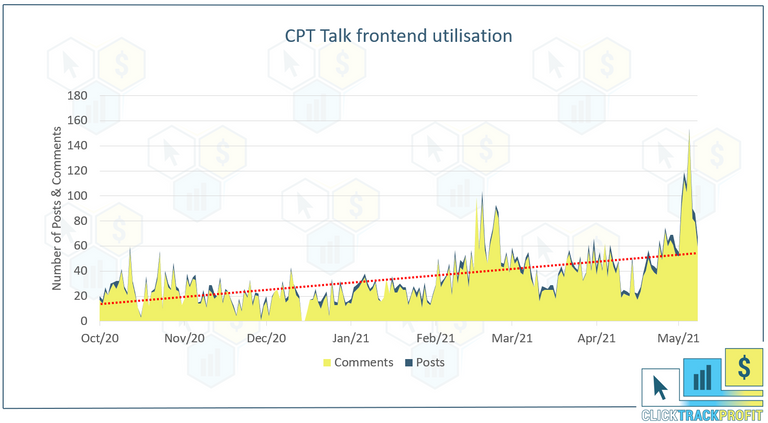 CTP on Hive-Engine & Market Capitalisation
The following charts present the development of the CTP token on Hive-Engine.
The first chart provides an overview of the total CTP supply, the number of tokens staked, liquid and burned.
In week to 16 May, the total CTP supply increased with 29,284 CTP to 3,283,449 CTP. The number of tokens staked went up to 2,876,183 CTP or 89.97% of the total number in circulation. Finally, 946 CTP were burned.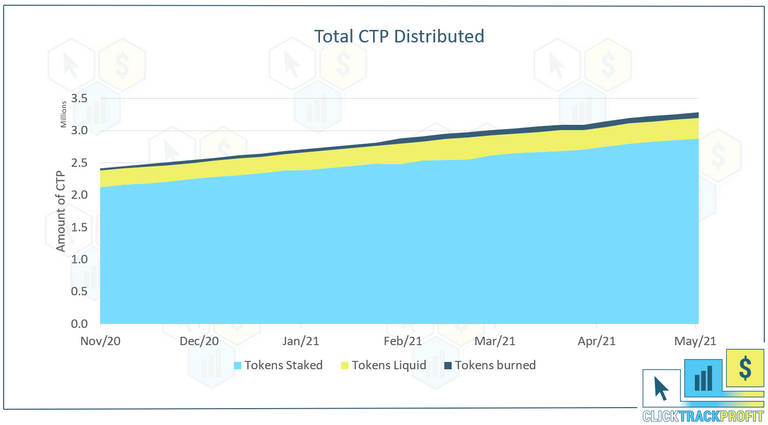 The total amount of CTP in circulation is held by 3,337 (+2%) account holders, which is steadily increasing.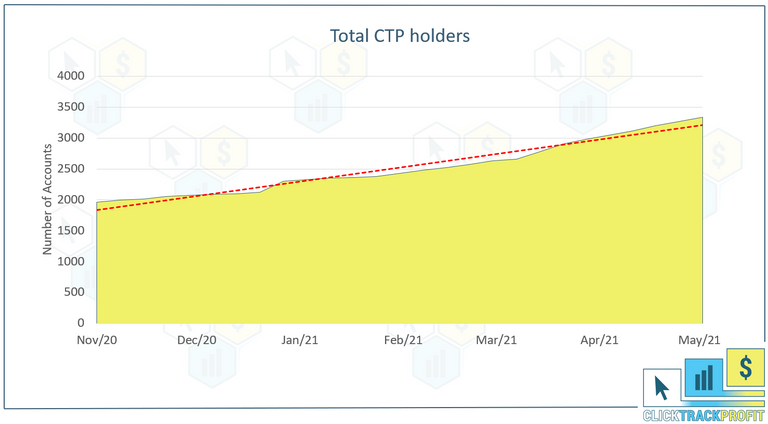 The next chart presents the Top 20 CTP holders. This week there were no changes at the top.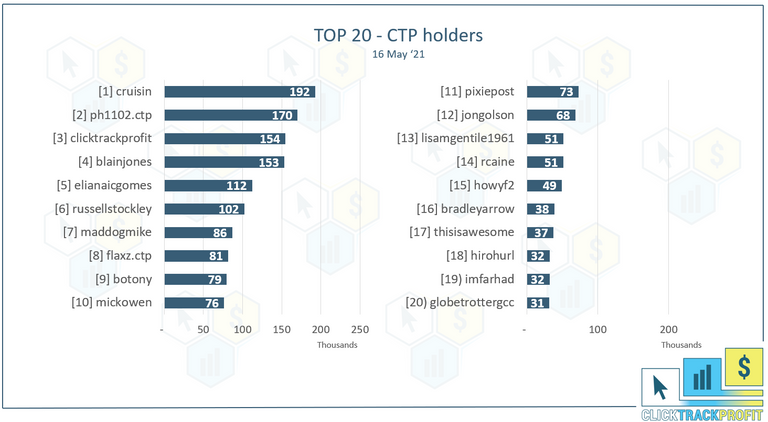 The following chart presents the CTP price development and trading volume on Hive-Engine. As you can see there has been a steady decline in price after the peak mid-February but it stabilised at the end of March and now is slowly increasing again. In week 19 the total trading volume on Hive Engine was 20,721 CTP.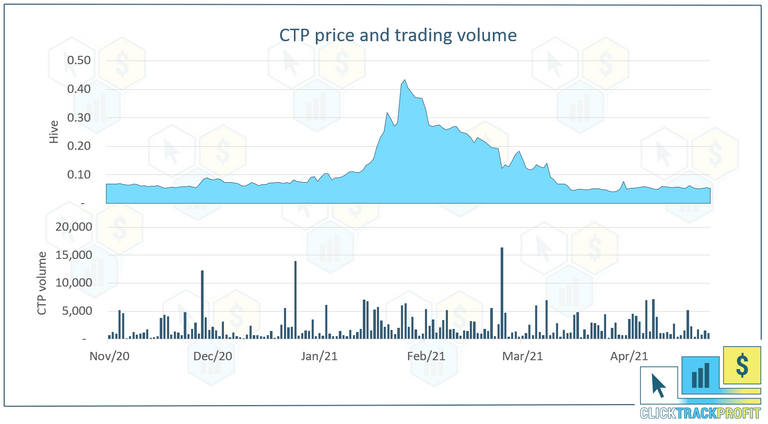 The final chart of this report highlights the CTP Market Capitalisation development. On 16th of May the CTP Market Capitalisation was $103k USD.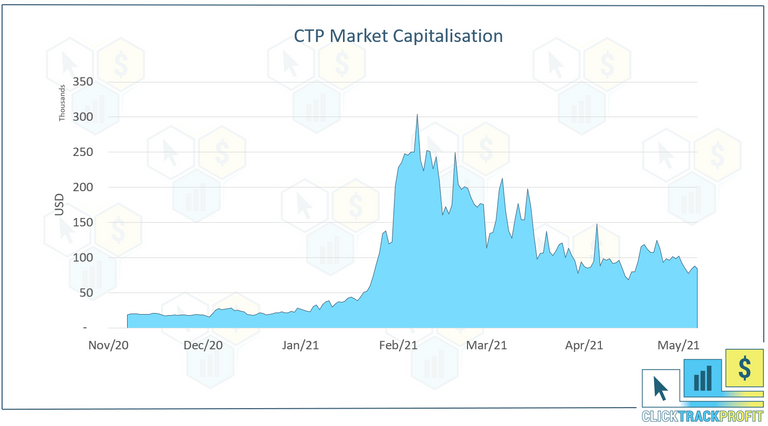 This concludes my weekly update, until the next time and stay safe! 😀
(Information source: Hive blockchain, CTP Talk frontend, Hive-Engine and Coingecko)
Posted Using LeoFinance Beta
---
---