Welcome to my weekly CTPtalk stats report. This report is covering December 06th, through December 12th.
The overview is compiled for everyone interested in the token development of the CTP tribe so please continue to read for your weekly stats dosage.


The following topics will be covered:
• Daily posts and earnings
• Top CTP tag posters and earners
• Longer term CTP posts development
• Total CTP supply
Daily posts and earnings
Let's start with the daily posts and earnings in week 50. During this week 215 (+11%) unique users published 889 (+8%) posts with the CTP tag. They generated in total 21,704 CTP as earnings. The first chart presents the number of posts published per day.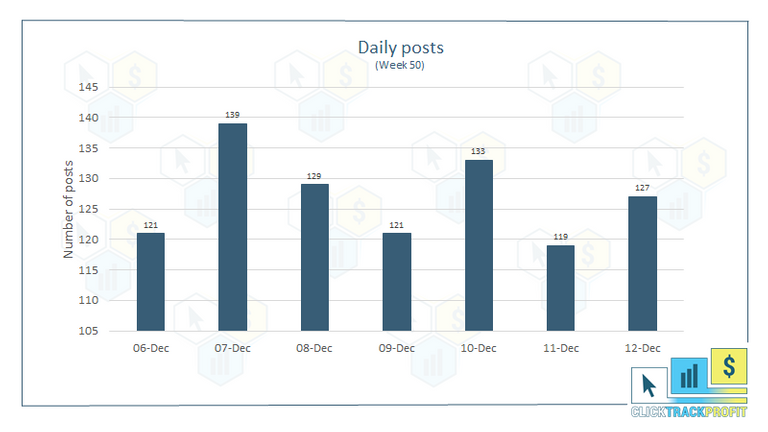 The second chart shows the earnings these posts have generated per day.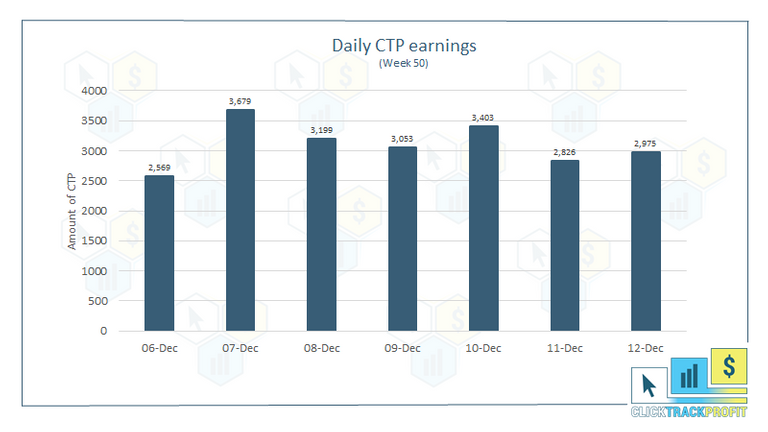 Top CTP posters and earners
The next two charts present the top posters and post earners in week 50. In this week the Top 3 CTP posters were
@hive03
(49),
@cranium
(18) and
@harpreetjanda
(17).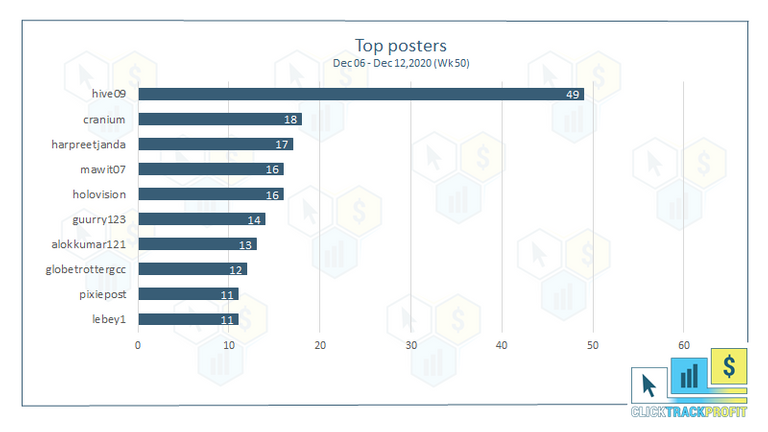 The Top 3 CTP post earners were @jongolson (1,047 CTP), @ph1102 (987 CTP) and @pixiepost (876 CTP).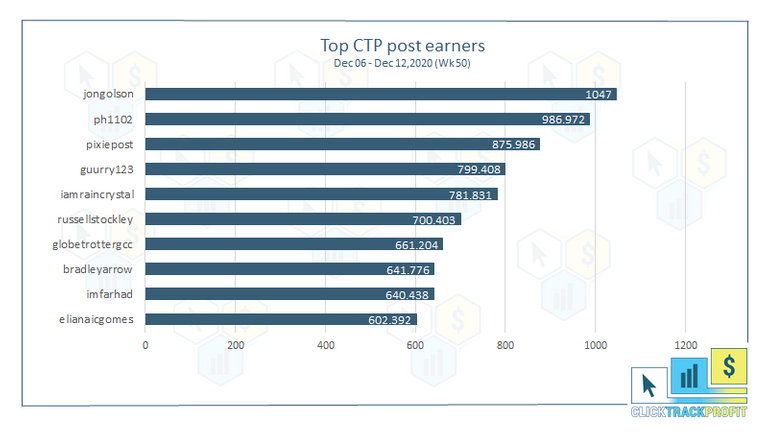 Longer term trends
The subsequent three charts provide the longer-term trend of unique posters, total posts and CTP earnings per week.
In the past weeks the number of unique posters kept growing with 2.85 posters weekly.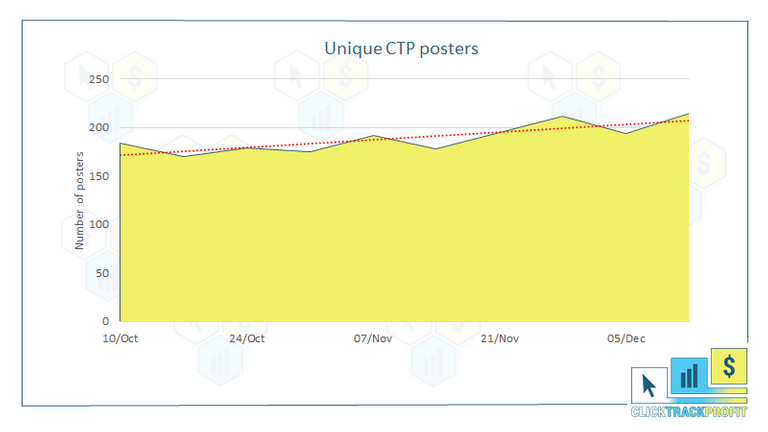 Also the number of posts have increased with 21 posts weekly.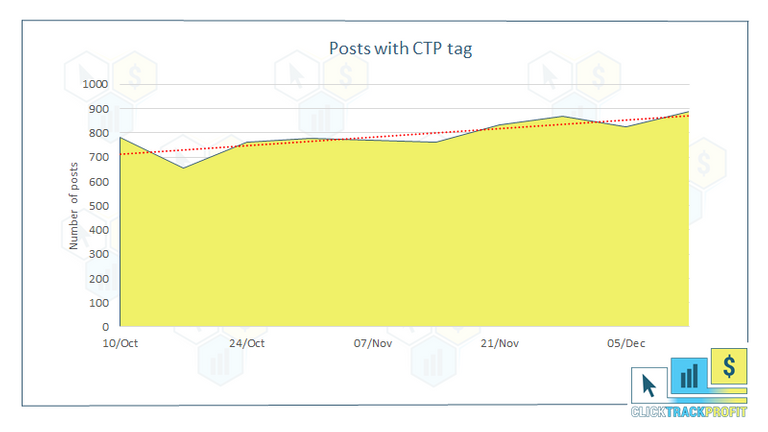 The amount of CTP tokens earned remained stable at 21,667 CTP weekly.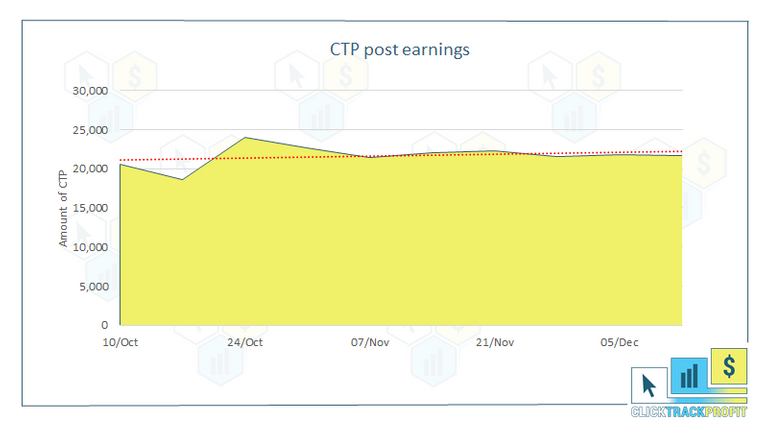 Total CTP supply
The final chart presents the total CTP supply, the number of tokens staked, liquid and burned.
In week 50, the total CTP supply increased with 34,968 CTP to 2,580,749 CTP. The number of tokens staked went to 2,284,920 or 90.1% of the total number in circulation. Finally 256.85 CTP were burned.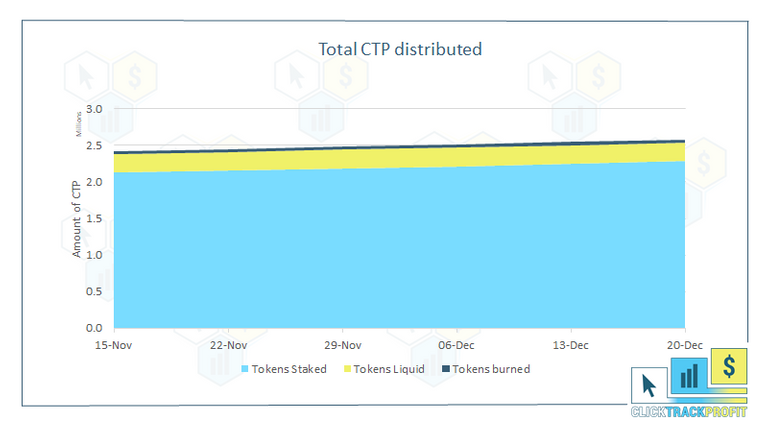 To finish, I would like to welcome @playhighcard, @themarkymark, @lucky-elephant, @fabian98, @bahagia-arbi, @oysuccessplan, @suponechit, @kismeri, @alexvan, @nupulse, @asean.hive, @dbuzz, @kevinli, @janettyanez, @dolov and @ridoykhan22 to the CTP tribe, having published their first post using the CTP tag in week 50.
This concludes my weekly update, until the next time and stay safe! 😀
Posted Using LeoFinance Beta