We all know that big cities in the Dcity earn lot of SIM and hivebut they have cards worth of thousands of Hive , so what about the cities that have bought cards that are just about hundred Hive or more?
Somewhere in June 2020, I started my Dcity Journey with 100 Hive. But buying cards worth of 100 Hive left my city very unbalanced and I need to put extra 20 Hive and few trade to optimize my Dcity. So my overall investment in dcity is around 120 Hive
After few days I broke my Dcity in 2 cities because shopping mall getting robbed is taking away all my income, so I put them in a seperate city, if they get robbed then I lose at max 45 SIM only (for 3 shopping malls).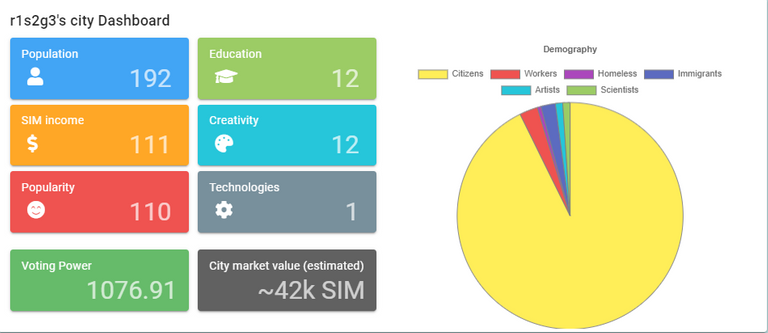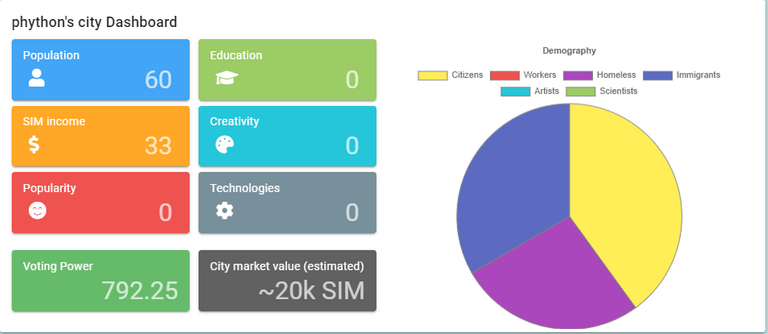 Account appreciation by investing the profits
So my alt city and current city makes up for 42K+ 20K SIM = 62KSIM. At time of writing this post 62K SIM almost equivalent to 267 Hive. I guess it is little bit inflated but I think 200 Hive might be nice approximation.
Note all the earning are invested in account till now. so 200 Hive is earning+card purchased value.
Daily earnings in Dcity
Currently I am earning 144SIM from my both cities after paying 35% tax. So I calculated that my pre tax income is 221 SIM
Now calculate my daily earning in SIM if converted to Hive if I pay 52% tax (that is max tax I ever paid in Dcity) then it still come 106 SIM. On today rate it comes to .45 Hives daily.
So I can say 120/.45 =266 days,it can still pay back and look like Dcity earning APR comes to
365*.45/120 % = 136%
PS: Did I forget to mention that my weed farm produce .2 weed daily i.e equal to .04 Hive daily on current market rate.
Posted Using LeoFinance Beta