I do not think when people conceptualize the token and tribe economy in Hive (ok Steem) they have ever thought of that one day tribe economy can become so strong that one of token created can become more valuable then HIVE. Hive is wonderful blockchain but somehow it never got the boost. Today again is LEO day as LEO ask rate is now more than 1 Hive and to be precise 1.017 hive at time of writing the article.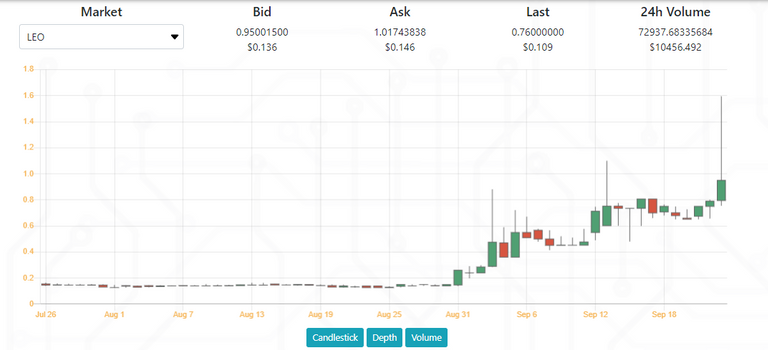 Though I realized the potential of LEO long back but still I am guilty of not accumulating enough but I am very happy with current LEO development.
What makes LEO so special
I think when something on rise you can count everything is as positive but I will be honest here and put forth the point that look positive in LEO.
Continuous development in LEO: Leo does not restricted itself to the tribe condenser site and tokens only but they built various tools like Leopedia (to educate the users),Leodex (a better interface to trade tribe tokens) and Hivestats (to keep track of various stats in Hive for a user). Not only they create ,they keep improving it and it is evident by seeing new LEO interface, articles that are constantly getting added in Leopedia, adding new functionality in Hivestats and so on.
Periodic Updates: LEO publish weekly reports about various stats to keep the end user informed and about their continuous development activities too. I can say LEO is maintaining excellent communication with their stakeholders.
Focusing on bringing the users : Leo team is focused on bringing the new user and it is evident by their campaign on social media like twitter. I guess Leo is the first tribe in Hive that is actively analyzing the traffic stats in their site and working towards bringing more user in LEO.
Grabbing the opportunity : I should congratulate the vision of @khaleelkazi that took steps towards Defi and written series of informative articles about it so that Leo userbase also understand it and take part in it.
Rewarding the users : Leo always rewarded the content creator in Leo platform generously and if you bring some value to LEO then LEO also make sure to reward you for your contributions. There is again generous rewards for participating in LEO Defi intiative.
Keep adding use case for LEO token : Leo always add use case for their token and keep burning the token for the various services they provide. Ad revenues earned by LEO is also used to burn the tokens supply. The latest Defi move also add one more use case in LEO.
PS: LEO is token in Hive blockchain should not be confused with something else. You can currently trade LEO at https://leodex.io/market/LEO and you can visit LEO blogging platform at https://beta.leofinance.io/
If you are new to Hive and do not have Hive account then you can use link https://hiveonboard.com/create-account?ref=leofinance for your account creation and can read about this process at https://leopedia.io/onboard . You can also chat at LEO discord at https://discord.com/invite/KgcVDKQ
Posted Using LeoFinance Beta