Crypto market recently has been showing some positive attitudes for us all! There were times where people related to crypto had to listen to words beyond expectations, after the crash happened with the ATH of crypto in 2018. Nevertheless, at present I suppose limelight have been caught and the market is reflecting positively for us all. A good sign for everyone related to crypto. Many new millionaires are going to be created amongst us in 2021 ;) Fingers crossed to that!
While HIVE as of today seems to be rising in terms of price, which is also a good sign for us. TBH I still want it to be little low, so that I can grab as much more as possible. Don't blame me I am quite optimistic about HIVE. Few things have been going on HIVE and if you are a trader than you might have noticed that as well. Yep, I am talking about HIVE internal market, check it here https://wallet.hive.blog/market.
---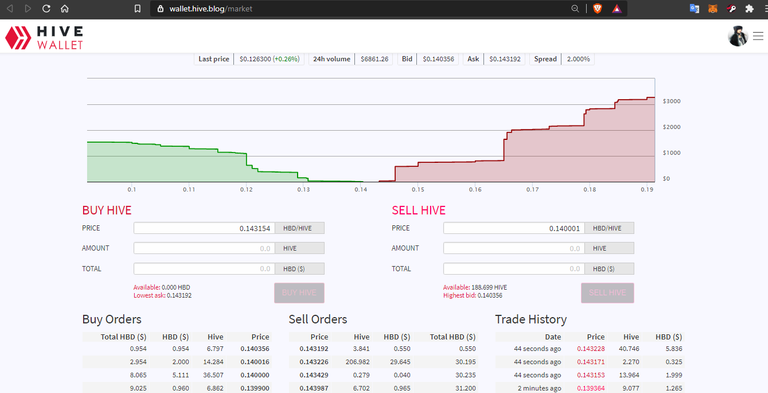 Hive = $0.126300 (In IM)
---
If you notice some pretty cheesy things are going on in there! I sometimes try to flip my assets with some amount and I must say it is somehow quite exciting. Yep, I am aware the volume is quite less and it is hard to track what is actually going on. As there are not much significant data, with which you can really work with or make some TA. It is not really meant for that as well though. It is suppose to be a simple way of making HIVE to HBD or vice versa. But if you notice it little carefully you could be able to make some decent returns on some trades when the price seems to affect the market. Not a financial advice ;)
Honestly, in my case what I always favored was HIVE! As I can use it any form (liquid/staked). As for HBD I will probably get it from my posting, rather than buying it off the market. I might sound little stingy but it is what it is.
While as you may notice, the price does really affects the internal market and within those ups and down if you can grab the momentum, one can make some genuine profit out of the box. Been there done that. But like I said it is kind of hard to track what is happening when you are at work or if you are not a full time trader. But if you get lucky and grab some opportunity than why not! At the end of the post I just want to say, hopefully we get to see something good happening for hive. we need to create a buzz for us and this is probably the right time!
---
Best regards
Rehan
---
---

Posted Using LeoFinance Beta