If you take a look at dCity, it looks so different than the previous one. There are a lot of functions. I'm trying to learn more about it. It is interesting to learn. You will not get boring. lol...
There is so much information on dCity interface. Now dCity dashboard looks like this.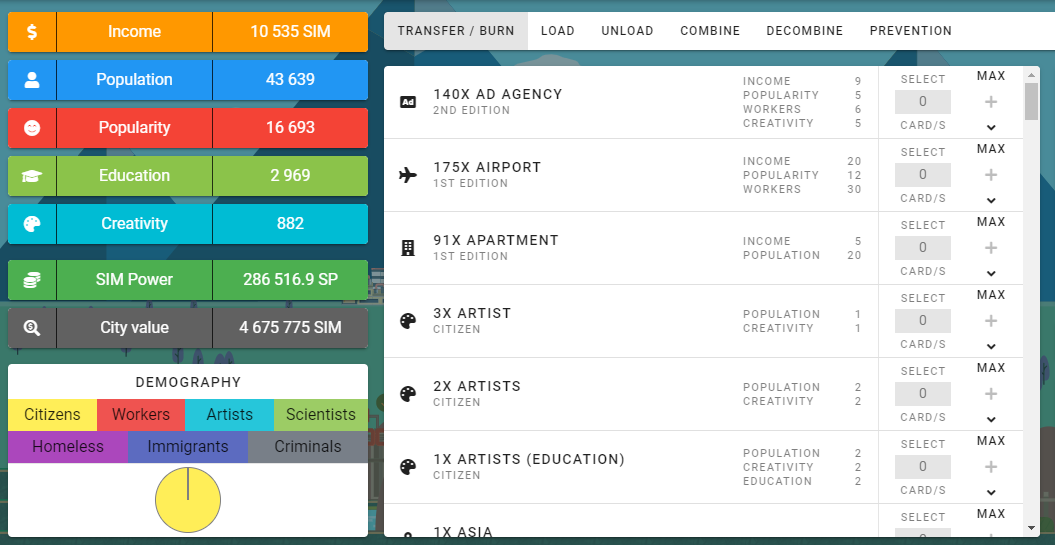 Here you can see your SIM income, population, popularity, Education, Creativity, SIM power at a glance. Finally, the 3rd edition has been released. We have been waiting for this. You can buy 3rd edition cards. I just bought some 3rd edition cards now.

I got 2 Fire Department, 2 Car Dealership, 2 Construction Site, 1 Court, 1 Parking, 1 Pizzeria, and 1 Ice Cream Shop cards. My city SIM income is 10,535 SIM, population 43,639, and popularity 16,693.
If you take a look at SIM price in the market, SIM price is rising. Now SIM buy order is 0.00225 HIVE and the sell order is 0.00231 HIVE. Hope SIM price keeps increasing and players start building their city with 3rd edition cards.
Since it seems new on dCity, it takes some time to get to know all new functions. Let's enjoy the game and have fun. So how do you like the new UI? Looks amazing! It feels a little slow on my laptop. Maybe it is because of my laptop.
Please feel free to share your thoughts in the comment section. Thank you so much for reading this post.
Posted Using LeoFinance Beta