AXS, the native token of decentralized NFT game Axie Infinity, hit new ATH today, up 36%. Will the rise continue?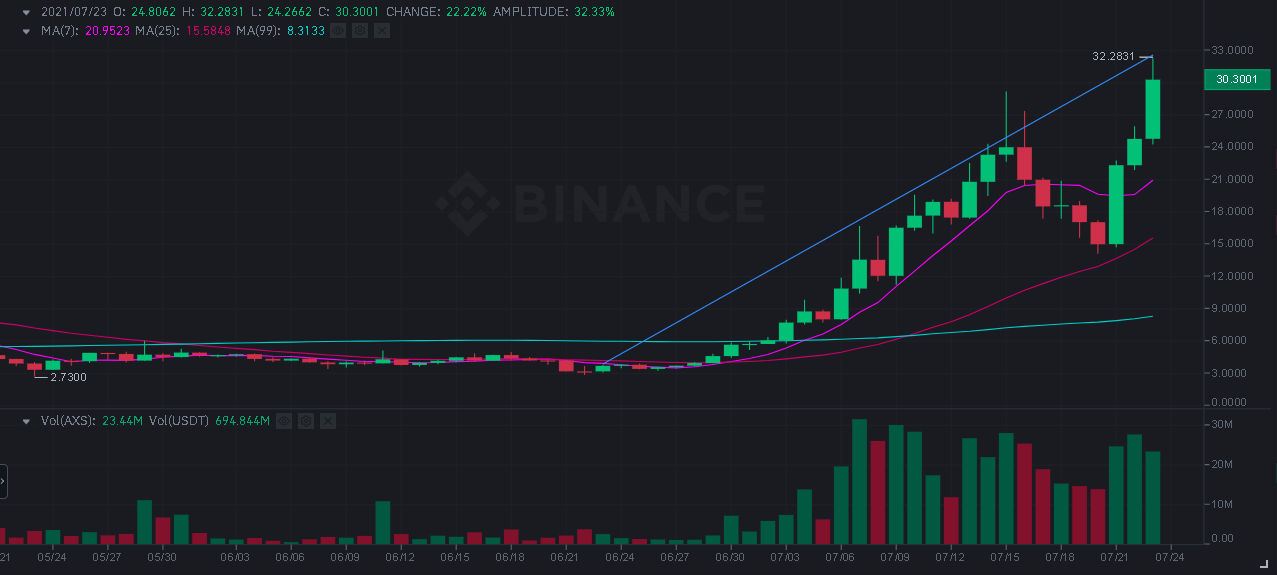 AXS, the native token of blockchain gaming platform Axie Infinity, rose 36% today to hit an all-time high of $32.28. Axie Infinity (AXS) increased nearly 900% in one month and was a huge success. AXS, which was $ 3.7 on June 23, reached $ 32.28 today. It has dropped a bit after the price adjustment but is still trading at $30.3. It signals that the uptrend is not over yet. If it can surpass $32.5, it could move towards $40.
The interest in blockchain games is increasing day by day. Almost many blockchain games attract the attention of investors and gamers. I think that many well-prepared games that can appeal to investors and game lovers will receive similar attention. Axie Infinity has had significant success at this point. It has managed to attract the attention of many people. Axie Infinity is a great game that is both fun and you can win by playing.
The popularity of the Axie Infinity game has increased recently, making Axie Infinity one of the hottest blockchain games in the crypto market. This caused the Axie Infinity game's native token, AXS, to gain more value. Also, I think that AXS has not found its true value yet, it may break new records and reach higher levels in the coming days. But it may regress a little before new highs.
Axie Infinity is a Pokémon-inspired universe where anyone can earn tokens through skilled gameplay and contributions to the ecosystem. Players can battle, collect, raise, and build a land-based kingdom for their pets.
All art assets and Axie genetic data can be easily accessed by 3rd parties, allowing community developers to build their own tools and experiences in the Axie Infinity universe.
While still in early access, Axie is ranked the #1 Ethereum game by daily, weekly, and monthly active users. It has generated over 13,000 ETH in revenue (16M+ USD) so far.
I would like to point out that the Axie Infinity game is still simple and new. Axie Infinity will receive major updates over the next 9 months. I think these updates will increase the popularity of the game more. I also think that the Axie Infinity economy will grow more in the coming months.
Players can earn by:

Competing in PVP battles to win leaderboard prizes.
Breeding Axies and selling them on the marketplace.
Collecting and speculating on rare Axies such as Mystics and Origins.
Farming for the love potions that are needed to breed Axies. These can be sold on exchanges such as Uniswap and Binance.
Starting in 2021 players can earn a governance token, AXS, which represents a real slice of the game universe as it has governance rights and fee sharing built into it. Since players can earn this token by playing, a Ready Player one type quest emerges where players can actually earn part of the universe. However, these quests are not winner takes all and rewards each player based on their effort and skill.
Also, many blockchain games will be more popular in the future. In addition, I think that popular games that are popular today and played by many game lovers will switch to the blockchain or they can release a new version based on the blockchain.
I think that popular games such as Garena Free Fire, PUBG, Call of Duty, Valorant can release blockchain-based versions. It may be early for now, but imagine, wouldn't it be great? Banks that were against the crypto market a few years ago had to enter the crypto market due to the high demand from customers today. Similarly, game developers will have to comply with the demands of game lovers.
Posted Using LeoFinance Beta
---
---