Bitcoin (BTC) managed to surpass $34000. Next target?

Today, most of the cryptocurrencies have entered a bullish trend. All of the top 10 coins by market cap turned green again and the cryptocurrency market started to grow again. According to Coinmarketcap data, the crypto market has surpassed $1.4 trillion. Bitcoin (BTC), in the first rank by market cap, increased by 7% today and managed to exceed $ 34000. It is currently trading at $34311. Let's examine together what the next goal is.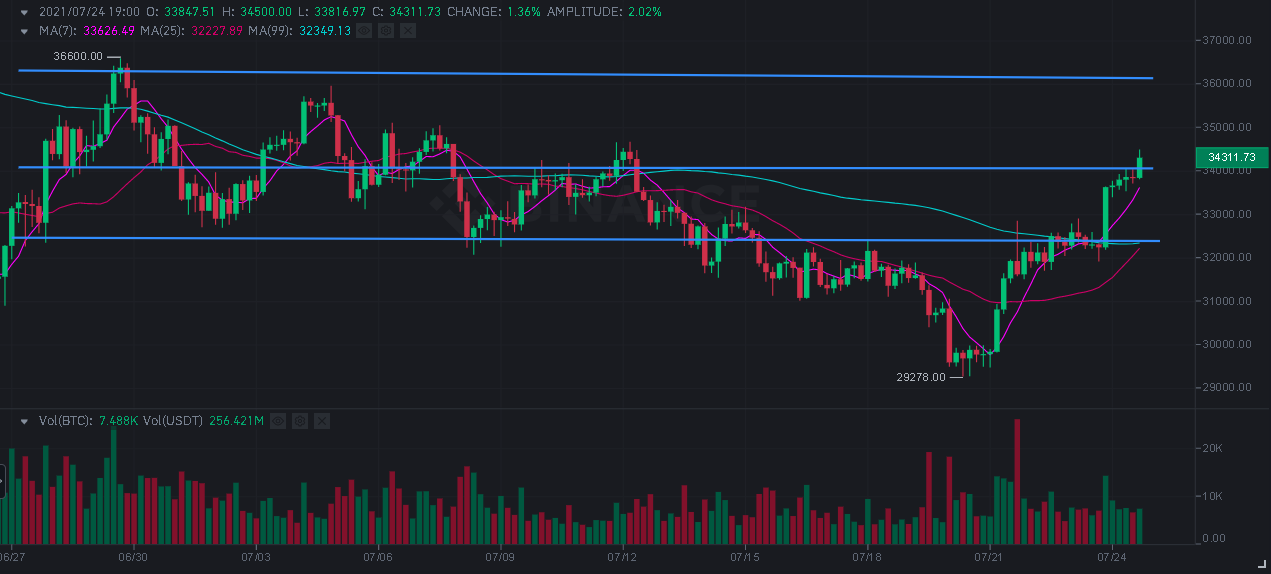 On the 4-hour chart, we can see that Bitcoin (BTC) continues to rise against declining trading volume. While Bitcoin was trading under $30,000 3 days ago, it did a great job today and managed to surpass $34000. We can say that the bears' pressure failed and the bulls took the initiative again.
Bitcoin (BTC) managed to surpass $34000, but with a slight price adjustment, there may be some regression. It has solid support at $32700 if it fails to stay long above $34000. If BTC manages to stay above $34000, it will attempt to surpass the next target of $36,600. There is a solid resistance at $36,600 and if it can surpass it, it could start a rapid rise towards $40000. It signals that it can exceed $40000 towards the end of the month or in the first week of August.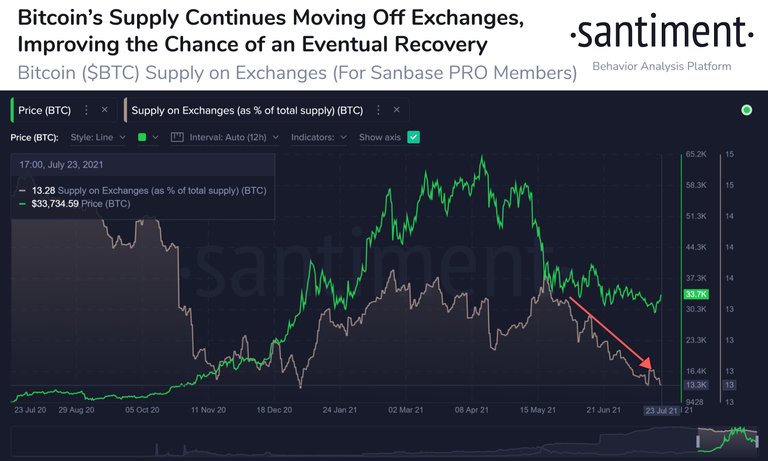 Image Source
According to Santiment's data, Bitcoin (BTC) supply on exchanges is at its lowest level in 18 months. According to this data, investors transfer their Bitcoins from exchanges to their cold wallets. This shows that the selling pressure is reduced and the risk of selling high volumes in the future is reduced. In addition, this situation may be a sign of the participation of new corporate firms. Because corporate companies transfer their assets to wallets under their control instead of keeping them on stock exchanges.
In recent months, Bitcoin (BTC) has declined significantly and many coins have lost serious value. But now many of them are stronger and stronger than before. Now, BTC, ETH, BNB, HIVE, LEO and CUB are ready to start a fast bull run to get back what they lost in the coming months. But it's too early for bull season now. I think they will recover in August and increase around 20%. I think the real bull season will start in September. If Bitcoin (BTC) increases by 100%, I think ETH, BNB, HIVE, LEO, CUB and other strong cryptocurrencies will increase by more than 150%. There is still a good opportunity to invest in many cryptocurrencies.
My guess is that Bitcoin (BTC) is confidently moving to surpass $100,000 by the end of this year and $250,000 by the end of 2023.
These are my thoughts. What are your thoughts?
Posted Using LeoFinance Beta
---
---