Overall, March has been a tense month for the cryptocurrency markets. Usually there would be dips in March, but the cryptocurrency markets are stronger than before. Nevertheless, there were concerns that there might be decreases in investors again. Therefore, the markets were a little tense. With the end of March, the upward movement started in the markets in April.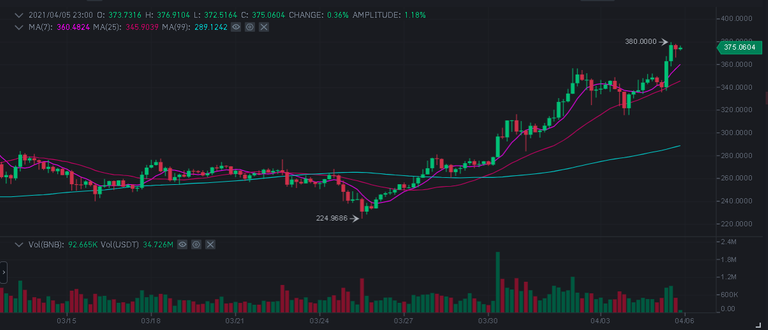 BNB had hit a new ATH 3 days ago, 3 days later it hit a new ATH, rising to $ 380. It is currently trading at $ 375. The most important reason for the increase in BNB is due to the campaigns and events carried out by Binance. BNB is getting stronger with every new event and projects Binance does with BNB. The latest announcement was Tokocrypto (TKO), the 19th project of Binance Launchpad. According to the announcement made by Binance, those with BNB in their account were determined on March 31 at 03:00. and those who hold BNB in their account will be able to apply to buy TKO with their BNB on April 7 at 07:00.
BNB Holding Calculation Period 2021-03-31 03:00
Subscription Period 2021-04-07 07:00
Calculation Period 2021-04-07 11:00
Final Token Distribution 2021-04-07 12:00

BNB, which was $ 270 before the announcement, set a new record again before April 7. Considering the events and campaigns Binance has made this year, it will not be difficult for BNB to reach $ 1,000 in a short time with new campaigns and events.
Binance has become the largest crypto exchange in the world, and every activity it does is followed carefully by investors. BNB is currently in the third place with $ 57.5 billion in terms of market cap. Can it pass ETH? seems difficult for now, but not impossible.
It is very easy to stake and launchpad with BNB on Binance. Those who do not want to follow constantly use BNB Vault. It is a very useful feature for investors who do not constantly follow Binance.
BNB Vault is a BNB yield aggregator. Depositing BNB means participating in Launchpool, Savings, Defi staking and other projects and at the same time gaining rewards.
The rewards from BNB Vault is accumulated by the income of different projects. Currently it includes Savings, Launchpool, Defi staking.
BNB Vault is equivalent to participating in multiple projects at the same time, and the calculation of income and interest is calculated separately according to different product rules.
Posted Using LeoFinance Beta