Decentralized Finance (DeFi) Protocol Aave Attracted Attention With Its Corporate Project

Decentralized Finance (DeFi) is attracting more and more investors. Decentralized finance (DeFi) has become more attractive than traditional finance. That's why many investors are switching to decentralized finance (DeFi). Aave announced Aave Pro to attract more institutional investors and it was well received by the markets.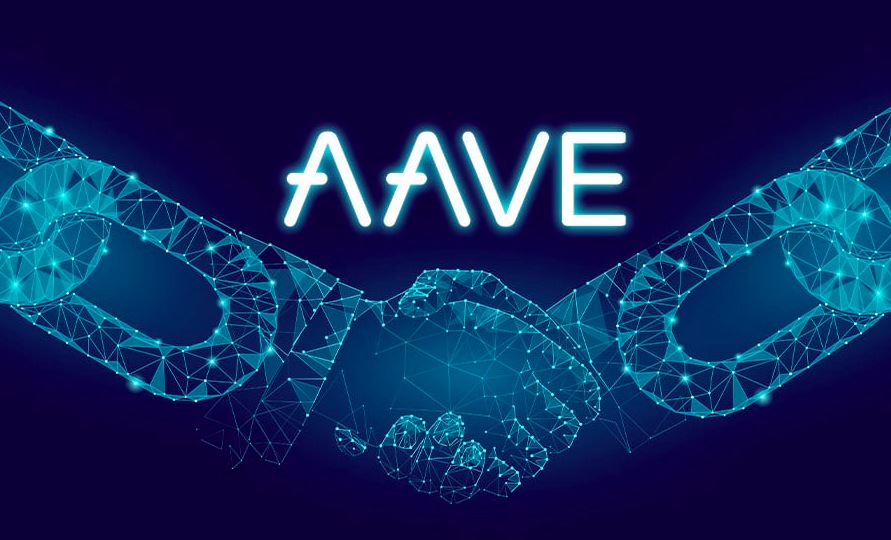 Source
Decentralized finance (DeFi) protocol Aave has announced that it will launch its platform Aave Pro, aimed at institutional investors, this month. According to the statement made, it was decided to launch Aave Pro in line with the intense demand from institutions. Aave and Fireblocks will launch its first permissioned decentralized protocol, Aave Pro, towards the end of July.
Recently, there has been a significant increase in the interest of institutional investors in Decentralized finance (DeFi) platforms. This increase seems to be increasing day by day. Since Aave saw the interest of corporate companies, it decided to launch Aave Pro for institutional investors. Institutional investors are expected to show interest in this project. Aave Pro will have features for the demands of institutions.
Aave Pro will initially support Bitcoin (BTC), Ethereum (ETH), AAVE and USD Coin (USDC). But it is said that other cryptocurrencies will be added in the future. Also, those who want to access Aave Pro must first pass Fireblocks' smart contract-based Know Your Customer (KYC) verification. Those who pass this verification will have access to the platform. Aave Pro will be separate from other Aave markets.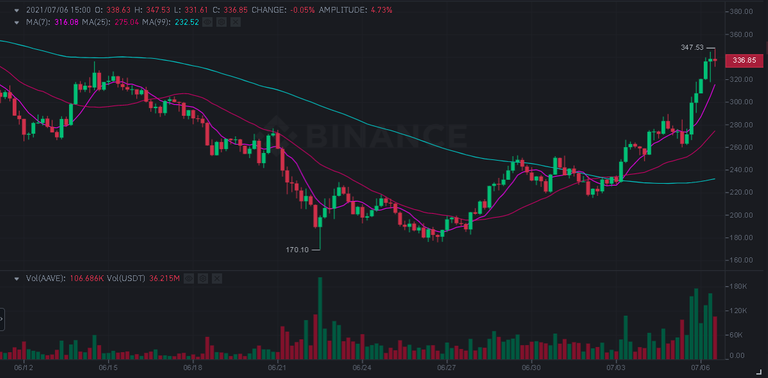 Many investors welcomed this development and Aave rose 22% to $347 today. After the rise, it is still trading at $ 336, although it fell a little with price regulation. It is seen that this increase will continue in the coming days.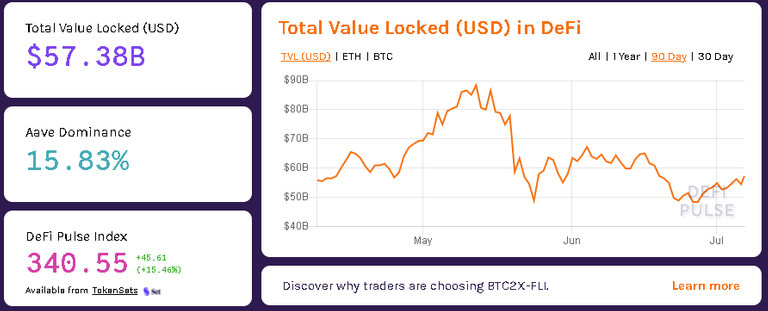 source
According to Defipulse data, the amount of locked crypto assets on DeFi platforms has now reached $ 56.52 billion. Total locked value in Aave reached $11.13 billion. Also, Aave Domination increased to 15.83%. DeFi is taking firm steps forward to become the banking and financial system of the future. Those who are bored with traditional finance are switching to decentralized finance (DeFi). In addition, with many features, DeFi is in a better position than traditional finance. In addition, these features will increase more in the future.
Thank you for reading. What do you think about the latest developments?
Posted Using LeoFinance Beta
---
---