...from the world of the crypto
You may know, maybe not, but @Klye is going to make Hive Blockchain as part of Smart Chain. That is something in the BSC style or Eth Smart Chain. He should be called HSC. Well, we will see.
---
CUBdefi.com
Another interesting innovation will be on Cubdefi their bridge to swap ETH-20 tokens to BEP-20 tokens (of course vice versa is possible). This is very interesting thing to do, because there is not much chain (user friendly website) if any, which can do it.
---
Tribaldex.com
Do you know Tribaldex? Pages from the famous HIVE member @aggroed, which, among others For you want to create some NFT 100 Bee tokens for registration? This means about 80 hive today. Well, it is designed for real artists who make up regularly some artwork, Ane for me, who would give one two photos to try what it actually is NFT is, and if there's nothing to earn something ...
---
Travala.com - Crypto Friendly Travel
What can be said, well just enjoy the holiday!
For example, last month took place on Travala
Travala put together with the Viator for the possibility of buying events (such as visits in sights, flights parachute, etc.)
Travala signed improved cooperation with Expedia - in the near future offers a complete vacation - ie departure, accommodation or food as well as we know about everyone from classic travel agencies...
Yesterday they were admiring the results for March valid for the time being on 29.3.: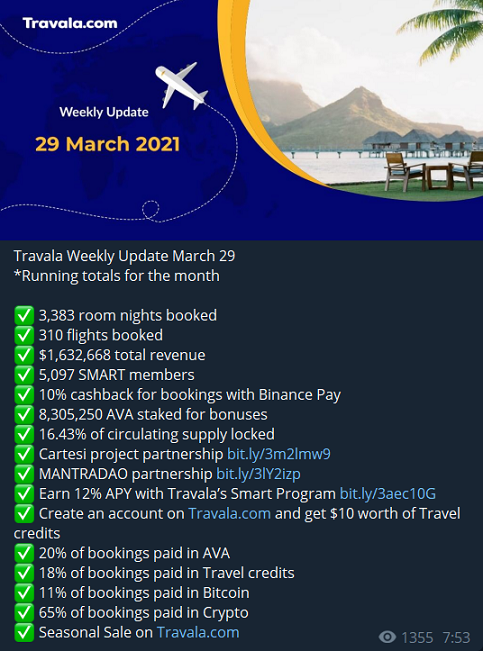 ---
CZE
...ze světa krypta
Možná víte, možná ne, ale @klye chystá na Hive blockchainu jeho podobu smart chainu. To jest něco ve stylu BSC nebo ETH smart chainu. Měl by se jmenovat HSC. No uvidíme.
---
CUBdefi.com
Další zajímavou novinkou bude na CUBdefi jejich bridge na swapnutí tokenů ETH-20 na BEP-20 tokeny (samozřejmě i opačně). To je dost zajímavá záležitost, protože to momentálně asi moc chainů (web stránek uživatelsky přívětivých) neumi, jestli vůbec nějaká.
---
Tribaldex.com
Tribaldex znáte? Stránky od známého borce @aggroed, který mj. udělal hive-engine, splinterlands a další věci rozjel tyto stránky, které do budoucna bude umět úplně vše od směny H-E tokenů, po NFT, DeFi atd. Mám jen jednu poznámku - je opravdu nutné dát za to, že chcete vytvoit nějaký NFT 100 BEE tokenů za registraci? To dnes znamená cca 80 HIVE. No asi to je určeno pro opravdové umělce, kteří tvoří pravidelně nějaké umělecká díla, ane pro mne, který by tam dal jednu dvě fotky, aby vyzkoušel, co to vlastně to NFT je, a jestli se na tom taky nedá něco vydělat...
---
Travala.com - crypto friendly cestovka
Co se dá říct, no snad jen užijte si dovolenou!
Minulý měsíc proběhlo například
Travala se dala dohromady s Viator pro možnost nákupu akcí (například návštěv v památkách, lety padákem atp.)
Travala podepsala vylepšenou spolupráci s Expedií - v blízké budoucnosti nabídne kompletní dovolené - tj. odlet, ubytování případně jídlo tak, jak to známe asi všichni od klasických cestovek typu Fisher, Čedok...
Včera dali na obdiv výsledky za březen platné prozatím k 29.3.: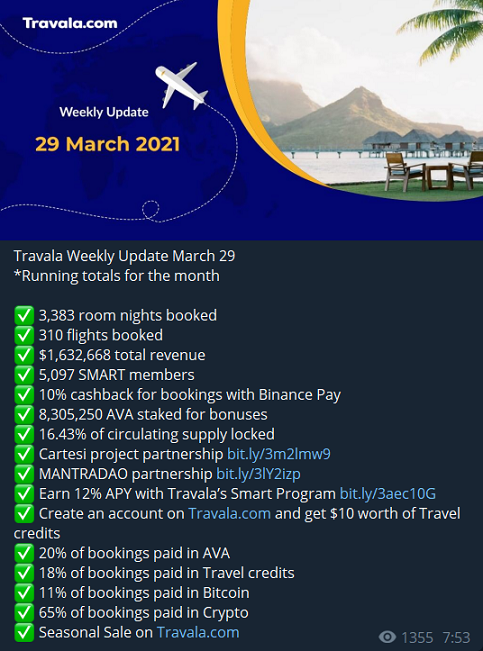 No a to je zatím vše. A někdy jindy u dalších novinek zdar!


Posted Using LeoFinance Beta