NFT (non-fungible tokens)
So what do you think about NFT? Do you even know what it is, and that those who know about it can already make an incredible bundle of money, if they can do something?
What exactly is NFT?
It is a special type of cryptographic token, which is not copyable, everyone has something unique.
Tokens like BTC, HIVE, ETH are fungible. If I send you BTC, HIVE whatever you don't ask me "which HIVE did you send... exactly?" because they are all the same. Not with non-fungible tokens.
NTFs often serves as something to protect you from copying. It is used in digital art or in online gaming (mainly via blockchain platforms such as several games available via www.WAX.io).
How did I mean that money? For example, one NFT was recently sold for 6.6 million USD (ARTnews). It is the work of an artist under the pseudonym Beeple, which is none other than the well-known network artist Mike Winkelmann.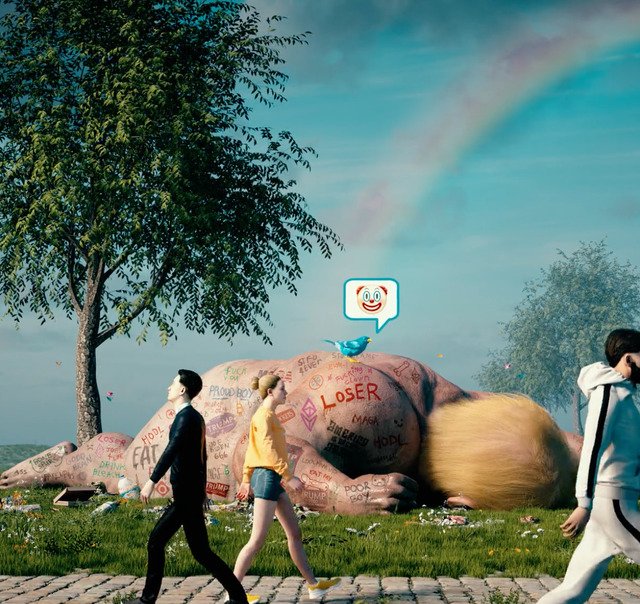 CROSSROADS by net artist Beeple. (COURTESY BEEPLE/NIFTY GATEWAY)
According to Bankless (which is by the way superb post about NFT and economy in it - read it please) over $120m of crypto art has been sold in the past 12 months.
Some may be wondering how it is possible to put huge money in the order of thousands of dollars for an idiotic animated gif. Well, the question is good, but it's exactly the same as asking why you put such money for a canvas too ...
Anyway, we'll see where the world of art goes. There may be no more "live" exhibitions. What we know...
Anyway, you can do some NFT and try to put it in the frame on the HIVE blockchain - try nftshowroom.
You can see how to do it in this article form @stellabelle.
---
CZE
NFT (non-fungible tokens)
Tak co si myslíte o NFT? Víte vůbec, co to je, a že ti, kteří vědí, na tom již mohou vydělat, pokud teda něco umí, neuvěřitelný balík peněz?
Co to je vlastně to NFT?
Je to speciální typ kryptografického tokenu, který není okopírovatelný, každý má něco unikátního.
NFT často slouží jako něco, co chrání oproti okopírování. Používá se i v digitálním umění nebo třeba v online hraní (převážně přes blockchain platformy jako třeba několik her dostupné přes www.WAX.io).
Jakpak jsem myslel to s těmi penězmi? No třeba před nedávnem se prodal jeden NFT za 6,6mil USD (ARTnews). Jedná se o dílo umělce pod pseudonymem Beeple, což není nikdo jiný než známý síťový umělec Mike Winkelmann.
A co třeba toto: dle Bankless se za posledních 12 měsíců prodalo digitálního umění přes NFT za 120 mil. USD.
Někteří se možná ptáte, jak je možné dát za idiotský animovaný gif ohromné peníze v řádech třeba tisíců dolarů. No otázka dobrá, ale to je úplně stejné jako se ptát, proč dát za nějaké plátno taky takové peníze...
No každopádně uvidíme, kam se ten svět umění dostane. Možná už nebudou žádné výstavy "na živo". Co my víme...
Každopádně i vy si můžete udělat nějaké NFT a zkusit ho dát do frcu na HIVE blockchainu - zkuste nftshowroom.
Jak na to se můžete podívat ve článku od stellabelle.
Posted Using LeoFinance Beta