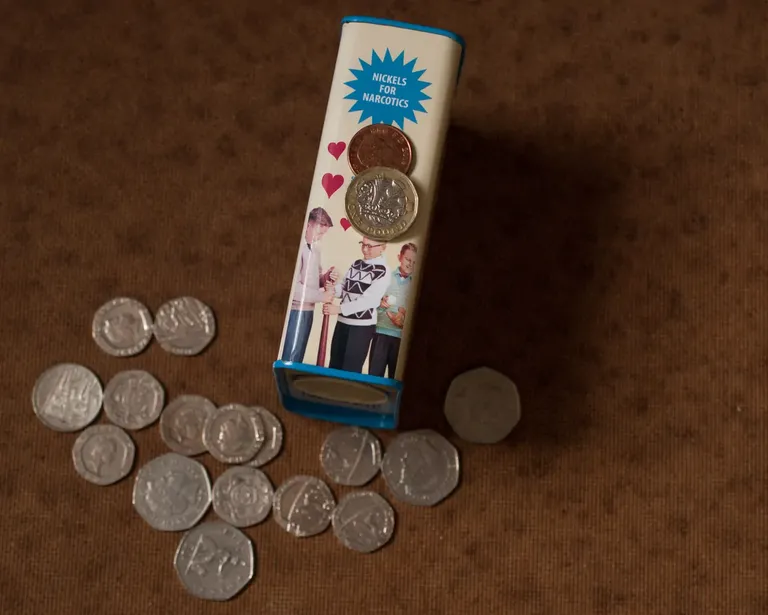 picture by @barge taken from @hive-118554
### As always I have to begin with a disclaimer: I am not a financial adviser! I am only investing what I can afford to loose! Do your own research before doing any type of investment. High returns are connected with high risks! Not a single word of this article is financial advice! By scrolling downwards you agree that you read this diclaimer!
I am just an ape who likes CUBs!
If you are a good reader you will find a secret giveaway!


by @kaliphae
When we browse through all the tokens on the hive engine we could easily get overwhelmed. What tokens to choose where do you put your liquid hive or leo?
I am a very fresh member of the hive and leo community and in the following paragraphs I will show you what investments I made over my short period of time here. These investments are my own strategy, do your own research!
There wont be any chronological order but I will try to stick to time but also the size of the investments.
I also saw that this post is one of the longest I have written so far and there are almost no pictures in it. Sorry for all the peeps who can't read or do not want to read, you are missing something.
I will take this post in two parts not only for the readers sake, but for the sake of my sanity.
I will also talk about gamification and its impact on investing. (PART2)
My investments on the hive engine by size of:
0 CUB Finance
Liotes
EDSM
VFT
dhedge
Hive engine games I play and invest in.

Why is CUB 0?
Well I consider it as a project that is not exactly the hive engine but its foundation lies in it. My biggest investment portion is there. For full transparency I show you my CUB status: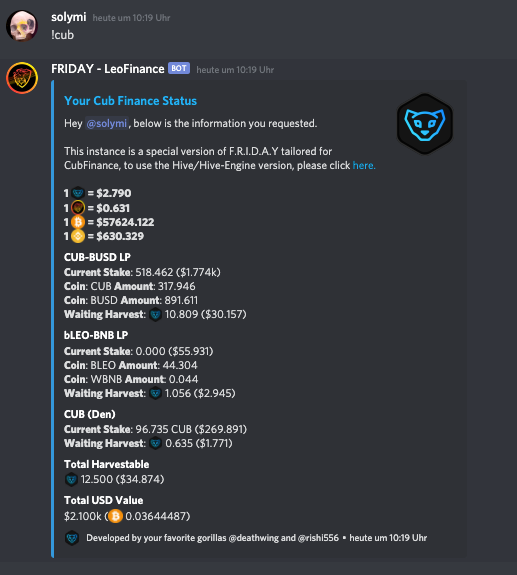 This is my biggest investment in the wider ecosystem of our blockchain.
Even with way smaller amounts than I have invested, you can make a decent passive income. I will continue to stack up on my LP tokens I want to get to a point where I can harvest every 3 days. That means I will have to double my staked LP tokens. ( I am harvesting when my CUB reach 100$ ) This will be achieved by harvesting once a week and matching the harvested amount in BUSD and providing more liquidity. At current rates this will take about 2 months. I don't know how long these high yields are going to last so I am trying to grow this investment as aggressively as possible. Also I think I am quite a bit down with my initial investment on cub. If anyone has a nice tool where I can check when I bought and for how much point me in the right direction. I know that my last bigger investment portion was bought at 2,70 so I am up slightly with that. But in the beginning price of cub was 3.70 ish when I invested my first portion. Also the buy after that was at 3,21 so thats down quite a bit. The high yields are hopefully going to cover the loss. Also I am quite bullish on CUB so I stick to them for a long time :)
My plans for the harvest looks as following. 85% get staked back into the LP 5% will buy BNB 5% are going back in the hive ecosystem meaning I will increase my investment portions in the projects I am involved in. And 5% is for gaming purposes. Meaning I will buy packs and or land in Splinterlands and risingstargame. No offense to the other games we have on hive, but I simply can´t spend more time gaming :)

So let us see the next project I am invested in.

1. Liotes
Now this is a project I was really excited about when I first read about it and my enthusiasm since then has only grown. In the beginning they started selling LENM for a price of 4 HIVE and I went in quite big there. The reason was that I saw working projects of the two creators of liotes. They have working investment opportunities already. If you check their blogs you might find projects you like. (No financial advice, I have not been paid by the liotes team to shill their project)
The project led by @achim03 and @ph1102 is an investment with gamified features. Or as it says on the official site : "Your blockchain adventure"
You earn LEN tokens by staking LENM and mining LEN but you also can delegate hive, leo, vibes, ctp to the liotes account and hereby raise the general HP of the account. The members of the liotes project are ranked in the liotes ranking.
The gamification aspect
The top 30 in the ranking receive regular upvotes on their content by several voting accounts of liotes. Each user who delegates to the project gets paid daily dividends in len tokens.
You can earn ranking points by staking HP, staking LENM, and by completing the liotes missions.
There is 5 possible ranks in the liotes project. (screenshot source)

Everybody involved starts as a dustsweeper the, lowest rank. The next level is the so called Windmaker. This is the status that I reached yesterday. You get 5 LEN tokens as a reward for reaching the next rank. The rewards increase of course with the higher ranks.
Also depending on your rank you will get higher percentage upvotes by the liotes voter account.
This does not mean you can post some shitpost and get upvoted by the liotes voter account! You still have to put in the effort and post high quality content! For the sake of all hive and leo if you get what I mean.
So what about the tokenomics and all the interesting financial facts about liotes?
Let's dive! And let's do some research on that. The team behind the project has published a whitepaper on the official liotes.com website. WHITEPAPER
You will find deep dives into the financial background of the project in the videos published on the liotes blog.
How are the tokenomics of this project?
There are two tokens in this project:
Liotes Energy (LEN)
Liotes Energy Mill (LENM).
Both tokens are traded on Hive-Engine or Leodex
A smart contract mining pool was created on the second layer of the hive blockchain. Every hour 20 LENM are rewarded
with 0.3 LEN each. This means that per day 144 new LEN tokens are issued. The weekly supply will be of 1008 LEN
tokens.
There will be no additional issued and sold LEN tokens. The only way to create LEN tokens is through holding and
staking LENM.
There is also a buyback program in place. Every week buy orders are created and updated by the team. The formula for the buyback program also can be found in the whitepaper.
The buy back program
There will be a buy back program that will support the price for the LEN token. This program will start once when about
5000 LEN tokens are in circulation. Every week, new buy orders will be created for a certain amount of LEN tokens
according to the following formula:
Number of tokens bought back = LEN in circulation - 5000
If necessary, the base supply of 5000 LEN tokens can be adapted by the project creators.
Example:
If there are 10'000 LEN in circulation, buy orders for 5000 LEN at the buy back price of the moment will be put on the
market.
How is the buy back price of LEN defined?
Every week, 25% of the income of the Liotes fund will be added to the buy back program. The buy orders of the previous
week are cancelled and the new buy back price is defined according to the following formula:
Buy back price of LEN = Amount of hive in the account / (LEN in circulation – 5000)
All tokens that are bought through the buy back program will be burnt (→ sent to @null)
What can I use this LEN for?
Well I am spending them in the shop of LIOTES where you also can find my NFT I did for the launch of the project. You can sell them on the market and the team does buy back LEN in a sustainable way. 10% Of the liotes shop income is burnt. So by spending my LEN in the shop I make sure that some of the LEN gets burned and therefore helping the token to gain in value.
Also there is a limited amount of Splinterlands untamed packs you can buy for a real bargain! You pay in Len tokens which is the only way to pay in the liotes shop you only pay 1.89$ instead of 2$ so this is a real bargain and you can even get them cheaper if you check out this video by the liotes project you will find a coupon code that you can use giving you an even better price of 1.69!
But this offer is onetime only you can only use this coupon once so do it wisely!
So by spending my LEN on untamed packs I will find some very nice cards hopefully. And I just started growing my involvement in the game. I will talk about the gaming aspect at the end.
I put a lot of trust in the liotes project and so far I have not been disappointed. The dividends work fine I get them every day. The LENM are working fine and I make a decent amount of LEN in a day. So for today I already won 18 times in the mining lottery 5.4 LEN and I also got my daily LEN dividends of 1.067 I also eared 120 LEN today by selling my NFT "Liotes the first mills" through the liotes shop. There is only one in stock!
I hope to put up some more NFTs there so I can make some nice income in LEN.
I spent the LEN in the shop helping to burn more LEN. And helping to make some steps to raise the price of the token sustainably.
If you are into hive games this is a project for you! It is a game in it self with the aspect of gameified investment. The ranking can be joined by everyone. Everyone ca get paid dividends in LEN by delegating to different voting accounts of the project.
You can rent and buy SL cards and Rising Star Cards You can also rent LEO or CTP or Sports power to increase you votes and curation rewards.
Ok let's go on I think I shilled this project enough. This is in the very beginning and we are already making some nice progress.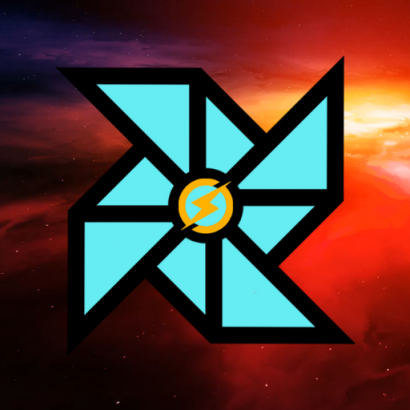 2. EDS and EDSM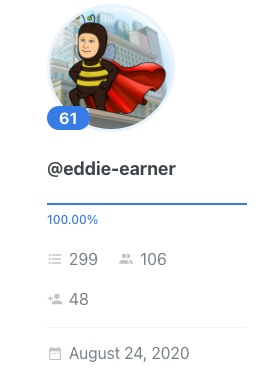 I think most of you are familiar with @eddie-earner and his EDS token paying out weekly dividends in liquid hive. I started out by buying some EDS tokens every Saturday I could. But since they introduced the EDSM miner token I have invested in some over time. I have 39 EDSM tokens staked right now and my earnings differ.
This snapshot taken of my transfers of the past 7 days can give you an Idea on how much EDS I make on average.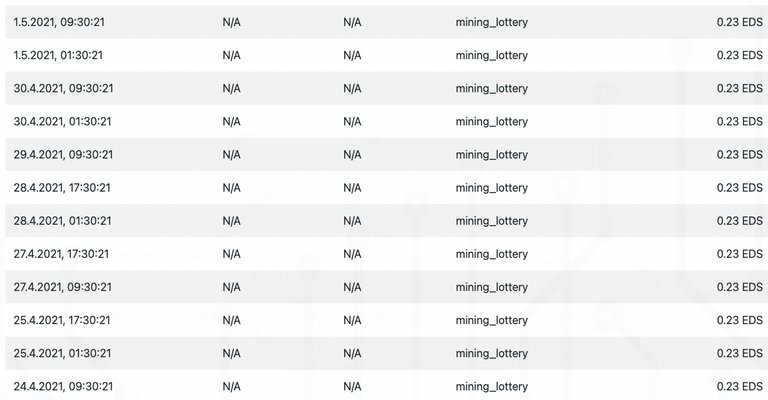 This is not so bad.
Considering that I get liquid hive as dividends paid every Monday. Also the market for EDS tokens seems legit to me. But hey DYOR head over to Eddies blog and maybe you win some free EDS tokens? who knows?
How are these dividends?

At that time I was holding about 17 EDS tokens.
My plans for the EDS token? Stack and HODL enjoy the dividends. Powering up or spending I am not sure yet. I am also planning to raise my stake in EDSM miner tokens to grow exponentially over time.
The good thing in the miner tokens they give you passive income while you don't have to do anything. I do a slight maintenance every day spending LEN as they accumulate. And leaving the EDS in my wallet. I try to increase my stake in miner tokens by spending my rewards on them. So far I added quite a few LENM and EDSM
Thats it for Part 1 I will be coming with Part 2 as well, but
"the sun is shining and the weather is sweet!
Cubs are jumping, and the return is high :)"
See you all in Part 2
where I talk about DHEDGE VFTLAB.FINANCE and GAMES
TLDR?
BUY LEN and LENM
BUY EDS and EDSM
BUY CUB
FARM CUB
STAKE CUB IN DEN
not financial advice
I am just an ape who likes tokens. Especially CUB and LEN ad EDS
How much CUB did my BUSD CUB Farm make while I was writing this article? Answer in the comments and you can win 1 CUB I will leave this small so only peeps who read will be able to win this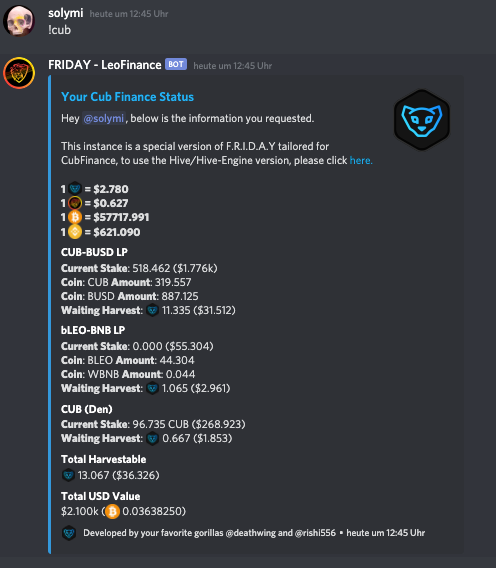 Thanks for supporting me by following my account here and on TWITTER
I am also very happy if you have a look at my NFT gallery on @nftshowroom
click on the GIF!