Hey there so this is going to be a long article so get ready go buy yourself a SANDWICH
As always I have to start with this: I am an NFTartist and a film maker and photographer. I have no degree in finance and have never studied any financial topic except my research for my investments.

I am not a financial adviser and I am not giving you any tips on how to get rich fast.
All of my investments as all types of investments come with a certain risk. Only invest what you can afford to loose! DYOR! Do your own research.
I am just an ape with diamond hands and I like that CUB!
LETS HARVEST
I saw the price of $CUB dropping the past 2 days and I was hoping to get some fiat on my binance account to get it to cubdefi. Today it arrived and I withdrew 360 ish dollars to my metamask bsc wallet.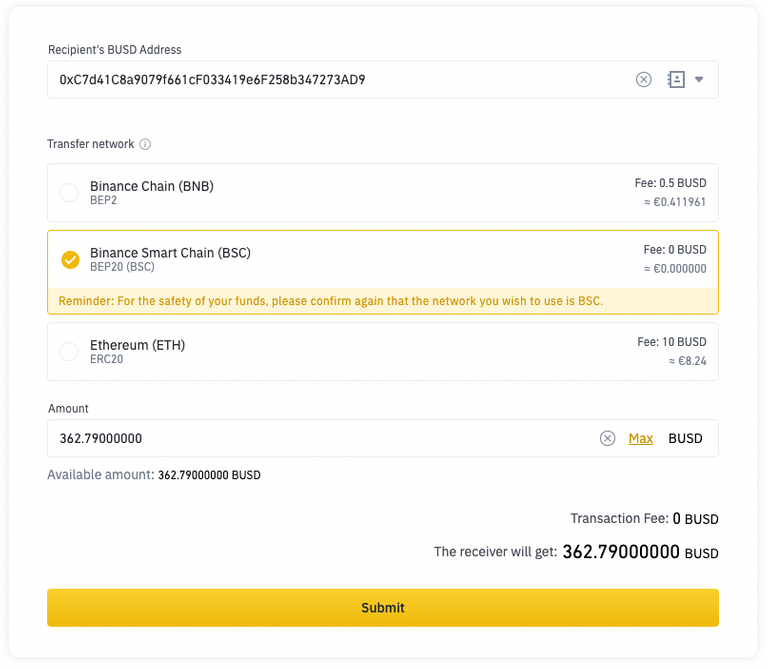 Always make sure you send your crypto to the right adress. I have whitelisted this on binance so I can not make a mistake. Make sure to withdraw to the BSC binance smart chain because thats where cubdefi works on.
A few seconds later it was already showing in my wallet.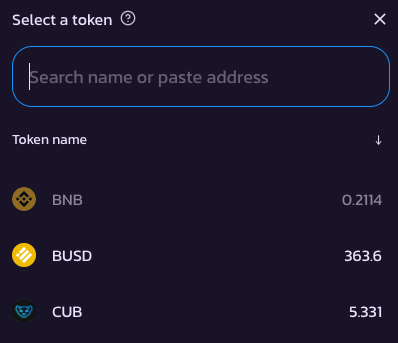 I had been farming with 458,371 CUB-BUSD-LP from last week Friday.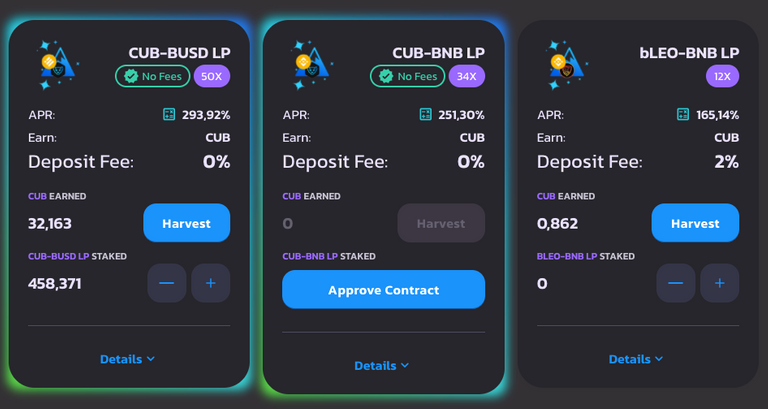 Not bad. 32,1 to harvest from that pool. I will not tuch the bLeo-BNB LP since the fees would kill the profits I made. I will use all liquid rewards of this post to buy LEO to accumulate some LP power on that side as well.
When you click on harvest metamask will prompt you with a message to sign the transaction you can see the transaction fee on the bottom.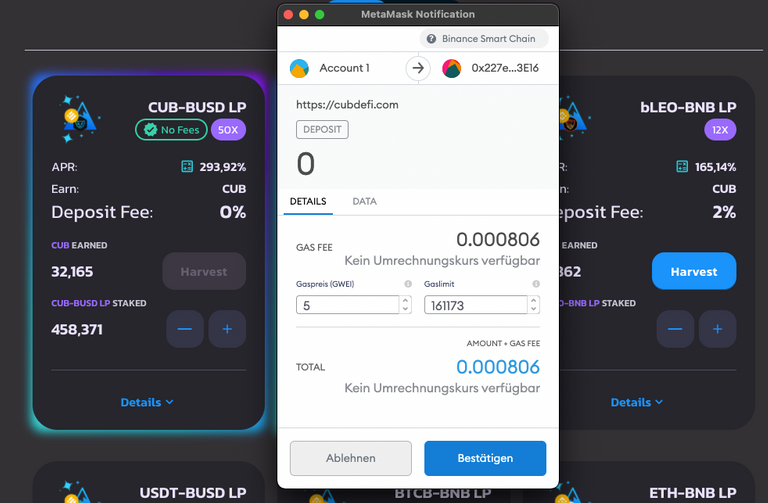 After harvesting you can see the $CUB in your wallet.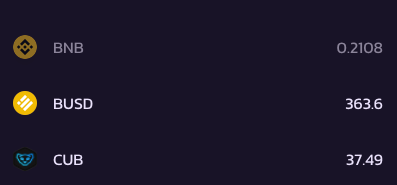 I now decided to put all the CUB back into the liquidity pool and match the amount with BUSD.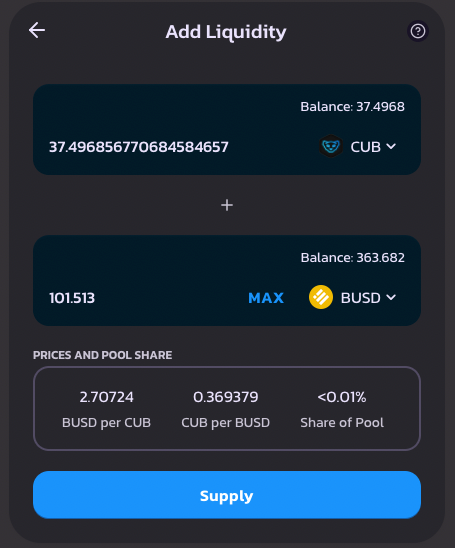 After this you have to confirm the transaction first for cubdefi and than for metamask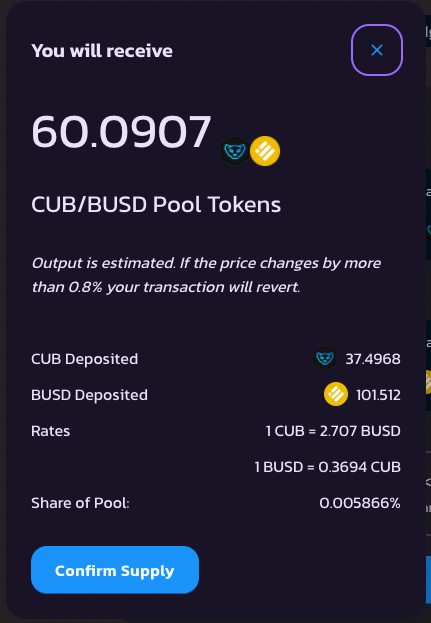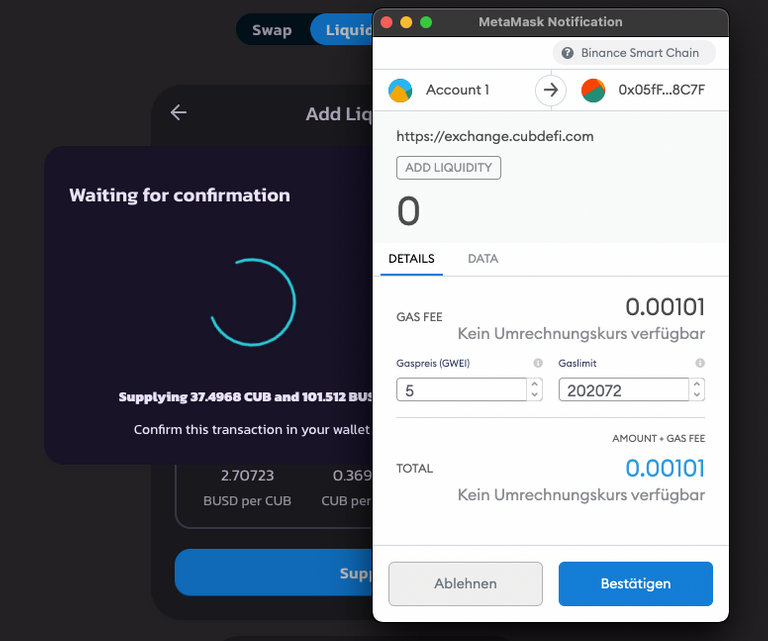 After this since I am already on the exchange I quickly spent all my BUSD left to buy more $CUB as the time of writing of course I wish that I would have waited a little longer. I would have gotten more for my FIAT.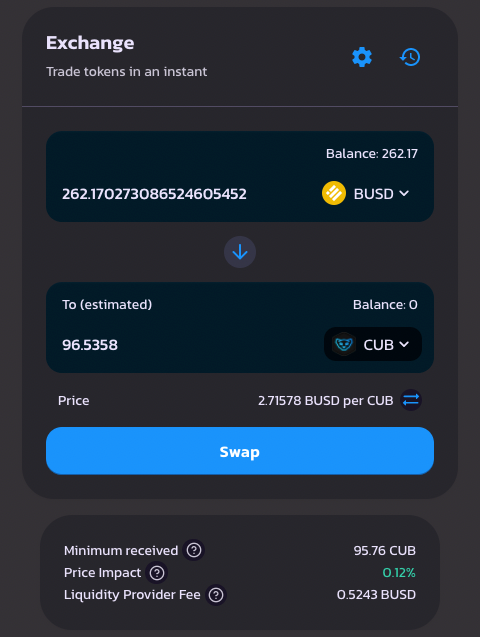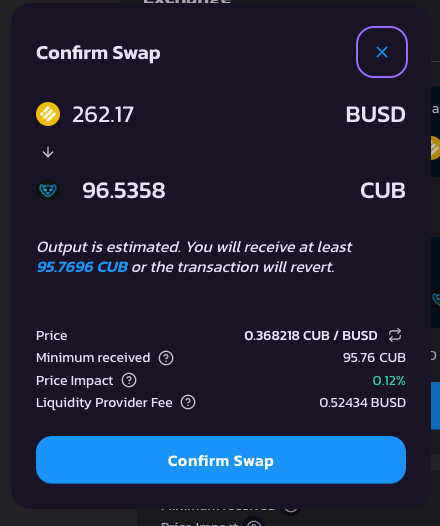 I have not taken a shot of the metamask again but you will have to sign the transaction of course since it is coming with a fee.
That was the shopping part! Now lets go back to put those LP tokens in the farm.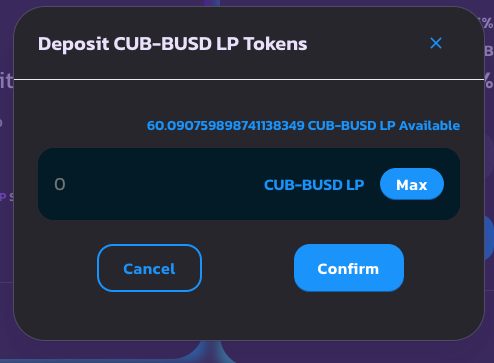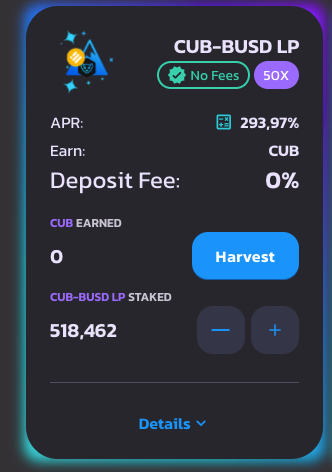 I am now farming with 518,4 CUB-BUSD-LP
We are still not done here. What shall we do with the remaining cubs? Let´s move over to the Dens and stake them.
I will unstake some or all of them when my next portion of funds goes into cubfinance. But it would be a waste to just keep them in the wallet!
On the DENS page I choose the right DEN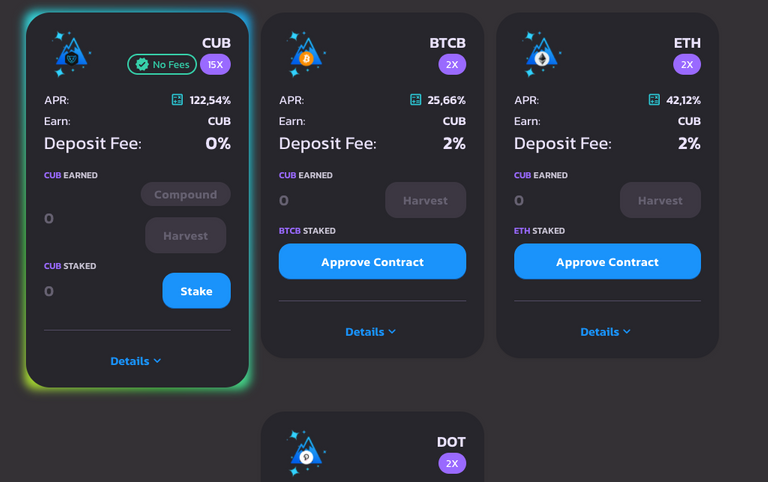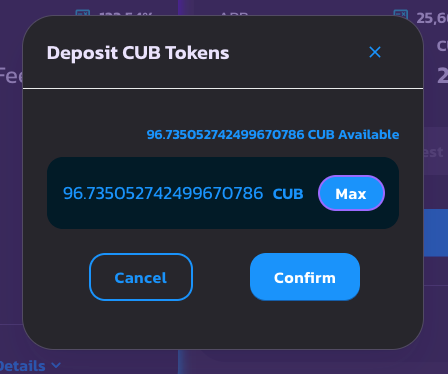 Again confirming the transaction on the metamask pop up.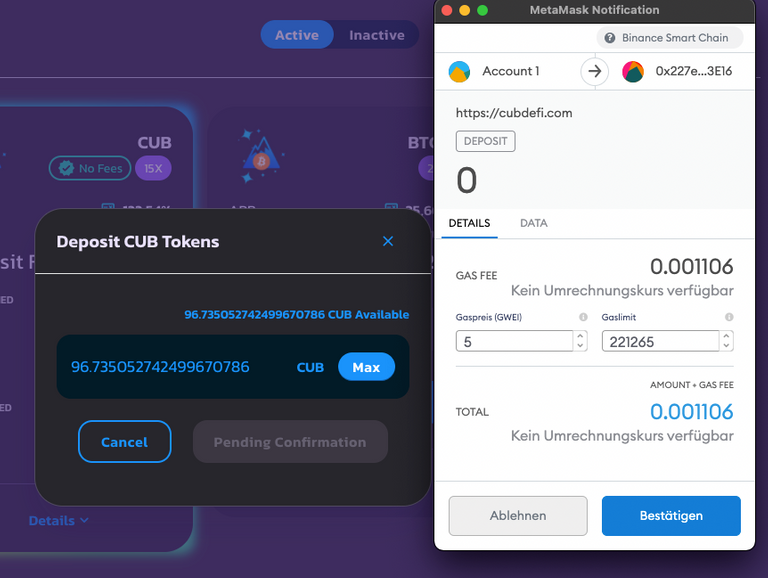 And we have staked our cubs! Now we lean back and enjoy the nice weather or play splinterlands or maybe both?
That is the magic in cubdefi. With so much trust from the community I am confident that this investment will pay of in the future. Of course these percentages wont stay forever but. Even if I can make a decent 10-20% APY I would rather keep my money here than in a bank.
On the discord cchannel of leofinance there is a nice little BOT developed by @deathwing and @rishi556
Deathwing also has good news for all those not being able to buy or who do not want to buy on binance. A way to get your hive to BSC! I share his article HERE
I took a snapshot of my account before harvest, and after I did all the transactions. Here are the two pics: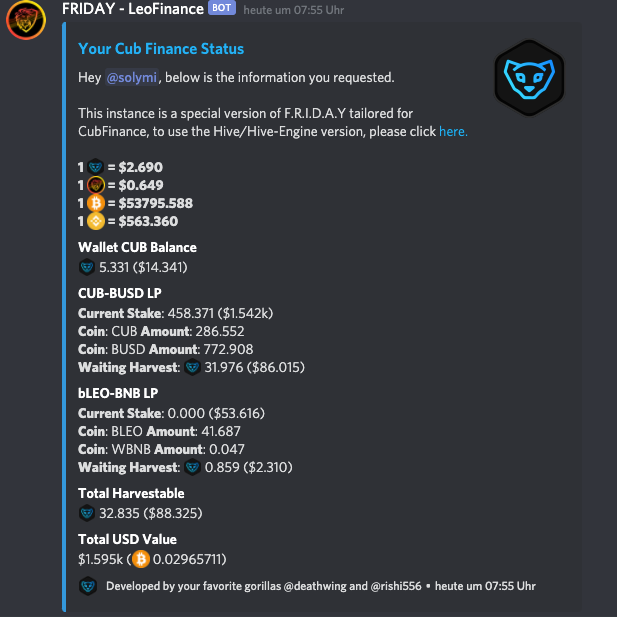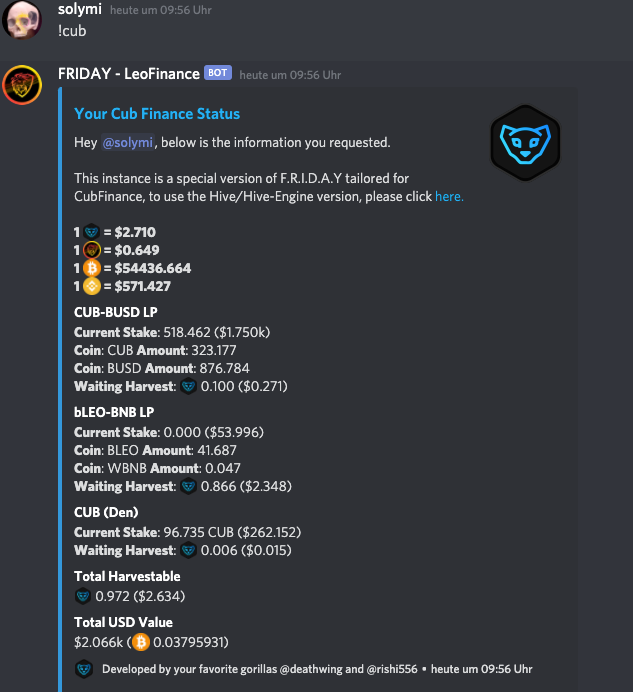 I did a total of 6 transactions and paid a total of 0,00315901 BNB 1,90$ and 0,62BUSD for the withdrawal from binance 2,52$ in total.
Even with low GAS prices on the ethereum network these transactions would have cos about 100$ in total and would have killed the profits completely.
Putting the remaining Cubs in the DEN will pay of in the long run, but if you have a certain amount staked it also can be a storage for the cubs that are going to be matched with BUSD. I just wanted to get the most CUB for my BUSD and well it worked out ok :)
Now lets have a look what happened since the last snapshot I will take the snapshot and then publish this thing. Timestamp 14:42