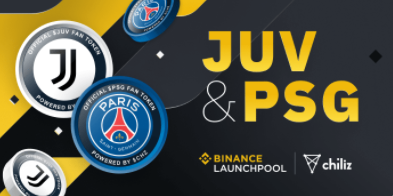 Hello Leo and Sportstalk folks,
great news from one of the biggest exchanges. Binance announced - Juventus (JUV) and Paris Saint-Germain (PSG) Football Club Fan Tokens! According to the Article, in a first round users will be able farm these tokens by stake their BNB, BUSD and CHZ tokens into separate pools. The first farming phase of JUV and PSG tokens will last 30 days, and already started at 2020/12/15 0:00 AM (UTC).
Yesterday Binance listed JUV and PSG into the innovation zone and opened trading with JUV/BTC, JUV/BUSD, JUV/USDT, PSG/BTC, PSG/BUSD and PSG/USDT trading pairs. Please see all details in the tabel below.
Launchpool Details:
| Juventus Fan Token | JUV |
| --- | --- |
| Total Token Supply: | 20,000,000 JUV |
| Launchpool token rewards: | 210,084 JUV (1.05% of Total Token Supply) |
| Current Circulating Supply: | 1,315,907 JUV (6.58% of Total Token Supply) |
| Staking Terms: | No upper limit. No KYC required. |
| Price | 26,10 $ |
| - - - | - - - |
| Paris Saint-Germain Fan Tokens | PSG |
| Total Token Supply: | 20,000,000 PSG |
| Launchpool token rewards: | 179,641 PSG (0.90% of Total Token Supply) |
| Current Circulating Supply: | 1,288,396 PSG (6.44% of Total Token Supply) |
| Staking Terms: | No upper limit.No KYC required. |
| Price | 31,66 $ |
There is an impressive price dynamic for both tokens during the last hours.
Wouldn´t that be an ideal basis for a Fan-Club here on HIVE?
The chance to form a group of people with the same interest has always been here on HIVE. Existing Fansclubs of Juventus or Paris Saint-Germain could easily form a new tribe here on HIVE. They could start with a community on a smaller scale and issue an HIVE-Engine Token for small money. If they already have a website they could crosspost all their content with an easy WordPress Add-On into that community, onboard their members into HIVE and find new ones around here. If technically fit enough, they can also integrate the HIVE-Engine token directly into their website. They could discuss all related topics in their community and could also post their content into sportstalksocial to collect SPORTS on top of their HIVE and HE-token income.
That all is already possible and has not been done over the last year.
However, with JUV and PSG now in the world, the interest to check out what's in for them with crypto may get a boost. The tragedy with that new Binance tokens is, you can't do more than compounding - meaning earning more of them over time - at the moment. You couldn't earn it by discussing the last results, there is no possibility to organize the governance of your club via stake weighted voting. You only can convert your hard-earned money into that tokens, stake them, and wait to get more of them over time. Sounds very boring for us here on HIVE. However, with a big exchange like Binance, you will have the chance to trade these tokens 24h with good liquidity for BTC, BNB and also for Euro or Dollar. That is definitely a plus.
The magic may start by combining the two ecosystems.
With a valuable Token outside of the HIVE Ecosystem, it would now be possible to back a HIVE-Engine Token with this Binance Token. Meaning there will be one JUV hold on the exchange for one issued Token on the HIVE-Engine. As the Community or the Tribe would stake the Tokens on Binance, they will generate an income with it. That income can (and should) be distributed to the members of the club. In that way, there is the possibility to siphon capital from outside into the HIVE Ecosystem that would stabilize the HE-Token against other HE Tokens - the same approach that is @spinvest is using very successful for a long time.
Of course, this is a kind of centralization and the ones holding the keys need to be trustworthy. But isn´t that exactly the structure of a Fan-Club? Isn´t there a president and a treasurer that have the trust of the club-members because they are acting in the best interest of the club? It could therefore be seen as the transfer of a known and proven structure into a new technology.
If anybody of you knows an existing Juventus Turin or Paris Saint-Germain Fanclub, with decent technologic knowhow (own website, online club structure) they may be thankful if you send them this article. They are very welcome to contact us to discuss the possibilities to guide their club into the 21st century.
Hope you enjoyed the read.
This is @no-advice for @spinvest-leo
Posted Using LeoFinance Beta