Hello everyone, I had planned to write a nice post about the upcoming HASHKINGS game but I started to put together an updated SPinvest tree and got lost in time so today's post is about that instead. HashKings post coming on Friday.
SPinvest has been up and running for almost 2 years now. We started with 1 account, 1 token, it took 10 months to issue all SPI tokens and this helped to raise around $13,000 worth of STEEM. Today we have 0 STEEM and over $330,000 worth of investments under management. SPinvest today is doing well, we've expanded out by creating multiple streams of income, creating subsidiary projects and grown massive HIVE and non-HIVE investments.
In 2 years from now, i would expect LBI to look like SPI looks today but bigger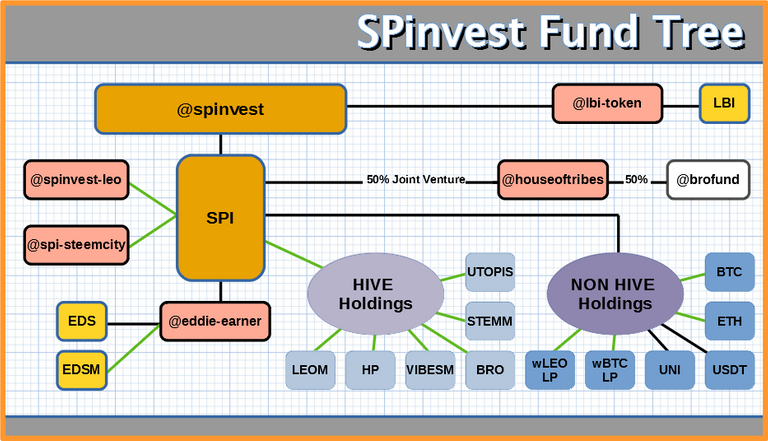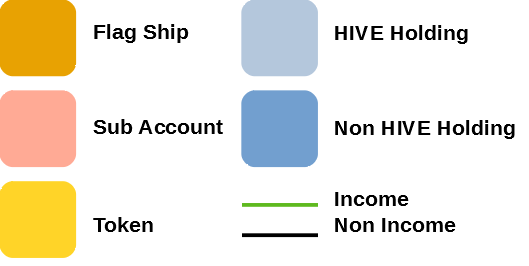 SPinvest Accounts
@spinvest
Flagship account. The main bank for SPinvest runs through this account, all tokens are created from this account, all news and fund account are uploaded from this account. Earnings to this account are liquidated to HIVE and reinvested. This account is managed by @silverstackeruk with around $130,000 in investments.
@spinvest-leo
LeoFinance dedicated account used to produce content and manage all our LEO holdings. @no-advice manages content and @jk6276 currently has around $26,000 under management in this account. Earnings from this account are compounded.
@spi-steemcity
Gaming dedicated account used to take part in HIVE blockchain gaming. This account is run by @shitsignals with around $3500 under management.
@eddie-earner
1st subsidiary project for SPinvest. This account though it's EDS tokens provides an ever-increasing weekly HIVE income to its token holders. Saving focused content is produced by @shanibeer and the account has wallets worth around $7000 managed by @silverstackeruk, owned by SPinvest. EDSM tokens are planned to launch within the next week.
@lbi-token
2nd subsidiary project of SPinvest. The account has been set up to the LEO equivalent of SPI for LeoFinance. This is SPinvest's first true decentralized project and has the potential to outgrow SPI itself. Its wallets worth about $165,000 are managed by @silverstackeruk. When dividends begin for this project, SPinvest will collect 10% of the weekly reported earnings as a management fee.
@houseoftribes
This is a newly created account shared 50/50 with @brofund. Spinvest has recently begun to fund communities on HIVE to create a tribe using scotbot. This account will be used to hold any tokens/stock acquired from tribe funding. Its wallet is worth around $3800 and is managed by @silverstackeruk.

Tokens
SPI
The flagship token for SPinvest. The token is backed by over 20 different investments with a liquidation value of $155,000. With a max cap of 100,000 circulating SPI tokens, they are not easy to get in large amounts. 1st sold for an average of 13 cents each (1 STEEM), they trade for $1.64 today (5.44 HIVE). 50% of all HIVE earning produced by SPinvest or paid to SPI tokens holders in the form of SPI dividends every Sunday evening.
EDS & EDSM
EDS tokens are HIVE income tokens, they are always worth 1 HIVE but the income they produce increases every week. The focused earnings and growth of this project are to be HIVE pure. No tribes, no non-HIVE, no hive-engine token investing at all. 100% HIVE POWER. Launched about 6 months ago there are currently 20,000 EDS (soft capped) tokens in circulation earning EDS token holders a weekly HIVE income payment of 13.2% and growing each week AYR every Monday evening.
EDSM tokens are EDS miners. They will launch within the next week. Each EDS miner will cost 10 HIVE and produce an average of 2 EDS tokens per year. Please check this link to see full EDSM details along with projected ROI's.
LBI
LBI tokens represent a share in the @lbi-token account and all its holdings. It acts as it's GOV token and will in the future produce dividends for its token holders. Currently holding over 130,000 staked LEO, this project's earnings and holdings are about to go on a wild ride with many planned new platforms and defi projects being launched by LeoFinance. @lbi-token is the 4th biggest active LEO holder on the platform and airdrops worth a few dollars to some will be worth thousands for LBI increasing its token price along with it.
This project has been set up to be decentralized with small teams focusing on specific tasks. It is not owned by SPinvest but was created with its funds managed by SPinvest. This project has the potential to outgrow SPI with all the things coming to LeoFinace and we will be pushing for LBI to branch out and form it's own "LBI Fund Tree" someday.

The next 6 months
SPI
I cant see SPinvest creating any new project within the next 6 months are making any drastic changes to the investments we are invested in. SPI is good, earnings are good, our investments are maturing, content producers and operators are all working together and it's running like clockwork. We can sit back and enjoy the fruits of our labour for 3-5 months and focus time on other things.
EDS
The miner will be launched soon, this will add lots of new HIVE POWER to the @eddie-earner wallet to its earnings. Apart from selling and shilling EDS miners, not much extra work is required in the backend as it's all already been done. After miners are released, scotbot takes care of all future EDS token distribution. I would guess that EDS token holders go from earning 13% to 28-40% over the next few months.
LBI
With a million things being released and airdropped from LeoFinace, this is where the focus will be for the next 6 months. JK will be working hard for @spinvest-leo and I'll be working hard for @lbi-token and trying to take advantage of what is the best whist trying to not make many mistakes.
Building new passive and active income streams will be the main focus within LBI, we will have lots of opposites to get into a lot of stuff at ground level and we'll be doing our best to take advantage of that.

Wrap up
There you have it, that's SPinvest in a bag I guess. Of course, things are a little more complex but I think for anyone that knows nothing about SPinvest, this post would explain alot. Even seasoned SPI token holders might learn a thing are 2 from this post and help them understand better what they are invested into.
Thanks for reading and hope this helps.
Posted Using LeoFinance Beta